With almost luminous lime-green bark that is slightly flaking and with feathery foliage, fever trees are exceptionally attractive. Waterside at Royal Malewane is set beneath a forest of these towering trees - Vachellia xanthophloea - alongside a broad pan of surface water. Brand new, this ultra-luxurious lodge has been immaculately planned and executed, for maximum comfort, privacy and sensual pleasure.
Image by Gillian McLaren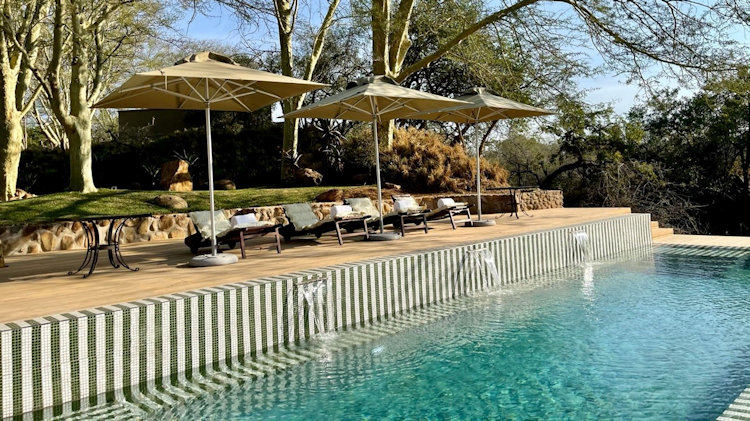 Image by Gillian McLaren
The 12-bedroom lodge offers four one-bedroom Luxury Suites, one two-bedroom Baobab Suite, two one-bedroom Aloe Rooms and Waterside House, a four-bedroom private Villa with its own entrance road. My thatched Luxury Suite is capacious, with king-sized bed beneath a draped canopy, dressing table bearing a potted orchid, day bed and a desk, plus circular table with two upright chairs, all in the bedroom area.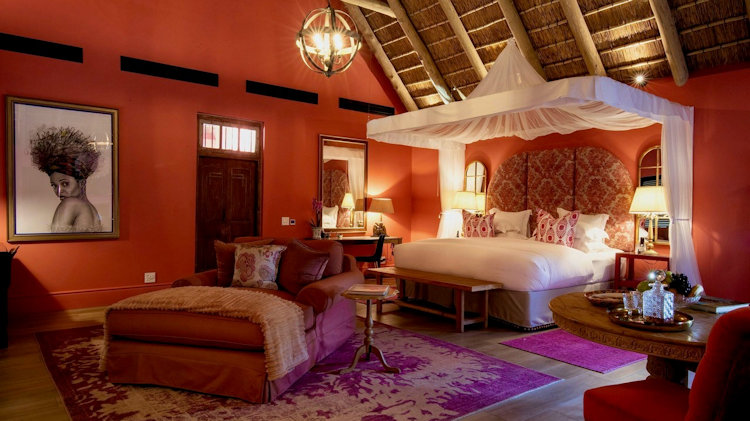 Image by Royal Malewane
The design is open plan, with a sitting room zone sporting couch and easy chairs, coffee table with curated books, a well-stocked bar fridge in a wooden armoire and a wall-mounted TV. Decorated in owner Liz Biden's inimitable style - playful and maximalist - the walls are bright watermelon, the daybed a pinkish hue, entrance doors are distressed red-brown paint over wood. Sheets and duvet cover are white 100% linen, a sensitive touch of sheer opulence. The overall effect is a colourist's fantasy. Artworks chosen by Liz Biden, sourced from local artisans, have an original approach to African themes.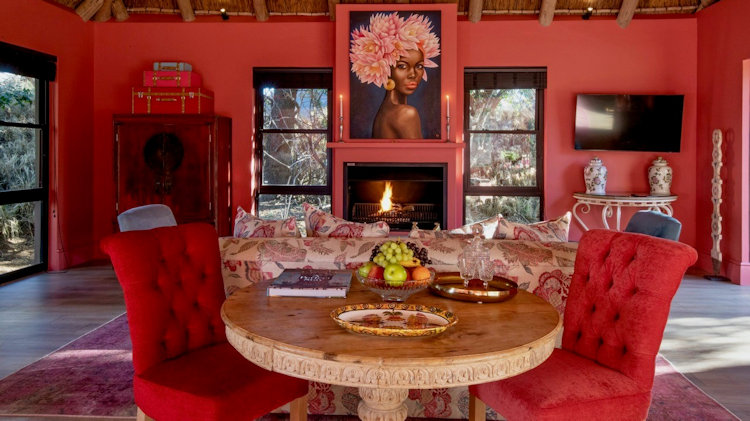 Image by Royal Malewane
My spacious bathroom has twin basins - each above a chest of drawers - a rain shower, plus a saturated-pink ball and claw bath with an iris-blue armchair alongside. Paintings in vivid colours, in a naive style, hang above the heated towel rail and next to a dressing table with mirror in a gilded frame. A separate toilet faces the lime-yellow trunk of an ancient fever tree.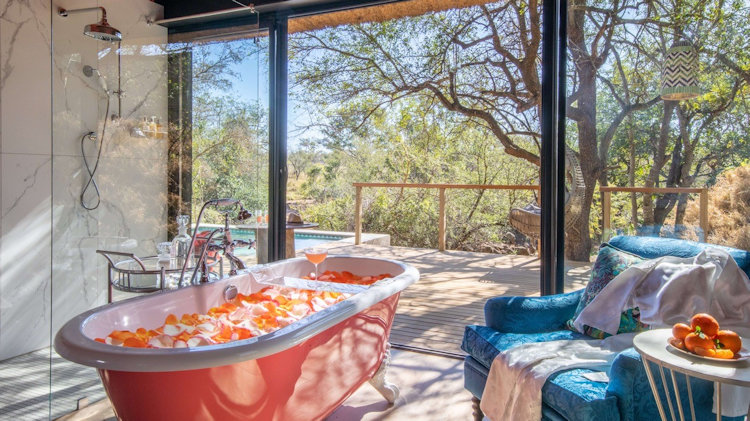 Image by Royal Malewane
On my extensive private deck, an open-air shower faces the infinity plunge pool, a sala with swinging day bed enveloped in scatter cushions with shades of soft blue and white, plus a table and chairs for outdoor dining; then the watercourse and savannah beyond. Nice touches include a cerise kikoi sarong for my use and sizeable white bath sheets for swimming towels, or to cover reclining sun loungers.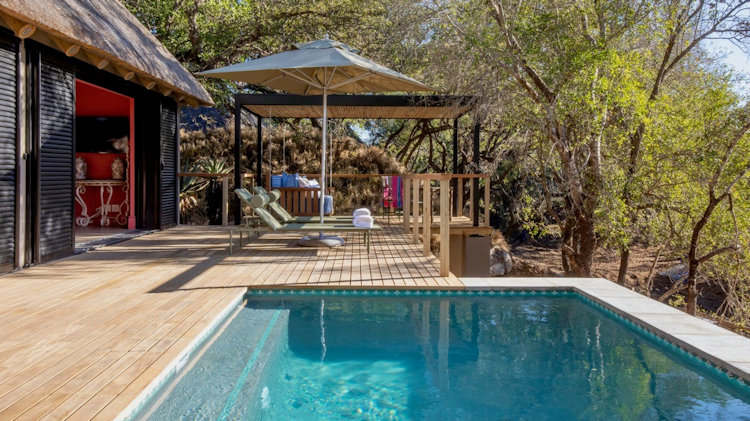 Image by Royal Malewane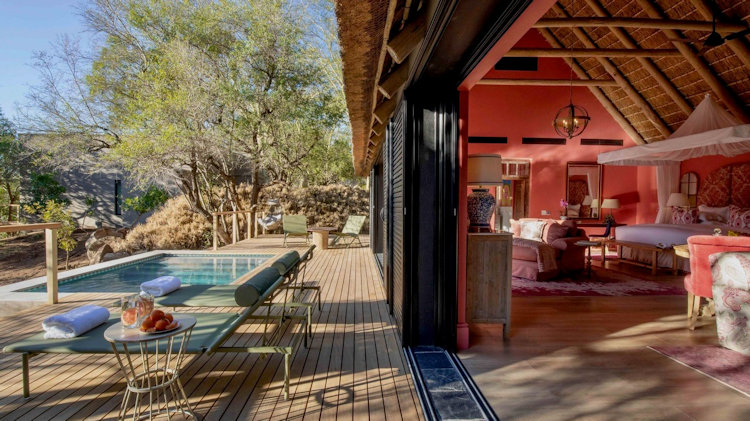 Image by Royal Malewane
The camp is unfenced so game can pass through freely. Nyala browse in Waterside's indigenous gardens, baboons roost in their favourite fever tree and leopards move silently down to the water's edge. Birdsong - of the Black-headed oriole, Bearded scrub-robin and Sombre greenbul - is the lodge music. One morning I find that the spotting scope - on the deck in front of the communal lounge area, media room and lap pool - is trained on a leopard kill in a Weeping boerbean tree, on the opposite side of the water pan!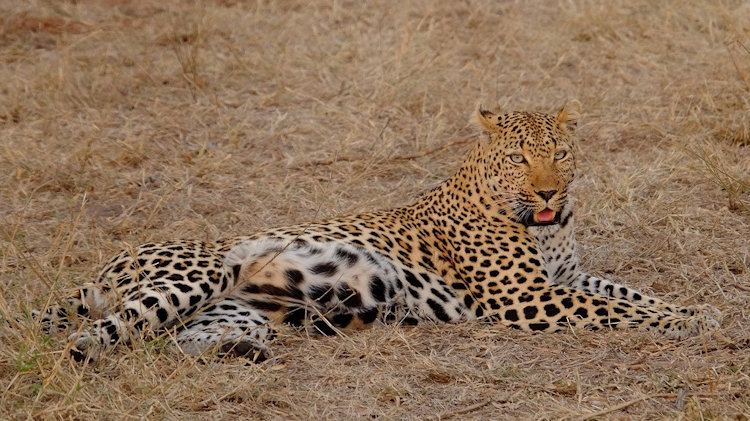 Image by Gillian McLaren
Before sunrise each morning - after a cappuccino with a muffin straight from the oven, plus some fruit with yoghurt - I stroll to the reception area, over a floating bridge, to the state of the art Land Cruiser. My guide, H.J. Esterhuizen and experienced tracker, Selby Mgwena, have placed a blanket with hot-water bottle on my favourite seat in the front row, and a pair of binoculars for my use. Outside the lodge entrance we are met by a breeding herd of elephants, with a tiny calf. One cow has an abnormal tusk on one side, which might be a milk tooth that never dropped out. A fish eagle lands on the ground next to the water, where he watches some barbel. It's an unexpected thrill to see a pair of scurrying honey badgers, as they are usually nocturnal. With the abundance of game in this area of the Greater Kruger, we have a good chance of spotting the rest of the Big Five. During my stay, we have up-close-and-personal sightings of them all.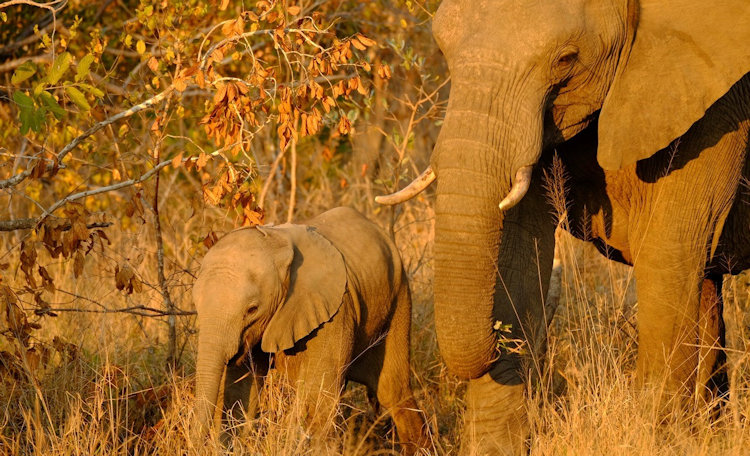 Image by Gillian McLaren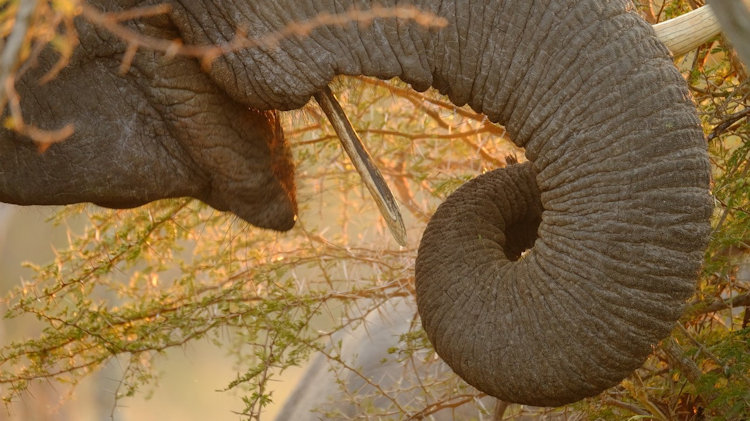 Image by Gillian McLaren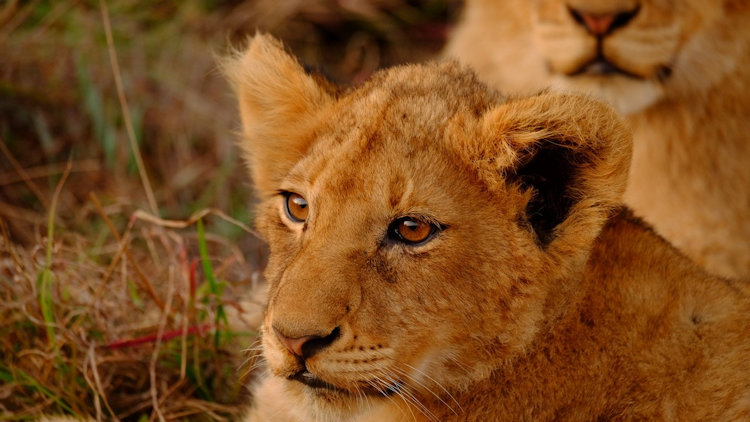 Image by Gillian McLaren
Alerted by frantic squealing, we locate a male leopard as he catches a warthog. Behind them a startled warthog is creating a dust cloud as he dashes for safety. We have driven off-road, so are able to watch this primeval scene unfold right next to us.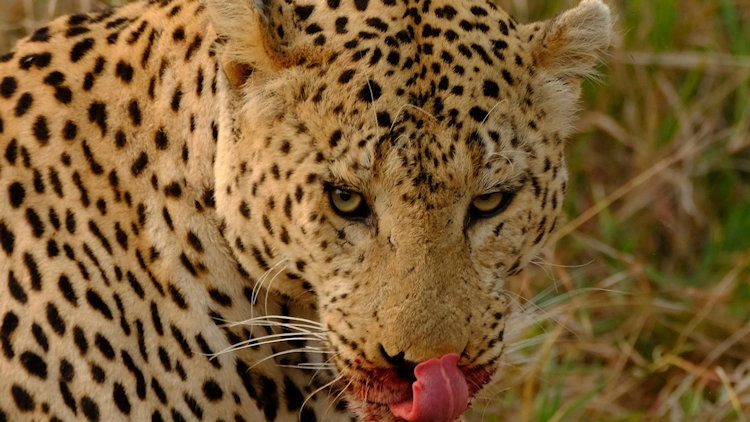 Image by Gillian McLaren
To my joy, a pack of African wild dogs has denned in a vacated porcupine hole, sited beneath a tangle of roots. We view 12 pups as they cavort, chew on bits of wood or bone, play fight with one another, bully the smallest sibling, then collapse in a heap for a snooze. What a privilege, to observe behavior at such close quarters, not only spotting game in the distance.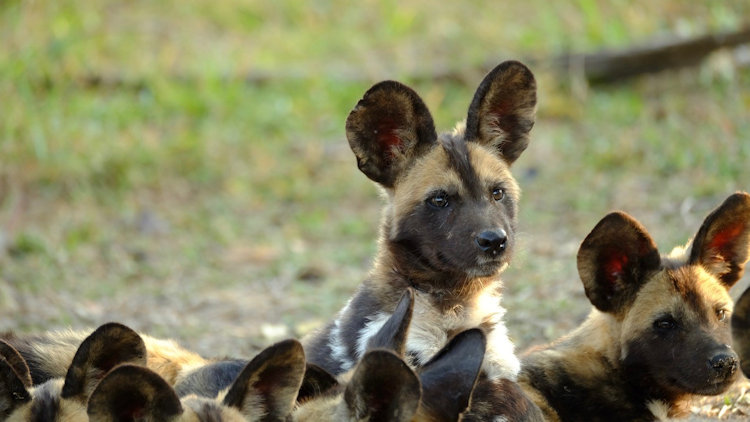 Image by Gillian McLaren
We alight from the game vehicle for a stretch and coffee, tea, or hot chocolate, set up on a pretty table cloth with freshly baked cookies. I seize this opportunity to learn how to identify animals by their tracks and scat. Selby then tests my skills, declaring that I am a level 3 tracker, in his opinion!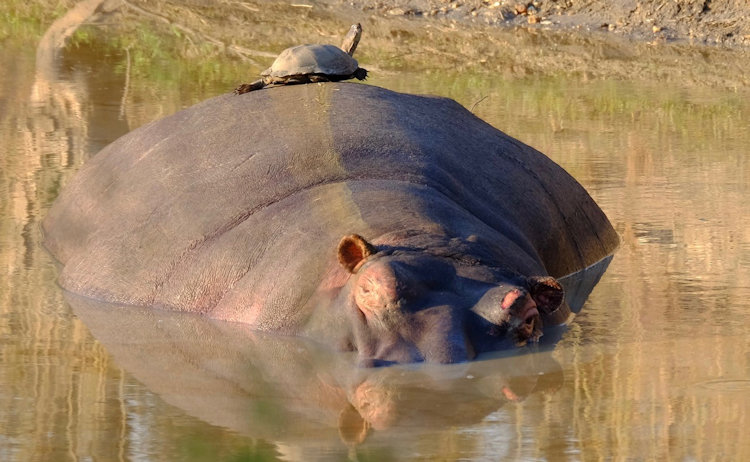 Image by Gillian McLaren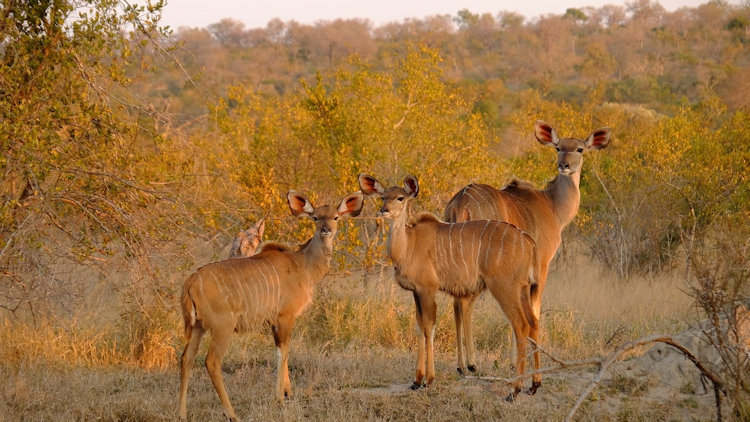 Image by Gillian McLaren
Back at the lodge we are greeted with smiles and warm cloths to refresh our hands. A breakfast table is set up for me in a different spot each day, each with a sublime view. A while-bellied sunbird sips nectar from a floret of an aloe inflorescence, as I tuck into the hot almond croissants, charcuterie platter and cheese board. From the menu I select my cooked fare. Edward Morton, The Royal Portfolio's debonair ambassador, joins me for tea. I ask about children as guests at Waterside, as I have noticed two girls, with permanent smiles on their sweet faces, as they rejoin their parents to share about adventures had on their own. Edward explains that the lodge welcomes multi-generational families. Staff are available to help entertain youngsters and teens. Activities include lessons from a chef in baking bread or cupcakes, a Royal Rangers nature ramble within the camp precincts, swimming in the communal pool, use of a games room with table soccer, children's books, a Playstation and other electronic gadgets. African hair braiding is done in Reflections, the lodge Spa.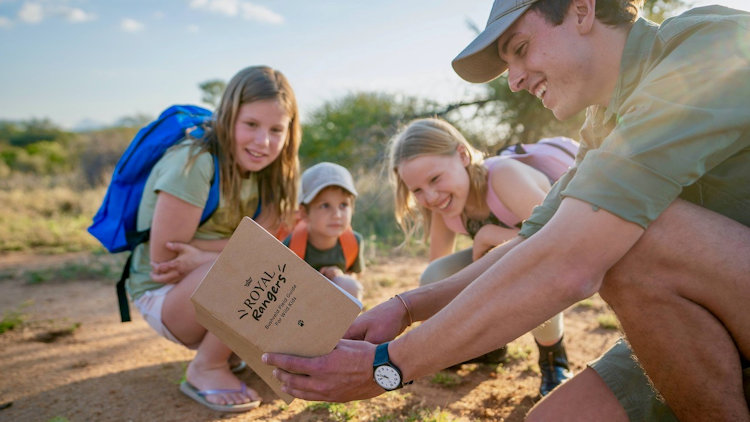 Image by Royal Malewane
Reflections Spa is scrupulously clean, has a simple design with water features and a Turkish Hammam covered in small bronze-golden tiles. Couples massage is available, as is a menu of beauty therapies. My masseuse ensures that I leave relaxed, with neck and shoulders free from the knots of city stress.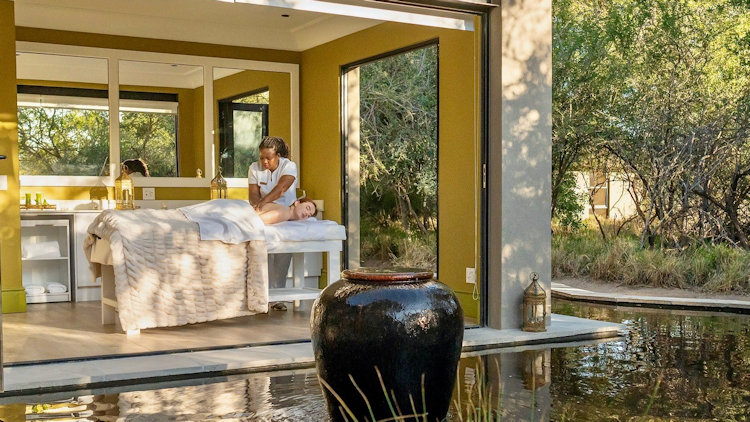 Image by Royal Malewane
At night, Waterside becomes a fairyland, with scores of lanterns. Beneath the fever trees, their barks aglow, I savour each course of the indulgent fine dining, paired with prize-winning South African wines. My wine steward, Delroy Masunda, takes careful note of my preferences, encouraging me to sample the varietals I may enjoy. A sensory experience, no attention to detail is spared. Glassware is Riedel and Spiegelau, cutlery is bronze Nicolson Russel, napkins are pure linen and food plating is innovative.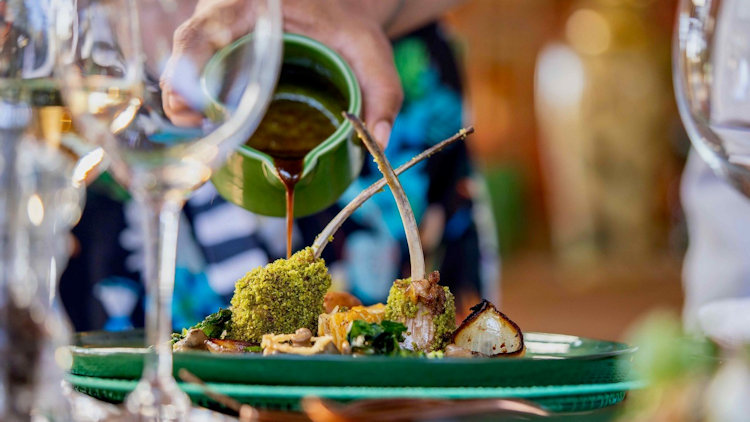 Image by Royal Malewane
An end to a perfect day, African Scops owls duet in the fever trees, the resident hippo groans, while lions grunt nearby.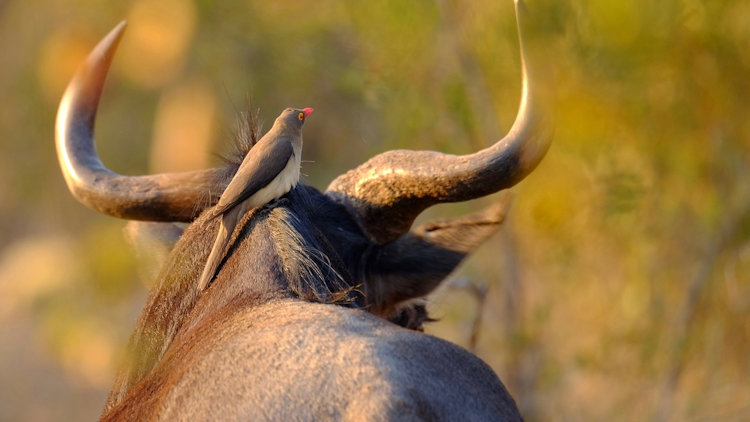 Image by Gillian McLaren
https://www.theroyalportfolio.com/waterside/
Getting There
From Oliver Tambo International Airport in Johannesburg, CemAir offers daily 35-minute flights to Hoedspruit Airport. The Bombardier CRJ 100/200 is comfortable, with ample leg room, overhead stowage and space below the seat to store my backpack with cameras. Light packeted snacks, including chocolates, are served in-flight. A choice of fruit juice, coffee, tea, water or beer are on offer. Wine is poured into proper glasses.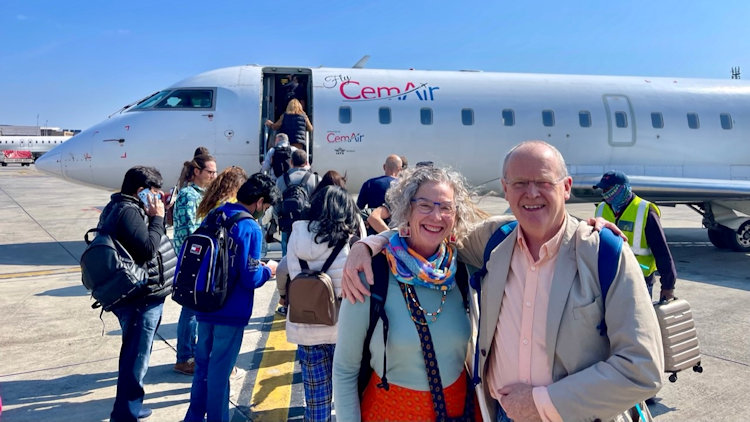 https://www.flycemair.co.za
From Hoedspruit Airport, Waterside at Royal Malewane provides pickup and transport in an elegant, air-conditioned BMW X7. Have your binoculars ready, as the pleasant 35 minute journey provides opportunity for bird and game viewing.

For more travel features by Gillian McLaren (@Jetset_Gillian): www.gillianmclaren.blogspot.com