The Slow Food Movement
was founded in 1989 by Italian food writer Carlo Petrini as an alternative to fast food and fast life and as a means to promote local sustainable food. It recognizes the strong connections between plate and planet and takes the position that our daily food choices have a major impact on our health as well as the health of animals, the environment, and society as a whole.
It is said that Tuscany produces the world's best wine and our small group continues our tour of the ancient
Enoteca Contucci
wine cellars. We learn about the Contucci family who has lived in Montepulciano since the 11th century, celebrating 1,000 years in 2008. At the conclusion of the tour we relax and sample wines including Vino Nobile di Montepulciano immortalized by the 17th century poet, Francesco Redi. In
Bacchus in Tuscany
Redi declares the Noble Wine of Montepulciano "the king of all wines" and Brendan's Slow Food Journeys allows us to savor its majesty.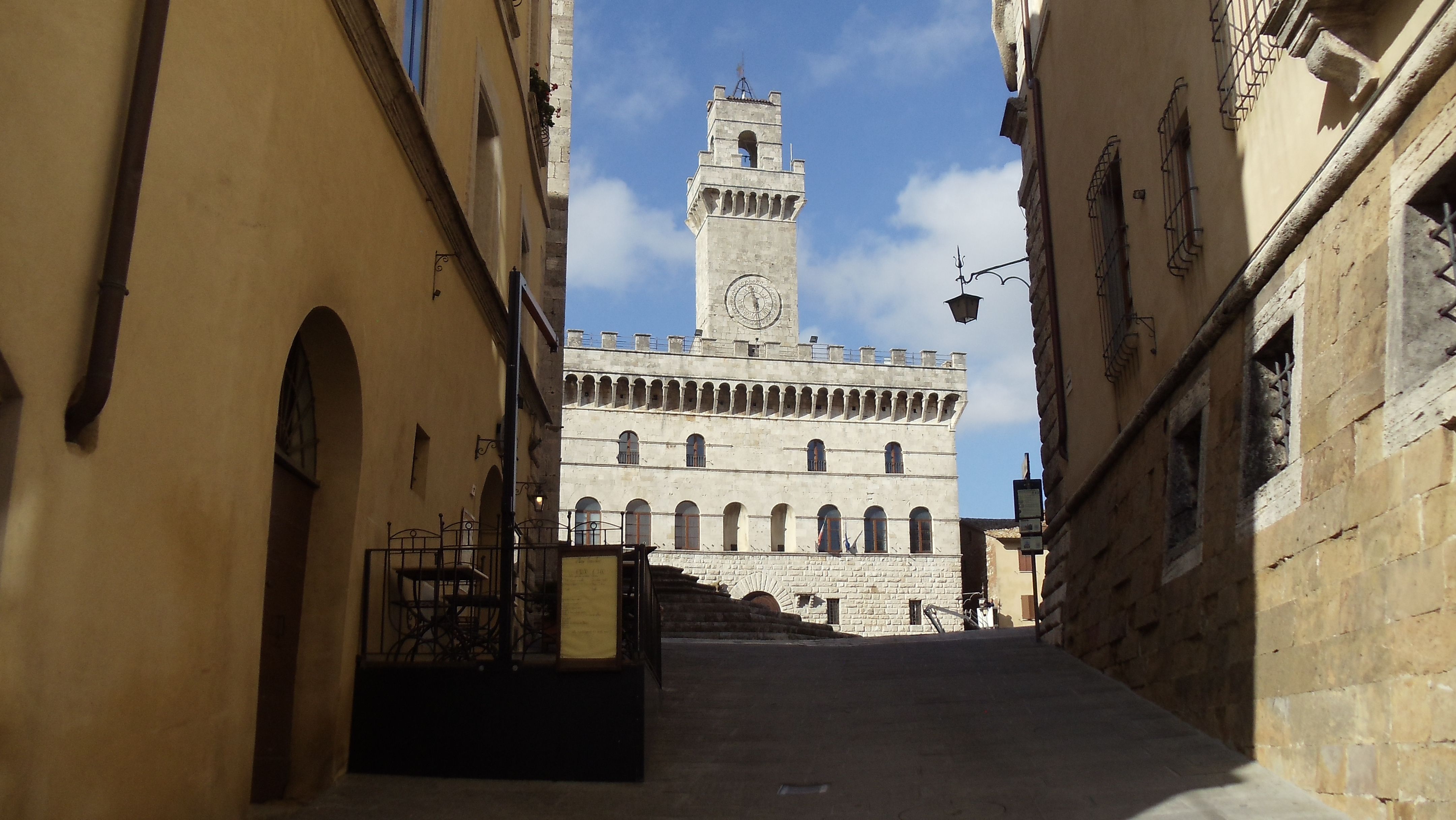 Montepulciano piazza
We depart the Palazzo Contucci and step into a medieval alleyway that leads to the main piazza with its Renaissance tower, palaces and churches. Our day continues with visits to boutique farms that produce the best olive oil, wine, cheese, herbs and vegetables. Half the beauty of touring Tuscany is the journey. Roads meander and Cyprus trees dot the hilltops like exclamation marks expressing delight.
I am vegan and Tuscany is a region noted for its outstanding variety of meats and cheeses. I wonder how I will fare but discover that vegetables, beans, potatoes and pastas made from local grains are also abundant and excellent in Tuscany. I'm amazed at how well the tiny "hidden gem" restaurants we visit accommodate my vegan requests and I taste some of the best and most imaginative plant-based dishes I've ever had – buckwheat pasta with black chickpeas and mushroom sauce topped with fresh rosemary, chestnut gnocchi, grilled local vegetables, purple potato salad, crostini with broccoli and olive oil, just to name a few.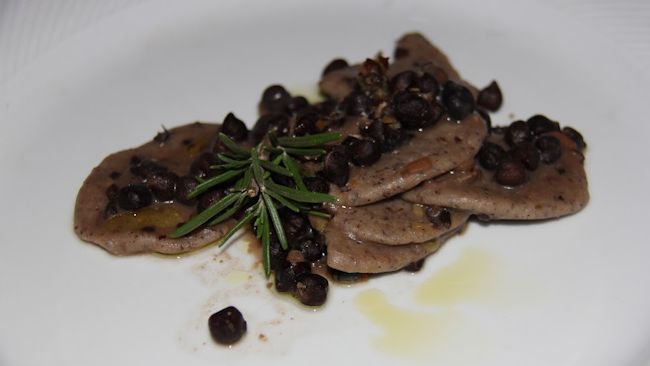 Buckwheat pasta with black chickpeas and mushroom sauce topped with fresh rosemary
Tuscan olive oil is generally considered the world's best and we meet and learn from some of the boutique producers and connoisseurs about the qualities of Extra Virgin Olive Oil. It is very important that olive oil is pressed within four hours or less of the olives being picked and Extra Virgin Olive Oil must be less than 0.8% acidity with the best being only 0.1% acidity. It should have a fresh, grassy aroma and not smell like oil. We are told that 80% of Extra Virgin Olive Oil from Italy being supplied to the world is a fraud. There is an 'Agro-Mafia' that buys cheap olive oil in other Mediterranean countries and then falsely sells it as "Extra Virgin Olive Oil Made in Italy" for five times more than what they buy it for. This is a $5 billion euro annual business and another reason to support local food producers and not buy multi-national brands.
On Saturday we visit a local farmer's market called "Earth Market" in a town square where local artist Pierluigi Potsy Monsignori displays his "
Plastic Food Project
." His large sculpture is made of pressed plastic bottles representing the world's huge production of rubbish and the need to reduce our waste by buying local fresh produce. Lunch is arranged for us at a charming local restaurant where I sample
Ribollita
, a typical vegetable stew of Tuscany that has regional ingredient variations but always includes white beans, olive oil, black cabbage or kale, and onions. It is recooked to give it more depth of texture and flavor, with its name literally meaning 'reboiled'.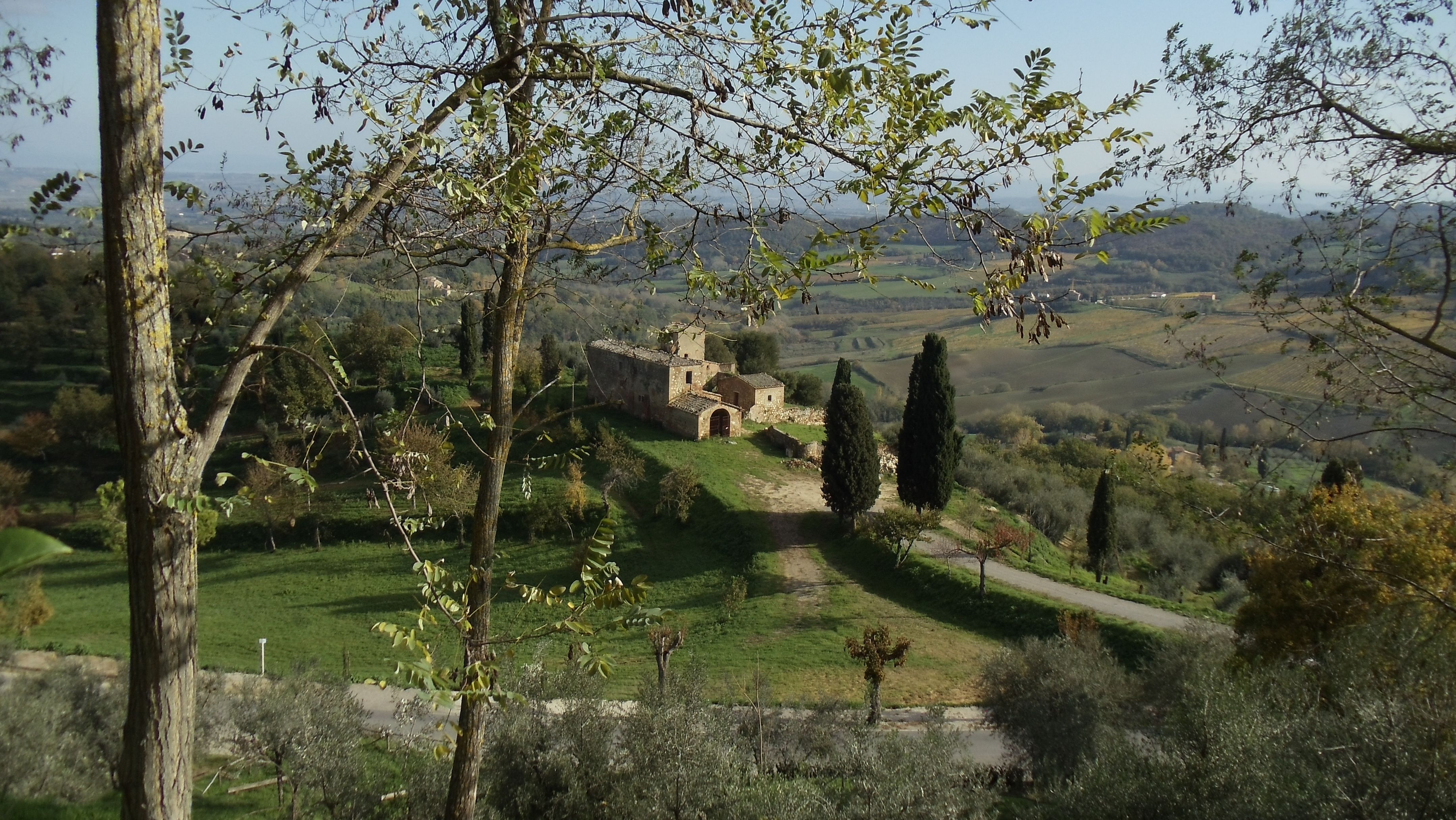 Tuscany view
Where would we be without Tuscany? It was the cradle of ancient Etruscan civilization and birthplace of the Renaissance. Home to so much history, so many artists, inventors, designers and geniuses -- Leonardo da Vinci, Michelangelo, Galileo, Brunelleschi, Dante Alighieri, Donatello, Botticelli, Machiavelli, Lorenzo de'Medici, Amerigo Vespucci, Puccini, Gucci, Ferragamo… In Florence we are immersed in their works of art and architecture. Another day we visit UNESCO World Heritage cities, Siena and San Gimignano. I've been here before but I'm always happy to return to such amazing places.
Our "Boutique Journey" ends in Rome and even in this hectic, bustling city, slow food is a way of life. The contrast to the USA is striking and statistics tell the story. At home over one-third of U.S. adults (35.7%) are obese and another third being overweight according to the CDC. In addition, Americans are plagued by the chronic illnesses that go along with an unhealthy diet. The evidence indicates that Americans are literally being poisoned by unsustainable fast food and fast lifestyle.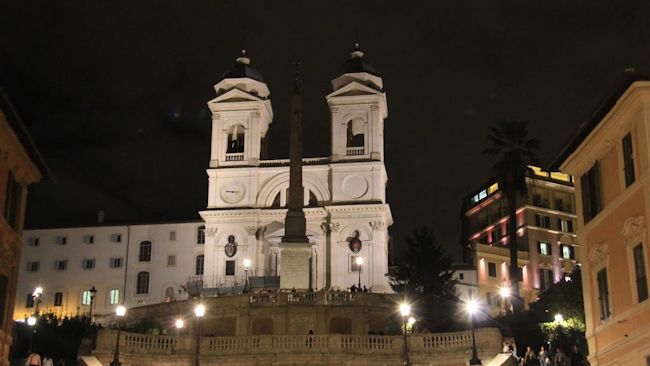 Piazza di Spagna, Rome by night
A Slow Food Journey opens our eyes to the importance of local, small scale, artisan production of quality food. "This is the alternative to the dominant food and seed multinational corporations that have taken over our food supply and our sensibility for fresh taste, seasonal products, harvested when perfectly ripe, and locally suitable heirloom varieties rather than GMOs and those selected for their ability to withstand long-distance transportation," says
Carlo Petrini, founder of the Slow Food Movement
. The joy of a slow food tour in Italy is visiting the farms, seeing timeless traditions, meeting the passionate proprietors and chefs, and appreciating the foods' origin and history which are deeply rooted in the very soil of the destination. It provides a foundation for change ... for the better!
###
Boutique Journeys
gives you insider access to local people, places, restaurants and accommodations that you wouldn't be able to experience on larger escorted trips, but still gives you the convenience of all travel details seamlessly taken care of by a personal guide and driver. The trips have guaranteed departures for parties of 2 to 24. Boutique Journeys are a great idea for girlfriends' getaways or a group of couples. Brendan Vacations offers four Slow Food Journeys in Italy: Tuscany, Umbria, Piedmont and Sicily and some of these can be booked back-to-back or customized to suit your personal preferences. Brendan offers two more "Slow Food" tours in France as well as 30 more "Boutique Journeys" in exotic places around the world. For more information visit the
www.BoutiqueJourneys.com
website or view the
Boutique Journeys brochure online
, and then contact your travel agent for booking.
RELATED ARTICLE:
A Tribute to the Tour Director
by David Cogswell