What would Elvis Presley be like if he was a drink? It's not a question I've asked myself before, but, according to Ruben, chief bartender at the recently opened Pacific Standard bar on the 41st floor of the new Alila Bangsar hotel, there'd be Cimmaron Blanco tequila, strawberry fruit, lime juice and cinnamon cordial, a lively, fruity cocktail with a good dose of East Imperial ginger beer representing the "fizzing energy of Elvis."
Elvis will have left the building by the time you read this. Ruben's 'Love Me Tender' creation, a take on the classic El Diablo, is the first of 12 planned monthly cocktails served at Pacific Standard, a smart cocktail bar with a 1950s-1960s California theme. Each monthly cocktail takes inspiration from Hollywood or American 'classics', with Elizabeth Taylor, Frank Sinatra and Marilyn Monroe coming up during the year ahead.
Whether it's Elvis, Elizabeth, Marilyn or Frank on the menu when you get here, there are plenty of other fine choices for high quality, inventive and tasty cocktails, including a Chocolate Negroni and an Old Fruit Fashioned, classy drinks to savour with views from the bar out onto the towering skyline of Kuala Lumpur.
This modern, creative attitude runs through Alila Bangsar, which opened its doors officially in September 2018. Most of Kuala Lumpur's 5-star hotels are in the locally named Golden Triangle, the Malaysian capital's central business, entertainment and shopping district. As a high-end boutique hotel, Alila Bangsar's the only one of its kind in the Bangsar area, around eight kilometres away from the central Petronas Twin Towers, but within easy reach of lively foodie areas Bangsar and Brickfields, in a part of the city that, judging by the construction work going on, is on the up.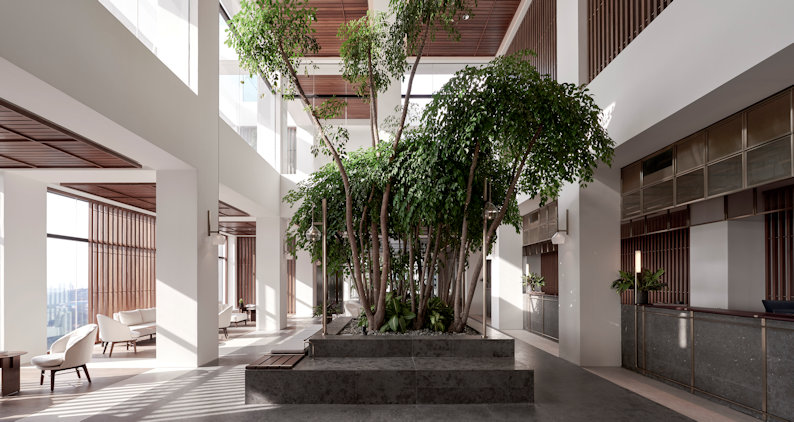 We arrive at the hotel, a sleek, smart, dark tower block, and take the lift up to the 41st floor. The 'Great Room', or lobby, is surrounded by windows, looking out across the sprawling metropolis. There's plenty of leafy greenery in the lobby, with steps leading down one level to a pool area, surrounded by loungers and more tropical plantlife.
We're taken down in the lift to our room on Level 38, along a corridor with an orange glow from the lighting. Our room has a modern, minimalist style, with clean white walls, light wooden floorboards and plenty of space to move around in. Along the front, there's an area with tea and coffee facilities in one corner, a table and chairs, a long slate-grey sofa and a writing table and lamp. The most remarkable element here though is the view, with the whole front of the room made from thick glass, so you can look out from the 38th floor onto the remarkable sight of the Sentral district, including the tips of the famous Petronas Twin Towers, the Kuala Lumpiur Tower, the skyscrapers of the financial district, and the highways, houses and hills stretching to the horizon. It's the kind of view you can spend a while at the window gazing out at, as well as vertigo if you look down.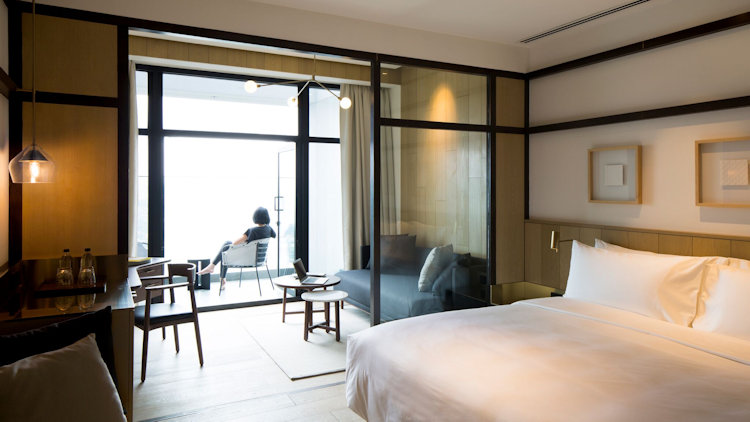 The bedroom has a large white bed at the centre, a few framed pictures and a TV on a counter. Both the lounge and bedroom connect to a modern bathroom, with a sloped grey sink area in one corner and a large shower room.
We spend our first evening working our way through some of Ruben's creations at Pacific Standard, including his take on my drink of choice, an Old Fashioned, as well as the gin-based Orange Blossom with fresh orange, vanilla, egg white, before heading out for dinner in Bangsar.
Next morning, we go for lunch at Entier, run by Japanese-born chef Masashi Horiuchi, which has a reputation as one of the city's best new restaurants. In the smart, brightly lit dining room, there are tables next to the windows with views out across the city. While dinner here is all about sharing plates, lunch has a novel approach, serving starters and main courses together in piled plates that slot on top of each other. I start with a seafood bisque, while my girlfriend goes for a clean crisp corn soup. Once they're done, the little plates on the top of our piles are taken away and we continue with our mains in the covered plates below, mine a warming plate of threadfin fish served on smashed potatoes with watercress puree, while my girlfriend has a simple, homemade pasta with tomato and basil. But the star might be the dessert. Taking the advice of the maître d′, we share a chocolate soufflé, which takes 13 minutes to prepare but is worth the wait: a perfectly baked soufflé, with a slightly crusted outer layer, soft and runny inside, served with chocolate ice cream and crumb.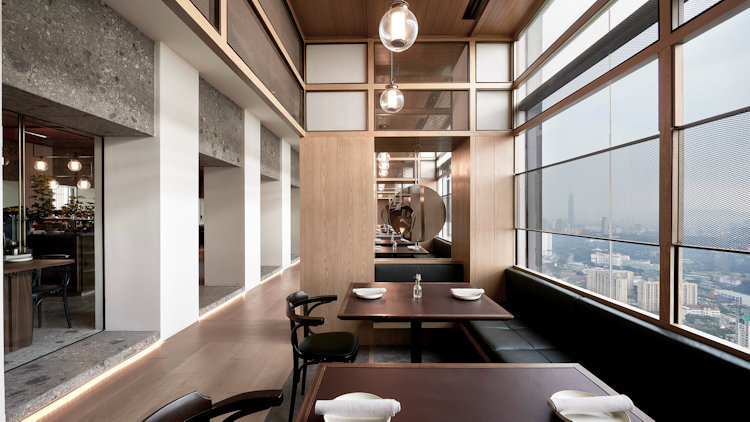 Entier is the only restaurant up at the hotel's higher levels, but on the ground level, there's a more casual Botanico & Co cafe, where we eat dinner. The menu's a mix of Asian and international dishes, including burgers and fish and chips. I go for the classic Malaysian curry laksa, a hearty bowl of soup with giant shrimp, boiled little eggs, noodles and a good kick of chilli heat, while my girlfriend opts for the burger, both with substantial portions.
Breakfast each morning is served up at Entier, with tea and coffee delivered to us at a table by the window. There's a central buffet with croissants, breads, fruit, cheese and cold meat slices, with a menu to order eggs or Asian dishes, such as Malaysian Nasi Lemak, pan-fried Chinese dumplings and congee, or an Indian chicken curry with roti.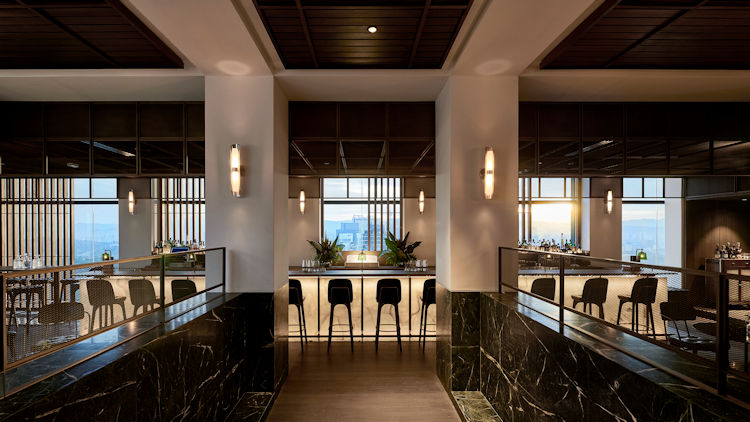 On our final night at the hotel, we go up a few levels to The Lido, the hotel's rooftop bar, split across three tiers. Here, at sunset, you get an incredible view of the city, all the way out to Genting Highlands Resort and casino on the distant hills beyond the edges of the city. I order a spicy El Diablo, my girlfriend going for a straight, simple G&T. Up on the hotel's 42nd, 43rd and 44th levels, there's a feeling of being right in the centre of it all, with city lights all around us. It makes us both a little disappointed to think that tomorrow we, like Elvis, have to leave the building.
Alila Bangsar
58, Jalan And Seng, 50470 Kuala Lumpur, Malaysia.
https://www.alilahotels.com/bangsar
+603 2268 3888
A Deluxe Corner Studio costs from USD$160 per room per night and the Bangsar Suite costs from USD$237.
For Pacific Standard, see https://www.pstbar.com/# and for Entier visit http://www.entierfrenchdining.com/.
Graeme Green is a photographer and journalist. See http://www.graeme-green.com/ and follow him on Instagram @graeme.green (https://www.instagram.com/graeme.green/).