Hospitals aren't generally places where people want to spend time. Unless you're a doctor or a nurse, a hospital visit usually means that you or someone you know is seriously ill or injured. If Amantaka was the local hospital, though, my guess is that people would suddenly be keen to pick up a minor injury or a light dose of a tropical disease, nothing serious or dangerous, just enough of a reason to be admitted.
Amantaka, the Aman group's hotel in Luang Prabang, Laos' former Royal capital, used to be a hospital. It was originally built in the 1920s, when Laos was under French colonial rule. The hospital closed in 2005 and was abandoned until Amantaka bought and renovated the property, officially opening the doors to guests (with no broken bones or illnesses required) in October 2008.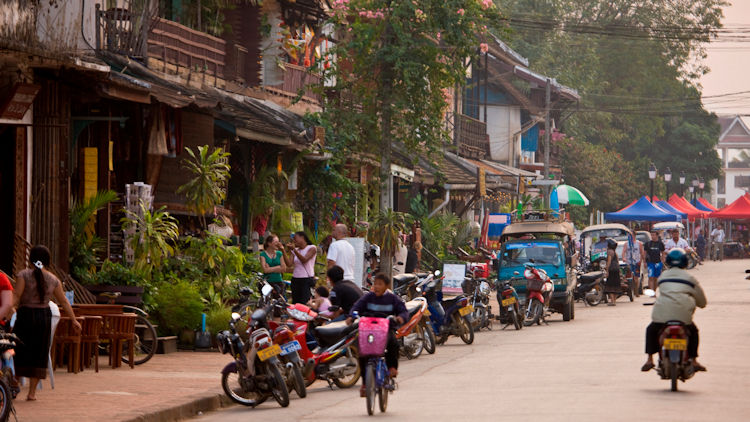 The hotel is situated on Kingkitsarath Road in the heart of Luang Prabang, around five kilometres by car from the airport. Building restrictions in UNESCO World Heritage-protected city means big, new hotels struggle to get permission to build right in the centre. But Amantaka is only a 250-metre walk, or two minutes, from Sisavangvong Street, the city's main central, close to the French colonial-era buildings, temples, shops, bars, restaurants, bakeries and the popular night markets. The iconic Wat Phousi is just across the road, up a hill. As a base to explore the city, it´s hard to beat, though it may sometimes feel difficult to leave the hotel's grounds.
We´re transported to the hotel in a private car with white linen cloths laid out over seats, bottles of water and a jar of tamarind sweets alongside. The hotel buildings are smart and sheer white with green wooden shutters and reddish roof tiles. Outside, there are neat lawns. The interiors are a calm, cool white too. There's quite a simple, minimalist feel, with just a few black and white photos of monks, houses and Luang Prabang life framed on the walls. Beyond the check-in desks, there´s a quiet library with photography books and novels, where Afternoon Tea is served each day.
The hotel has just 24 suites and villas, so it's not crowded at all. There's a peaceful, sedentary feel inside the grounds (this must've been quite a place to recuperate), with white buildings framing the lawns. Dominating the gardens, there's now a smart, sleek, blue-grey pool. Mango trees, rain trees and calliandra trees line the pathways, with gardeners patrolling around the garden, spiking up any stray leaves.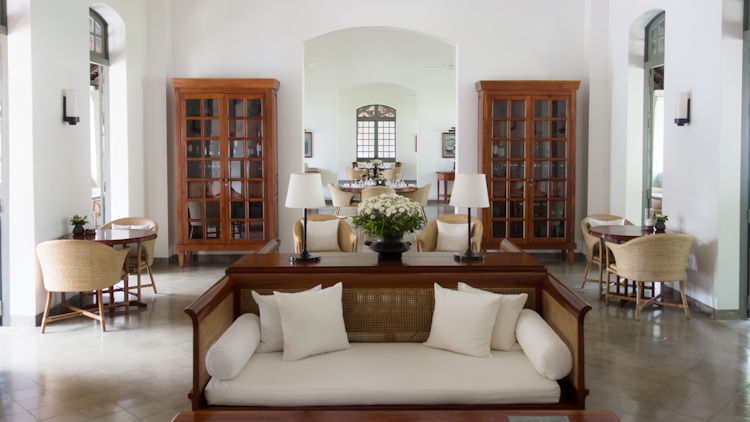 We´re shown into our suite, which has plenty of space to move around in, with cool, grey floor tiles throughout, white walls with black and white photos, and a few vases and local craftworks. Again, there's a simplicity and a pared-down feel to the décor. On one side, there´s a living room area with a wooden writing desk by the slatted windows, a cabinet with a fridge and tea and coffee facilities, and a comfy green-grey sofa. The main reception area leads onto a corridor, with room on either side for large wardrobes and plenty of space for bags, so the suite remains uncluttered. The bedroom's dominated by a wide, four-poster bed with white curtains pulled around it each night by staff at turndown. Another corridor leads to a bathroom, past separate His and Hers sinks and mirrors on either side, with a rainshower room and a separate area with a white standalone bathtub.
We've got more space outside too. Our private walled garden has a smart lawn, clusters of tall bamboo, and a 9-metre long pool, heated on-demand, with white loungers and comfy chairs arranged alongside. It´s a fine place to relax and cool down from the city heat, but I prefer the main pool. The best swimming pool in Luang Prabang? It´s certainly my favourite from the hotels I've visited, 24 meters long and a deep blue colour, centrally positioned so you get a feel of the almost symmetrical layout of the hotel and grounds as you swim up and down. Surrounded by white loungers and parasols, I could happily spend days here, but Luang Prabang, one of my favourite cities, is outside, waiting.
We step out and explore Sisavangvong Street and the surroundings, including the Royal Palace and the Golden Buddha inside Wat Ho Pha Bang temple. We spend hours on foot, detouring whenever we feel like it to check out temples, golden stupas, statues, art galleries, craft shops and cafés, all the way to the viewpoint at the end of the peninsula where the Nam Khan river meets the Mekong.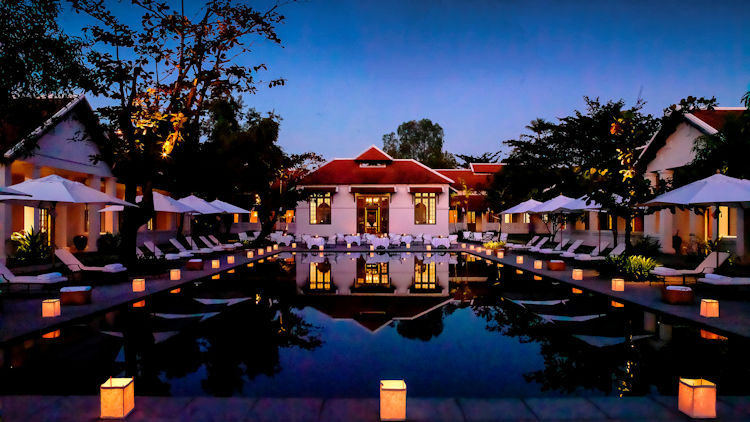 Back at the hotel, the grounds are romantically lit at night with orange lanterns around the pool, where a local duo play Laotian music on traditional stringed instruments. The dinner menu is original and intriguing, with Laotian and international choices, as well as a page of vegetarian and vegan options. I start with a roast pumpkin salad with feta cheese, spinach and sunflower seeds, following it with a main of crispy semolina fried eel with black wood mushrooms, polenta triangles and a coriander salsa. My girlfriend goes for mushroom soup, then a sweet potato gnocchi with cashew nut and coriander pesto from the veggie menu. We both finish with the warm, runny chocolate fondant with ice cream. The setting is the star, though: the blackness of the calm pool, the orange lanterns, the peaceful gardens and the starry night sky, our calm mood helped along with a bottle of red from the Côtes du Rhône, a good French wine for a French-influenced city.
Breakfast each morning is served in the main building, the restaurant setting decorated with the now-familiar grey tiles, white walls and black and white photos. There are Lao omelettes and noodle soups with chicken or pork, as well as Western options, including omelettes filled with veggies, baskets with croissants and pastries, yogurts and fresh juices.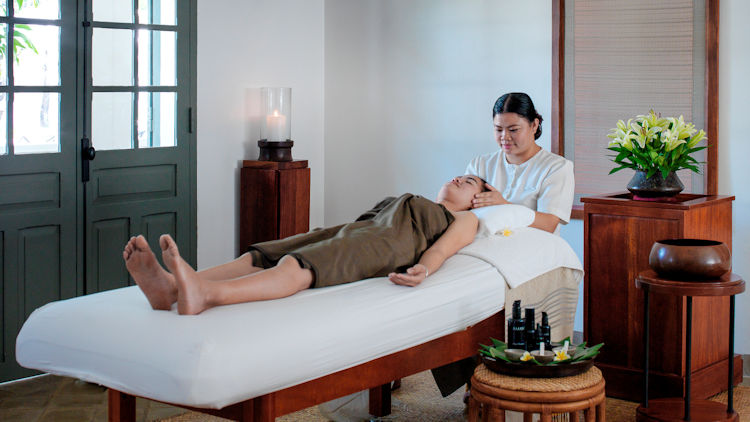 I visit the spa in the early afternoon, soaking downstairs in a heated, bathwater-warm pool under grand, high ceilings. The attendants switch on the sauna and I spend 15 minutes unwinding in the toasty room before my appointment for a 60-minute Purifying Massage. Eastern music, including droning sitars, plays, as I receive first a foot soak and scrub, then a solid oil massage with firm pressure, the room flickering with orange candlelight. The treatment finishes with a hot towel over my chest and face, and a head and face massage. I doubt if past patients at the hospital had life so good.
Later, we´re ferried in a luxuriously refitted tuk-tuk down to the banks of the Mekong to board a private boat for a Sunset Cruise. We take up position on one of two lounging beds, decorated with white lylee and chrysanthemum flowers. A waiter serves local snacks, including spring rolls with betel leaves, vegetable dumplings and rice crackers with sweet chilli, aubergine and tomato dips, then opens and pours a bottle of the same enjoyable Côtes du Rhône wine from the previous evening. Boats pass by in either direction as we motor along the Mekong river towards a large white house on the edge of the city, children playing on the banks, fishermen trying to secure a final catch.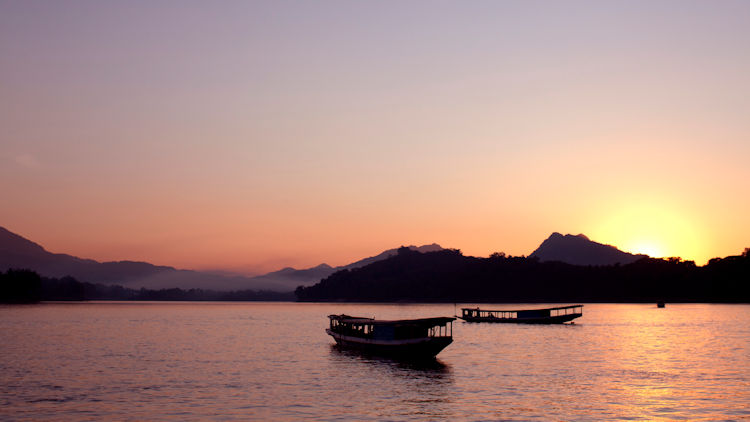 The engine is turned off and we float back with the flow of the water towards our start point, as the sun sets over the mountains. Long wooden boats and their captains become black silhouettes against the silver and gold of the river. Darkness falls and the lights of the waterfront are switched on, reflecting in the calm water of the Mekong. Our 'recovery' in Luang Prabang is complete.
Amantaka
55/3 Kingkitsarath Road, Ban Thongchaleun, Luang Prabang, Laos
https://www.aman.com/resorts/amantaka
1 800 477 9180
Rates for Amantaka start from $950 per room per night and include daily breakfast, lunch, and dinner, not including VAT. Sunset Cruises cost USD $78 for two people.
Graeme Green is a photographer and journalist. See http://www.graeme-green.com/ and follow him on Instagram @graeme.green (https://www.instagram.com/graeme.green/).