As the sun rises from beyond the ridge, the plain below is already ablaze. Roaring flames beneath dozens of hot air balloons inflate expanses of canopy, illuminating the mesmerizing rock formations of Cappadocia.
As we gently lift off soon after 5:30am to soar above this magical landscape, the sky is alive with 60 multi-colored balloons. The only sound is the occasional burst of shooting flame from burners as the balloons seek altitude.
There is no better way of experiencing the wondrous landscape of Cappadocia than from above, floating slowly over the terrain of fascinating natural formations, and cave homes, monasteries and churches carved out of the soft rock.
At times we reach an altitude of 250m and then dip close to ground level to hover into small gullies for close up views of cave homes or pigeonholes carved into the walls.
We float in the direction of the ancient town of Uçhisar, where its castle hewn out of the volcanic rock rises as a monolithic watchtower.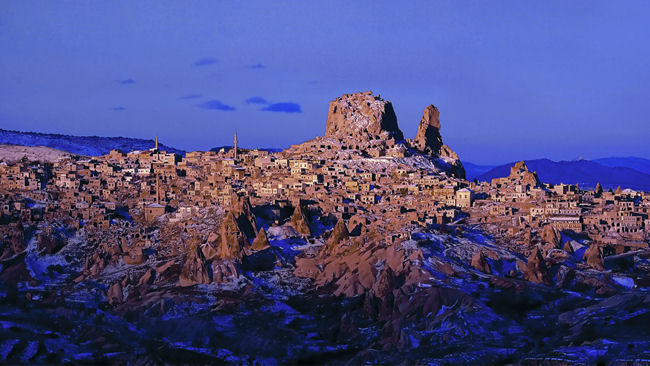 Below it, an ancient village of cave houses tumbles down the hillside and into the famous Pigeon Valley of stunning white rock formations worn by wind and water into smooth conical patterns over thousands of years.
Uçhisar is a veritable museum community in the heart of the region where these abandoned dwellings long-since vacated by residents, and a centuries-old monastery, have now received a new lease of life.
Revived, rejuvenated and refurbished as the rooms and suites of the luxurious Argos in Cappadocia hotel, they are spread over the hillside and linked by historic tunnels and alleys.
The Argos describes itself as "an ancient village with a reception desk," and that is exactly what it is.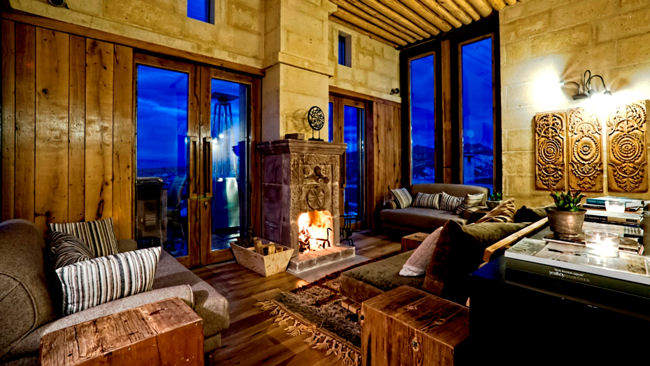 Within the 51 rooms and suites many original features, such as the rough-hewn ceilings and archways, survive.
The accommodation is in several styles and ranges from standard rooms to Splendid Suites, which are set over two storeys and have their own private pools.
What distinguishes them is the way they are situated in six restored "mansions" connected by underground tunnels in a design that pays tribute to the region's architecture and heritage.
With secluded courtyards, each room is individually designed with Turkish carpets, artefacts, candles and decorative objects set in wall niches.
Offering Turkish hospitality and personalized services, there are also gardens and terraces with panoramic views from the foothills of Uçhisar Fortress to Güvercinlik Valley and Mount Erciyes in the distance.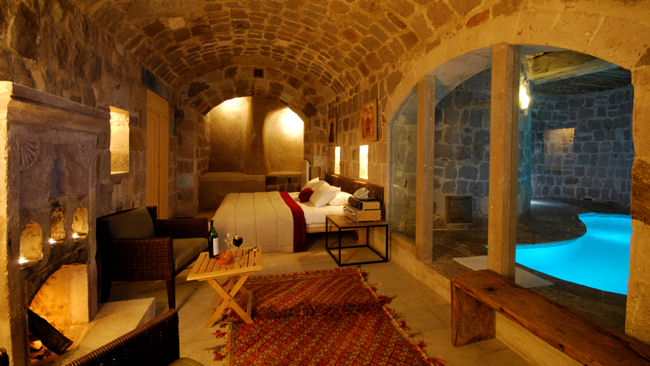 Neat footpaths lead to the hotel lounge and the Seki Restaurant, which sits above the valley where below the hotel's herb, vegetable and fruit gardens are in full bloom.
In season, guests can pick apricots and juicy cherries straight from the tree.
The Seki Restaurant serves regional, Turkish, and international dishes and has an extensive wine list.
Its wine cellar, set deep in the cavernous interior of the Argos in Cappadocia, holds an extensive collection of global and local vintages, including Kalecik Karasi and Syrah wines produced from grapes from the hotel's own vineyards a few miles away.
The hotel, which is open all year round, has won an array of awards including the Best Small Hotel in Turkey in the International Hotel Awards 2016-17, while in the World Luxury Hotel Awards 2015 it was named "Europe's Best Scenic Environment."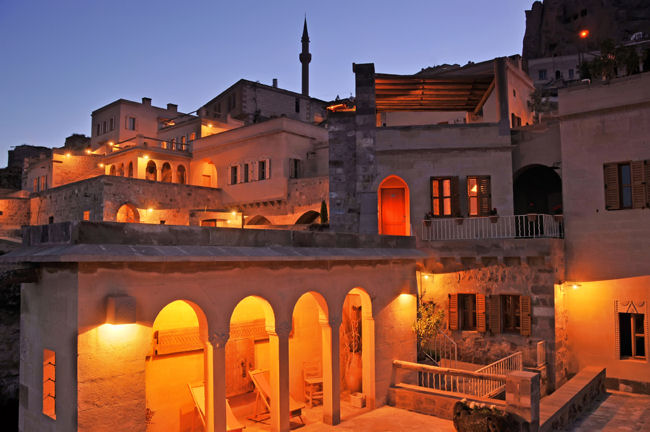 In the late spring and summer, the views are spectacular with the trees and flowers of the valley and garden in bloom, yet the chill of winter offers an additional perspective with a covering of snow enhancing the romantic ambience.
While the view from a balloon is unbeatable, Cappadocia is an incredible area to explore at ground level…or in some cases, below ground level.
The landscape is bafflingly beautiful with an engrained essence of eastern mysticism.
Conical rock formations and fairy chimneys stand dominant amidst the central Turkish landscape of Cappadocia, which has been a haven and crossroads for thousands of years, straddling the Silk Road to central Asia and China and the route from the Middle East into Europe.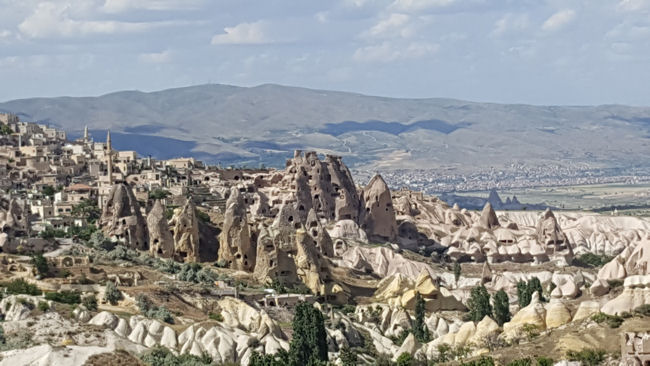 Kaymakli is one of at least 37 subterranean settlements, dug out of rock formed of sandy volcanic ash, pumice and lava.
As an underground city where thousands of people once lived, it is burrowed eight storeys below ground.
With living and eating areas, churches, wineries and narrow passages that were easily defendable against intruders, some of the underground refuges date from 2000BC and were lived in until the 11th century AD. A number of them were still in use until the latter part of the 20th century for storage and animals shelters.
A few miles away, one of the major visitor sites in Cappadocia is the Goreme Open Air Museum where a nunnery, monastery and numerous 4th century churches – many with colourful and well-preserved wall paintings telling the story of Christ – are carved out of the rock face.
Elsewhere, the so-called fairy chimneys are a symbol of Cappadocia, where the elements have shaped the rock formations into tall pillars leaving flat slabs incongruously balanced on top of them like little stone caps.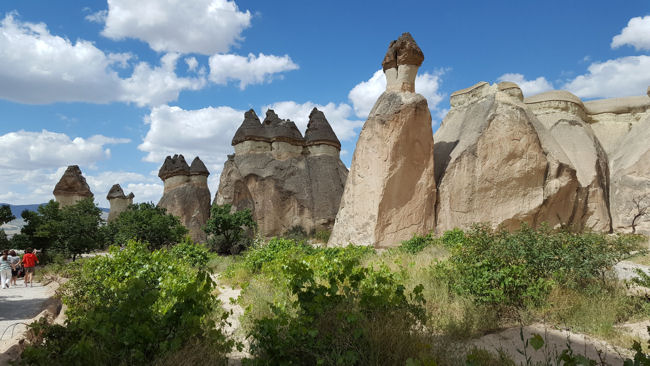 Cappadocia is arguably Turkey's most popular destination outside of Istanbul with its mysterious expanse of ravines, canyons, mountains and valleys formed by millions of years of soft volcanic lava and ash.
With many of the finest sites amid this terrain within easy reach of Uçhisar, it's not long before we are back in the comfortable embrace of the Argos in Cappadocia.
The Argos is a gem; with beautiful rooms, a magical ambience and some of the most spectacular views on earth, it is a setting which allows you to truly immerse yourself into the culture of this fascinating area in central Turkey.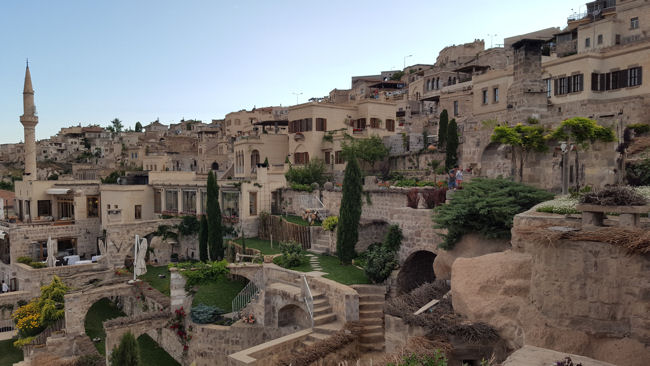 IF YOU GOAccommodation:
Argos in Cappadocia, Uçhisar 50240, Nevsehir, Turkey. For more information, visit
www.argosincappadocia.com
and email aic@argosincappadocia.com or call 0090-384-219-3130.
Flights:
Daily flights from Istanbul to Nevsehir (25 minute drive) and Kayseri (one hour drive) airports.