The Hindu god Vishnu is a dominant presence on the southern tip of Bali. A striking 'Garuda Wisnu' statue stands 75 metres tall, 121 metres if you include the massive concrete pedestal he's positioned on, within Garuda Wisnu Kencana (GWK) Cultural Park, the god riding on the mythical bird Garuda. Bali is a predominantly Hindu island, with Vishnu one of the most important deities in the religion. Along with Brahma and Shiva, he forms the Hindu trinity. According to the Hindu faith, Vishnu is a peace-loving deity, the sustainer of life, his role mainly to preserve peace and order on Earth.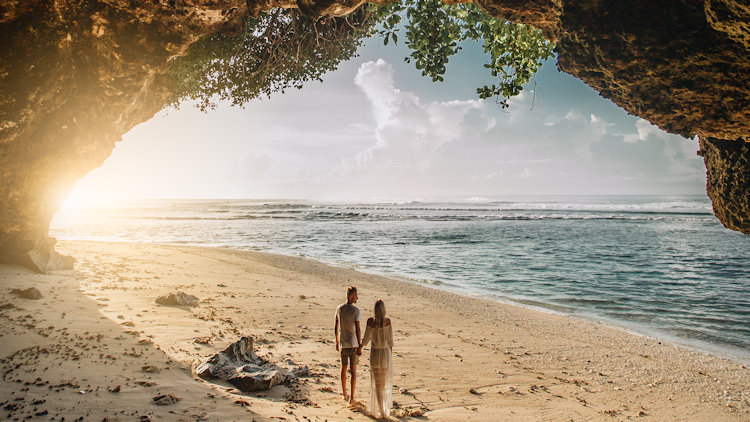 Clearly, he's done his job well in this part of the world, as peace and order reign on the southern coast of Bali, especially so at the Banyan Tree Ungasan. The luxury resort opened in 2019 in the peaceful, hilly Ungasan region of the Indonesian island's Bukit peninsula, 10 kilometers away from the popular Nusa Dua area. We pass the Garuda Wisnu statue and several Hindu temples on the journey to the resort, a 45-minute drive from Denpasar International Airport, stopping occasionally to let monkeys cross the road.
The more I see of Banyan Tree's hotels, the more I want to stay at more of them. Previously, I spent time at the Banyan Tree Mayakoba in Mexico's Yucatan Peninsula, an elegant, Asian-inspired hotel on the Caribbean coast, home to Saffron, one of the country's best Thai restaurants. More recently, I stayed at their towering Kuala Lumpur hotel, with a swimming pool, an excellent restaurant and a rooftop bar all looking out from high above the Malaysian capital, perhaps my favorite hotel in a city with no shortage of competition. Staff at their hotels are genuine, friendly and exceptionally helpful, the hotels themselves luxurious but favoring modern design, rather than anything formal or traditional.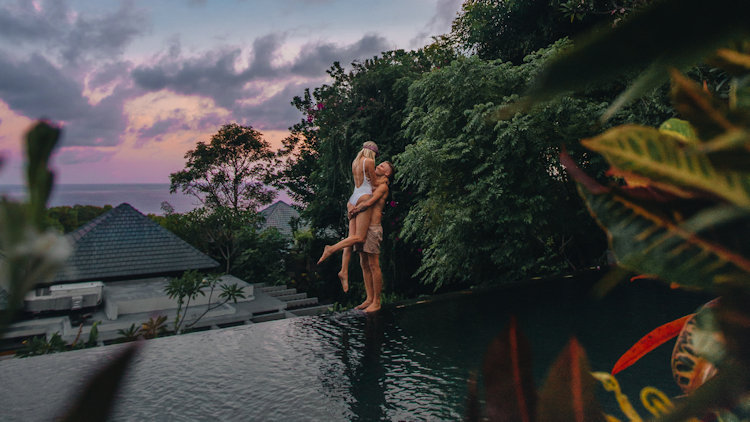 That's the case too at Banyan Tree Ungasan. Our car reaches the reception building, where two statues of mythical creatures, part lion, part dragon, stand guard by the steps. Welcome drinks and cold towels are delivered while we sit in the grand white lobby in comfy seats with views of the Indian ocean.
We're then transported, via golf cart, to our Cliffedge Villa. Banyan Tree Ungasan doesn't have rooms, only villas, 71 of them across the property. Ours feels big enough to be a home. We step through wooden doors into our own enclosed private garden, a path leading to our front door and further along to our private pool and decking area. Inside the villa, the décor's elegant and modern, with creamy white marble flooring and white walls contrasting with sleek black panels and dark wood. On one wall, there's a couple of wooden Balinese figures in a wooden frame, with little statuettes on the central writing table too. The lounge has a long comfy sofa and two large armchairs positioned around a wooden table, facing a big TV in the corner. Behind the writing table, there's another table big enough for four people to sit around. A long counter lines the back wall, with a fridge, sink, tea and coffee facilities, along with metal fish sculptures and ceramic vases high on a shelf. The traditional Balinese roof here merits a mention, rising perhaps 20 feet above us, with a grand metal hanging lamp in the center, quite a sight.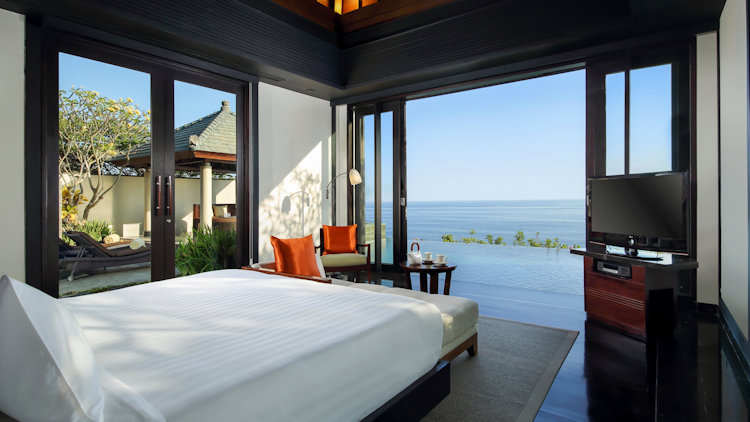 The bedroom has large windows on three sides, two looking out towards the deck and ocean, one looking out onto a little garden of tropical greenery. There's a large white bed at the center, beneath another impressive, towering ceiling. A wooden counter behind the bed has a lamp with five little Balinese figures carrying the lampshade and there's a second TV in a corner.
The bathroom has more cream marble. Two blocky white sinks sit in front of large mirrors, while the windows along the wall and by the rainshower look out onto tall plantlife. There's a big white bathtub, a little TV facing it, and Banyan Tree's own products on-hand.


We can step out from the lounge or the bedroom directly into the water of our 10-metre long swimming pool. There are loungers, chairs and a comfy circular seating area out on the deck, with a hot tub tucked away in a corner. All this looks out over chalky white cliffs, trees, beaches far below and a panorama of blue ocean, waves crashing day and night. There's a larger swimming pool up by Bambu restaurant, but we don't really use it, as everything we need is here. (The Cliffedge Villa villa also has a second bedroom in a second building for families with children.)
In the evening, we walk downhill to Ju-Ma-Na restaurant for dinner, a simple, elegant white dining room with white linen on tables, the windows looking out onto the ocean-facing terrace. Staff are friendly and fast, and the menu has plenty of seafood, including large grilled shrimp and, my main course, blackened cod, two chunks of cod coated with sticky teriyaki sauce, which I could happily eat more often. My girlfriend goes for the Wagyu beef, reporting that it's superbly cooked and delicious.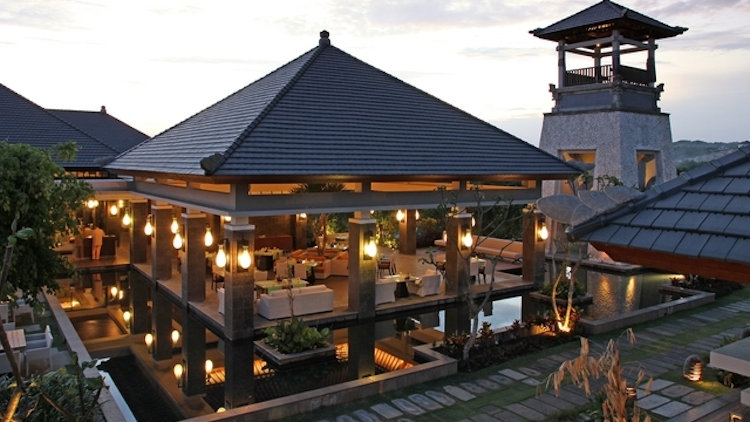 The Banyan Trees I've stayed at previously have had some of the largest breakfast buffets I've seen. The choice up at Bambu restaurant next morning is extensive too. There are all the usuals, from pancakes and omelettes to yogurts and juices. Coffee and tea are served quickly. There are also bottles of sparkling rosé. Counters are filled with fine cheeses, cold cuts of meat and smoked tuna. Pastries are fresh, croissants incredibly soft and crunchy. But Banyan Trees are very popular with Asian travellers, so there are a few more novel and tasty options to try, including Gindara (fish) with pesto, mungbean dhal with roti and noodle soups.
Stepping out of the restaurant, we're offered a short, complimentary shoulder massage in comfy chairs in the shade of a tree, close to the main swimming pool. Along with a few glasses of the rosé, it's an excellent way to start the day.
Buggies are available to carry guests five minutes down to the beach below. But we spend the morning instead around our villa, swimming and reading. In the afternoon, we call a golf cart to take us to the spa, which has white statues and running water features around the reception and shop. The treatment room, Pala, has large windows looking out onto forest greenery. Soft music, from sitars to flutes to drifting synths, plays, as the skilled therapist gives me a footbath and scrub, then a comprehensive massage, using thumbs and elbows to stretch my limbs and work pressure points. At times, she climbs onto the bed, using knees and hands simultaneously to knead my body. Afterwards, there's a firm oil massage using ylang ylang oil and a relaxing head massage, before finishing with a hot cup of cinnamon and lemongrass tea.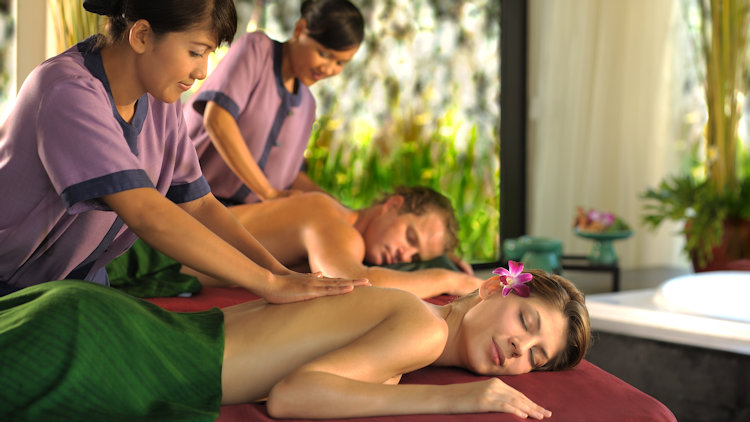 We make our way from the spa to the white ocean-view terrace at the front of Jumanu for a few cocktails and a glass of Indonesian red wine. A plate of canapes are placed on our table, including grilled prawn with truffle mash and yellow fin tuna and artichoke bites, as we watch the sunset, the sky turning pink over the ocean.
In the morning, the phone rings inside our villa. I let in a waiter who quickly arranges a 'floating breakfast' on our pool, then leaves. My girlfriend and I get into the pool and relax into the morning with croissants, fresh fruit, coffee and scrambled eggs with lobster, all neatly presented on a floating tray. The water is refreshingly cool, sunlight is bouncing off the ocean, and we still have a few hours before we need to leave. Everything feels peaceful and in perfect order.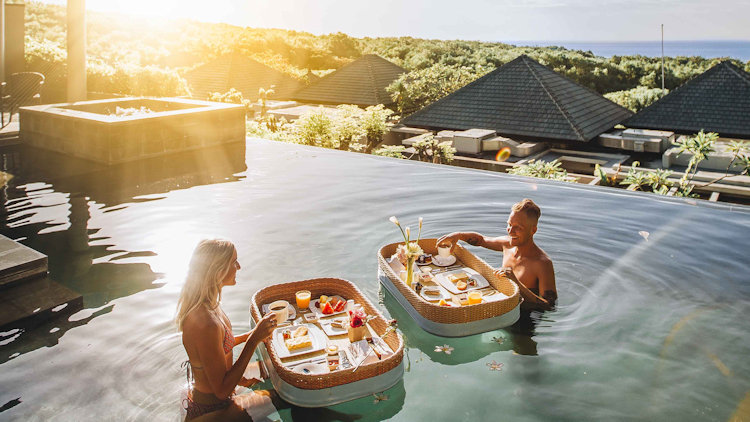 Banyan Tree Ungasan, Bali
Jalan Melasti, Banjar Kelod, Ungasan, Bali 80364
1800 591 0439
https://www.banyantree.com/en/indonesia/ungasan-bali/
Garden View Villas start from USD$919, plus taxes and service charge, including breakfast.
Pool Villas with a sea-view cost from USD$1,142, plus taxes and service charge, including breakfast.
Return transfers from the airport in a private car start from USD$60.
Graeme Green is a photographer and journalist. See http://www.graeme-green.com/ and follow him on Instagram @graeme.green (https://www.instagram.com/graeme.green/).