Six million people visit Bali each year. It's easy to understand why. The Indonesian island deserves its reputation as a paradise or the 'Island of the Gods', with rice paddies, Hindu temples and volcanoes to explore inland, long white sand beaches, sunny weather, excellent surfing and no shortage of places to enjoy a good cocktail. All that does mean parts of the island can get pretty crowded, with busy beaches and traffic jams in the most developed areas, especially around Seminyak in high season.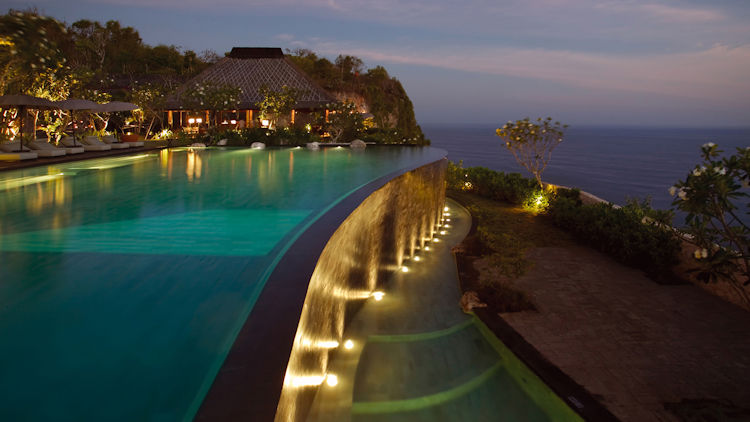 There are still quiet corners, though, if you know where to look. Bvlgari Resort Bali is one of them. The stylish hotel is located far down on the south coast of the island, in the Uluwatu area, with an away-from-it-all clifftop location, 150 metres above the Indian ocean, and with their own pristine beach.
A smart 6-seater van picks us up, with little jars of marshmallows and chocolate-coated fruit by the seats, as well as water, magazines and onboard Wi-Fi, the journey from Denpasar International Airport to the hotel taking around 50 minutes, depending on traffic. We're dropped off at the vast open-air reception building, a large traditional Indonesian hall with two sculptures that look like eggs broken in half. From here, you get a good view of the ocean, deep blue stretching to the horizon.
After a welcome drink of basil, honey, mint and soda and a speedy check-in, we're carried to our villa on a little golf cart, traveling down narrow roads around the hilly property. Bvlgari (using the Latin 'V' for the 'U' in its name) is an Italian brand known for jewelry, watches, perfume and other luxury products. You'd expect the villas to be stylish and they don't disappoint. Each one is private, secluded by a gate, our deck looking out over the roofs of the other villas in front and on to the ocean. We have a small garden area with bamboo and other greenery, a white sofa on the wooden deck with pink and yellow embroidered pillows, a fridge, tea and coffee facilities, a round wooden table and chairs. Further along, there are two loungers and a little plunge pool for cooling down, a large jar-shaped fountain pouring water into the pool.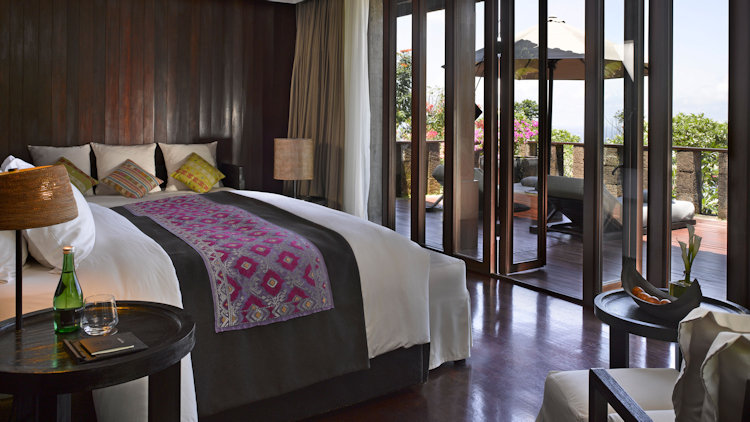 Inside the door of the villa, there's a black wooden writing table and lamp, with black and white photos of a Hindu statue. There are rich chocolatey brown floorboards throughout the villa, including the high-ceilinged bedroom, where a big white bed has six cushions and a colorfully embroidered throw neatly arranged on it. A large TV sits in one corner, with a comfy chaise longue and an armchair closeby. In another corner, there's a sculpture that looks like the wooden masthead from a traditional boat. Best of all, glass windows across the front allow us to look out onto the ocean.
The finish everywhere is impeccable. The hotel's been open for 12 years but was recently given a bit of work and looks almost new. In the spacious bathroom, a little sideroom has a rainshower, with gold-coloured tiles, and there's a second rainshower for outdoor showering in a little patio/garden area with grey pebbles and plants. The bathroom itself is dominated by a big rectangular tub. Two large round stainless steel sinks are set in a central unit in front of smart, brightly lit mirrors. There's a speaker and radio mounted on one wall, a make-up table in a corner and Bvlgari's own bathroom products to use.
The resort feels like a smart little Italian village. We walk down steep roads with stone walls on either side to Il Bar, the resort's ocean-view cocktail bar. I relax with an Old Fashioned, containing a giant ball of ice, while my girlfriend goes for a signature Bvlgari Cocktail with Beefeater gin, Campari, orange juice, lime juice and sugar, a refreshing drink served in a tall glass.
The swimming pool's close to the bar, one of the most beautiful I've seen in Bali: 23 metres long, cool light blue, with orchid and bougainvillea trees along one side, plenty of loungers and a shaded section of four poster beds. From the front ledge of the infinity pool, you can look out, from 150 metres up, over the ocean, big sets of white waves breaking and crashing down below.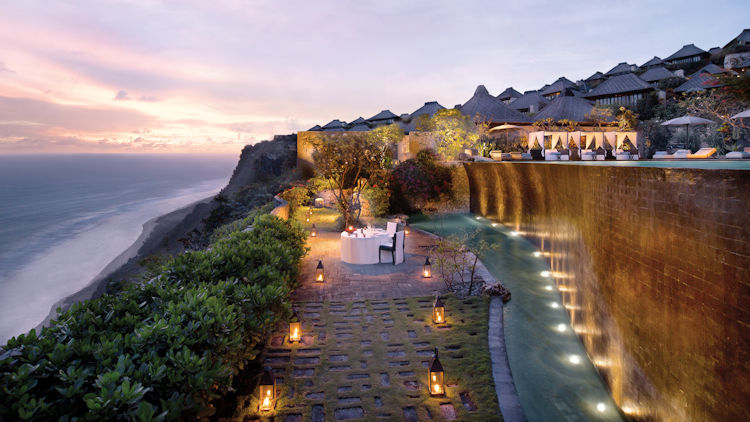 In the evening, we have dinner at Il Ristorante, the hotel's signature Italian restaurant from Executive Chef Luca Fantin. The restaurant has white linen tables and booths with large black and white canvas prints of Italian stars from the past. It has a romantic location, looking over a man-made lake, which glows with orange lamplight, traditional Balinese music playing gently in the background. Friendly restaurant staff introduce themselves by name and help with suggestions from the menu. We opt for the Degustation Menu, or Tasting Menu, along with a bottle of Sondraia 2011 Bolgheri Supreme from Tuscany and, later, a couple of glasses of a smoother, tastier red from Piedmont, recommended by the waitress.
We start with tagliatelle with squid, corn and caviar, followed by a dish of cold spaghetti with smoked eel on top in a creamy sauce. Ravioli with a crustacean filling and a little crab meat on top is a warming dish, maybe the best of the evening. We swap out the veal from the standard tasting menu for the more appealing green gnocchi with clams and tiny broccoli, before finishing with citrus granite with almond ice cream. This is satisfying Italian food, but modern and inventive, the menu and setting making for a memorable occasion.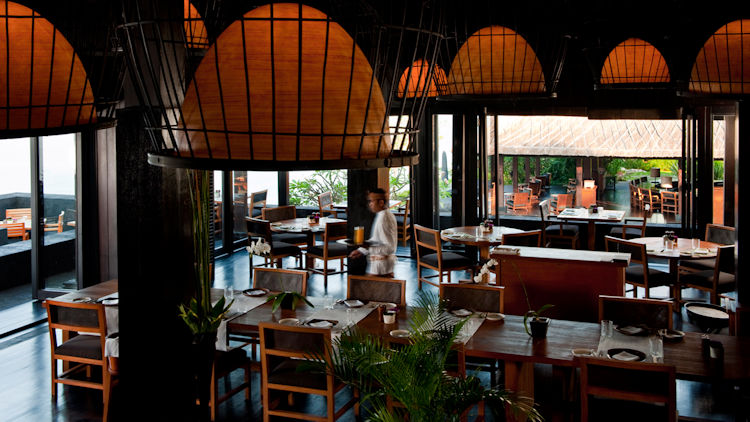 After a peaceful night, we make our way through 'the village' to Sangkar restaurant for breakfast. The large dining room has a terrace that makes the most of the fine ocean views. Here, too, staff are thoughtful and efficient. There's a buffet with breads (including excellent ciabatta rolls), pastries (including several varieties of croissants), fruit and covered plates of cheese, salmon and cold meat, as well as a menu of Asian and Western dishes, including grilled barramundi with soy, chicken congee, pancakes, waffles and, my order, Eggs Benedict with runny poached eggs on salmon squares and toasted ciabatta, with fresh, grilled asparagus fresh. The place mats at the table, I notice, have been handmade by weaving together palm tree leaves.
We spend our morning swimming in the pool, which we have almost to ourselves. The moment we're out at a lounger, glasses of iced water with lemon are brought over by the waiter. There's also a trio of products (suntan lotion, face mist and after-sun) arranged on each table.
Late morning, I head up the road to the spa. The spa's reception is a beautiful, elaborately carved wooden building, an 18th century Joglo house imported piece-by-piece from the island of Java. After a tamarind and honey welcome drink, I spend a bit of time on loungers down by an empty swimming pool looking over the ocean before my treatment begins. The treatment rooms are open-fronted, so you get an ocean view, the sound of distant waves crashing below audible over the sound of gentle ambient music. The treatment I go for is a 60-minute Balinese Massage, starting with a foot scrub in hot water, with the skilful therapist working pressure points on my body with thumbs, elbows and knees, rounding things off with a relaxing, firm oil massage.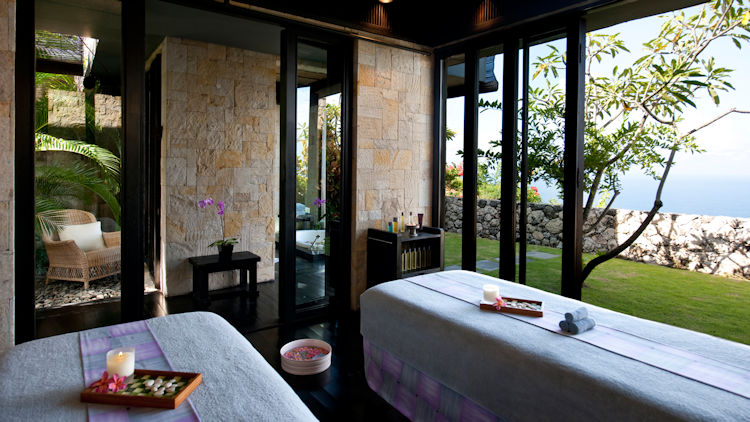 Close to the spa, there's an entrance to a funicular railway to carry guests down the cliffs. It's a pleasant ride down the rails, with views along the coast and down to the hotel's virtually deserted beach. We get out of the car and step into La Spiagga, the hotel's casual beachfront restaurant. The menu contains grilled seafood, lobster and burgers. We share a starter of shrimp skewers, full of flavour, with a garlic dip. My girlfriend goes for a hefty Wagyu beef burger for a main, while I go for the Fish of the Day, barramundi. It eases us into the afternoon down on the quiet beach. It's not possible to own beaches in Bali, but this one is secluded and hard to get to, without accessing it via the hotel's funicular railway or, perhaps, by boat, so there are very few people here, just a few other guests on sunloungers.
We make time for the beach again next morning before checking out. It's a pleasant, wild-feeling location, beneath the cliffs, with waves crashing. The water is cool. With powerful currents and lots of coral, it isn't ideal for a swim, but is fine for paddling. It makes for a fine way to end our stay: a short stroll along the beach in this quiet little Italian corner of Bali.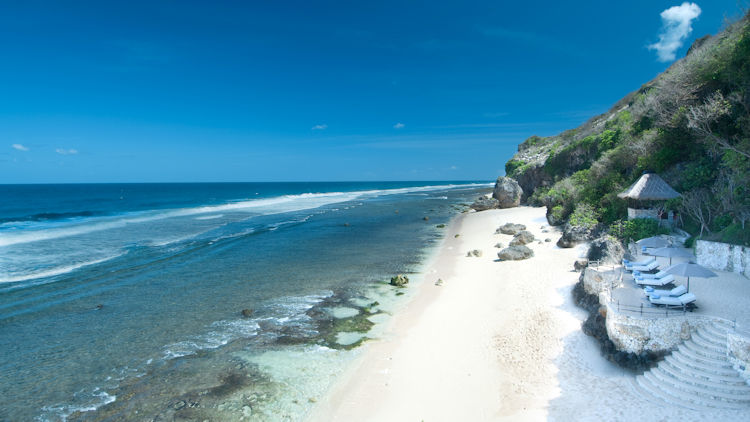 Bulgari Resort Bali
Jalan Goa Lempeh, Banjar Dinas Kangin, Uluwatu 80364
Bali, Indonesia
1-800-628-5427
www.bulgarihotels.com/bali
An Ocean View Villa starts from USD750 per night, subject to 21% government tax and service charge.
Return airport transfer in a BMW X5 costs USD$400.
Graeme Green is a photographer and journalist. See http://www.graeme-green.com/ and follow him on Instagram @graeme.green (https://www.instagram.com/graeme.green/).