Bali is an easy place to be indulgent. Around the coast and across the island, there are plenty of bars, restaurants and hotels where you can laze around, drink cocktails by the pool, and over-eat each day.
But there's more than one way to be 'good' to yourself. Bali has a different side, less hedonistic and more focused on the 'spiritual', most of it centered around the central inland area of Ubud, where there are Hindu temples, spiritual retreats, yoga studios and wellness centers. (Ubud is the part of Bali made famous by Julia Roberts who visited for the film Eat Pray Love.)
Fivelements is definitely among the latter. Around 30 minutes out of Ubud itself, it's set in green grounds and gardens, just beyond a little maze of Hindu temples. It's a peaceful, secluded, private location, with a rushing river passing through. Insect and bird sounds come from the trees, merging with ambient music of drones and chants that's softly piped into the grounds through speakers. This is a place focused on wellness, offering spiritual retreats, spa treatments and a chance to get away from it all, whether that's recovering from a stressful or difficult event in your life or just recharging mental, physical and emotional batteries.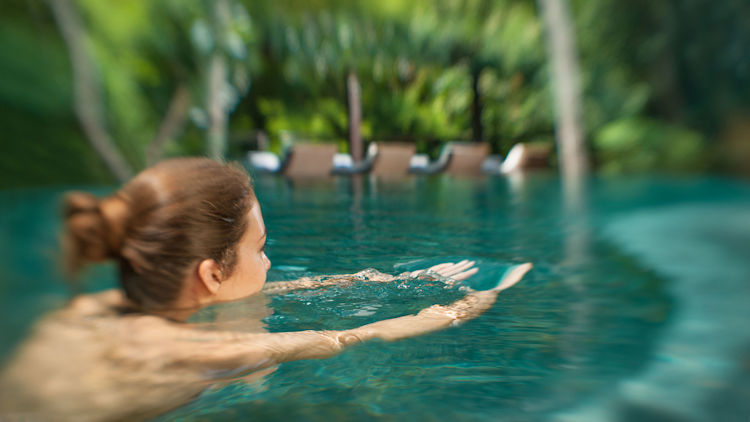 The food is as natural as the setting. At breakfast, lunch or dinner, every item on the menu is 100 per cent plant-based, the resort only serving vegan food and drink. The idea's been successful. When I visited, Fivelements were expanding, from 9 rooms currently up to 21, with 12 new villas under construction, as well as a plant-based culinary school set to open soon.
After check-in and a welcome drink of sparkling lemongrass and ginger tonic, we're led along stone pathways to our Waterfall One riverfront suite, passing ponds with koi carp and running streams. The resort has the look of a traditional Balinese village, with dome-like villas or suites with high pointed thatched roofs. There are giant thatched constructions too for group yoga and other sessions.
The suite reminds me of a luxury safari lodge or tent, with wooden floors and lots of natural elements. Outside, there's a large wooden deck with a sculpted bathtub set next to the river in a bamboo unit with white curtains and plenty of surrounding greenery to ensure privacy. There's a table and chairs set up on the deck, too. We have a view of the river rushing by, a soundtrack to our evenings, and there's a waterfall across from us, gushing down the rock face.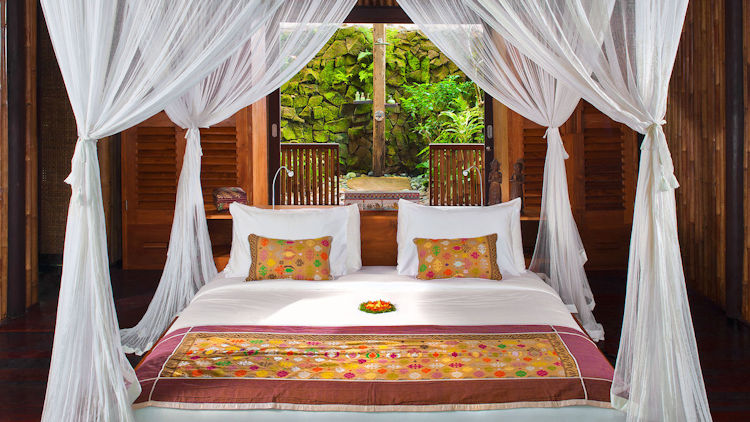 There's plenty of space inside our circular room, which has a domed roof, dark wooden floorboards and walls made of bamboo. Glass along the front door and windows lets in lots of light. On one wall, there's a Balinese textile artwork with mythical figures and rural scenes. The big white bed is at the heart of the room, surrounded by white curtains that drape down grandly from the high ceiling. There's no TV, a deliberate decision to help guests disconnect the world, though there is Wi-Fi.
The bathroom has the feel of a very upmarket little cave. It's been smartly done, with a gap between the thatched roof and walls to allow natural light in. The rainshower's hot and powerful, set over dark smoothed stones. There are leafy plants, walls made from grey stone, and a large round mirror set in a wall of bamboo above a sculpted stone sink. The effect is 'back to nature', but without scrimping on comfort.
In the afternoon, we enter the 'Healing Villa', a double cabin made of bamboo with two beds overlooking the river, set up for a couples' treatment. Before the treatment starts, therapists take our hands and ask us to close eyes and mediate for a few moments, not the kind of thing that happens in most spas. We have a Sakti ritual, a relaxing oil massage with coconut oil, including a head massage and full body massage, the therapists in possession of gifted hands. There's also a scrub with rice powder and salt, then a relaxing bath with salt, ginger, lemongrass stalks, orange slices and pandan leaves added to the water to make a fragrant stew. With cups of hot lemongrass tea to drink, we take a soak in the tub, next to the brown river.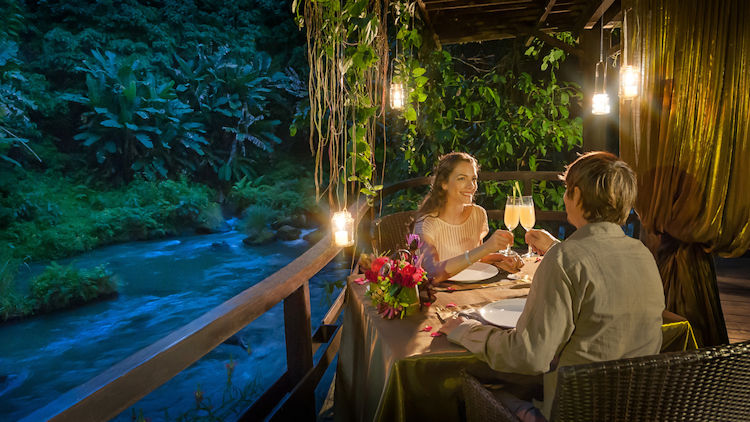 Dinner's served in the property's only restaurant, which has two floors, the large rooms open-walled, looking out to the river, trees, the fish pond and garden. It's lit romantically at night, with ambient chanted music playing. In some vegetarian or vegan restaurants, I've found a lack of choice or a lack of flavor, sometimes both. Things have changed a lot in the past two decades, though, with veggie food now catering to wider audiences and standards improved. There are plenty of items on Fivelements' menu that I want to try. We both start with a rich, creamy zucchini soup with hummus flatbread and edible flowers. For mains, my girlfriend orders the creamy, crunchy barley risotto, while I have a Curry Laksa, without the usual shrimp or egg and lighter and less spicy than the Malaysian classic. We're so full after two courses that we skip dessert.
Breakfast has a menu that's different from any you'll find in the beach hotels along the coast. There's no eggs station, no metal trays with bacon and sausages, no dairy-rich pastries or croissants. I begin with coconut yoghurt, fresh orange juice and black tea. For a main dish, I try the chickpea cassava flatbread with hummus, raw carrot, sautéed mushrooms, spinach and sambal. It's a tasty, healthy and satisfying start to the day, without any sense of having overdone it.
We catch the morning shuttle into Ubud, a half hour journey, and spend a day exploring temples, the Royal Palace and the nearby Monkey Temple, the trees and pathways busy with macaques. In the afternoon, back at Fivelements, we cool down in the large swimming pool, overlooking the river.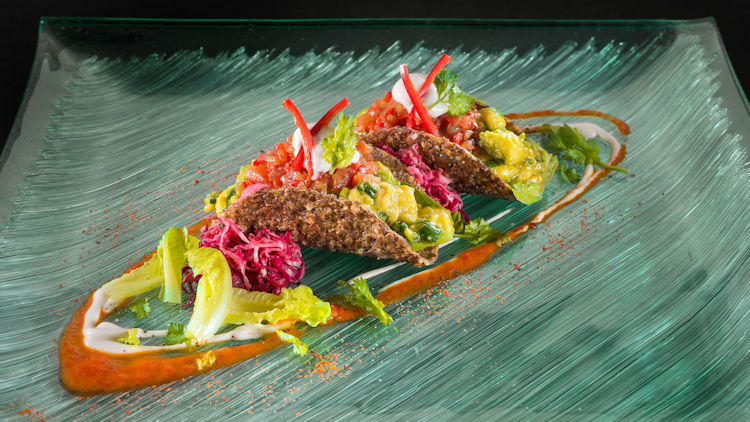 Dinner's a chance to try some of the intriguing dishes we'd seen on the menu. My girlfriend enjoys the southeast Asian-style tacos with 'meaty' jackfruit, avocado, coconut lime and sour cream. I go for the beetroot salad with smoked and pickled beetroot, beet chips, black pepper yogurt and ginger cacao cashew. For mains, my girlfriend works her way through a cold tropical garden 'pizza', an almond flatbread loaded with chili tomato sauce, cashew cream cheese, pineapple, avocado and coconut 'bacon,' while I take the shiitake mushroom burger, the kind I'd happily have at a BBQ, with a rice bun instead of bread, caramelized onions, kimchi mayonnaise, pickles and jicama slaw, plus a side order of grilled tofu. There are surprising textures and flavor combinations, the food here a lesson in how to eat well without any animal products. Though I'm full, I order a dessert out of professional curiosity, a chocolate semifreddo with dark chocolate mousse, a chocolate ring, cacao soil, vanilla ice cream and cacao nibs, a more-than-satisfying end to dinner.
A final vegan breakfast next morning includes an open-faced 'cheese' sandwich, with a cassava flourbread, cashew cream cheese, Asian basil pesto, tomato, cucumber and little flowers. After a final swim and a little soaking up of the 'village' life, our car arrives to pick us up. We leave, feeling certainly more relaxed, but without the heavy, groggy feeling of having consumed too much rich food and drink that you sometimes have at the end of some hotel stays. Instead, we're carrying with us a few ideas - new ingredients, new recipes, new ways of doing things… - for how we can be good to ourselves back home, not just in Bali.
Fivelements Retreat Bali, Banjar Baturning, Mambal, Bali, Indonesia 80352.
https://fivelements.com
Prices for a one-bedroom riverfront suite start from US$250, including breakfast, plus 21% tax and service. 3-night retreat packages start at US$2300, plus 21% tax and service, including all food and drink, treatments and a wellness program.