The hotel is in Devon, on the Teign River, inside the borders of Dartmoor National Park, just under four hours drive from London, or a 30-minute drive from Exeter. Dartmoor's famous for stubby little Dartmoor ponies, Bronze Age stone circles, and for the dramatic, moody, moorland landscapes that have worked their way into English literature, including Arthur Conan Doyle's Sherlock Holmes novel 'The Hound of the Baskervilles'. There's murder, violence and reports of a giant, killer dog on the loose in Dartmoor in that book. Our time in the area is far more pleasant.
Almost everything here at Gidleigh Park, apart from the food, feels like spending time in a traditional English country house from the old days. The house makes a real impression on arrival, finishing a long country drive at the end of the driveway to be met by lively, welcoming staff who help with our bags and check-in. We're shown to our room, down corridors with plush red carpets and glass cabinets displaying train models, such as the Mallard, the walls covered with old maps and illustrations of English gentlemen with ladies in fine evening dresses.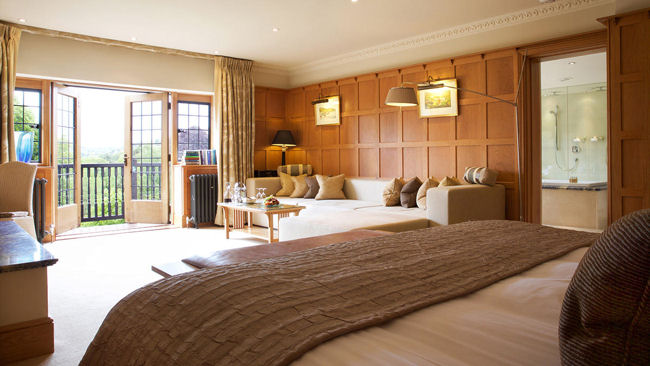 The Relais & Chateaux luxury hotel is set in 55 acres of gardens and woodlands, and feels instantly remote and distant from modern life. Lookout out of our window, we can see the river, neatly tended gardens with colorfully flowered bushes, a tennis court, and woodland. The room itself has a great deal of space to relax in, and continues the traditional feel of the country house with coffee tables, a big chest of drawers and a dressing table all made out of sturdy wood, that was built to last. Shelves are laden with china plates and there are parrot statues lined up to look out over the gardens.
There are a few modern touches, though, including the bathroom, which is divided from the bedroom by a thick slab of glass, a raised wooden platform with lights fitted into it where there's a standalone bathtub, a bright bathroom and walk-in rain shower. L'Occitane products, present here, probably weren't around when the house was built either.
We spend an afternoon strolling around the herb gardens, following the river through the woodland and lazing for a while in the long warm grass in the house's grounds.
So far, so traditional. The food at Gidleigh is far from old-fashioned, though. Executive chef Michael Wignall is one of the UK's most respected chefs, having won Michelin stars in every kitchen he's been in charge of in the last two and a half decades. His two Michelin-starred restaurant at Gidleigh is a big reason why people come.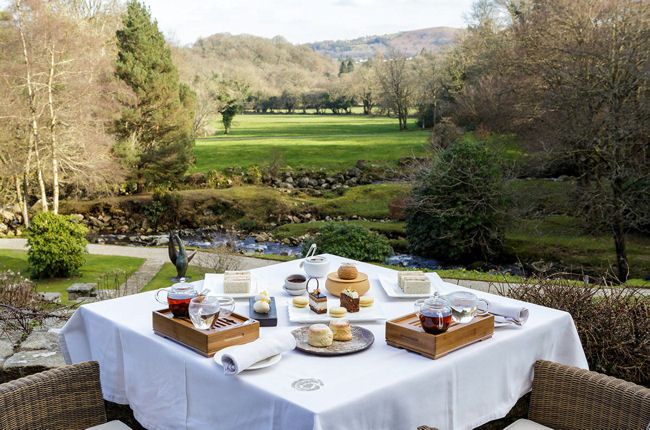 Before we start the 10-course tasting menu, we sit outside in the warm summer evening and drink a couple of Gin & Tonics. A waitress shows us to our table in the quiet restaurant. The tables around us are mostly full, but diners are talking in a hushed, reverent volume; food here, clearly, is treated with respect.
Michael Wignall's menu is creative and surprising. Pea and peach, for example, is not a combination I've tried before, but it works well, a light, refreshing dish towards the dessert end of the meal, with peaches and garden pea salad served with woodruff cream, honey comb and nitrogen pea rocks. That's probably not the kind of thing the house's original owner was ever served.
There are signs of Wignall's Asian influences Asia, too, in the selection of small, neatly presented Japan-esque
amuse bouches
right at the start and the later Thai mango with cashew, lemon verbena and puffed wild rice. He uses plenty of local ingredients here, including lettuce and herbs from the garden, as well as Salcombe crab and Brixham cuttlefish, both from Devon. A favorite dish, perhaps, is the Cassoulet of Shell, light razor clams, langoustine and squid, with cuttlefish gnocchi and quail egg for a bit of richness. But every dish, given a quick introduction from an enthusiastic waitress, has something novel and surprising about it, as well as an artful touch.
Breakfast is back on more traditional, less experimental grounds. A hearty buffet is laid out to help ourselves from, while coffee, tea and toast are brought to our table, which looks out of the window onto the sunny lawns. The menu has English classics, including the 'Full English' (eggs, sausage, bacon, Bury black pudding, grilled tomato, fried potato and mushrooms), Porridge and Eggs Benedict, but I go for the Kippers, a generous helping of warm, smoky, oily fish with parsley and lemon butter, a satisfying and warming start to the day.
Our stay over far too soon, we take a final stroll around the garden, then load our bags into the back of the car next morning, before driving down green country lanes and back into the current time-zone.
***
Address: Gidleigh Park Hotel, Chagford, Newton Abbot TQ13 8HH, UK
Phone:+44 1647 432367
http://www.gidleigh.co.uk/
Double rooms at Gidleigh Park start from £285.00 per night on a bed and breakfast basis.The Ten Course Tasting menu costs £145.00 per person, with a choice to have the sommelier selecting wines to accompany each course at an additional £95.00 per person.