Japan is one of my favorite countries to visit. One of the reasons I like it so much is the elegance and the attention to detail across so many parts of Japanese culture, from the neat, caringly presented food, often like mini artworks, to calligraphy, as well as in the architecture and interior design. I've stayed in several Hoshinoya hotels across the country, including Hoshinoya Fuji, close to the country's most famous iconic peak, and another on the outskirts of the temple city of Kyoto. The most memorable perhaps was their hotel on the tiny, remote, step-back-in-time island of Taketomi, down in the south of the country in the Okinawa region, where the buildings are decorated with little statues of 'spirits', or shisa, with classic Japanese interiors containing tatami mats, sliding doors/walls and futons. All the hotels share an idea of luxury as minimalist and understated, everything done well, but with nothing overdone, showy or extravagant.
Hearing that the company had opened a hotel outside of Japan, in Bali, a country that's also famously graceful and that has its own attractive style of architecture, much of it inspired by the island's Hindu culture, I was keen to check it out.
Hoshinoya Bali is around 70 minutes by car from Denpasar International Airport, located close to the inland town of Ubud. While the Indonesian island has many popular, sometimes busy beaches along the coastline, it's also known for this more 'spiritual' part of the island, which has Hindu temples, vibrant green rice paddies, wellness and yoga retreats. The hotel is a 40 minute drive north of the main town's temples, markets and restaurants, built on the edge of a deep, forest-filled ravine.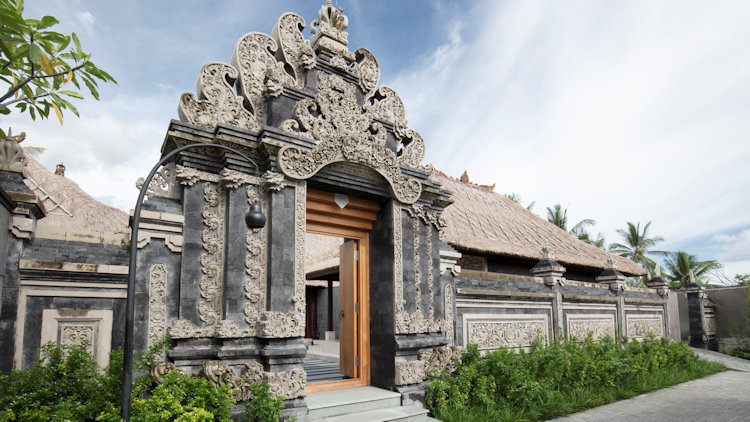 Our smart black private car passes through small villages, Hindu temples and luminous green rice paddies to reach the hotel on a quiet country backroad. The exterior at the entrance has been beautifully done, with an intricate, sculpted, grey front gate and walls clearly influenced by the island's Hindu temples, though the creatures within the elaborate designs could be a nod to Japan's shisas. At least, the dog-like faces bear some resemblance.
We're welcomed inside to a reception pavilion with comfy seating near to a boutique shop, completing check-in and making our way through the property to our Soka villa. The hotel opened in 2017 and still feels smart and new. Despite the modern appearance, there's also a feel of traditional Japanese narrow alleyways that you can find on the backstreets of city's like Kyoto, as well as neatly trimmed plants. Rivers and streams run through the property, adding to the natural feel, as well as a gushing man-made waterfall.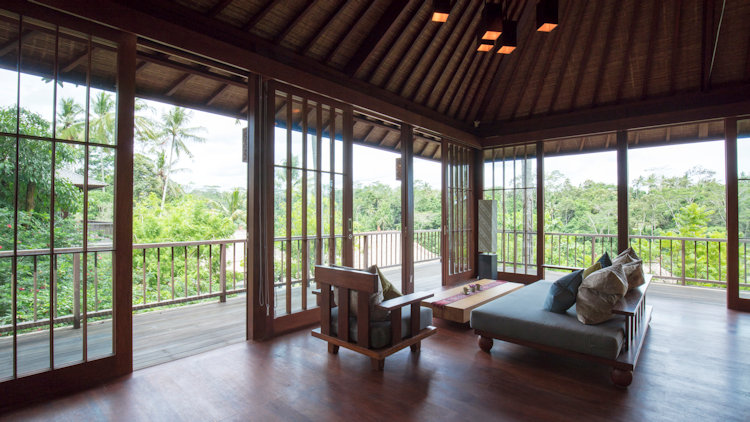 We go through the gate, each villa walled off for privacy. The villas are arranged around three large swimming areas, surrounded by trees and smart hedges; we can step right off our terrace into the cool, light blue pool. There's plenty of space to unwind out here in an outdoor lounge area, with a floor mattress, cushions and a little floor table for drinks.
There's plenty of space inside the villa too, which is split across two levels. Downstairs, your attention is immediately drawn to the intricate wooden carvings that dominate two sides of the living room, with flowers, leaves and birds across the wall-sized artworks that would've taken weeks, if not months, to complete. Other than those elaborate art works, the rooms are quite minimalist. There's comfy seating along two walls, with soft orange light coming from behind the wooden murals and rectangular corner lamps. A speaker connects to phones to play our own music. There's also WiFi, but no TV, a popular move in hotels now where they want guests to disconnect.
A corridor leads off the lounge, where there's cupboard space, a fridge, tea and coffee facilities, and a few shelves holding ceramic vases. The bathroom has a Japanese-style (ie electronic) toilet, a big white bathtub, a rainshower and twin white sinks in front of a large mirror. Again, it's quite simple, but with thought given to the details, including cool little lights hanging down from the ceiling.
Up a wooden staircase, the bedroom's even more pared back. The floors are made from a dark wood. The room is surrounded by windows on all sides, with wooden slatted blinds and shutters. There's a large white bed. On the far side of the high-ceilinged room, a writing desk fills one corner, with another comfy seating area in another. But mostly this is an uncluttered, less-is-more room for sleeping.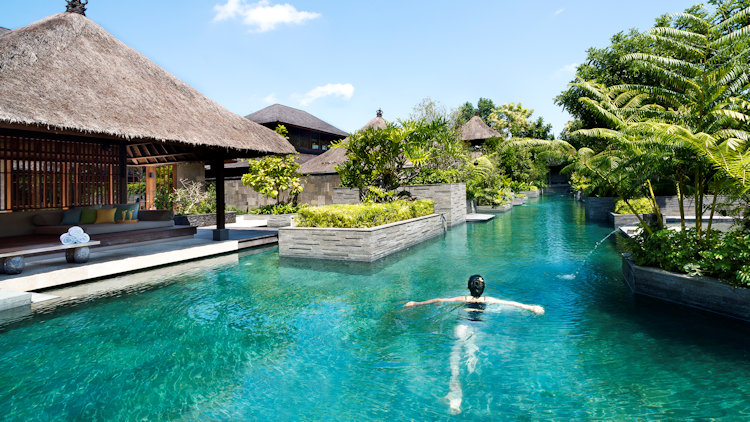 We swim for a while in the pool, then explore the grounds. There's a large central pavilion area where traditional Balinese dancers perform at set times in the afternoon, but we spend most of the rest of the day in one of the suspended black metal cube gazebos, like giant bird cages, that look out onto the ravine's thick greenery. A waitress serves Indonesian wedang tea, containing ginger, palm sugar, coconut water and lemongrass. With mattresses and lots of cushions, the gazebos are comfortable places to laze and enjoy the peacefulness of his lush forest area, far away from the crowds and noise of central Ubud, with only birds and squirrels for company.
At night, we eat dinner in the hotel's only restaurant, which also looks out onto the ravine. The restaurant has another of the hotel's signature carved wooden wall murals, this one epic in proportions. My girlfriend goes for the set menu, which contains a delicately flavoured chicken noodle soup, served with neat little pots of flavourings and tiny spoons, and Wagyu beef, famous in Japan and around the world, seared on the outside and served rare. I choose a few seafood dishes off the à la carte menu, including Tuna Sambal Matah, neat little chunks and slices of raw tuna with various pickles and sauces, satay prawn skewers with a spicy sauce, and, from the Western section of the menu, steamed barramundi with butter sauce, celeriac, spinach and pasta slices. We also share a bottle of Indonesian red wine, which is quite good, though Indonesian wine still has a way to go.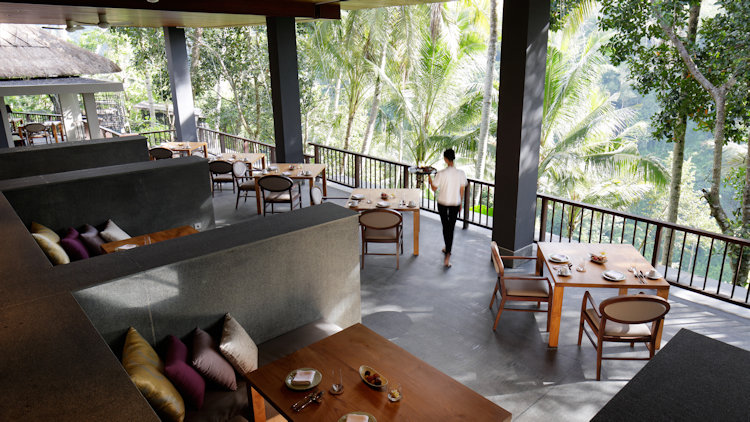 In the morning, we're back in the restaurant for breakfast. The hotel offers three menu choices: Indonesian (including spicy noodle dishes), Japanese (including salmon) and American. I go for the American breakfast, which consists of a little basket of toast and croissants, an omelette and, less traditionally American, a green salad and a salty little stew of broccoli, pepper and other vegetables.
We borrow two of the hotel's Trek mountain bikes and set out to explore the surrounding area, pedalling past rice paddies and stopping to visit a few of the ubiquitous Hindu temples, where statues of mythical figures stand guard. Later, we return to our spot in an aerial gazebo, looking out over the trees, to read for a while.
In the afternoon, we make our way to the spa for a two-hour Body Relaxing treatment. From the cool, smart lounge area with three statues of roosters, we're led outside by two friendly therapists to the top of a funicular railway, tucked away on the property; we hadn't noticed it was there. The black metal caged car slowly descends on the rails to the spa, a separate long building lower down in the forest, which has three treatment rooms In a room with bright orange linens on the two beds, looking out into the forest through the glass front, our treatment starts with a salty foot scrub in warm water. Afterwards, there's an in-depth, firm oil massage, my girlfriend also opting for a body scrub a body wrap, while I happily accept a head massage. Finally, we're shown through to a separate room, where a big hot tub has been prepared, with pink and orange flowers scattered across the surface. We enjoy a hot soak, drinking herbal tea and watching squirrels running up tree trunks outside.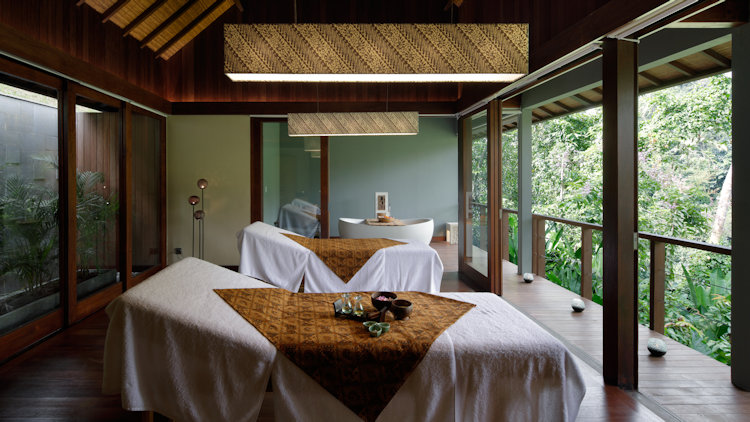 Next morning, we're given a 'Gazebo Breakfast', a small selection of fruit, bread and pain au chocolat served inside one of the gazebos. Hoshinoya are set to open another hotel shortly outside of Japan, the Hoshinoya Guguan in Taiwan. If it has the same understated classiness as this hotel and a spot as good for kicking back as these gazebos, I'm in.
HOSHINOYA Bali
Br. Pengembungan, Desa Pejeng Kangin, Kecamatan Tampaksiring, Gianyar 80552 Bali, Indonesia
+81-50-3786-1144
https://hoshinoya.com/bali/en/
Villas start from US$700 per night, including breakfast.
Private return transfer from Denpasar Airport costs around US$84.
Graeme Green is a photographer and journalist. See http://www.graeme-green.com/ and follow him on Instagram @graeme.green (https://www.instagram.com/graeme.green/).