One of the perks of being a pop star is the freedom and money to travel the world in style, even to purchase homes in exotic locations around the world. Songs like Dancing Queen, Waterloo and The Winner Takes It All made Swedish band ABBA one of the most successful acts of all time. They must have needed places to get away from the hysteria. Songwriter and musician Benny Andersson, one quarter of the band, bought a piece of land on the spice island of Zanzibar, off the coast of Tanzania, as a quiet getaway. He picked his spot well, with 35 acres of coastal greenery on the north-west of the island, a quiet location just around the corner from popular, busy Kendwa beach, with views out across the ocean to Tumbatu, Mwana-na-mwana and Popo islands.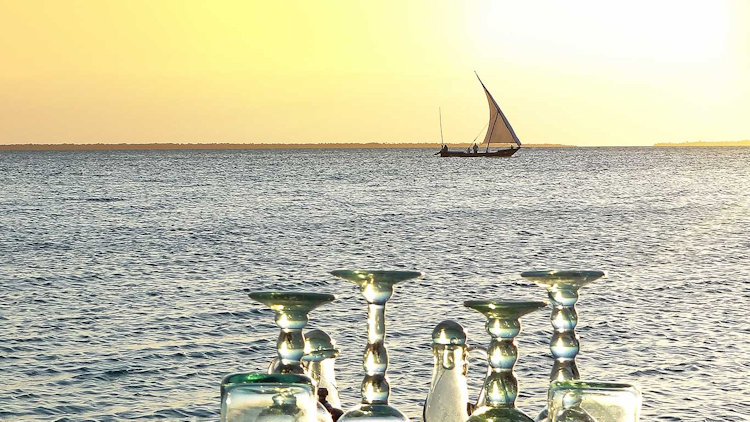 Benny's former retreat later changed hands. It's now Kilindi, a luxury, boutique resort operated by African safari company Elewana. A private car picks us up and carries us to the resort, which is around 1.5 hours from Zanzibar's airport. On the way, we pass through Nnunhwe village, just a kilometre from the hotel, filled with souvenir shops and touristy art galleries. Stone Town, famous as the former home of Queen's Freddie Mercury and for their stylish, ornate doorways, is around an hour and a half away by car from the hotel, if you wanted to visit. But the likelihood is that once you're here, you'll be too busy relaxing to leave Kilindi's grounds.
After a fast check-in in a whitewashed building with sea views, we're led down into the hillside property. Space and openness are the key elements here, not just in the grounds but in the buildings. Kilindi don't have 'rooms', villas or standard constructions. Instead, there are 15 private, standalone little complexes of white buildings, known as 'pavilions', each with a bedroom, a bathroom, a downstairs relaxing area and a plunge pool. The creamy, curved, sculpted style of the buildings, from domes to towers, looks like the architect blended together Guadi, Scandinavian and Arab influences. The large, main, central pavilion, containing the bar, restaurant and lounge areas has the same flowing white design, just on a larger scale.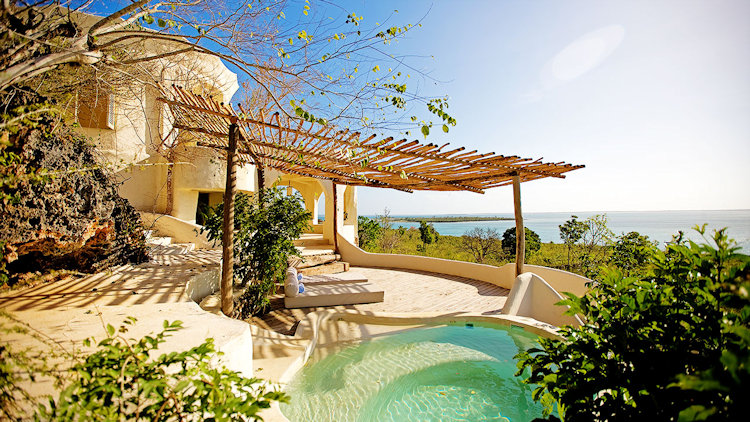 We walk along gravel pathways lined with thick green hedges and bright hibiscus flowers, hearing the occasional sounds of birds and spotting scuttling lizards. Passing through a gate, we enter into our private garden and settle into our pavilion. There's a lot of space to enjoy. Each three-stage 'pavilion' has a building like a castle turret containing a bedroom with a four-poster bed surrounded by a mosquito net. From floor to domed ceiling, they're painted creamy white, with slatted windows and doors opening out towards the sea. A bathroom in a separated little domed building has a high ceiling, a rainshower, twin sinks, light fittings that geckos like to call 'home' and an arched doorway and large windows at the front and sides to soak in the ocean view. Down a set of white steps, there's a final, white building, with sunbeds inside a shaded lounging area and a private plunge pool for cooling down in the day. From the bedroom's balcony to the little pool, every section is designed to look out over the ocean; we often see dhows and passing fishing boats in the bay, as well as monkeys in the trees.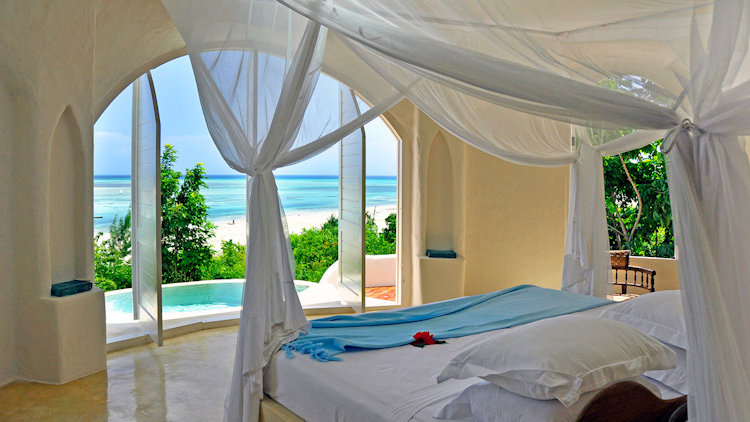 In the evening, we make our way downhill to dinner at the main pavilion, with tables arranged around the sleek swimming pool. The bartender's one of the friendliest I've met at a hotel, chatting as he prepares a couple of cold drinks. Staff are friendly across the hotel, helpful and efficient but not overly formal or stuffy. Each pavilion is allocated a Guest Ambassador to look after guests during their stay, including laundry service, spa bookings or making arrangements for dinner, which can be set up in different locations each night. Our 'ambassador' shows us to a table in a quiet corner of the gardens, close to the pool. The dinner menu changes every night, usually with three options to choose from, including meat, fish or veggie. As an island, there's no shortage of good seafood, including sesame-crusted tuna with noodles, or the Catch of the Day (snapper) with a lemon and herb crust, served with pumpkin. There's no shortage of spices either, my dessert a crème brulee with a strong infusion of clove, one of the most famous spices that grows on Zanzibar.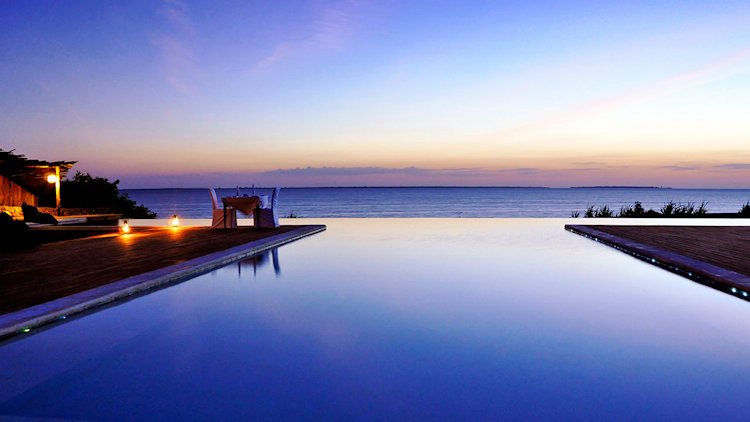 We're back at the main pavilion's poolside terrace next morning for breakfast. There's plenty of choice, from tropical fruits to original dishes off the menu, like Lobster Eggs Benedict or a smoked snapper croissant.
The rest of the day is dedicated to relaxing. We spend time by and in the cool, light blue infinity pool, which looks out onto the bay, passing boats and the green islands beyond. I also take a look through the books in the upstairs library.
The lunch menu has hearty, laidback options, including pizza and Zanzibar fish and chips. Afterwards, we make our way down to the private beach, a two-minute walk downhill. Beds and loungers are arranged along the sand, with a member of staff providing cold water and helping out with activities. There are SUP boards and kayak to borrow. We take one of each, my girlfriend on a board, me paddling alongside in a kayak, and make our way out from the beach in the hot sun of the afternoon, following the coast for a while. Around the corner, we come to Kendwa beach, which is busy with travellers from the hotels along this part of the coast. Afternoon sunlight bounces off the cool water. Occasionally, a traditional dhow boat passes us, as we paddle back along to the peace of Kilindi.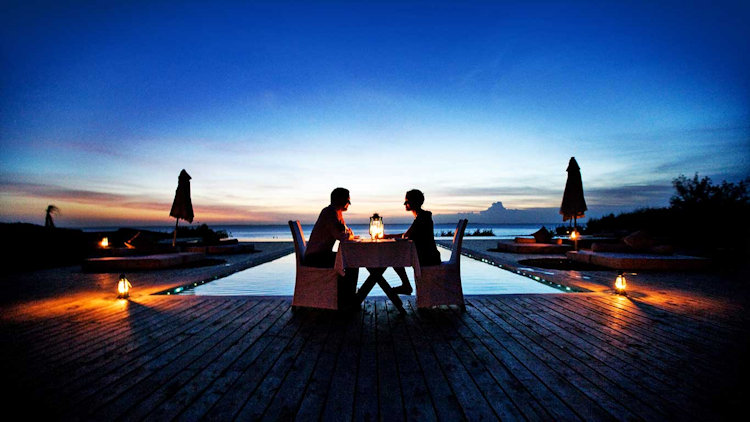 In the evening, before dinner, we spend time up at our pavilion. With so much space across the property, there's no feeling of being crammed in or of being looked over by a neighbor, just room to unwind in. We cool off in our plunge pool, occasionally spotting a monkey roaming through the trees. As the sun sets on the horizon, the sky and ocean change colour, with silhouettes of dhows and fishing boats in the bay down below. It's quite a view. Clearly, Benny from ABBA didn't just have good taste in music.
Kilindi By Elewana
Kilindi Zanzibar, off Nungwi Road at Kendwa, Zanzibar.
www.elewana.com
+254 730 127 000
Rates start from US$650 per person including full board accommodation, all meals and drinks (excluding champagne, private cellar wines and spirits), sundowners, paddle boarding, kayaking, laundry, service charge and VAT.
Airport transfers cost US$105 each way.
Graeme Green is a photographer and journalist. See http://www.graeme-green.com/ and follow him on Instagram @graeme.green (https://www.instagram.com/graeme.green/).