Though London's generally seen to be England's foodie epicentre, there have long been interesting things happening far outside the capital, including the country's south-west. Now there's another reason to head down into that part of England. Lympstone Manor, one of the most talked about openings of 2017, is situated on the Exe Estuary in Devon, just over three hours by car from London, and the key reason that stamps it firmly on the foodie map is that Michael Caines MA is the man behind the project. Not to be confused with Michael Caine of Alfie, Get Carter and The Dark Knight fame, Michael Caines is a major figure on the UK's culinary scene, regularly appearing on BBC cooking programmes and with two Michelin stars under his belt.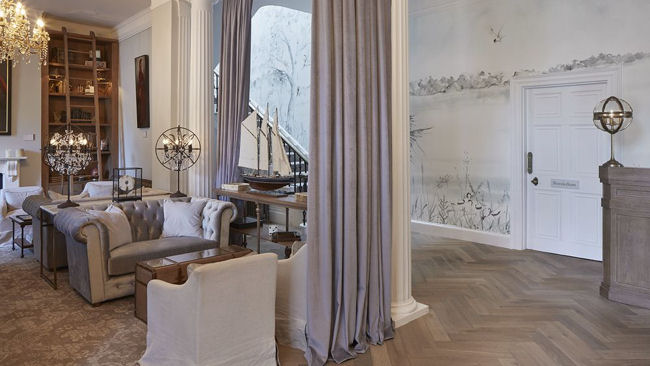 There's a feel of hush and calm as we step into the lobby of the Georgian mansion. Led up to our room, we pass large illustrations on the walls of the stairway of birds from the nearby estuary. Local nature is the theme here at the hotel, in the food, as well as in the design. Rooms are named after local birds (ours is Bullfinch). The corridor leading to it is also filled with nature illustrations (birds, mice, foxes…), alongside modern wild landscape paintings. Chandeliers are styled like tree branches, with light drops of glass that look like dew.
The suite's divided into three sections: bathroom, bedroom and lounge. The bed has been liberally covered with pillows, and throughout the room, the décor is plush and luxurious, with lots of warm pinks and greys, traditional but modern. There are more framed bird illustrations in the room, too. A make-up/dressing table, an egg timer and the lamps all have a vintage feel. The bathroom is quite grand, too, with black marble flooring in some areas, a walk-in shower, and bright white lighting around the sinks. There's a separate lounge area, with the room's second TV (though we never switch them on) and a long sofa.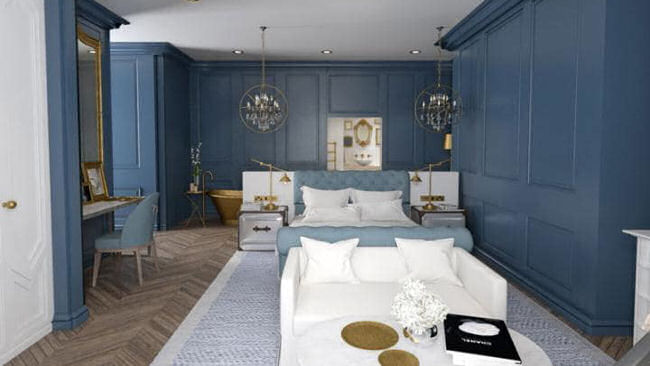 Comfy as the bed and the lounge are, my favorite place here is the balcony, which looks out over the water fountain and the neat lawns of the house to the Exe estuary. Pair that with the tray filled with delicious gins, tonics and a bucket of ice, and you can't go far wrong.
After a relaxing afternoon, we make our way down to the bar, where there are maps on the walls and sponges, corals and shells displayed as artworks in glass cabinets. After delivering glasses of Champagne to kick things off, we're handed menus to look over and prepare ourselves for the main event, both of us selecting the Signature Tasting Menu (the meat-free version for me) over the A La Carte or the Taste of the Estuary menu.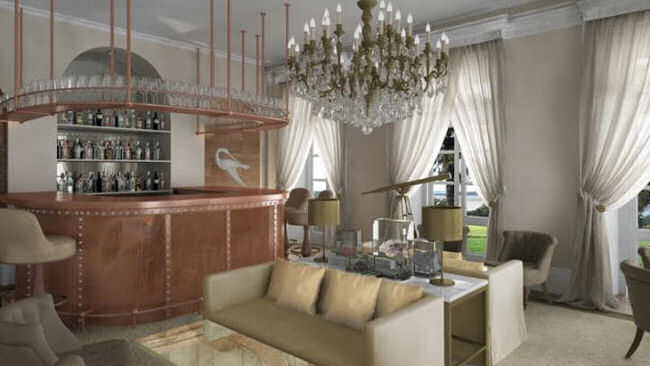 We make our way through to the dining room. The hotel only has 21 rooms and suites, and the restaurant is similarly small and exclusive, with just nine tables arranged in a horse-shoe shape around a grand black and white circular room with a black and white patterned marble centre. The meal starts with a light langoustine cannelloni, delicate seafood flavors combined with lemongrass and ginger. Staff are organized and efficient, each course carefully presented and given a short introduction, looking colourful and elegant on the plate. "We're going to have some fun with the wine selections this evening," an enthusiastic sommelier tells us, before pairing each course with a selected wine, which also comes with a brief description. They clearly take the details seriously here.
My meat-free menu includes Cornish salt cod, tasty rosemary and sage gnocchi and a good slice of braised turbot, while my girlfriend enjoys a Quail's egg tartlet with black truffle and smoked bacon and a piece of local Darts Farm beef with celeriac puree, mushrooms and a rich red wine sauce.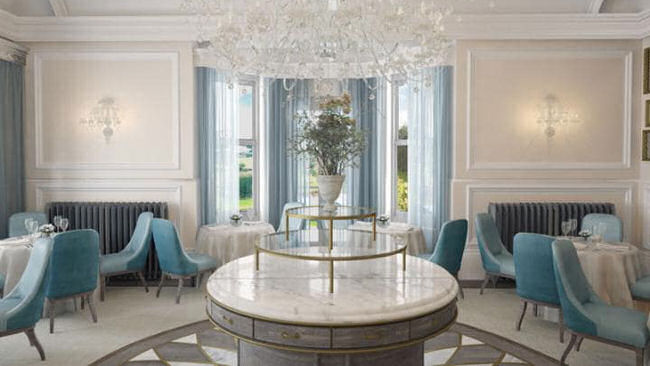 I'm not usually a big fan of desserts, but here they're a highlight. After a generous selection of five local cheeses, we're served a light, refreshing apple mousse with green apple sorbet and vanilla foam, then, probably the most memorable course of the evening, an immaculate chocolate orange confit mousse, the delicious creamy mousse served inside a delicately thin crispy orange shell, shaped to look like a little orange, served with orange sorbet.
Afterwards, we walk out past the sommelier's 'office', what looks like a science lab with refrigerators filled with bottles at the correct temperatures, before heading back to the room to find the smart lighting on, the bed turned down, and artificial candles flickering in the fireplace.
The tide is high, the estuary filled with water in the morning, with mist moving over the Manor's lawns. Breakfast is served in a bright airy breakfast room, with a buffet of yogurts, juices, pastries, cereals, cheeses and meats in the room next door to help ourselves to, everything fresh and tasty, while staff bring tea and coffee to the table. I order an omelette Arnold Bennett, a classic breakfast dish developed by the head chef at London's Savoy Grill, a creamy omelette with haddock, which is delicious. It's a fittingly 'cheffy' dish and a satisfying end to our stay.
***
Address: Lympstone Manor, Courtlands Lane, Exmouth, EX8 3NZ, UK
www.lympstonemanor.co.uk
info@lympstonemanor.co.uk
Telephone: 01395 202040.
Nightly rates at Lympstone Manor available from £305 per room, per night including breakfast.
The Signature Tasting Menu costs £140pp.