Times have changed in Bangkok. When the original Oriental hotel opened, back in 1876, it was the first hotel in Thailand, meaning it's now one of the oldest hotels in South-east Asia. An advert at the time for "The only riverside hotel in town", which is now framed and hanging in one of the hotel's lounges, promised guests "50 rooms all with bath attached" and, what must have been a major selling point at that time, "Telephone in rooms," as well as "Open air dining room on the riverside. French wines and cuisine française" and a "Bamboo Bar serving American sandwiches and hamburgers and drinks at any time from 10 to 10."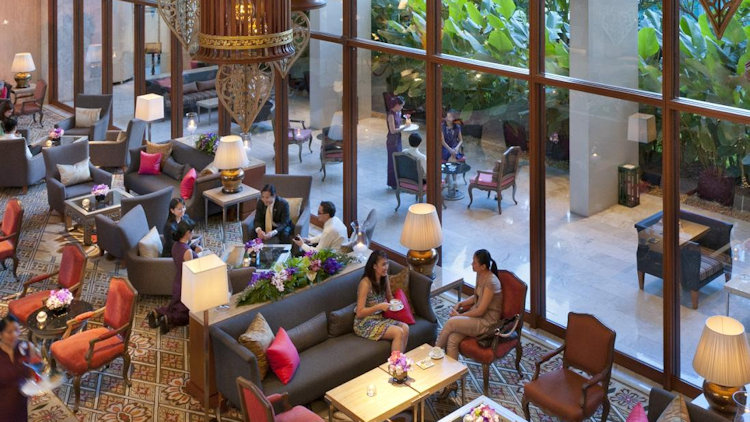 Since then, politicians, royalty, authors and other famous folks have stayed at the classy hotel, including Norman Mailer, Tennessee Williams, John Steinbeck and Pico Iyer. The Chao Phraya river has seen the arrival of many more high-end hotels over the years, while the Oriental itself has changed to the Mandarin Oriental and expanded to now contain 368 rooms in total, including 44 suites, as well as an outdoor swimming pool, a riverside spa and nine restaurants.
At 142 years old, The Mandarin Oriental Bangkok remains an outstanding, gleaming and glamorous hotel. We're picked up at the airport and transported in a black BMW limousine to the hotel, around 40 minutes by taxi from the airport. Stepping inside, there's cooling AC and fragrances wafting on the air. Baggage handlers sort our luggage, as we make our way past the calm, refined lounges to the check-in desk. It's not just the hotel that's smart – a dress code for guests is encouraged in order to maintain the sophisticated atmosphere.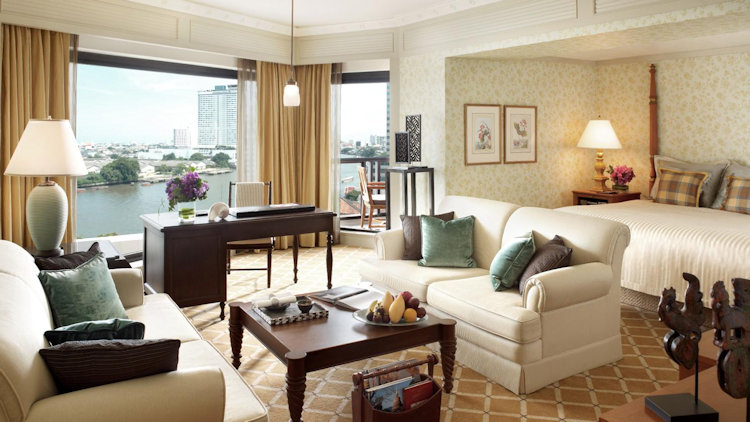 Once checked in, we're led down a cool white marble corridor lined with jewelry shops and art galleries to take a lift up to our room on the fourth floor. Our two-level suite is easy to relax into, elegantly decorated in neutral colors (greys, whites and creams), with wooden floorboards and thick rugs. The lower lounge area has a big TV in one corner, a comfy sofa along one wall and a round glass coffee table with two chairs next to the window. The view is my favorite thing about the room – through the window, we can look out onto the busy Chao Phraya river, where cargo ships, taxi boats and tourist cruises pass by day and night, as well as the towering buildings on either side of the water. We're in the heart of the city and it feels like it here, taking in the view, which is particularly memorable at sunrise and sunset, when a calming glow takes over the city, and after dark, when the city lights come on.
Next to the lounge, there's a little kitchen area, containing a fridge stocked with drinks, and tea and coffee facilities. The upstairs bedroom has another wall-mounted TV, a pristine white bed, dark wooden bedside tables, and a window looking out in the opposite direction across the city. The bathroom has a powerful shower and a white marble sink area set in an elaborately carved wooden unit, decked out with amenities (comb, razor, dental kit…) and Mandarin Oriental's own toiletries.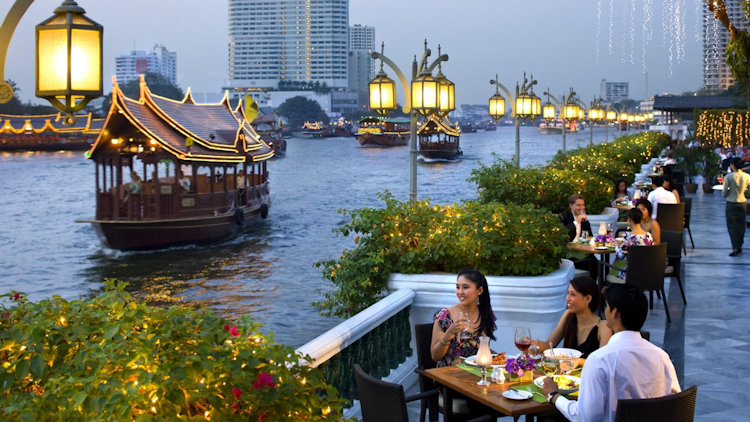 Breakfast is served in the Riverside Terrace, just as it was back in the day, so you can watch passing boats and herons floating downriver on debris as you eat. There's a mammoth selection, with a range of juices, a central area filled with fresh croissants, pastries and breads, another section with salads, fruit, cold cuts of meat and a range of cheeses, from Emmental to Brie. Egg and omelette orders can be placed at a dedicated station. There are also two Chef Stations preparing Asian dishes, including dim sum, noodle soups and more. Mandarin Oriental are known for impeccable service; here, the helpful, friendly staff couldn't be more thorough, and when tea is served, it's proper fresh-tasting tea with hot water poured over leaves in a metal strainer.
After a day wandering the streets of Bangkok, we take the hotel's recommendation for dinner and cross the river on a water taxi to Sala Rim Naam, the Mandarin Oriental's Thai restaurant and stage show, close to the hotel's spa and Thai Cooking School. We sit inside, close to the stage, where musicians in pink uniforms play traditional Thai instruments, including a xylophone-like Ranat Ek, a Taphon drum and a stringed Saw-duang. Through the evening, dancers come onstage, from women in colorful dresses carrying candles to masked 'warriors', all performing styles from across Thailand. There's even a little Muay Thai kickboxing. It's a little cheesy and touristy, but the food is good, including little starters of herbed crab meat, prawns served on refreshing pomelo and a spicy prawn soup with lemongrass. Later, a waiter fills our table with a selection of dishes: a sea bass fillet with Thai herbs, a yellow curry with fish and potato, large stir-fried river prawns, and a bowl of rice. Dessert's presented on a little wooden tray, including coconut ice cream with caramelized banana, plus a miniature toy cabinet, where you open the glass door to access tiny sweets, coconut paste and fruit chunks.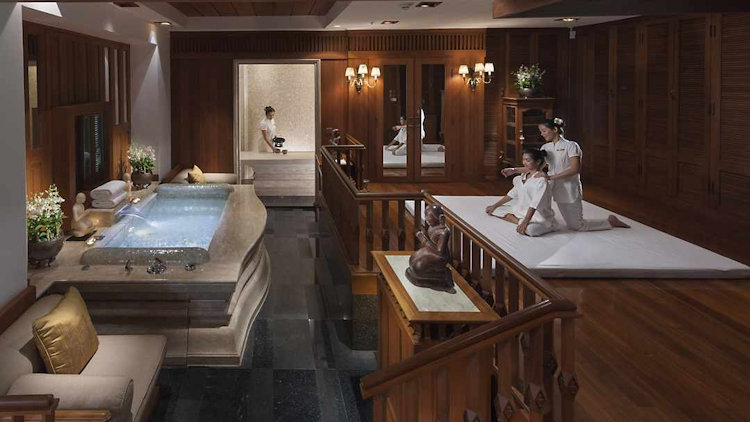 We're back across the river next day at the Oriental Spa, where we're shown into the quiet wooden building and served powerful cups of ginger tea. We're booked in for a 90-minute Oriental Signature treatment, a mix of Thai techniques, along with an oil massage. It takes place inside the Oriental Suite, a spacious, elegant couples treatment room with two ground-level mattresses for the massages and statues around the room, including a dog and a female figure, her hands together in the form of a traditional greeting. After a warm footbath, a chime signals the start. It's an excellent, thorough treatment, the therapist moving around me, using hands and elbows to knead pressure points and work out knots, manipulating legs and arms and stretching, before a relaxing but firm massage with oil. Afterwards, we take a soak in a warm bath that's decorated with flower petals, then spend a little time in the steam room. The spa's a place that's difficult to leave.
The same could be said of the Mandarin Oriental Bangkok itself. I've traveled to Bangkok many times and there's always something new to discover in this energetic city. In the Mandarin Oriental Bangkok alone, there are bars and restaurants we didn't get the chance to try in our two days at the hotel. The hotel's also currently working on a restoration of the River Wing, including the lobby, swimming pools, Lord Jim's bar and the Riverside Terrace. By the time the hotel turns 143, it may look a little different in places, but I'm guessing you'll still be able to find French wines, American burgers available all day and, almost certainly, telephones in rooms.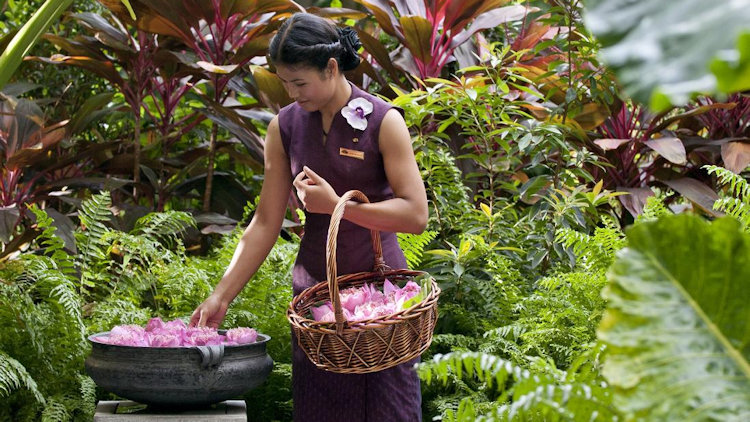 Mandarin Oriental, Bangkok
48 Oriental Avenue, Bangkok 10500, THAILAND
www.mandarinoriental.com/bangkok
+662 659 9000
Deluxe Rooms cost from USD$675, plus taxes, including breakfast.
Airport transfers in a BMW limousine cost THB3,400 ($107) each way.
Graeme Green is a photographer and journalist. See http://www.graeme-green.com/ and follow him on Instagram @graeme.green (https://www.instagram.com/graeme.green/).