It was a clever move by Mara Bushtops to build their luxury retreat next to a salt lick. The little area of life-sustaining water and salt at the heart of the 15,000-acre Isaaten conservancy is visited during the day by giraffes, zebras, impala, kudu, warthogs and more, meaning animals are never far away during a stay.
Bushtops have built 12 permanent tents and an impressive spa here on the site of a former home in their privately-owned conservancy, the massive area of land connected to the Kenyan Maasai Mara National Reserve. Whether you're at the pool, relaxing with a massage or eating lunch, your eyes will be constantly drawn to the animals roaming free, sometimes closer than you might expect.


The lodge is 20 minutes away from its own Siana airstrip and 45 minutes from Keekorok, an airstrip inside the National Reserve close to the Sand River. It also has its own helipad, used mainly for air safaris.
Our guide Charles Gatama collects us, with a table set up next to our safari vehicle laid out with coffee, tea, biscuits, samosas and even Amarula, a creamy African liquor. We head into the main Maasai Mara National Game Reserve for what Charles refers to as "a quick game drive", which becomes a journey filled with elephants walking along the grasslands, giraffes in the distance and hundreds of grazing wildebeests and zebras filling the horizon. Other sightings including a group of five young cheetah brothers and a leopard resting next to a recent kill.
We stop for lunch in a memorable location, right next to the Sand River. At the peak of the Great Migration, this area would be filled with wildebeest, zebras and possibly crocodiles, as well as lines of safari vans. But today, we have it to ourselves, sitting at a table to eat vegetable samosas, tempura shrimp, salads, pizza slices and banana bread, accompanied by a couple of cool Gin & Tonics.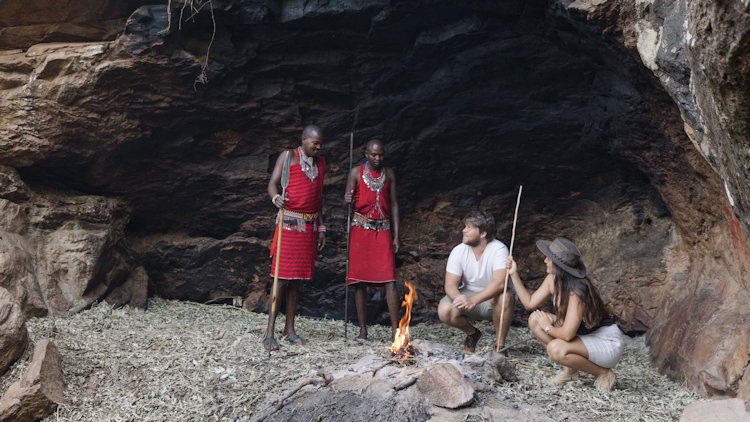 After lunch, we drive out of the main reserve, down a rocky road and into Isaaten conservancy. Arriving at Mara Bushtops, we're welcomed into the main reception building, which has a huge viewing platform under canvas, built from red cedar wood, with stone walls and a lounge area with leather chairs overlooking the sun-baked grasslands. There's a second terrace with an infinity pool partially shaded by a sausage tree. From here, we look out at the Siana hills and impalas in the distance.
The property's 12 luxury tents, each with a hundred-square meters of space, are dispersed along the hillside, either overlooking the savannah or, as our well-positioned 'Lion' tent did, the salt lick. The tents have canvas walls that staff roll up during the day, giving a feeling of openness and 180-degree views of the wilderness. Inside the modern luxury of the tent, there's a smell of fresh white roses, a bottle of sparkling wine next to the bathtub and a stuffed toy lion on the bed both welcoming us in. Masai spears at the tent entrance act as a 'Do Not Disturb' sign, clearly ignored by a little bushbuck munching its way along the path to our room.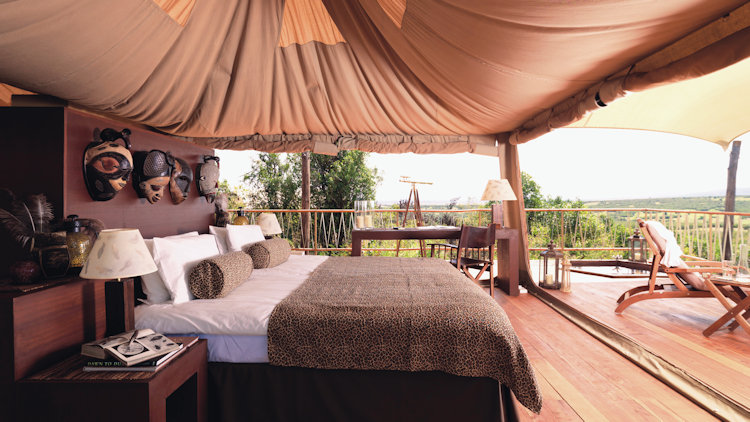 The tent's interior is decorated with black and white portraits of lions, with intriguing wooden masks from East and Central Africa on bed frame and headrest. As well as an indoor rainshower, there's an outdoor shower area made with a solid structure of Mazeras stone, which gives an earthy feeling, with Bulgari products to use in both.
Complimentary laundry, turndown, butler services and wake-up drinks are all standard here. Every morning, coffee and tea are delivered to our spacious balcony, which we enjoy sat at a wooden table or while exploring the surroundings with an old-school telescope in the corner of the deck. The view from our terrace feels intimate, so close to the salt lick; from here, I watch golden light strike the hills across from us, while zebras and other animals come and go. There's also a hot tub in the corner of the deck, spacious enough for a couple to share.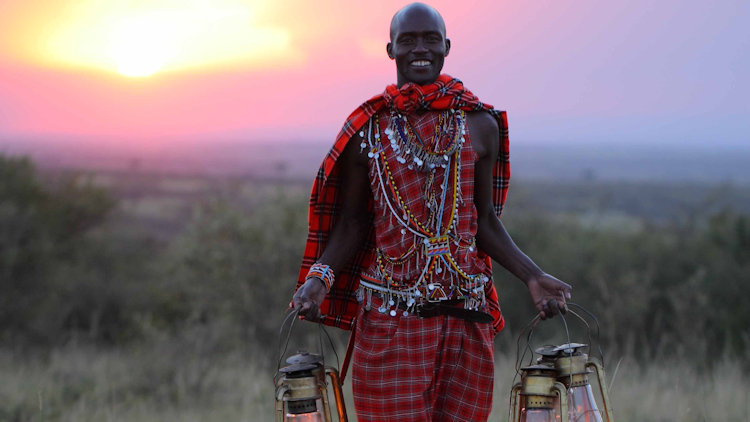 For the walk to dinner, we're escorted by a Masai warrior staff member. The restaurant has an elegant living room with books filling the walls of a cosy lounge section. From the exposed beams on the ceiling, there are hanging lamps in the shape of the sausage tree's fruit. Outside, the restaurant looks towards the salt lick, which is partially lit petrol lamps on trees. An outdoor lounge with comfy couches is a good spot to relax with a Cocktail of the Day, like a Red Lion, made with gin, Malibu, orange juice and a touch of red grenadine. Later, we make our way over to a roaring fire with a glass of red wine, hand-picked from the lodge's wine cellar.
Mara Bushtops doesn´t go with the traditional safari lodge idea of communal dining, instead offering à la carte dining at private tables, with a variety of seafood, meat and vegetarian choices, as well as Kenyan dishes. Sitting outside, beneath the stars, I go for a carrot and ginger soup and a hearty chili paneer curry, both delicious and well-presented, with decent portion sizes. Our attentive, friendly waiter brings the dessert menu. I finish the meal with a selection of Kenyan cheeses, paired with a glass of South African Shiraz.
In the middle of the night, our comfy sleep is interrupted briefly when we hear a pair of lions around the camp, roaring occasionally. "Nature only shows itself when it wants to be seen, like the lions you heard last night," Charles advises us at 5:30 am, as we climb into the safari vehicle for a 'sunrise coffee'. From the top of a hill, we see the sunrise lighting up the landscape, turning shades of purple across the sky. As we reach a trail further down the hill, a Masai warrior from Bushtops invites us for a hike to a cave used as a hide-out when the Masai used to go hunting. On the walls, there are simple paintings of giraffes and lions. Using elephant dung, they show us their traditional method for starting a fire and share stories about their culture.
Instead of the expected breakfast back at the lodge, we stop in the woodlands on the hillside for a surprise Bush Breakfast. Standing next to a table under a Shepherd's tree, our personal waiter opens a bottle of sparkling wine and pours two glasses. There is a chef here too, with a stove set up out in the bush, ready to cook eggs or pancakes, while an extensive selection of sausages, cheeses, fruit (including fresh strawberries), granola, yoghurts, toast, fresh juices and more have been laid out on a buffet. It's an impressive set-up in an unforgettable 'wild' location, accompanied by occasionally curious warthogs and the singing of distant birds.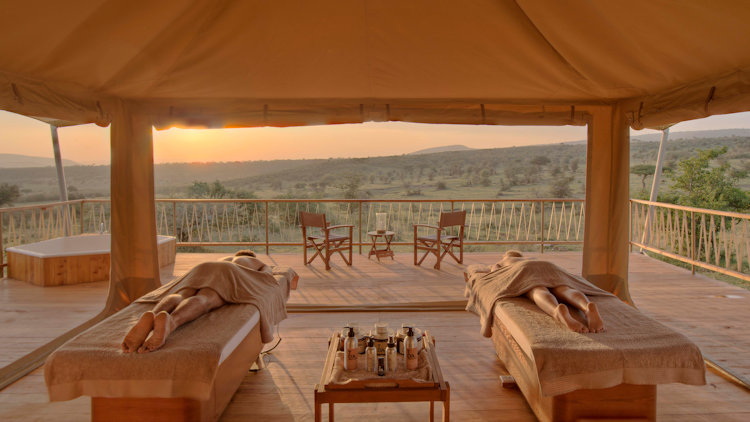 In the afternoon, we visit Amani Spa, which has been thoughtfully designed by Swiss architect Andrin Schweizer, the reception, changing rooms and relaxation areas resembling as a Masai boma (a group of traditional Masaai huts, like a small village). There's also a tented platform with gym equipment arranged to take in a one-of-a-kind view. We pass by the pool and sauna, arriving at a platform shaded by canvas, opened out to the crowded saltlick. I select the Jewel of Africa, Bushtops' signature massage performed by a professional, thorough therapist with a type of African stick, used to apply deep pressure, along with flowing movements in a hand massage that's applied with coconut balm.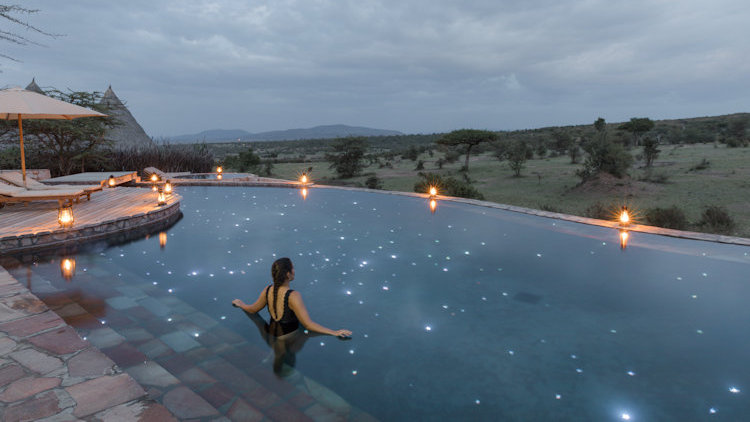 After relaxing for a while in the lounge by the infinity pool, we spend lunch time watching and occasionally photographing impalas, zebras and giraffes at the salt lick. Later, on a game drive around the hilly conservancy, we search for the pride of lions we heard last night, but with no luck, though we spot plenty of other life, from kudu to warthogs.
Back at the camp, we enjoy sundowners next to a fire at the spa's infinity pool, which shines at night with little lights under the water laid out to resemble constellations of stars.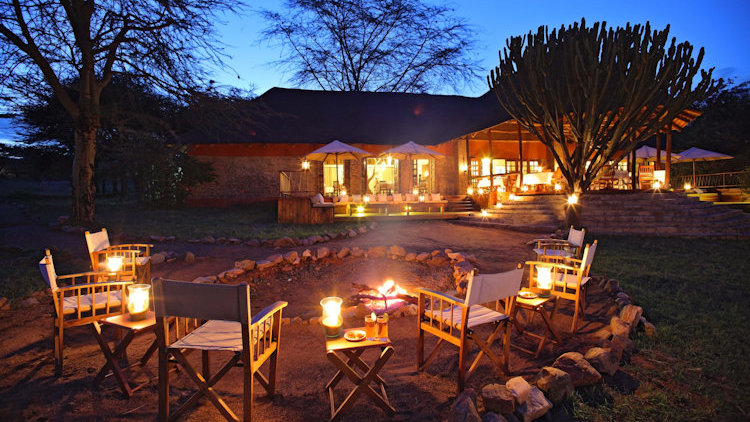 I'm sad to leave this special place in Kenya next morning, where the isolation feels peaceful and wild. A stay here is about more than just the location and the animals; the staff and service, the quality of the food and the drink, and the luxurious comfort of the private tents are as good as it gets. This serene place is for people who like to take their time and appreciate not just big wildlife sightings, but smaller details, whether that's warthogs disappearing among the trees or giraffes cautiously taking a drink. You never know what you'll find here. As Charles told us, nature will show itself only when it wants to be seen.
Mara Bushtops Private Conservancy, Greater Maasai Mara, Siana, Kenya.
00 254 733490209
www.bushtopscamps.com
Prices start from £633 per person per night in the low season based on two sharing and from £862 per person per night based on two sharing in the high season. Prices include full board, two game drives per day or full-day game drives with picnic lunch, airstrip transfers, laundry, all non-alcoholic drinks, beers, house wines and selected house spirits.
Andrea Moreno is a travel writer and photographer. Follow her on Instagram @tripsandcolors (https://www.instagram.com/tripsandcolors/).