Cancun's hotel zone isn't the most soulful place in the world, a long concrete strip of hotels, tourist restaurants and shopping malls. But you soon feel a world away from all that as you reach Punta Nizuc, between the Caribbean ocean and Nichupte lagoon, the gate to NIZUC rolls open and you head towards the lobby and hotel, right on the beachfront. Everything from here on in is easy, calming, taken care of… We park outside the entrance of the 274-room hotel, near to a water fountain. Staff greet us and take our bags from the trunk and the keys to park the car. Inside, check-in paperwork is quickly done, and we're led through the lobby, which is grand and spacious, without being ostentatious. There's an Asian feel to the interior, with a neat artificial lake and squares of trimmed reeds, with large wooden fish and egg statues around the halls. At one end of the lobby, an open area looks out onto the beach and ocean.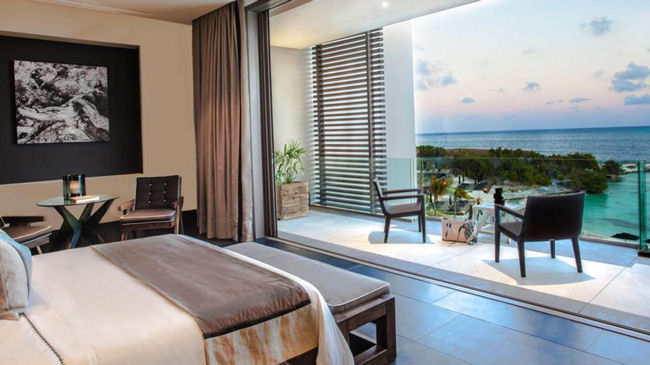 A friendly butler shows us up to our Ocean Suite, a wide spacious room that's filled with light, the front 'wall' filled floor-to-ceiling with glass, so we can look out onto palm trees, white sand and crashing waves. It's a cool, sleek, modern room, with lots of dark wood, charcoal grey tiling on the floor, and a large white bed at the centre. At one end, there's a modern black and white painting, the swirling paint resembling the waves not far away, while at the other there's a large TV screen mounted on the wall, above a coffee machine, a well-stocked fridge and an Apple dock. The place feels instantly homely, especially when we crack open a bottle of sparkling wine (a waiter delivers a fresh bucket of ice) and sit out on the room-length balcony, which has wooden chairs, as well as lounging sunbed double. We drink in the impressive view, including the hotel's sleek black pool, pelicans bobbing out on the vivid blue water, and the beach stretching down the coast towards Puerto Morelos. The bathroom, stocked with L'Occitane products, has ample wardrobe space, next to white twin sinks, that leads onto a little lounge area and a second TV. There's also a curvy white standalone bathtub and an open rainshower. In short: everything you need and more. It would be hard not to take it easy here. After a good night's sleep in a comfortable bed, we draw the curtains and hit the switch to take up the blinds, allowing light to flood in, and take in the view of the ocean and pier. Out on a cluster of rocks, cormorants sit watching for fish in the water. Finding and catching our own breakfast is far easier. The buffet, down in Café de la Playa restaurant, has a tempting selection of Western fare, including smoked salmon, meats and cheeses, pastries and croissants, and omelettes. More interesting, though, are the Mexican dishes, from sopas to enchiladas, with bubbling ceramic pots of red and green salsas bubbling away over flames. Staff in the restaurant are friendly and attentive, bringing not only tea, coffee and water but also a couple of mimosas. They're tasty enough to merit several refills, a pleasant start to the morning, as is the waiter's recommendation to try the morning's special, Motuleños, a filling dish of tortillas with eggs, black beans and cheese, served with peas and a spicy red sauce.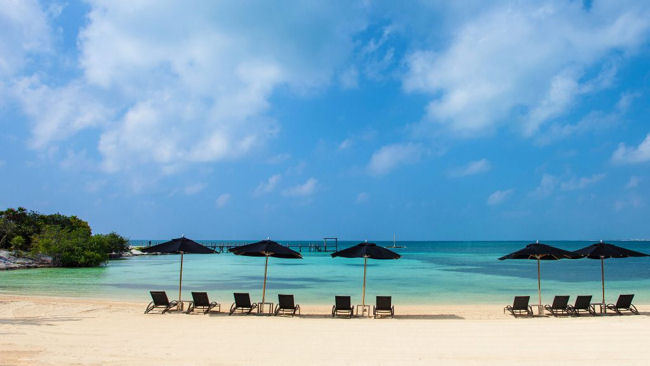 There are paddleboards and kayaks to borrow on the beach, though the bay is cordoned off (to protect people going into channel, which is busy with motorboat tours), so there's not too much to explore. Instead, we borrow masks, snorkels and fins, and swim out towards the pier. The water is cool and crystalline, with long sea grass below. Barracudas, puffer fish and parrot fish move among clusters of purple fan corals. We climb out at the pier and walk back to the hotel, disturbing a large iguana, basking in the sun, on the way. We have lunch at La Punta Grill & Lounge, over by the adults-only pool area. The long thin restaurant is arranged so that, though the open sides of the wooden building, we can see out beyond the pool to the shining ocean. The menu includes Mexican favourites, such as ceviche and tacos, with plenty of fresh seafood and steak. I enjoy grilled lobster, served on the tail shell, with a creamy white wine sauce.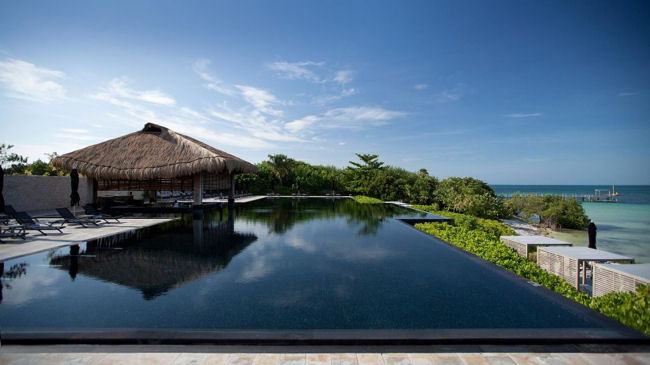 After a laidback afternoon by and in the main pool, which has a swim-up bar and a ledge that's a good spot to watch the sunset from, the Grill is topped by dinner at Indochine. As the name suggests, head chef Alicia Patankar has put together a menu here that draws from across Asia, from Thailand and Vietnam to Japan. That kind of attempt to cover all bases, rather than a single cuisine, sometimes leads to variable quality, but that doesn't happen here. Each dish really nails it, making one of the best meals I've had in the Yucatan. In the dimly lit restaurant, with warm orange lights, like embers of a fire, we work our way through many of the personal recommendations of chef Patankar who visits the table, from an amuse bouche of shrimp tempura to creamy coconut soup and hearty deep fried spring rolls. Fatty tuna sashimi is delicious, taking me back to Japan. A plate of lobster spring rolls is also a pleasure to demolish, before main courses of a rich shrimp curry with coconut and coriander and Pad Thai. The hardest part would be picking a favorite.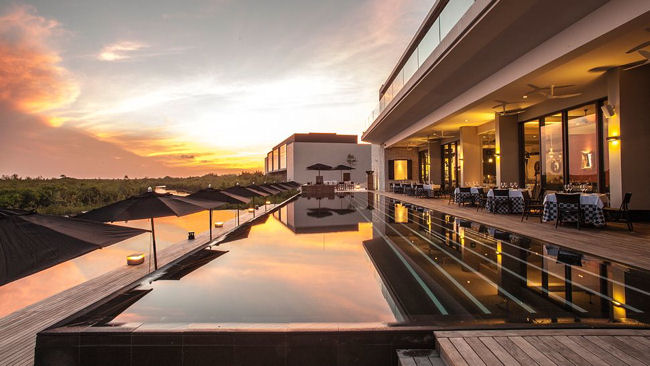 In the morning, before departure, we take a buggy over to the spa, a tranquil setting, away from the main building, with products by ESPA and coy carp swimming through channels around the flooring. After filling out forms and drinking ginger amber tea, I'm led through the hydrotherapy suite, from the eucalyptus-infused steam room and relaxing sauna into a bracing plunge pool. "Shocking, right?" an attendant laughs, as I come away from an icy shower. I spend some time in a heated pool under powerful jet showers before joining my girlfriend in a spacious couples' massage suite for a Cacao Maya treatment. Cacao was, apparently, "the food of the Gods". Here, it's a central ingredient for a two hour-long treatment. After selecting our choice of fragrant oils and enjoying a warm foot bath, we lay down for a full-body exfoliation using marine salt and ground cacao, then rinse off in a hot shower. "Enjoy your journey" my masseuse whispers to me, back in the treatment room, and I settle in for a relaxing muscle massage with Balinese long, fluid moments and cacao oil. The bed is warmed, while the music shifts from chimes to spacey synths, Asian flutes and strings to birdsong. It's hard not to fall asleep.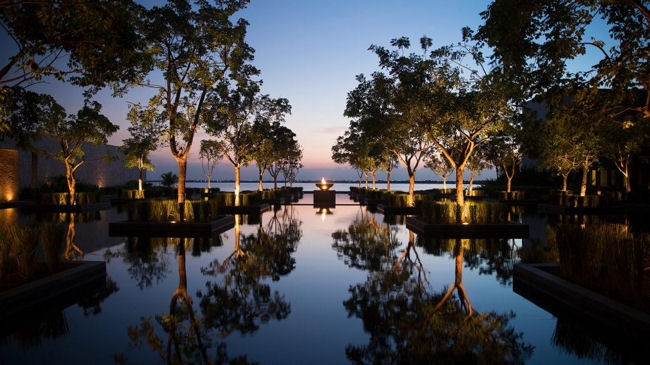 Towards the end of the session, a steady stream of sesame oil is carefully poured drop-by-drop onto the centre of my forehead, a novel practice we're told comes from India. Afterwards, just before departing the spa and the hotel, we finish with a cup of herbal tea and a chocolate truffle. The whole weekend has been relaxing, but these final few hours really take it to the next level.
An Ocean Suite starts from USD $845 plus 29% taxes, per night, per room and does not include any meals or drinks. www.nizuc.com Contact for reservations: reservations@nizuc.com Telephone: +52 998 8915700.