Luckily this is about to change, as Qatar revs up to host the
FIFA World Cup 2022
, a bid recently won which has spurned the nation to create a series of world-class systems of stadiums and centers. With much of its capital of Doha modernized in the last decade or so, there exists within the city an unusual mix of old, new, and newer, instilled with a futuristic feel that's come to characterize many of the other illustrious and recently developed areas in the region. As part of the New Middle East, Qatar has emerged as one of the wealthiest nations on the globe, also making massive strides in tech and innovation as they ascend.
Situated in the Persian Gulf Region on the Arabian Peninsula, their infrequently visited location, rapid development, and taste for luxury goods have all made Qatar one of the more curious travel destinations for the new millennium. Recently,
Luxury Travel Magazine
had the pleasure of visiting Doha, and experiencing all the sights and sounds for ourselves.
For those journeying to Qatar, the best and most hassle-free way to fly is via
Qatar Airways
, who offer non-stop flights to Doha, along with one of the most relaxing trips imaginable. For those in First or Business Class, the phrase "leg room" attains new heights, as passengers are able to fully extend their seats, enjoying a real night's sleep during the 10+ hour journey from the East Coast. In addition to complimentary amenities like a toiletry kit care of Salvatore Ferragamo, cotton pajamas and slippers for relaxing, and a full selection of in-flight entertainment, the entrees break the mold of stale airline food—with results comparing to that of even a five star restaurant. This is due in no small part to the careful planning of Qatar Airways' CEO Mr. Akbar Al Baker, who recently recruited celebrity chefs Ramzi Choueiri, Vineet Bhatia, Tom Aikens, and Nobu Matsuhisa to create designer menus available only on Qatar Airways flights.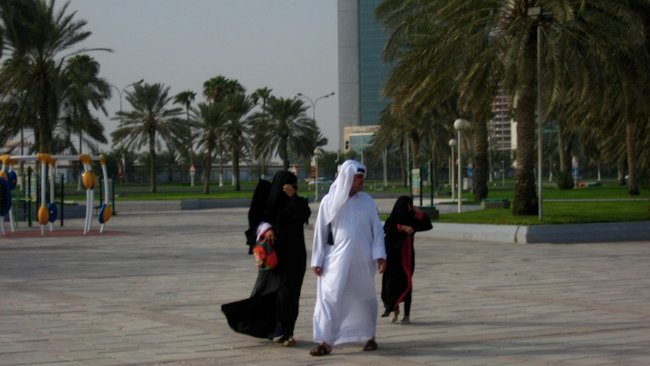 Doha: modern and traditional
Touching down in
Doha International Airport
, a pristine structure boasting the world's largest duty free zone, the airport's cavernous and spacious interiors provide a relaxed check-in and departure, with a courteous staff providing unparalleled customer service. Once in Doha, you'll find a modern city inflected with traditional elements, as well as an ambitious spirit. While much has been written about the nearby hubs of Abu Dabi and Dubai, an unusual fact is that much of the inspiration for these capitals actually came from Doha's initial ground-breaking. Filled with glittering skyscrapers and modernist nouveau Islamic architecture, this city-on-the-sea provides one of the most interesting peeks into the ways in which the region has been changing, both visually and atmospherically.
Though Doha is certainly the perfect city for a jet setter, it also provides a laid-back environment with a pleasant humdrum, everyday side to it. During the workweek there exists a manageable bustle, as those driving to their offices travel lightly populated highways with almost unheard of lane space. While here, you may also notice a lack of city buses or multi-person cars. This is because oil, one of their main exports, is in abundance and priced at levels unseen elsewhere in over a decade. As a result, the cost of owning and filling a car is much more economical than traveling via public transit, rendering the latter all but obsolete.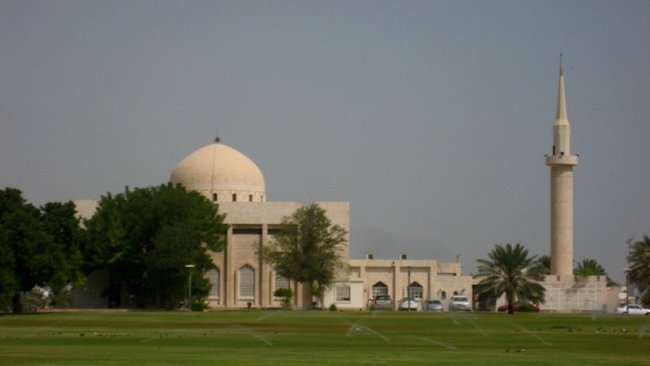 Doha: mosque
One of the main questions people often ask about Qatar is what the climate's like. If you're traveling in late summer or early fall (as we were), the temperature in Qatar can hover around 100 to 106 with corresponding humidity. As a result, one of the best options for sightseeing during the day is often to view the city from the comfort of an air-conditioned vehicle. Fortunately, unlike the heavily frequented traffic ways in America, the roads of Qatar manage to loop around some of the more interesting parts of the country; with attention paid to major roadside installation art, offering inspirational words and images. While many of these sights offer prime photo opportunities, be forewarned: taking pictures of government buildings or sites (including municipal offices, the palaces of the monarchy, and the vast oil fields in the desert) are forbidden, and may even get you into hot water if you choose to ignore this rule.
While during the height of the day temperatures may soar to uncomfortably humid levels, the late afternoon provides one of the best times for seeing the city. If you're curious about what it's like to be a resident of Qatar, a trip to
The Pearl
, a man-made island and one of the few places where immigrants are able to own property, should prove especially enlightening. Another nearby area of note includes
The Corniche
, a lush footpath along the bay of the Arabian Gulf which hugs The Pearl and offers unprecedented views of Dhow Harbour.
For those searching for insights into the kind of luxury lifestyle that's helped make Qatar famous, one of the best places to start is the mall at
Porto Arabia
, where haute designers like Hermès and Roberto Cavalli have set up shops to much fanfare. While the mall is certainly a draw for the The Pearl, visiting is also a great way to experience the well-manicured lawns and palatial estates, which hint at the type of wealth that exist in this often-mysterious country.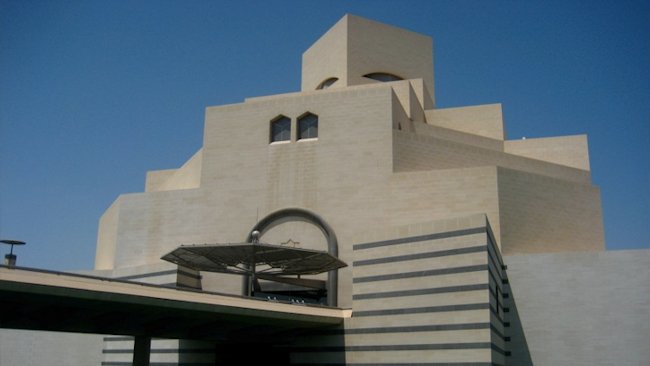 Museum of Islamic Art
If you're curious about the art of the region, be sure to take a detour to the
Museum of Islamic Art
, an impressive structure on the water which houses an interesting selection of pieces culled from the collections of dealers and patrons. Unfortunately, it has a paucity of works made by actual Qataris, so if you're looking for creations by local artists be sure to visit some of the smaller galleries throughout the city, which showcase emerging and established Qatari masters.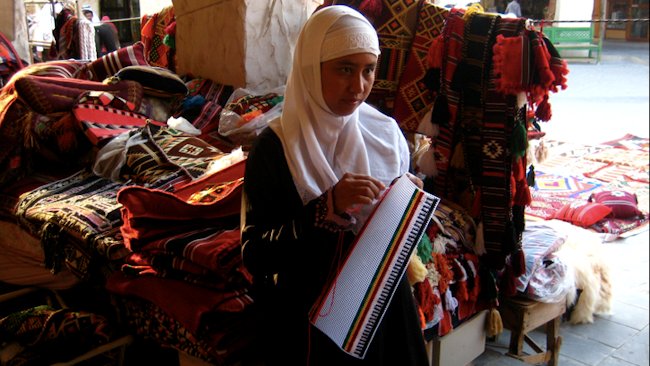 Souq Waqif
If you're seeking a taste of traditional Qatar, schedule a trip to the Souk Waqif, a local marketplace filled with man-made goods, Shisha lounges, traditional restaurants, and local artisans at work. Though the area is populated by a certain amount of tourist attractions and souvenir shops, it's also a wonderful place to pick up antique jewelry, exotic spices, experience traditional healing treatments like cupping, and even purchase rugs and bags by a collective of women knitters from Malaysia, who make their items on premise, in front of your eyes.
While the Souk is completely safe and very forgiving of tourist faux pas, make a note to be mindful of what you're snapping -- many Qatari residents feel that having their picture taken is an affront to their religious beliefs, and you may find yourself at odds with regional cultural rules if you don't respect their wishes for privacy.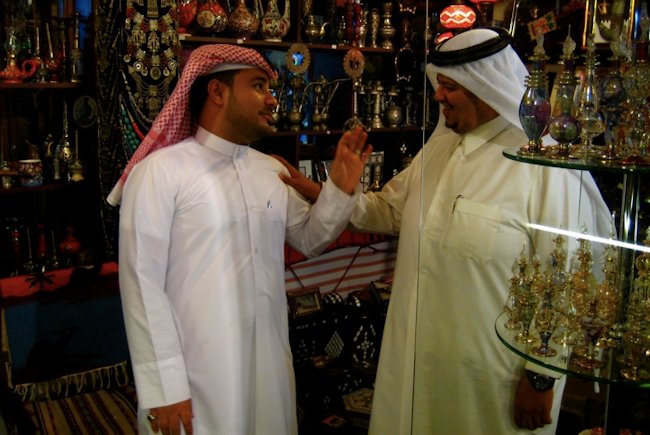 Qatari merchants
It goes without saying that the local customs of Qatar differ from the west. However, first time travelers to the region may find their visit especially jarring if they don't acknowledge that the country is still very conservative, despite its architectual modernity. For women visiting Doha, as a sign of respect it's advised that you travel with your knees and shoulders covered, and stay within the boundaries of appropriate behavior--which can also extend to transactions with the opposite sex. As long as you stay modest and alert, this shouldn't be a problem though.
Another custom that may cause culture shock is the frequent ban of alcohol in public places in conjunction with the Islamic tradition. While you may be hard-pressed to find a conventional bar out in the city, through the admission of drinking in privately owned establishments a thriving nightlife culture has emerged within local hotels. Upscale establishments like the
W Doha
and the Skyview Bar at the La Cigale Hotel are often the best places to meet local ex-pats for a drink, and to ask for further insider tips.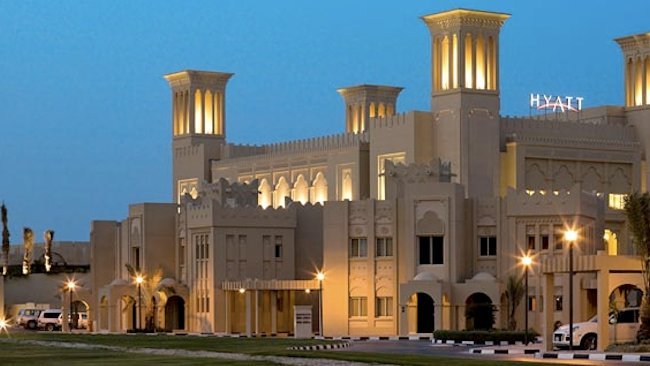 Grand Hyatt Doha
While shopping and sightseeing are certainly very important parts of any visit, be sure to also experience the tastes of Qatar while you're here. If you're hungry to sample Eastern fusion fine dining, head to the
Grand Hyatt Doha
, where visitors can enjoy delicious Thai food cooked on an open wok, with unbelievable views of the city. For a gourmet treat that transcends cultures, head to the
St. Regis Doha
where Chef Gordon Ramsey has set up a world-class restaurant complete with a multi-tiered design scheme and eclectic palate offerings. Though the food is the obvious draw, the most interesting part of the St. Regis Doha is the way they've melded traditional Middle Eastern architecture with the basic aesthetic tenants of the St.Regis hotel collection. Tall ceilings and domed archways belay both the epic newly acquired wealth of the region, and hearken back the Persian monarchy that's existed in Qatar for centuries.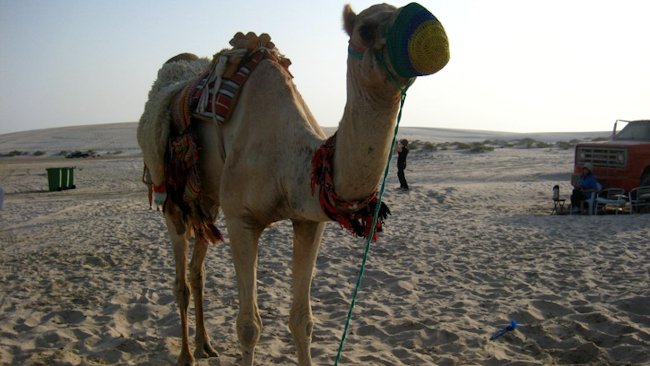 If you're hoping to leave the city and experience some of the majesty of Qatar's landscapes, a great way to explore the legendary sand dunes is with a knowledgeable local, best acquired through
Dunes Discover Tour
. Under the masterful guidance of your driver, board an all terrain vehicle and explore the Inland Sea, one of the most scenic areas in all of Arabia. One quick tip: it's often been said the best place to start is at the Sealine Beach Resort before heading out into the desert, so be sure to plan your trip accordingly.
While for now Qatar is one of the best-kept secrets of the Middle East, we have a feeling it won't be for very long. So if you're curious to visit a country still unexplored by even the most seasoned traveler, but sure to book a trip there before 2022, when the city will be filled to the brim with World Cup revelers and raucous visitors.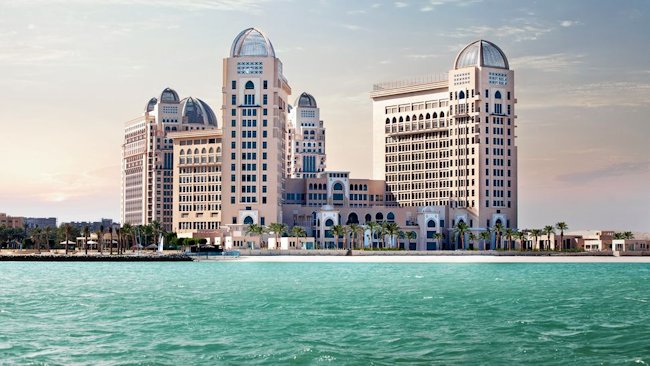 St. Regis Doha
If you're planning a trip to Doha and are looking for further travel advice, be sure to read our piece on
25 Things Not To Miss
while in Qatar. Or if you're in search of a luxurious place to spend the night our
Qatar Luxury Hotels & Resorts
page should also insure a once in a lifetime experience.