From the tree-covered limestone karsts to the deep blues of the sun-hit ocean, there's no shortage of color across Krabi, a province in south-west Thailand. One of the particularly vivid colors you find here and across the rest of the country is purple in the pretty orchids used to decorate hotels, restaurants and shops. Purple orchids are the national flower of Thailand, a symbol of the country, said to represent royalty, dignity and respect. Purple is also the color used by Thai Airways, the country's national airline, and the colour of the country's 500 baht banknote, which bears the face of the Thai king.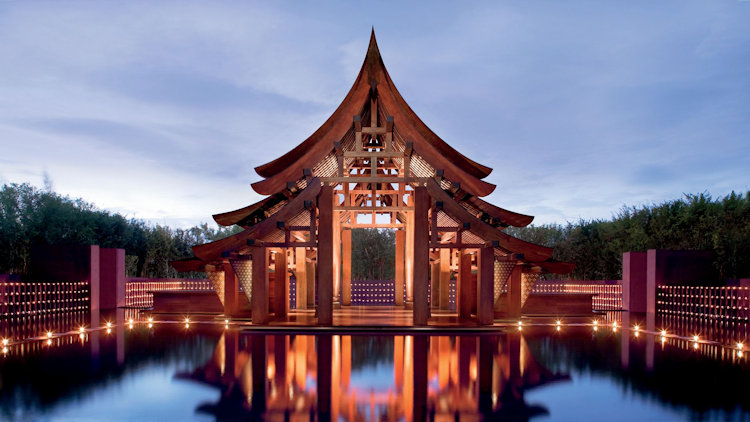 It's a bold color choice, too, at Phulay Bay, making a striking impression as we arrive through the hotel gates into the grounds of the Ritz-Carlton Reserve, where many of the walls are the color of ripe plums.
I've stayed at Ritz-Carlton hotels around the world, and each has been very different in style, often influenced by local or national characteristics. Ritz-Carlton Tokyo is one of my favorite city hotels, towering above the gleaming Tokyo cityscape in the capital's tallest building, while Ritz-Carlton Mandapa Reserve on Bali is an outstanding, secluded getaway that draws on the serene character of the Indonesian island. But I haven't stayed in a hotel before, Ritz-Carlton or otherwise, that was purple.
As well as color, Thailand can also be relied on for friendly, welcoming people, polite, efficient and thoughtful service, and world-class food. You get all three at Ritz-Carlton Phulay Bay.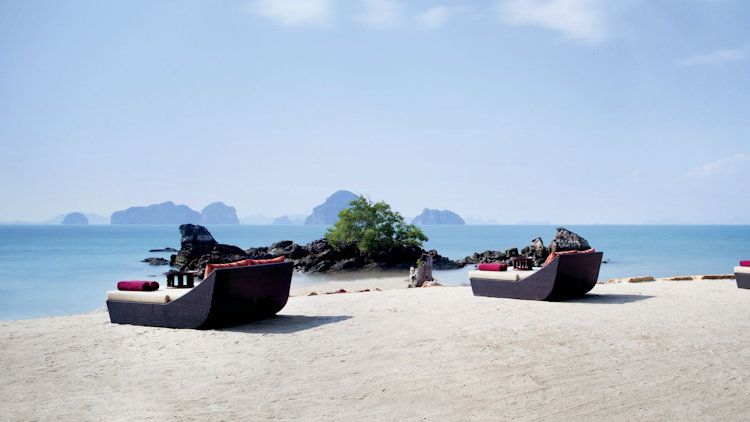 The excellent service starts right from Krabi airport, with a pick-up in a smart car with AC, bottles of fresh orange juice, cold towels, jars of dried fruit, newspapers, magazines and in-car Wi-Fi. 45 minutes later, after driving through small towns and dramatic karst scenery, we're greeted and shown into a purple temple-style area where two women, including our own 24-hour personal butler, gently bang gongs to welcome us. The purple walls are filled with thousands of candles, lit up like a temple at night, flames reflecting in the running water.
A welcome drink and cool towel later, we're driven by golf cart along through the grounds, which are filled with greenery and ponds and streams containing large coy carp and a small, infant crocodile. We make our way through the corridors of plum-colored walls to reach our Reserve Pool Villa, which makes quite an impression, not least with the amount of space we have to enjoy and stretch out in.
Going through a small wooden gateway, we enter a large, walled courtyard, with stone steps, pathways and pebble gardens. Out at the front, there's a lounge area under the shade of a thatched umbrella and our own private infinity pool, both looking out onto the hotel's main swimming pool, the ocean and the peaks of green islands across the water.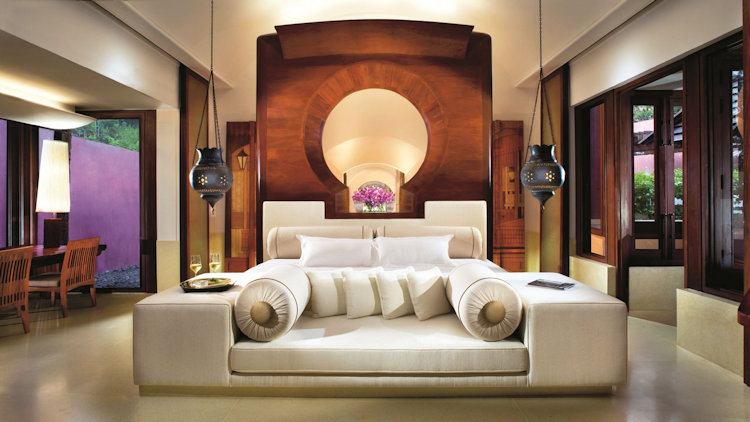 Sliding open the heavy wooden doors, we step inside the villa. The bed looks large enough to sleep fit around 8-10 people, and it's incredibly comfy to sleep in. There's a large TV mounted in the corner, with one wall filled with a mirror, the other a glass wall with slide door looking out onto a private little side garden with plants and neatly raked gravel. The main front room also looks out onto the ocean. The bedroom has vaulted ceilings, giving an even greater feel of space, and there's everything we need, including a fridge full of cold drinks, a writing table, and tea- and coffee-making facilities.
The room is almost all white, but there's color in the massive Lanna Drawings, traditional story-telling artworks depicting ancient stories from the great Kingdom of Lanna (in northern Thailand), decorating the wooden doors dividing the bedroom and bathroom. The bathroom is also vast, with a flower-shaped bath at the heart of it and a rainshower room to one side, as well as twin sinks.
It doesn't stop there. At the back of the bathroom, there's a second courtyard, this one with an outdoor, round, big bathtub and steps leading to another shaded lounging area. Within the villas, there are several sculptures, including a figure kneeling in prayer and a lady sleeping on her side (used as a 'Do Not Disturb' signal for the villa), but my personal favorite is the monkey, positioned up on one of the courtyard's walls, overlooking the pool, tail curling down. There's plenty of space and complete privacy.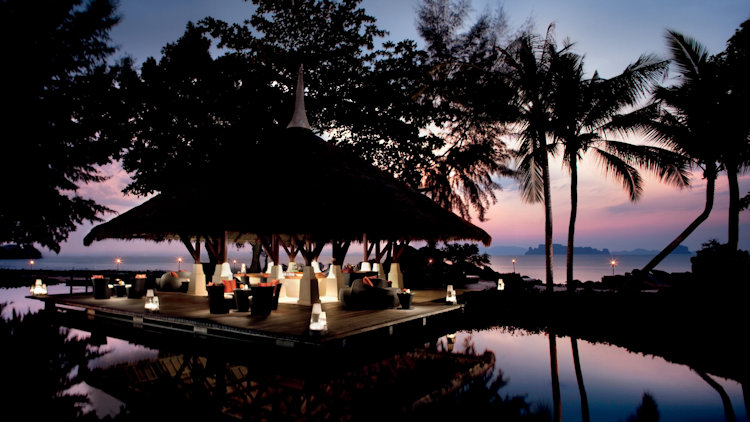 On our first evening, we join many of the hotel guests down at the sunset bar for drinks, watching the sky shift through different shades of color and an electrical storm dramatically light up the clouds over the distant islands.
The hotel has three main restaurants, including seafood restaurant Lae Lay and Mediterranean and international cuisine in Jampoon, as well as serving food at the large central pool. We eat at Sri Trang, the minimalist Thai restaurant, which has a relaxing ambience, with black woodwork and dim lighting, as well as lanterns outside. It's hard to go wrong with food in Thailand, one of my favorite countries to eat in. We both go for the classic Tum Yung Goong, a famous Thai spicy soup with tomato, prawn, mushroom and lemongrass, each bowl served with the level of spice, checked by the waitress, to our personal taste. For mains, we take our butler's personal recommendations of a prawn curry and deep fried red snapper accompanied with a pepper sauce, along with two kinds of rice served by a waitress from a large banana leaf.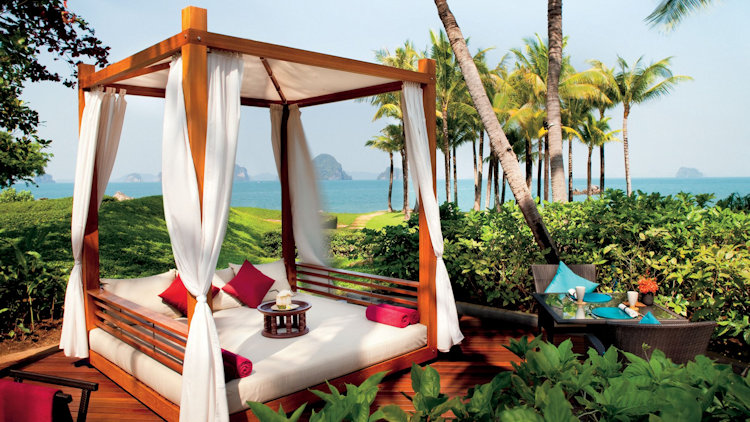 After a good night's sleep in the soft oversized bed, we make our way to breakfast. The buffet in Jampoon is extensive. Rather than just one type of croissant, there are four, including beef pastrami. There aren't just one or two types of jam, but shelves filled with a set, including tamarind. There are cheeses and cold cuts, salads, yogurts, cereals, salads, pastries, breads, all abundant, all tempting and fresh. There's an omelette station, of course, but also pots filled with Asian dishes, such as crab dim sum, and a second chef station where bowls of various noodles and other ingredients (veggies, prawn, chicken and more…) can be turned into a morning noodle soup to kickstart the day. Staff are friendly, welcoming us as we enter with the traditional Thai greeting of hands held together, like a prayer, and efficient, with tea, coffee, juice and other requests all arriving quickly.
We spend the morning by the large pool where the blue of the water seems to merge with the ocean and sky colors. Here, there's a swim-up bar and eating area under a round straw roof that looks a little like a wizard's hat.
There are wooden bats and ball and a set of boules to wile away the hours. There are also SUP boards and kayaks to borrow, the ocean activities here mainly possible in the afternoons, when tide levels allow.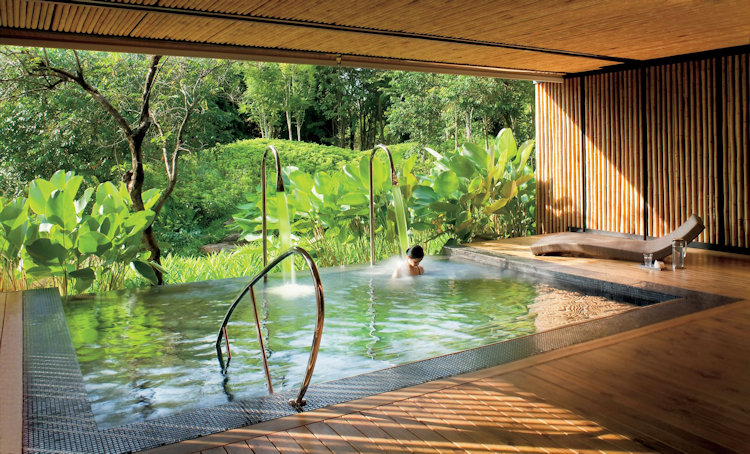 In the afternoon, we hit the spa, our appointments arranged via our butler. It's refreshingly cool inside, an elegant space with dark wood, bamboo walls, running water features and lots of greenery surrounding the spa area, where we see hummingbirds taking nectar from flowers. Thailand is almost as famous for massages as they are food, and the staff here are excellent. We take some time first to soak in the hot Vitality Pool, then to warm further in the Steam Room and finish off in the sauna. Already feeling the effects, we're led through to the therapy room, where the ground has been caringly decorated with purple flower petals in delicate swirls and shapes. We're given a quick footbath, then shown to the tables for Oriental Massages, a mix of Thai, Balinese and other techniques. The therapist expertly works pressure points with her hands and also climbs on top of me, pushing out my back and shoulders with her knees. Later, there's an oil massage with fluid Balinese movements. It concludes with more kneading of the shoulders and a scalp massage. It's impossible not to feel relaxed.
We hit the bar again in the evening to have a drink and catch another electrical storm. Lightning crackles behind the clouds, as the sun slowly sets over the ocean, turning the sky yellow and pink, with just a hint of purple.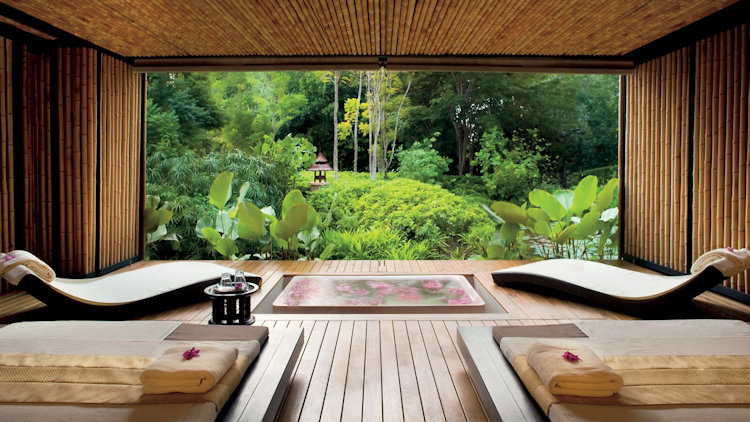 Ritz-Carlton Phulay Bay, A Ritz-Carlton Reserve, 111 Moo 3 Nongthalay, A Muang, Krabi, 81180, Thailand.
Phone: +66 75 628 111. www.ritzcarlton.com/PhulayBay
Entry level Reserve Pavilions cost from $450 per night per night, including VAT and service charges. Reserve Pool Villas cost from $1,330 per night, including VAT and service charges.
Car transfers in Ritz-Carlton's luxury limousine service (Toyota Alphard) costs of THB3,414 ($109) per car per way from Krabi Airport to Phulay Bay. The journey takes 45 minutes.