Long before Laos became 'Laos', the South-east Asian country was known as Lan Xang. It translates as 'the land of a million elephants', the name given to the kingdom in 1353 by former king Fa Ngum. I've heard that the name might have been mistranslated and that it meant instead 'valley of the elephants.' Either way, this region used to have massive elephant populations, which have sadly declined over the centuries; currently, Laos actually has the fastest growing ivory market in the world.
The elephant theme is one of many nods to the past at the new Rosewood Luang Prabang. The hotel, which opened in March 2018, has a smart, modern design, but also harks back to a time when European explorers travelled to the country, leading to more than a century under French colonial rule, a time when elephants still roamed the land in large numbers.
The new Rosewood is on the edges of Luang Prabang, the former Royal capital of Laos. Located on the banks of the Mekong River, the country's 'second city' has become increasingly popular with travellers over the last decade. The hotel's close to the village of Naduami, just a few kilometres from the main UNESCO-protected downtown area of French colonial buildings, Buddhist temples, monasteries and golden stupas; it only takes a few minutes by car to reach the main sights of the 'old city', but the property feels like a tranquil, country retreat.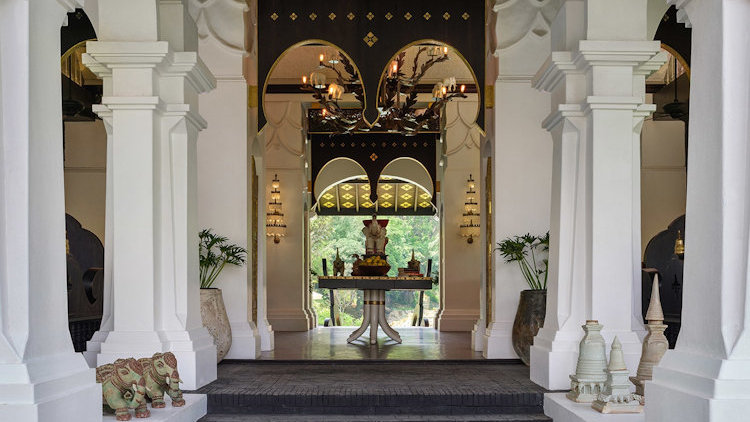 It's a 20-minute drive from Luang Prabang airport to reach the hotel, our smart private car entering through the main gate and dropping us at The Great House, the epicentre of the five-acre property. The Great House has the look of a Laotian Buddhist temple, with a high, vaulted ceiling, but in black and white, rather than gold or yellow. Beside the steps that lead up into the house, there are several elephant statues. The Great House contains the reception, indoor and outdoor dining areas where most meals are served, as well two large lounge areas, with yellow leather sofas and armchairs, warming fireplaces, coffee table books (including illustrations of Laos and Bill Bensley's architecture), and games, from Pictionary to Uno. There are more elephant statues inside the lounges, as well as metalwork silhouettes of elephants on the walls. Outside The Great House, there's a light blue, oval swimming pool, with sunloungers and shaded beds surrounding it. Nearby, a river runs through the property, with cascading waterfalls.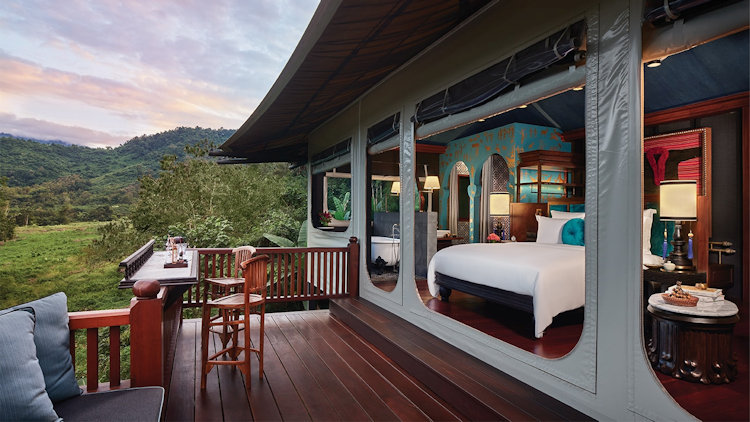 There are 23 rooms within the grounds, including a mix of riverside rooms and suites, as well as safari-style Hilltop Tribal Tents, each one individually designed. The safari tents are themed around some of Laos' many different tribal groups, such as the Akha and Lahu, with traditional headdresses and costumes arranged on bedposts and traditional textiles framed in glass on the walls. The décor in the suites references the country's French colonial past, each themed around a specific artist, scientist or other historical figures, mainly from the 1866 expedition to Laos. Ours, Number 15, a Waterfall Pool Villa, is dedicated to Louis Delaporte, a French naval officer known for his skilful illustrations.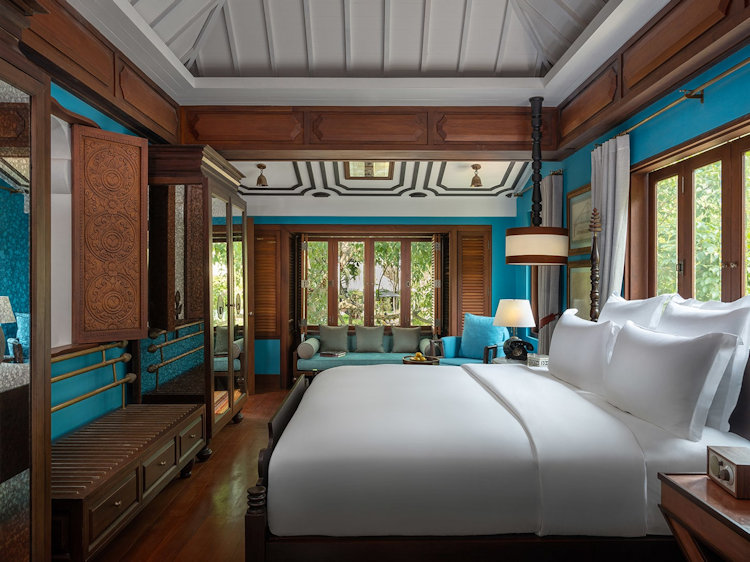 There's plenty of space inside and outside the villa. A wooden deck outside has a coffee table and chairs looking out onto a waterfall, green lawns and the tree-covered hillside. There are tea and coffee facilities, a fridge of cold drinks, and cocktail-making facilities, as well as a cocktail recipe book. We also have our own little hexagonal plunge pool and sunloungers on a second-tier wooden deck that also looks out over the waterfall.
Inside, the tall-ceilinged bedroom has a traditional fan, as well as AC and under-the-floor heating for when Luang Prabang gets cold. There's a large comfortable white bed, a lounging area and a smart wooden writing table. The room combines modern comfort and design with historical touches; there are colourful floor tiles, a bold bright red and blue striped rug and chunky lamps, with paintings on the walls of scenes from Laos' colonial era, including blue paintings of elephants and mahouts, and original etchings by Louis Delaporte dating back to 1879.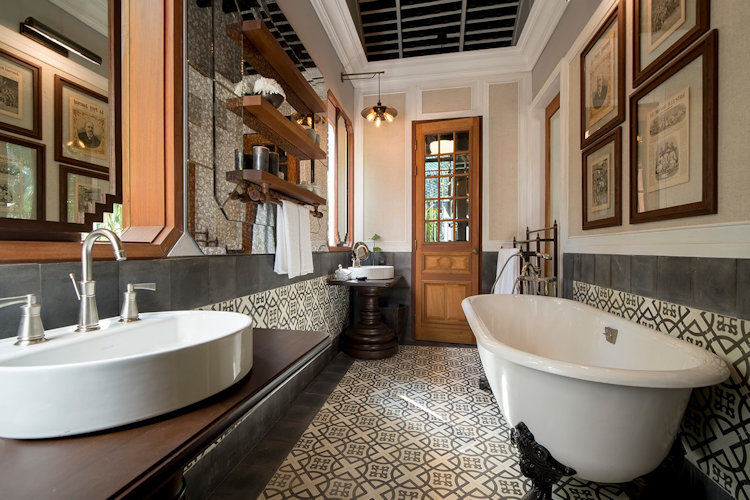 A blue arch separates the bedroom from the bathroom, which has black and gold wallpaper on the wall, tiled floors and twin sinks. Up on a high shelf, there's a wooden trunk that belonged to Delaporte, his name written on the side. As well as a rainshower, there's an outdoor bathtub and shower area where the walls have been playfully decorated with modern, plump, cartoonish elephants enjoying a good bath or shower themselves.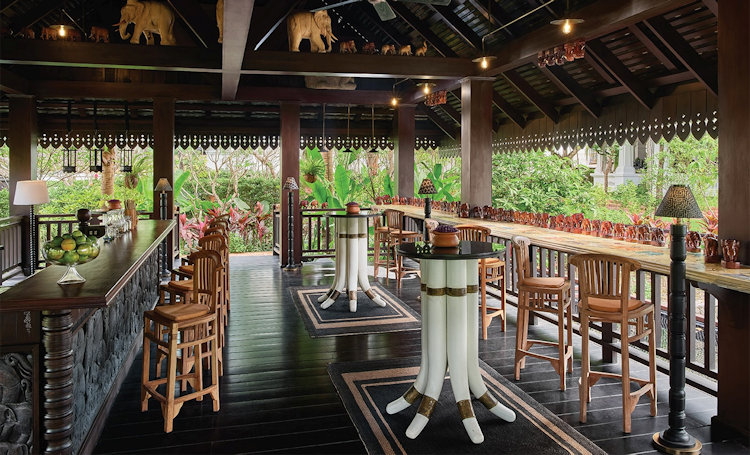 The most elephants though are to be found at the Elephant Bridge Bar, where it looks like the designer might have aimed for a million. There are wooden elephants lining the handrails along the steps on each side of the bridge, with many more, both large and small, around the bar area and on shelves around the room. There are even more wooden elephants stuck upside down, hanging from wooden beams. We visit the bar in the evening for a few cocktails, sitting at a counter on the bridge overlooking the river, sipping a Tamarind Whisky Sour and playing a few board games among the elephants before dinner.
Instead of eating in The Great House, we have a Royal Laotian Feast down by the riverside. With the sound of the cascading rushing waterfall beside us, we sit at a private table,a waiter bringing a bucket of hot coals and blankets over to warm us on the cool evening. French chef Sebastien Rabis had introduced himself on arrival; here, he says 'hello', checks any dietary requirements and serves up a banquet of Laotian dishes, including a soup of young bamboo shoots with mushrooms, lemongrass and pumpkin, a dish of thinly sliced river fish with herbs, and a bowl of nutty rice with vegetables, before a dessert of roasted banana with creamy coconutty tapioca porridge.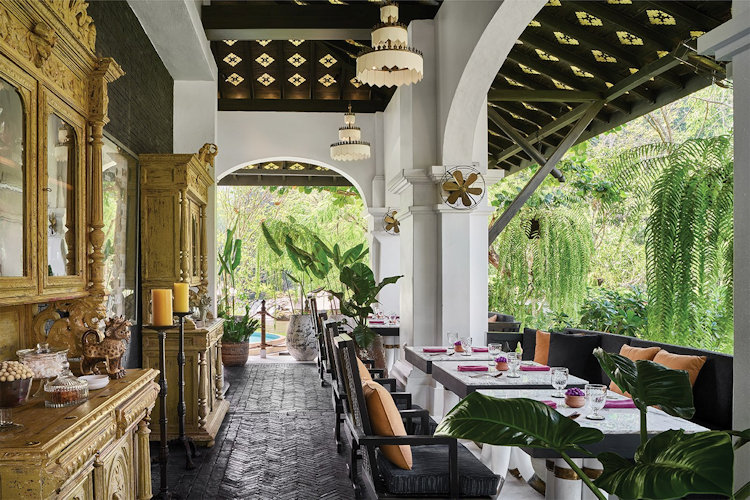 There are plenty of options for Laotian food at breakfast in The Great House, too, including Khao Piak Khro (rice porridge with eggs and chicken) and Khao Piak Seng (flat rice noodle soup with veggies and meat or fish). There's no breakfast buffet with standing metal trays. Instead, everything's prepared fresh and delivered from the kitchen, including yogurt, fresh juices, omelettes and selections of croissants and pastries. Notably, there are little elephants on the side of our breakfast plates. Service is fast and friendly for breakfast, as it is across the hotel, where staff quickly learn our names and make the effort to get to know guests. The people who work here go the extra mile; when my malfunctioning laptop requires some attention, they call around and find an expert to come and take a look.
After breakfast, we head to the Senses Spa. The Rosewood's grounds have plenty of greenery, with herb gardens and flowers tended throughout the day by gardeners. Some of those plants are utilized in the spa too. We have a quick check-in at the spa reception before our treatment, a Traditional Lao Herbal Poultice Treatment, where poultices are prepared with herbs and sticky rice (a staple in Lao food, but not so often used in massages). We're then guided along to a safari-style tent that looks out over the river, made comfortable on twin beds, with music playing, from whale song to gentle piano. The massage is firm and relaxing, the therapist occasionally climbing onto me to press shoulders, work knots and pressure points, and stretch out my limbs. The poultices, loaded with herbs, including Crinum Lily, Camphor Tree, Vietnamese Coriander and White butterfly Bush, are heated and used to press and pound aching muscles.
The hotel's lunch menu has a mix of Laotian dishes, like green papaya salad, green bean salad, Sai Qua Kwai-Mhoo (grilled buffalo and pork sausages) and Ping Paa Eup (BBQ river fish with herbs and spices), as well as easygoing food: burgers, pastas and excellent fish and chips.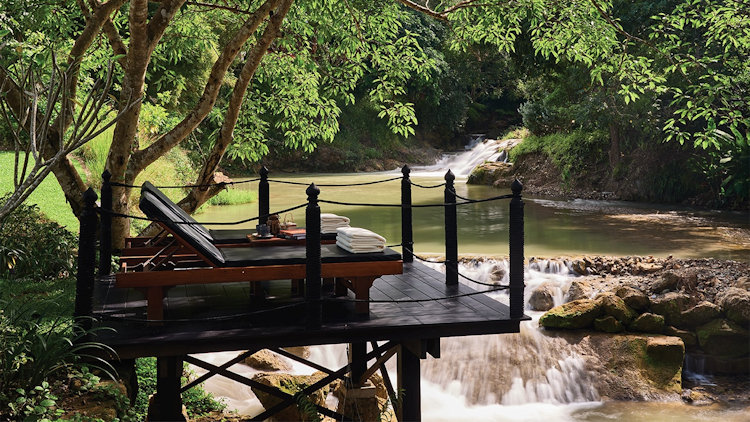 Later, on our final evening, we're driven into Luang Prabang for a Sunset River Cruise on the Mekong river. We board the private 40-foot wooden boat, which has been set up with two beds for lazing and a table filled with snacks. An onboard waiter pops open a bottle of Châteauneuf-du-Pape and fills our glasses with red wine, as the boat motors gently along the river, past Luang Prabang's waterfront buildings. We help ourselves to noodles, spring rolls and dumplings as we pass through the other river traffic: fishing boats, tourist cruises and transport ships. As the sun starts to set, the captain turns off the engine, allowing the boat to drift with the flow of the water. On this quiet stretch of water, away from the city, we occasionally see a waterfront house, temple or stupa. But there's a timeless feel to the river and the mountains on either side. It's not hard to believe this is close to how the Mekong might've looked 150 years ago.
Rosewood Luang Prabang
Ban Nadueay, Luang Prabang, Laos PDR
https://www.rosewoodhotels.com/en/luang-prabang
+1 888 767 3966
A Riverside Room starts from USD$532 per night, including breakfast but excluding 20% service charge and taxes.
Complimentary round-trip airport transfers are included.
A Rosewood River Cruise Experience on the Mekong for two people, including a private butler, canapes and a choice of wine, costs USD$300.
Graeme Green is a photographer and journalist. See http://www.graeme-green.com/ and follow him on Instagram @graeme.green (https://www.instagram.com/graeme.green/).