Kuala Lumpur's a city of towers. It's iconic 452-metre high Petronas Twin Towers were the tallest buildings in the world from 1998 to 2004, until Taipei 101 in Taiwan and other subsequent constructions eclipsed them. But they remain the tallest twin towers in the world and the emblem of the Malaysian capital.
They're far from alone in reaching for the skies, with the separate Kuala Lumpur Communications Tower also hitting great heights (it's antenna goes up to 421 metres), as well as sky-high banks, office blocks, residences and hotels. It makes for an impressive skyline, driving in at night or by day to Shangri-La Kuala Lumpur, which is located right in the heart of the Golden Triangle, the capital's central business, entertainment, food and shopping zone, and, therefore, right in the midst of the towers.
The hotel itself occupies an impressive tower, 110 metres high, with 662 rooms and suites, restaurants, a gym, swimming pool and spa filling 28 floors. We travel into the city in the evening, having been met at Kuala Lumpur International Airport by a porter dressed in a smart red and gold jacket, who took our bags and delivered us to a black limousine outside. An hour by car through sometimes heavy traffic and we pull up at the Shangri-La.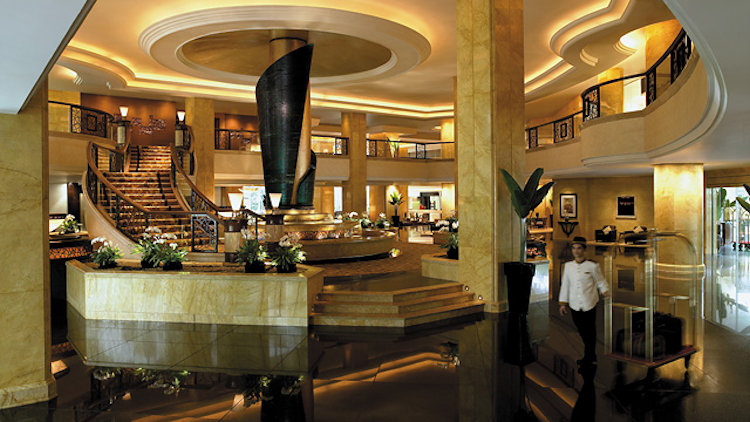 Stepping inside, the hotel makes a striking impression. It first opened in September 1985, with current Prime Minister Tun Dr Mahathir Mohamad cutting the ribbons, but went through a major refurbishment in 2002, including the lobby area, where there's now a shining fountain in green and gold, like a futuristic take on a tropical oasis. The lobby hall and surrounding lounges are decorated with warm golden colors, with chandeliers hanging from the ceiling, like glittering upside-down Christmas trees, and pink orchid displays on borders and tables.
We're led straight up to our room for in-room check-in, which is as fast and painless as any I've experienced, our bags delivered before it's over. We stay in an Executive Room with Horizon Club access up on the 18th floor, the room decorated in red and gold, with a regal floral design in the wallpaper, a thick biscuit brown carpet, a plush red armchair and a red headboard behind the bed. There are several colourful paintings with golden frames on the wall, like abstract nature and city scenes. A TV faces across from the bed, with tea and coffee facilities in a cabinet and a fridge filled with drinks. There's also a writing desk in one corner, a make-up table with a mirror in another. The bathroom's small compared to other KL hotels, a bathtub, sink and rainshower set in a compact room of creamy, almost golden marble.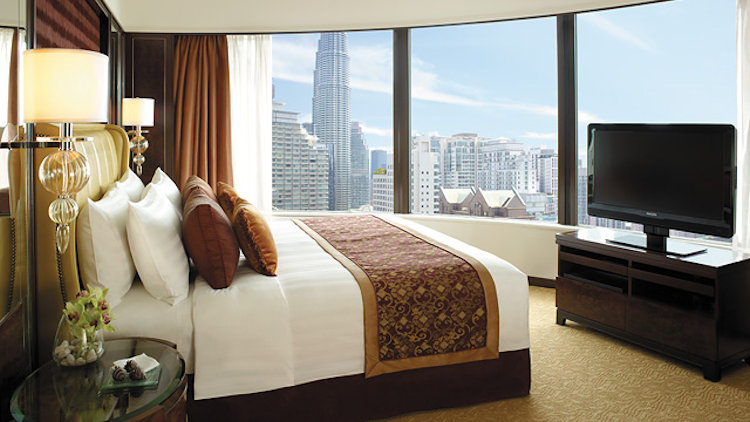 The best part, up on the 18th floor, is the view from the bedroom, looking out onto the surrounding towers, from office blocks to hotels. Far below, we can see tropical green gardens and cars passing on the road, the traffic just a faint distant hum.
In the evening, we head down to the Lemon Garden on the ground floor. The hotel has several restaurants, including French fine dining at Lafite. Lemon Garden is more of an all-you-can-eat-buffet, with stations of food from around the world, including Italy, China, Malaysia, India and Japan. It's not fine dining, but it is a fun evening, the hall packed with local families on a Saturday night. We gradually eat our way around the world, starting with some sushi, sashimi and California rolls from a central station, then a little pizza and pasta bake here, a few stir fried tiger prawns with spicy Kam Heong sauce or steamed fish with ginger and soy sauce there. There's plenty to try, including curries, such as Ikan Sambal, with big chunks of spiced fish. There's also a whole corner of the room dedicated to desserts, from vanilla cream puffs to chocolate cake slices, many of them small enough so you sample a few.
Breakfast is also served down in the Lemon Garden, which is equally international, with many of the stations in the same position from the previous night, meaning you can kickstart the day with a spicy curry laksa (a traditional Malaysian dish), Chinese noodle soups, sushi or a little bit of smoked salmon pizza, or Western options, like eggs, cereals and pastries.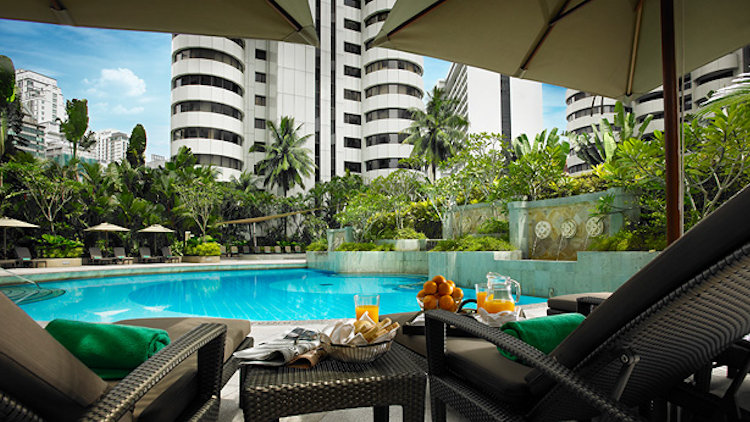 Afterwards, we make our way up to the pool on Level Two to swim, read and cool down from KL's humidity. The pool feels right in the thick of the towers; from the refreshing water, you can look out on one side to see a tip of one of the Petronas Towers, and to the other side, the Kuala Lumpur Tower.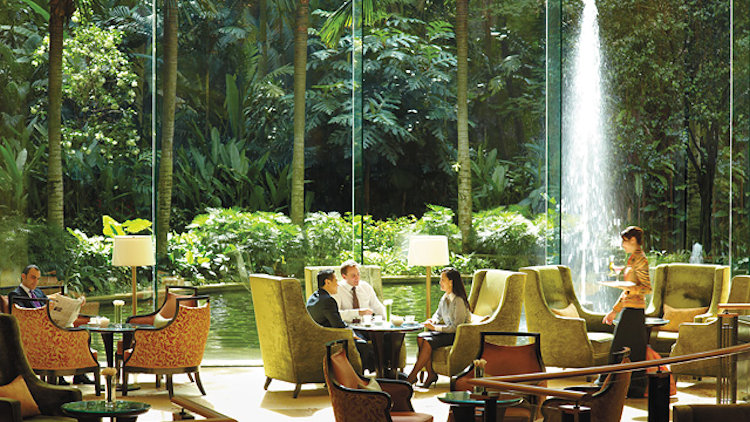 We book ourselves in for Afternoon Tea down in the lobby, sitting by the window, looking out onto the tropical garden outside. Tea and coffee are served first in attractive red and gold cups and saucers, then an elaborate standing disc is placed on the table, each section loaded with something small and elegant to eat. For savoury starters, there are smoked prawn and mango vol-au-vants, cucumber and poached salmon sandwiches, and little skewers with chunks of tuna tataki. Working around, there's a bright red rosella macaroon, a caramel choux pastry bun and a jasmine tea jelly topped with whipped pannacotta. The coolest treat is a little chocolate pot filled with almond praline mousse and topped with raspberry slices and an apple mint leaf, arranged to look like a tiny plant in a pot. There are also two types of scones, one plain, one strawberry-lavender, with dishes of fresh cream and strawberry jam. If that wasn't enough, a little tray pulls out to reveal iced biscuits, decorated with musical notes.
With Horizon Club privileges, we make our way up to the Horizon Club Lounge later in the day for a read of the papers and a couple of glasses of wine, where there are more snacks on display, from little burgers to veggie sandwiches.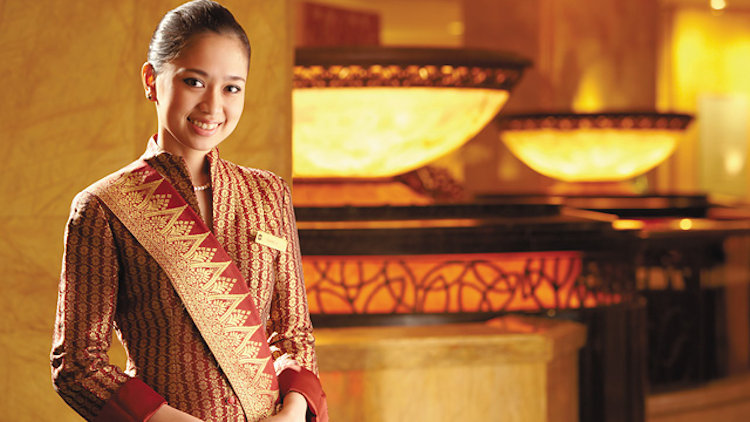 Later still, we head down to the spa, near the hotel's well-used gym. There's plenty of space to relax here, with a warm pool inside the men's changing room, as well as a steam room and some comfy loungers in a secluded, quiet room. Therapists serve a welcome drink and offer fragrant oils to choose from. I'm booked in for a Shang Touch massage, which combines a Swedish oil massage with a Malay-style working of pressure points and limbs. It's a relaxing hour, my limbs stretched and manipulated, the treatment finishing with warm towels on my feet and hands.
Our day ends at another of the hotel's more low-key, dining venues, Arthur's Bar & Grill, an American-influenced sports bar, complete with black and white photos of Wall St, skyscrapers and other Americana on the wall. The menu has down-to-earth steaks, burgers, pizzas and pastas, while a football game plays in the huge wall-mounted TV by the bar. I go for the Caesar salad with Cajun grilled prawn and scallop, my girlfriend for a thick brown Guinness onion soup. For mains, I order a pesto pasta with potato, green beans and walnuts, while my girlfriend tucks into a New York-style Spaghetti Bolognaise.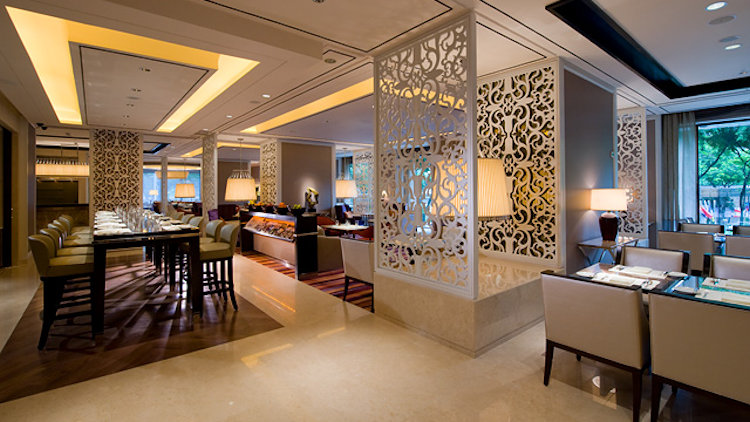 We head back up to the Horizon Club Lounge next morning before a final swim and checkout. There isn't such a varied international buffet as in the Lemon Garden, but there's still plenty to choose from and it's quieter, more refined and less crowded. I pick up a copy of the New York Times and find a table. The waitress delivers tea and I order an omelette to go with a small plate of warm, crispy croissants, enjoying it all by the window, the city outside rising up from street level and towering above me.
Shangri-La Hotel, Kuala Lumpur
Jalan Sultan Ismail, 50250 Kuala Lumpur, Malaysia)
http://www.shangri-la.com/kualalumpur/shangrila/
1300 88 7388
Rooms start from $116 per night. Horizon Club Executive Rooms cost from $197 per night.
Return airport transfers cost from $130 USD.
Graeme Green is a photographer and journalist. See http://www.graeme-green.com/ and follow him on Instagram @graeme.green (https://www.instagram.com/graeme.green/).