The town is nestled in the southwest corner of Colorado where geology did some of its best work. Peaks of 14,000 feet melt into red-rock mesas and lush stands of evergreen and aspen silently forest the hills. Telluride, designated a National Historic Landmark District, was once a booming silver mining town. Today, with much of its original Victorian architecture preserved, it is a recognized and celebrated gem.
Impressive Stats
The region receives on average more than 300 inches of snow annually and offers more than 2,000 skiable acres for all ability levels – and with 300 days of yearly sunshine and no lift lines, the skiing and snowboarding in Telluride are epic experiences. There are now 14 direct flights from 11 major hubs and there've been recent additional flights from Dallas-Ft. Worth and Phoenix.
Terrain For All
For adrenaline junkies, make a beeline to Plunge to conquer steep bump runs. This run is known for its breathtaking views of the town and its jaw-dropping black diamond descends 3,140 vertical feet down the mountain. But, hold on: even though Telluride skiing is renowned for its steeps and bumps, 38 percent of the resort is intermediate terrain, offering runs such as Village, Palmyra and Prospect. The area's most popular intermediate trails are just over three miles long – providing panoramic views all the way to mountains in Utah. And for newbies there's a friendly, low-pressure atmosphere at Sunshine and Ute Park - both a beginner's dream spanning nearly two miles.
However, as winter sports are not quite my thing (read: absolutely no ability), the inviting
road less traveled
beckoned. I had to heed its call.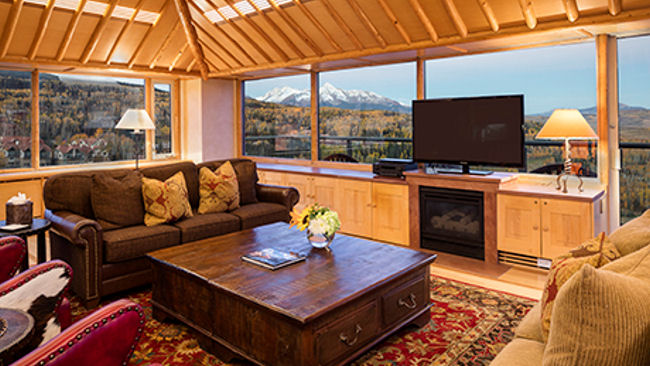 Peaks Penthouse
The Peaks Resort & Golden Door Spa,
hovering high above the town, is where I chose to hang for the next few days, and it had everything that a non-skier, non-boarder, non-skater like me could possibly wish for. It was divine, a haven for we who do not define R&R by flying down a vertical mountain slope, wind lacerating our faces, and the threat of imminent catastrophe looming over our heads. Instead, proponents of soft adventure (accent on
soft)
will find this full-service resort one's perfect cup of tea - or hot toddy (my particular preference).
This resort is home to the famed Golden Door Spa, and, in keeping with its original property in California, it is dedicated to creating a balance of body, mind and spirit through personal programs and treatments. Feeling a slight pang of guilt as I watched fit individuals zooming down mountains, faces glowing from the icy wind and frozen into masks of sheer concentration lest they crash and burn, I felt compelled to choose the
Healthy Lifestyle Package.
It promised that my body would "thank me for taking the time to respect and nourish it." I am certain my body was actually thanking me for not attempting to ski. The 3-hour session included a private body composition analysis and fitness assessment, a personal training session, and then the good stuff: a 50-minute, customized Swedish massage.
Dressed for Success
Next morning I ventured out of my cocoon and wandered the town that looks much as it did in the 1880s with brick hotels and clapboard storefronts. I enjoyed checking out the art galleries, and the best part: buying some cool clothing. Once I donned the duds, I felt like an insider, a true Telluridian. My outfit: shiny red jacket with faux fur hoodie and slim black ski pants. Not wanting to lose this heady feeling of fitting in, for dinner I changed into a cute thermal-insulated parka. On my walk back to the hotel I didn't hurry along – I
strolled
, warm and snug in this new feeling of belonging.
Family Fun
Kids too, can have a sense of belonging because Telluride offers a host of enriching programs just for them. Here's a sampling:
The Telluride Rock and Roll Academy has programs for kids that want to explore their musical abilities and see what it's like to be part of a rock band; Telluride High School houses the Horizons Climbing Gym; the Skate Camp has some great summer classes; the Historical Museum has a new outdoor interactive mining exhibit, "Hard Rocks, Rough Lives," that would appeal to kids with an historical bent; and for
al freso
activities the Telluride Academy is an award-winning outdoor youth organization. So, you're not a kid? Check out the Silver Skiers Program offering a special agenda for skiers 50 years and up. Yep, truly something for everyone. Telluride is like no other destination – it is unique, authentic and inspiring; in fact,
it is the most Colorado place on earth
!
There's an anonymous quote that says "Winter must be cold for those with no warm memories." This winter should be a piece of cake because I left Telluride with a mountain of
very warm memories.
WHEN YOU GO:
Telluride Visitors Center –
www.visittelluride.com
The Peaks Resort & Spa –
www.thepeaksresort.com
Images courtesy of The Peaks Hotel & Resort