Rome, famously, wasn't built in a day. The new Apurva Kempinski Bali, the latest addition to Bali's hotel scene, also took considerably longer than a day. It's taken more than five years to construct this ambitious 475-room project. Comparing a hotel to a city might seem over the top, but looking down from the clifftop lounge at the edge of the gargantuan lobby and across the sprawling resort complex, it does feel a bit like looking over a city of the future, rather than a simple hotel, and it's not even 100 per cent finished yet.
Opening a new hotel on Bali might seem like a bold move. There are already many hotels across the Indonesian island to cater to the +6 million travelers that visit each year. It might seem bolder still to go against the trend for smaller, more personal, boutique hotels with such a massive complex. The new Apurva Kempinski Bali isn't quite the largest luxury hotel on Bali (Mulia has 526 rooms) but this is still a considerable investment and show of confidence.
We visit shortly after February 2019's soft opening. A chatty driver takes us in a private people carrier to the hotel, which is around 30 minutes from Denpasar International Airport, down in the Nusa Dua area in the southern tip of the island.
Apurva is apparently Sanskrit for 'unique and magnificent', and that's certainly the first impression the new hotel achieves. We enter the grounds through a tunnel of arches with hanging vines, parking close to a large rectangular man-made pond with frangipani trees and a giant bowl-like glass fountain at the centre. The surrounding walls have been sculpted with Javanese figures, with wooden doors along the pathways ornately carved.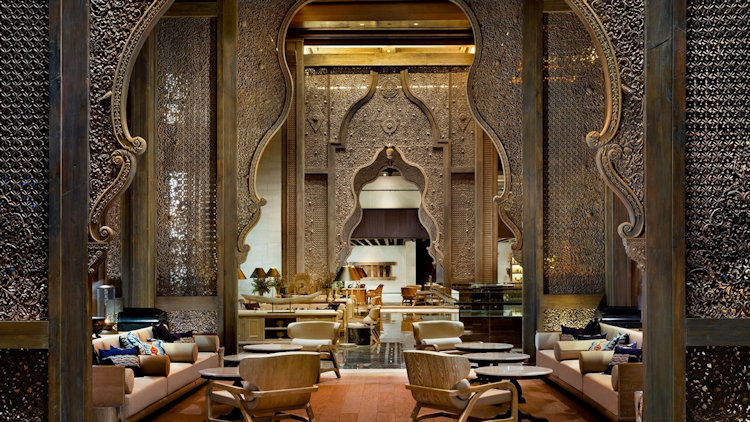 Beyond the pond, we reach a vast, grand hallway, like a cathedral or a temple. The roof's a huge version of a traditional Javanese ceiling, a copper-colored inverse pyramid, with light at the top for sunlight to come through. The floor's a dark black marble, with swirls of white and deep ocean blue, imported from Mongolia. There are four tall wooden 'temples', the kind of traditional meeting areas used by Indonesia Royalty in the past, with arched entrances and intricate flowers and plants carved into the wood; each wooden wall looks like it would've taken months, if not years, to carve such detail. Around the hall, there are large sculptures and artworks, including a wooden horse's head, and arrangements of bougainvillea flowers.
We're guided to the check-in desk, receiving a drink of ginger and lemongrass before being shown to our room. As we go, we take a first look at the hotel grounds from the clifftop lounge. The Grand Staircase descends from the lobby down to the pool area, 250 steps cutting through a hillside-covering section of rooms. There are four pools, including a children's pool with curving slides, and a 60-metre long blue pool surrounded by sun loungers with Pala restaurant at the heart of it. Further still, there's the beach with more loungers and a sea break wall in the water to form a protected area for swimming. There's plenty of greenery, too, with neat lawns, palm trees along the paths, and roofs of some rooms used as gardens with plants and flowers. A strange armadillo-shaped construction close to the beach, still under construction, is set to be a non-denominational chapel for weddings.
Down a lift and through corridors with lamps that look like flaming torches, we reach our Grand Deluxe Lagoon room. Inside, there are white walls, dark wooden floorboards and a large cymbal framed on the wall. The bed is wide and incredibly comfortable. There are mellow orange lamps on dark wood bedside tables and above a black writing desk in the corner. There's also a black wooden cabinet across from the bed, with tea and coffee facilities, a fridge and a large TV on the top. Stepping out of our window, we have our own private desk with a comfy sofa in one corner, the water of the pool or 'lagoon' running right past our feet for instant cooling down.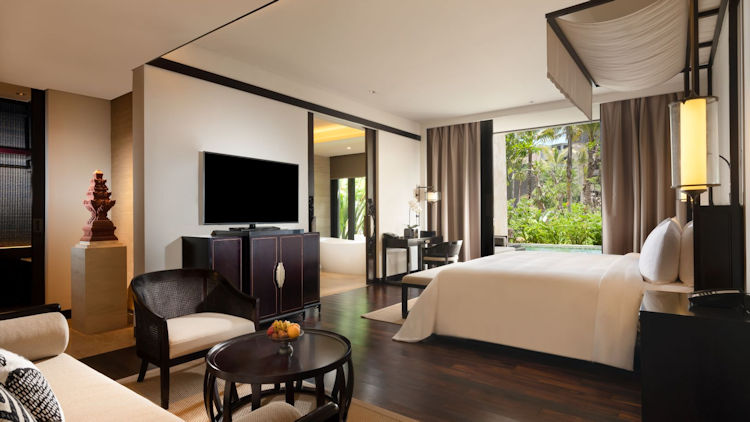 Our spacious bathroom has a creamy marble floor, a separate glass rainshower unit and a white bathtub against the window with garden greenery plants and trees on the other side of the glass. Tall mirrors above the sinks stretch up to the ceiling, with twin sinks set in marble and Kempinski's own products to use.
In the afternoon, we head back up to the clifftop to Selasar Deli, a little bakery and deli, for Afternoon Tea. Three-tiered tray selections are delivered to our table by a window looking out over the resort and ocean, with neat toasted sandwiches with salmon and avocado, a rich chocolate mousse cake, scones with cream and strawberry jam, a coffee profiterole and a novel, black, savoury macaron containing smoked salmon and cream cheese. There's an old-fashioned ice cream cart here too, my girlfriend sampling a scoop of pandan (local fruit).
Evening approaching, we make our way across the lobby and up to the spa area. After a detailed survey and pre-massage consultation, we're shown into a couple's treatment room, looking out over the ocean. The Gending Apurva signature treatment starts and ends with the striking of singing bowls, the ringing sound reverberating through the room. There's a warm foot bath and scrub with peppermint salts, then a body massage that combines Balinese techniques, working pressure points and stretching limbs, with an oil massage and the use of hot poultices filled with 69 types of herbs.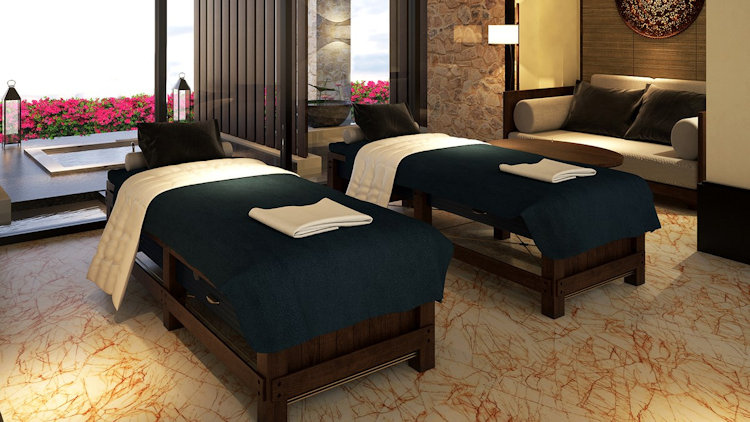 For dinner, we visit Pala restaurant at the center of the property. Staff here are incredibly friendly and helpful, the menu a mix of appealing Asian and Western dishes. We order a bottle of Haut-Médoc, a fruity, smooth red from Bordeaux, then start our meal in Japan, with a plate of sushi (salmon, red snapper, tuna) and a California Roll, and tasty, filling tempura shrimp and veg, including peppers and asparagus. For mains, I order a Balinese pizza, with shrimp, spicy tomato sauce and slightly bitter green veg, while my girlfriend enjoys local dish Mie Goreng Udang, Indonesian noodles with shrimp, egg and vegetables with a fried egg on top.
We're back in Pala next morning for breakfast, with metal plates loaded with bacon, scrambled eggs and beans on one side of a large central kitchen area, a station with chef cooking omelettes and eggs, and Asian dishes down another counter, including salt and pepper squid, Cantonese beef, Mie Goreng and Chinese porridge. There's a choice of sushi, too, mainly California rolls, and a separate station with breads, pastries, cakes and more. Waitresses patrol the room offering juice boosters or little cakes to try.
We spend most of the day relaxing on the beach and by the pool. One of the friendly waiters from last night's dinner brings us cold G&Ts and a good Old Fashioned. We order lunch by the pool, including a bowl of al dente Fettuciine pasta with a rich tomato sauce, parmesan and, according to the menu, "memories of Sant Agata", another bowl with chili, garlic and olive oil.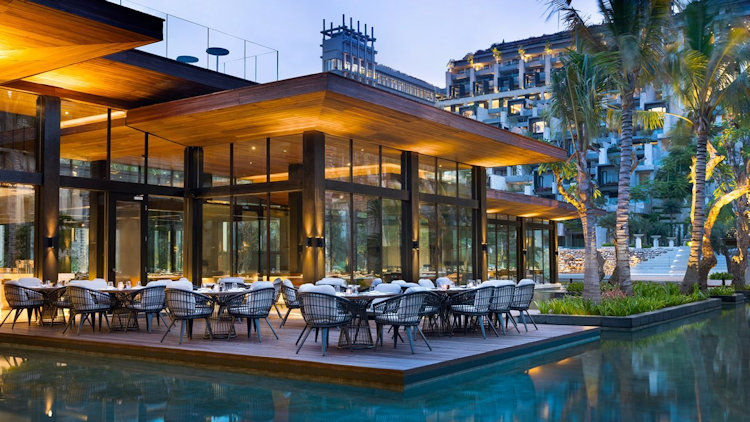 In the evening, we make our way to the rooftop bar above Pala, with a view of the illuminated pool and, behind us, the 'city' of the hotel, also lit up at night, the rooms and staircase rising up the cliffside. It's quite a sight. In this quiet spot, I try a Tropical Arak Spiced cocktail, which Reposado tequila, arak, mango and lemon juice, passion syrup, agave syrup and carbonated ginger, a bold, refreshing drink, while my girlfriend goes for a Honje G&T, with honje flower-infused gin, lime peels and Japanese cucumber.
There's more Italian food at dinner, with a chunky Caprese salad decorated with flowers to start and a salmon fillet as a main, while my girlfriend goes for a warming Soto Ayam, a chicken soup with glass noodles, bean sprouts, lime and tamarind. At the time of this visit, Pala is the only completed restaurant on the property. But, as we pass through the magnificent lobby next morning to check out, a member of staff mentions that later in 2019, when the hotel is complete, there will be a new Reef Beach Club, a Japanese restaurant (Izakaya by OKU) and an underwater restaurant (Koral). It's always good to have a reason, or three, to return to Bali.
The Apurva Kempinski Bali
Jalan Raya Nusa Dua Selatan, Sawangan, Nusa Dua, 80361, Bali, Indonesia
+62361 2092288
www.kempinski.com/bali
A Grand Deluxe room starts from USD$250, plus taxes, including breakfast for two people. A Grand Deluxe Lagoon room starts from USD$ 319, plus taxes, including breakfast for two people.
Airport transfers cost IDR360,000 (USD$24.9) per car per way.
Graeme Green is a photographer and journalist. See http://www.graeme-green.com/ and follow him on Instagram @graeme.green (https://www.instagram.com/graeme.green/).