Sometimes, a trailer can ruin a film, not just by giving too much away but by raising expectations that the full-length film doesn't meet. Likewise if you hear too much information about a book, TV series or album. There's a lot to be said for being surprised, for arriving at something fresh, without preconceptions. But we couldn't avoid hearing things about The Datai on the Malaysian island of Langkawi before we arrived. It felt like everyone we met knew it or had heard of it. "It's the best hotel in Langkawi. Everything there's perfect," we'd been told, as well as "It's so beautiful." and "It has the best beach in Malaysia." Most hotels would struggle to live up to the hype.
The Datai originally opened in 1993, closing for a year in 2017 for a major renovation and reopening late 2018; some of the rooms still have a 'new' smell. Little has changed though in terms of style and character.
We arrive by private car, a white BMW, the journey from Langkawi airport taking around 35 minutes. As we get close to the hotel, up on the north coast of the island, the music on the stereo switches to rainforest sounds. Langkawi is one in an archipelago of 99 islands in the Andaman Sea, off the mainland coast of north-western Malaysia, just across the border from Thailand. The beaches make it a popular tourist destination, but wildlife and nature are the other big draws, the main island home to monkeys, frogs, eagles, hornbills and more.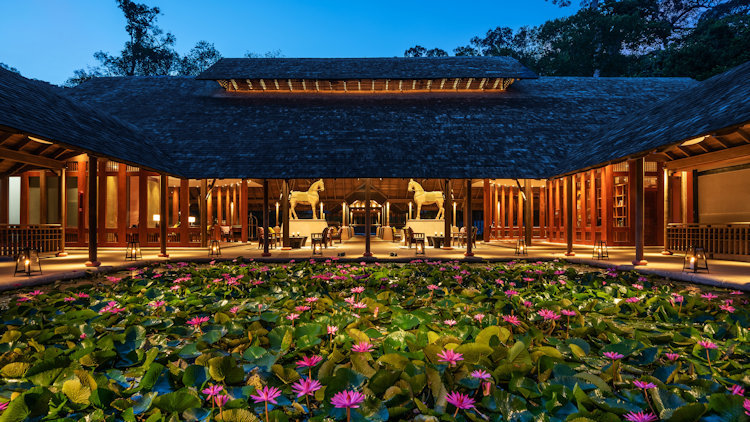 Two horse sculptures stand guard at the large reception, where there's a lily-pond covered, tiny golden tree frogs resting among the pink flowers. After check-in, we're driven in a golf cart to our Rainforest Villa, which is raised up on stilts and looks out into the forest. Birds, cicadas and other insects provide a gentle natural soundtrack. Inside, there are chocolatey teak floorboards, a high wooden ceiling and a TV mounted on one wooden wall, though we never switch it on. A fridge contains soft drinks and beer, but there are no plastic bottles in the room, with refillable glass bottles and flasks used across the hotel. Backlit alcoves contain nature books and there are wall-mounted lamps resembling flaming torches. The four-poster bed is vast and comfortable, surrounded by white curtains. We also have writing tables on either side of the room, and a sofa next to the window; from the sofa or outside on our wooden deck, we're able to look out into the thick forest, occasionally spotting macaques.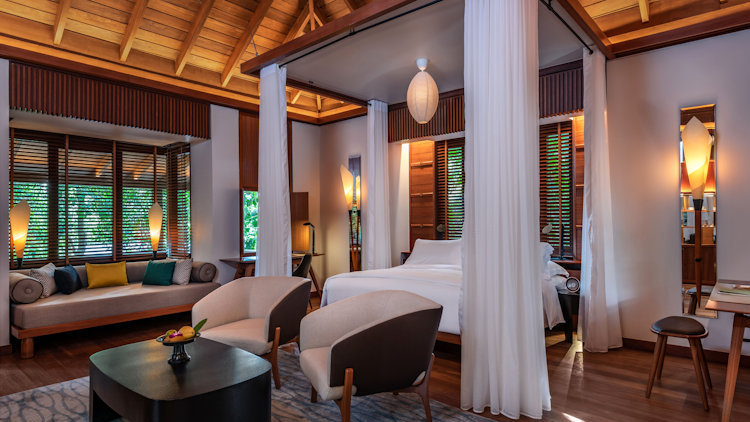 A pair of heavy wooden doors leads through to the bathroom, which has a stylish, symmetrical appearance. There's a rainshower, large sinks and mirrors on each side, and by the far window, looking out onto the forest, a white bathtub.
We make our way down to the beach, a spectacularly beautiful 1.5 kilometre crescent of sand around Datai Bay. The hotel also has three swimming pools, including an adults-only pool up by the main building and a family pool close to the beach, next to The Beach Club where we eat lunch: snapper fillets served with Salsa Verde. The service at The Datai is outstanding. Friendly waiters deliver everything efficiently to the table. Elsewhere, of you're lost or looking for something, you're taken where you need to go in-person, rather than told directions. The grounds are large and hilly enough to require buggies, with drivers likely to stop en route to point out a colugo (flying lemur) on a tree.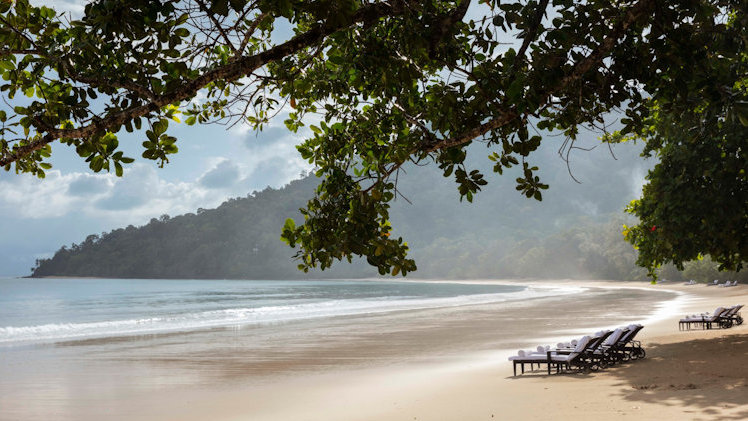 The wildlife is one of the big reasons to come to this biodiverse island. We meet naturalist Jonathan Chandrasakaran at newly constructed Nature Centre and head out to explore the forests. Climbing a tower up to a newly built canopy walk, I spot a giant black squirrel as Jonathan talks us through the pollination process of a strangling fig tree.
In the evening, we walk up to the lobby, where hornbills feed on the fruit trees. There are many smaller Oriental hornbills bounding between tree branches and we spot one striking, large, female great hornbill with a giant yellow beak. Spectacled langurs work their way through the trees, one mother holding a bright orange baby.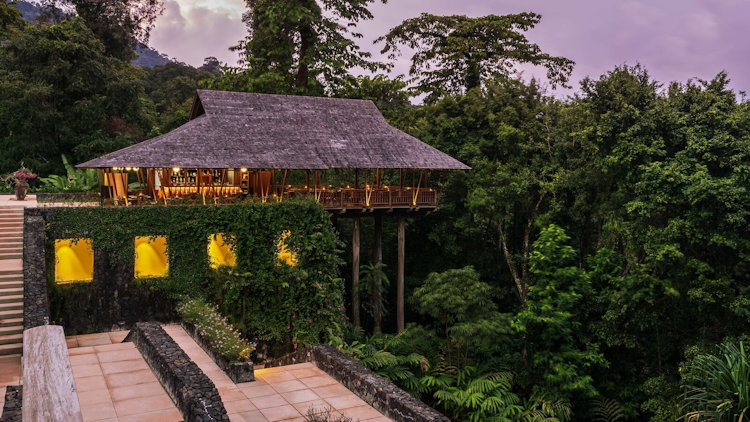 We eat dinner at The Pavilion, which serves Thai food at a peaceful spot, looking out into the dark forest from a raised platform. I order Tom Yam Goong, a spicy Thai hot and sour soup, while my girlfriend goes for a spiced mushroom soup. For mains, we share basil and mushroom wok-fried noodles and steamed barracuda with lemongrass, herbs and chilli, served inside a young coconut.
Breakfast is in The Dining Room by the adult pool. There's a sizeable buffet, including warm croissants, cheeses, smoked mackerel and bottles of sparkling wine, and menu options such as omelettes with lobster and Eggs Benedict. This being Malaysia, there's plenty of Asian food showcasing the population's Chinese, Indian and Malay cuisines, including prawn dumplings, Nasi Goreng, Sambal, dhal and noodles.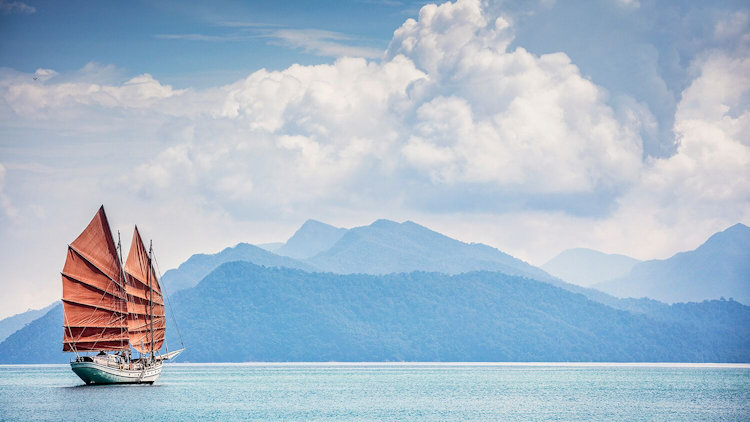 Afterwards, we make our way down to the beachfront activity centre. Kayaks and SUP boards are available to borrow, but instead we catch a lift in a speedboat out to Naga Pelangi ('Rainbow Dragon' in Malay) an impressive 100-foot, traditional, Malay-style, sailing boat moored in Datai Bay, ours for the day. The boat took seven years to construct in a traditional Malaysian boatyard. "Malaysia was the centre of the spice trade," owner and captain Christoph Swoboda explains. "Everyone came to Malacca to pick up spices. Malaysia is a country of sailors and pirates and traders. Malaysia is the greatest country of seafarers in the world."
Crew members hoist the red sail into position and we move slowly along Langkawi's north-west headland. Across the water, the green islands we can see are Turatao and Koh Adang in Satun, across the border in the south of Thailand, just a few kilometres away.
We spot a sea eagle hunting for fish and stop for a quick cooling swim, the two of us alone in the ocean. Back onboard the boat, a table's been set for lunch, a generous buffet of mozzarella, roasted pepper and pesto sandwiches, a spicy shrimp salad with pomelo, spring rolls and feta salad, bagels with smoked salmon and cream cheese. Glasses of Champagne are poured as we sail back along the hilly green coast, past empty isolated beaches. There can't be many better ways to spend time than this.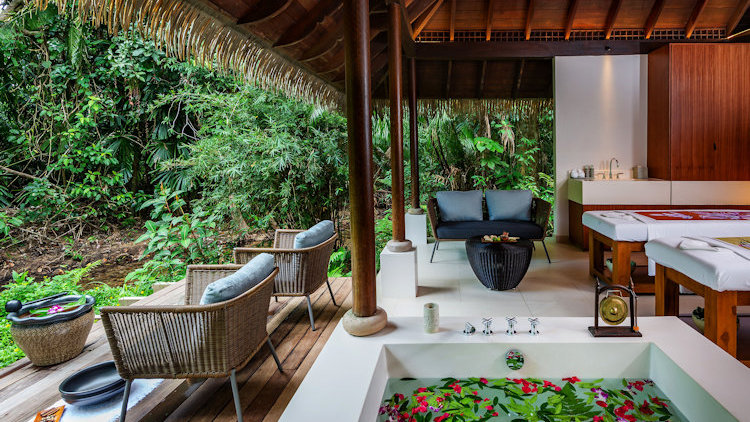 Already feeling relaxed, we head along a wooden walkway to the spa. Female therapists lead us into a smart wooden room for couples' treatments, the room open-fronted, looking out onto a stream and mangrove forest, where a black squirrel scampers through the branches. The session starts with a foot scrub and massage, then my girlfriend is given a Harmony Master treatment, a massage of the feet, back and arms, followed by a moisturising facial and a scalp massage, while I go for a Kuat Massage, a deep tissue massage using oils to release tension. It's one of the best spa experiences I've had in Asia, with skilled staff and a calming natural setting. A kind of space age choral music plays in the background, but quietly enough that I can head cicadas and birdsong over the top.
In the evening, we meet Irshad Mobarak, The Datai's resident naturalist, down at the beachfront for an After Dark Nature Walk. "Langkawi's definitely underestimated for wildlife," Irshad tells us. "For a small place, there's such incredible biodiversity." As we walk the grounds, he points out colugos and giant geckos, with bats flying over the river. With a UV torch, we study small scorpions in the cracks of a wall. But the highlight is watching a flying squirrel take flight, like a little wingsuit pilot, leaping off a tall tree trunk and swooping down.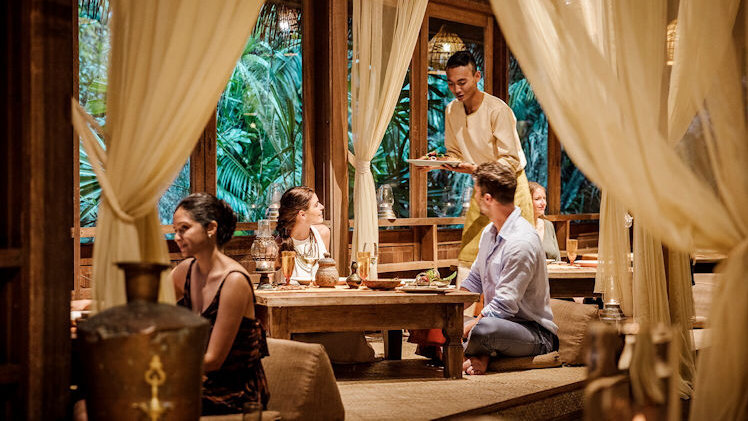 We try The Gulai House for dinner, a simply furnished, open-air restaurant. We order classic cocktails, a well-made Old Fashioned for me and a Singapore Sling for my girlfriend, then skip starters and tuck into dishes from the menu's Indian section: fish tikka, yellow lentil dhal palak paneer and steamed rice, with crunchy garlic naan bread. It's an impressive feast. There's a thick wine menu with bottles from Australia to Chile; we select a big, fruity Pavillon de Clément-Pichon (2010) from France's Haut-Médoc, which isn't finished by the end of the meal, so a waiter kindly offers to send the bottle ahead to our villa.
We meet Irshad again next morning for a walk around the front of the hotel, the trees busy with hornbills and spectacled langurs. Moving around the main building, we see Asian fairy blue birds, a crimson sun bird and up high in a tree, a good vantage point, a female white-bellied sea eagle, perched close to the resident pair's nest.
Everything we'd heard about the hotel before arriving had set expectations high. The reality exceeded them, not just the beach, pools, food or service, but getting to know the local creatures. As we make our way up to the reception to check out, we spot another colugo clutching to a tree trunk. He's found a place he likes and doesn't seem to want to move. Anyone who's stayed at The Datai will know the feeling.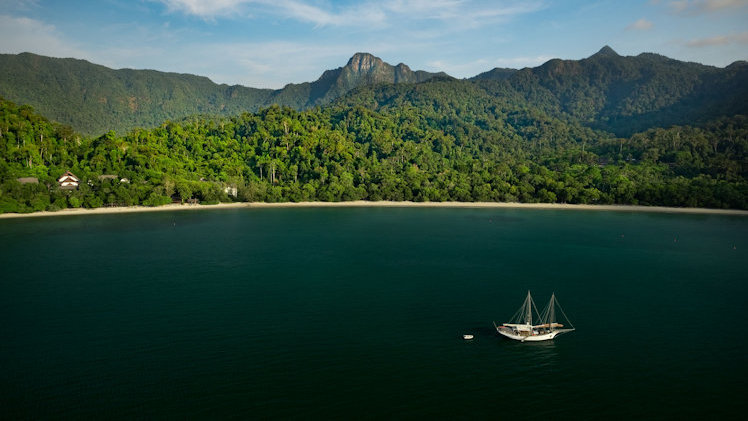 The Datai Langkawi
Jalan Teluk Datai, 07000 Langkawi, Kedah, Malaysia.
www.thedatai.com
+60 4-950 0500
Canopy Deluxe Rooms cost from RM 2500 (US$608), including breakfast (excluding service charge and tax). Rainforest Villas cost from RM 3200 (US$778), including breakfast (excluding service charge and tax).
Airport transfers cost from MYR 190 (USD$46) each way.
A Discovery Cruise on Naga Pelangi costs RM700 (US$170) per adult and is available daily from 10:00am to 2:00pm, except Mondays. Minimum 4 adults.
Graeme Green is a photographer and journalist. See http://www.graeme-green.com/ and follow him on Instagram @graeme.green (https://www.instagram.com/graeme.green/).