If you talk to anyone who visited Bali 20 years ago, they'll tell you how much the paradise island has changed. It's still a beautiful, relaxing place to spend time, one of my favorites. But the beaches are busier. The temples have more visitors. There are more bars, restaurants and hotels, with new openings each year on the island. Most of all, they might grumble about the traffic that makes getting from A to B slow-going.
Seminyak is one of the busiest parts of the Indonesian island. But it wasn't always that way. Where there are now streets and buildings, I'm told there used to be nothing but the striking green rice terraces Bali is famous for. Those rice terraces would've been all that surrounded The Legian, which was built 22 years ago, in 1996, making it something of a classic on Bali. Tucked away in the Seminyak area, it doesn't feel like it's in the thick of the action. Instead, it's peaceful, private and secluded, positioned on a lovely, quiet stretch of Seminyak beach.
We arrive by taxi, a 20-minute drive from Bali's Ngurah Rai International Airport, rolling up the driveway to the blocky, stately, white building with dark wooden balconies and window frames where smiling staff take our bags. Check-in takes place not at a counter but sat comfortably in a lounge, surrounded by shelves of books, Balinese sculptures and artworks.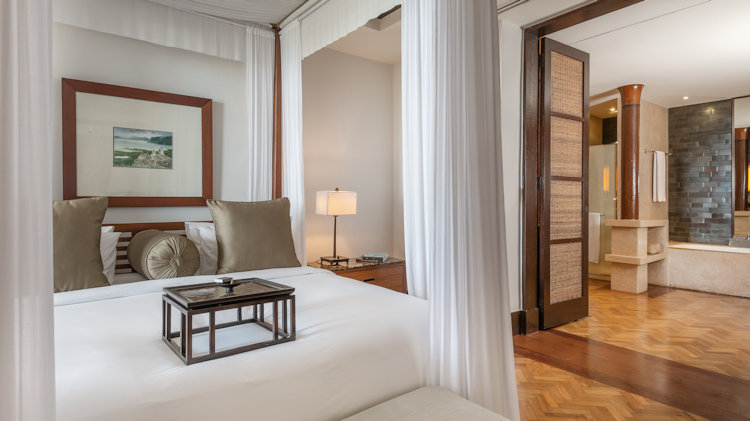 We're guided up to our suite, though suite doesn't quite sum it up. It's more like an apartment, large, spacious and instantly homely, with white walls and parquet floors throughout. The lounge has a long comfy sofa, two wicker armchairs and a glass-topped wicker table, all positioned towards a large TV on a tiled unit. The same neat little tiles make up the surface of a writing desk in a corner by the window. There's another tiled table on the other side of the room, where fresh fruit and white flowers are placed each day. Decorating the walls, there are clay squares featuring Balinese figures playing music instruments. Windows look out onto palm trees and the ocean beyond. The sound of the crashing surf is a pleasant accompaniment to our stay.
There's more space outside too, with two large decks. One, set further back, has a couple of sunloungers, while the front deck, in front of the windows, has a comfy bed for serious lounging, looking out over the hotel's gardens and the ocean.
The bedroom has a large white bed, surrounded with thin white curtains that billow gently with the breeze from the AC. The bathroom has a central unit with twin sinks in front of massive shining large mirrors, with Acqua di Parma products imported from Italy. There's a big white bathtub up against the wall and a rainshower in a corner, with plenty of wardrobe space and drawers along the walls.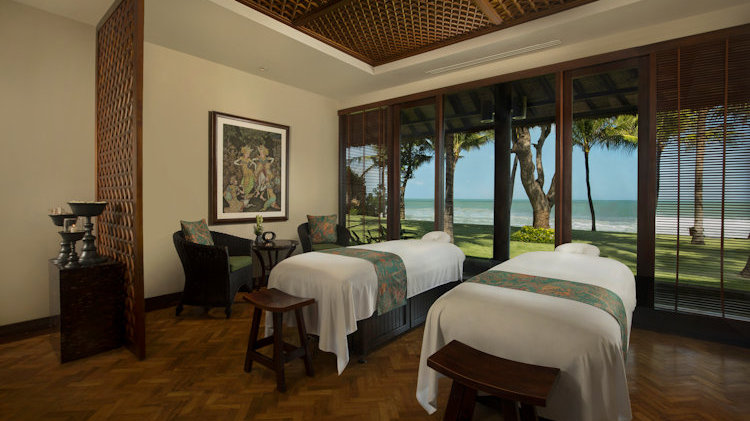 In the afternoon, we head down to the spa. After a busy, stressful week of work leading up to our Bali trip, The Spa's just what the doctor ordered. We unwind first downstairs in warm pools and I spend some time in the sauna. Afterwards, therapists collect us and lead us up into the spa for our 60-minute Javanese Sea Wave Massage. We're given oils to choose from. I go for Bali Oil with ylang ylang and ginger. Lying face down on the bed, gentle piano music plays, with the gentle sound of waves breaking on the beach just audible over the top. The massage is excellent, incredibly relaxing, the 'wave' in the treatment name signalling long fluid movements and strokes, sometimes from foot to shoulder. There's also a little manipulation of pressure points on my shoulders and a relaxing head massage.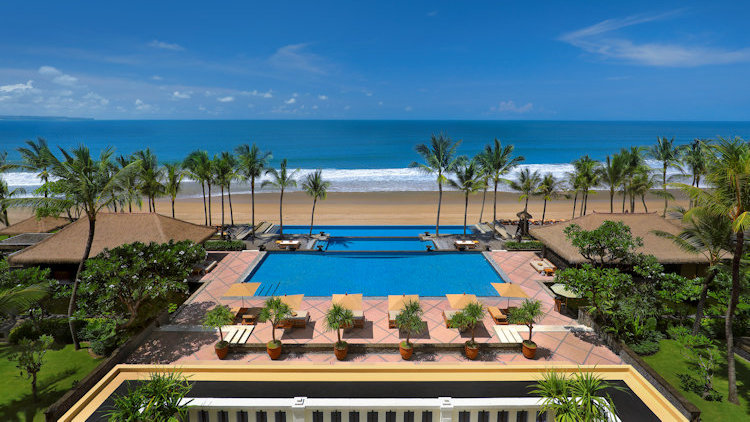 Afterwards, we head to the hotel's swimming pools. There are three tiers of infinity pools next to the beach, long enough for swimming proper lengths, as well as just cooling down. The beach is steps away, perfect for an afternoon stroll, though the ocean's a little choppy for swimming.
In the evening, we head down to the Champagne Bar, one of two poolside bars, where we sink a few cocktails. I go for The Nasty D, with blended whisky, lime tequila, orange and pineapple juice, and angostura bitter, while my girlfriend goes for a cucumber-fresh London Story with gin, triple sec, cranberry, cucumber, lime and mint leaf. Little fires burn by the pool and the sunset gradually turns the whole sky pink (Bali has some of the world's best sunsets). Cocktails in hand, this feels hard to beat.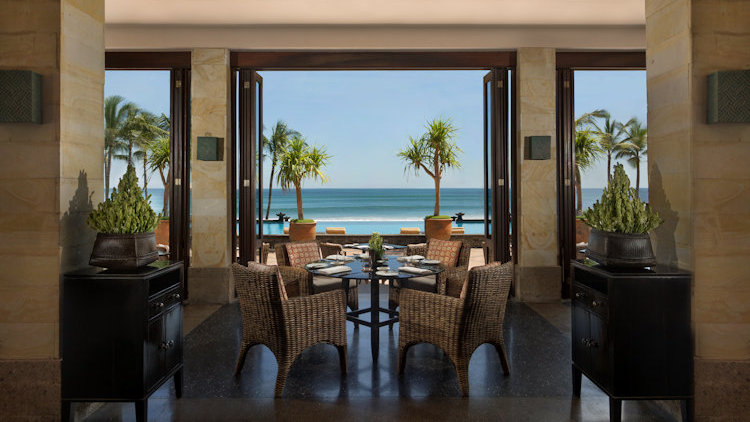 Dinner is served at the simply named The Restaurant, with a creative fine dining menu featuring plenty of local seafood. We take a table outside on the terrace, close to the pool, where we can see and hear the ocean. I go for tuna ponzu with apple and (a first for me) wasabi ice cream with thin slices of ginger, little mouthfuls packed with layers of flavour. My girlfriend orders a salad of beetroot with dragon fruit, pine nuts, vegan mayonnaise and micro herbs. A second starter is a little portion of mud crab with avocado mousse and young coconut, subtly tropical and tasty. For a main, I pick the fillet of red snapper water spinach, garlic and chilli, the fish cooked in the traditional Balinese style in a banana leaf, giving it a smoky flavour. Friendly staff regularly check with us that everything's ok. To finish, I order a Manjari chocolate fondant with vanilla ice cream, raspberry and blueberry, while my girlfriend opts for the passion fruit and white chocolate soufflé with lime curd and vanilla ice cream.
We spend the next day relaxing by the pool and reading on our balcony, looking out over the palm trees and the ocean. For lunch, we make our way down to the Pool Bar, opposite the Champagne Bar. There's more seafood here, including a fresh prawn cocktail with avocado, which I follow with a hearty seafood pizza with red snapper, prawn and chunks of tuna. My girlfriend chooses spring rolls to start and a main of organic chicken breast with asparagus and tomato and cassava puree, reporting that the meat's perfectly cooked.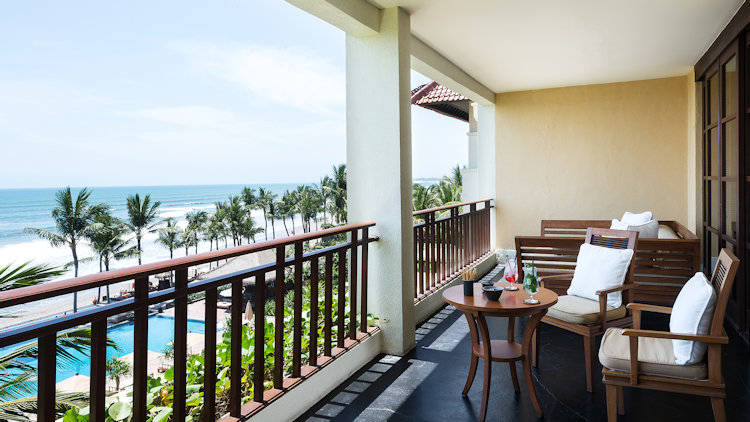 Some of the new additions in Seminyak over the last two decades are very welcome. In the late afternoon, we call a taxi and head along to nearby Potato Head Beach Club, one of the coolest cocktail bars on the island. The large horseshoe-shaped bar complex has restaurants and bars on either side, with a busy infinity pool looking out onto the ocean, beds under the shade of umbrellas, mattresses laid out on the grass lawns, and a soundtrack of mellow funky club music. I've been here before on previous visits to Bali, so I catch up with a few old friends, including a Barong Zombie, a strong cocktail in a Tiki highball with Caribbean rum, pineapple juices, cherry liqueur and a splash of absinthe, and a Bali Island Iced Tea (a take on the Long Island Iced Tea), served in a dry ice-emitting little teapot.
After a fine Bali sunset, we head over to Ljen, a seafood restaurant within the PHBC complex with an admirable 'zero waste' policy, with placemats and other items all made out of recycled materials. We start with a bowl of woodfired local edamame and smoky garlic prawn skewers, before taking the waitresses' recommendation and ordering a whole red snapper, cooked in a banana leaf, to share. The fish is delicious, served with sides of cauliflower and marble coin potatoes, as well as four tasty little sauces. I'd happily eat like this every night.
Back at The Legian, we have an excellent night's sleep, making our way down next morning to The Restaurant for breakfast. There's a plentiful buffet laid out, from yoghurts and juices to fresh croissants, with a separate little AC-chilled room containing plates of salmon, cold cuts of meat and a selection of goat and cow's milk cheeses. We order omelettes from the menu, which arrive quickly. Staff regularly come over to top up glasses of water and pour more tea and coffee.
I make time for a swim before packing my bags. In the lobby, just as we're departing, a member of staff mentions that The Legian are set to open a new hotel on the neighbouring island of Lombok in 2019, after delays to construction work caused by recent storms. That feels like a good reason to come back to this part of the world. I don't need much persuading.
The Legian Seminyak, Bali
The Legian Seminyak and The Club at The Legian Seminyak, Jalan Kayu Aya, Seminyak Beach, Bali 80361, Indonesia
(+62) 361 730 622
www.lhm-hotels.com/legian-bali
Rooms start from $476 per night on a B&B basis, excluding taxes.