Described as the "Cannes of Latin America," the program curated by the
Festival's
team gathers the most outstanding features from the world's most important
film festivals
such as Cannes, Sundance, Venice, Toronto, and Berlin, just to name a few, and presents the world's best films to Mexico.
This year's festival attracted Hollywood heavy hitters Liam Neeson, Jared Leto, and Ewan McGregor who was presented with the 2015 Protagonist Award for Excellence in Acting at the closing night ceremony. The four gala evenings from November 11-14th included screenings of 'Demolition' starring Jake Gyllenhaal, 'Carol' starring Cate Blanchett, 'Remember' starring Christopher Plummer, and 'Steve Jobs' starring Michael Fassbender.
The backdrop of the festival is the Cabo San Lucas marina filled with glimmering yachts including
Kismet
, one of the world's most expensive, owned by billionaire Shahid Khan (owner of the Jacksonville Jaguars) and Ocean Blue owned by Tommy Hilfiger. All the glitz and glamour is here with the red carpet, bright lights, paparazzi and after-parties filled with excitement.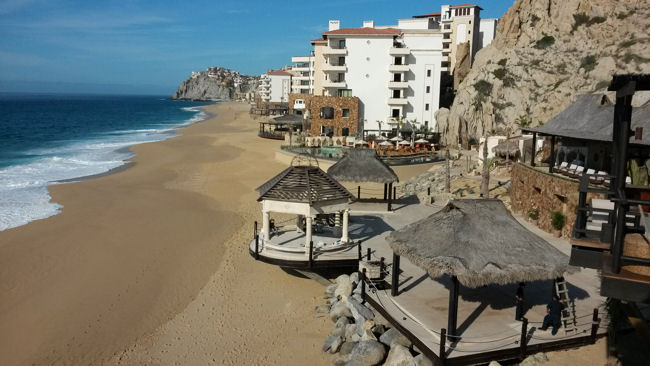 Grand Solmar Land's End Resort & Spa
Where to Stay
At the tip of Mexico's Baja California peninsula where the Sea of Cortez meets the Pacific Ocean, Los Cabos is approximately 1,000 miles south of San Diego. "Los Cabos" refers to the two towns of Cabo San Lucas and San José del Cabo separated by a 21-mile long "corridor" lined with beach resorts.
Grand Solmar Land's End Resort & Spa
is the most convenient luxury resort to the Film Festival venues, being within walking distance to town. This is also one of my favorite resorts in Cabo because of its dramatic location right by the rocks at Land's End and its absolutely stunning infinity pools overlooking the mesmerizing surf of the Pacific Ocean. It's an all-suite resort with penthouses fit for royalty. This year the property has added the
Sea Spa at Land's End
perched in tree houses on the rocks with magnificent views. The Spa offers unique packages that include food and drink along with treatments. For example, you can get the "Royal Citrus Experience" with revitalizing face and body treatments as well as indulging in an orange margarita, pineapple rum cake, chocolate covered raspberry skewers and more!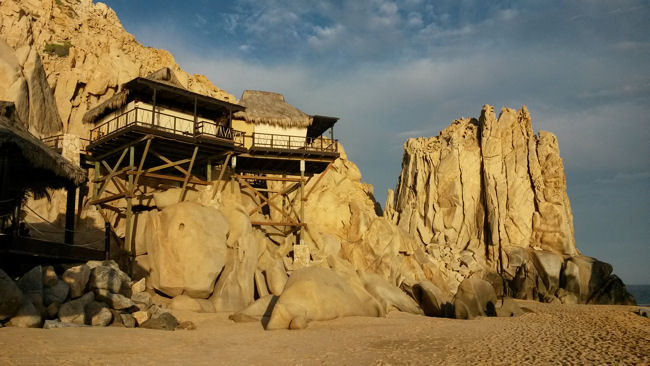 Sea Spa at Land's End
Where to Dine
The town of Cabo San Lucas offers some well-known, yet seemingly hidden gems for enjoying authentic Mexican dining experiences. Among them are Maria Corona, Mi Casa, Peacock's and El Farallon, all offering al fresco dining to enjoy the area's mild climate. Maria Corona and Mi Casa are traditional Mexican with a festive atmosphere, while Peacock's and El Farallon are more intimate and romantic.
Maria Corona
is a traditional Mexican restaurant featuring traditional techniques of mestizo cuisine, with flavors and recipes that have been handed down from generation to generation. The mole is made from scratch from the toasting of the chiles to grinding of the almonds in traditional stone "metate". You'll also be entertained and serenaded by Mexican musicians.
Mi Casa
is an authentic Mexican restaurant that has become a landmark in the heart of Cabo San Lucas set a few blocks up from the marina, across from the town's plaza. Life-sized murals, vibrant colors, rooms full of gifts and artifacts, and natural gardens enliven terraced architecture where unique spaces afford intimacy or community.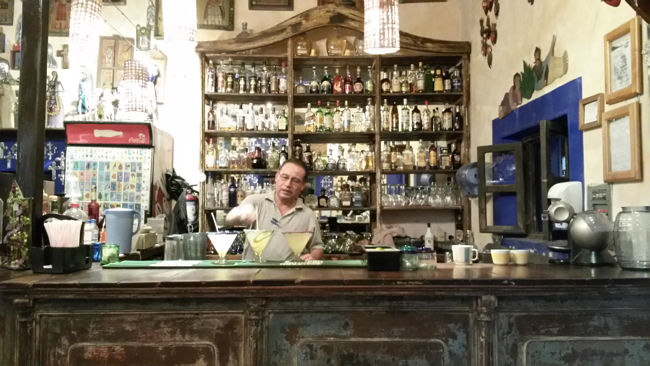 Mi Casa bartender
At
Peacock's
dine al fresco in the charming courtyard under lantern-lit trees. Peacock's offers more sophisticated cuisine with wonderful flavors and beautiful presentation. They also feature a great bar and wine list. The service is a pleasure, thanks to sommelier Fernando and his knowledge of wine and food.
El Farallon
is the most sought-after dinner location in Cabo tucked into the cliffs of The Resort at Pedregal and stocked daily with bounty from local fishermen. Meaning "a rock that comes out of the ocean", El Farallon has become a hallmark of exquisite dining situated overlooking the Pacific Ocean.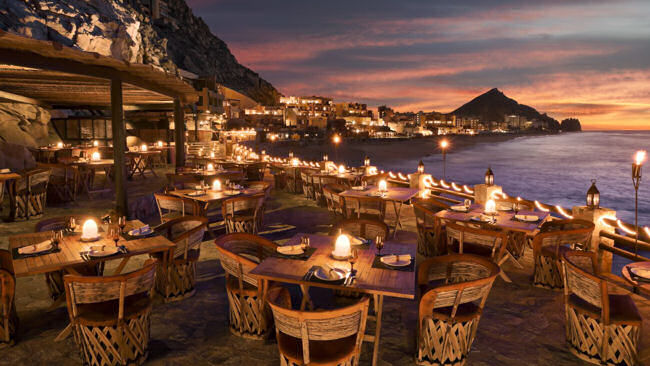 El Farallon
Sightseeing in Style
A yacht tour of the scenic coastline is a "must do." We chartered '
Dawn Patrol
' from the marina to take us through the beautiful blue waters of the Sea of Cortez and the Pacific Ocean. You'll see Cabo's iconic 'El Arco' at Land's End and bask in the sun while being pampered in comfort and style.
Cabo San Lucas is a lively town vs. San José del Cabo which is a charming artists' community. It's worth it to take the drive over and wander through the galleries and gift shops. On your return, stop in for lunch at
Agua di Larbi
at the stunning
One&Only Palmilla
resort. Sit at a crescent-shaped table on the lawn overlooking the sea while enjoying unique dishes that are authentically Mexican. After lunch, stop in at
The Shoppes At Palmilla
offering discriminating shoppers the finest boutiques amidst Spanish hacienda architecture and tropical gardens.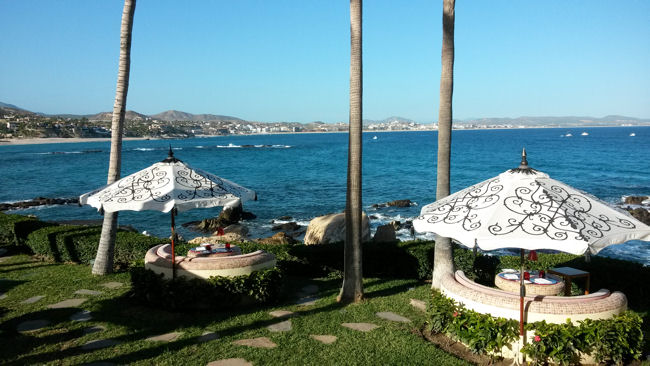 Agua di Larbi tables on the lawn
After the Storm
It was great to be back in
Los Cabos
a year after the devastating Hurricane Odile to witness that the destination has rebounded beautifully. The area offers stunning scenery, outstanding cuisine, and gorgeous weather, so it will always be an ideal location for a luxurious getaway.
Visit websites:
visitloscabos.travel
and
cabosfilmfestival.com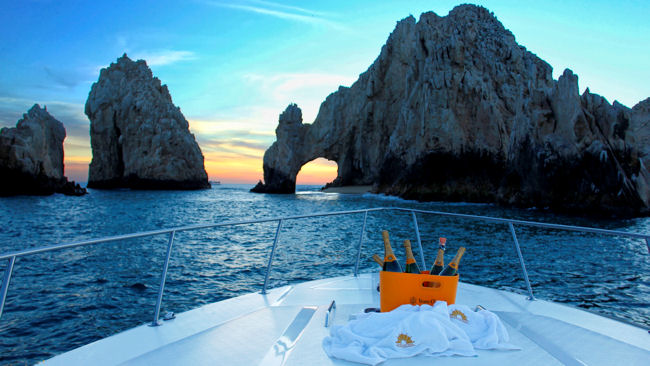 Dawn Patrol yacht at Cabo's iconic 'El Arco' at sunset