Modern cities often move at a rapid pace. That isn't something many locals in Kuala Lumpur would say about the traffic, which can be sluggish. But the Malaysian capital, known as KL, is one of Asia's major hub cities and financial powerhouses, it's towering skyline containing sky-scraping banks, hotels and the 452-metre high Petronas Twin Towers, the streets busy with people rushing to where they need to be.
The important thing with any city hotel is that it makes life easier. Whether you're sightseeing or in a city for business meetings, the last thing you want is transport problems, check-in delays or other issues. It feels like life's made very easy at The Ritz-Carlton, Kuala Lumpur, starting with a driver waiting for us at Kuala Lumpur airport, holding a sign with our names on. Our plane's a late-night arrival at the international airport, getting in after 10pm. We're quickly escorted through the crowds of taxis and passengers to our private car and driven for 45 minutes from the airport into the bright lights and towering buildings of downtown Kuala Lumpur.
The hotel is in the so-called Golden Triangle, the city's main district for business, entertainment, food and shopping. There are around 5-6 shopping malls, a Malaysian obsession, within easy reach, including Starhill Gallery, as well the main shopping street of Bukit Bintang. The famous Petronas Twin Towers, previously the tallest buildings in the world, are around 20 minutes away on foot.
We arrive at the hotel around midnight. Check-in is thankfully fast and friendly, with minimal paperwork, in a lobby with marble floors, columns and a large glistening chandelier, then we're shown up to our suite on the 11th floor, our luggage arriving just behind us.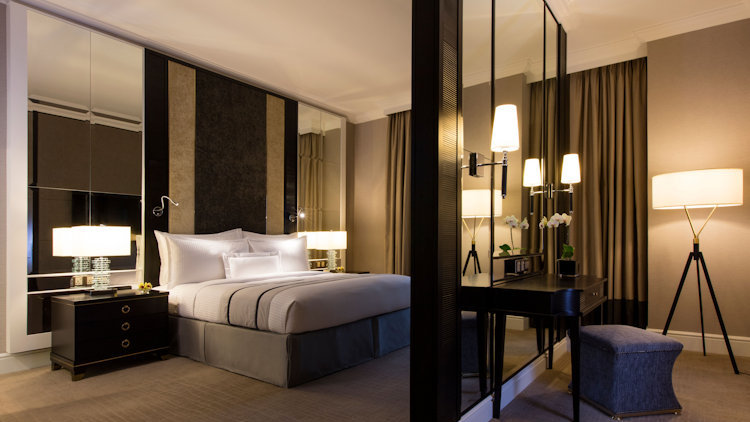 There's a lot of space in the suite, including a living room area. The décor's muted and calming, with whites, creams, greys and a few framed black and white photographs on the walls. On one side of the lounge, there are comfy sofas and grey armchairs positioned in front of a large wall-mounted TV, with vases and photography books arranged in alcoves in the wall display. There's a round black table and four chairs for in-room dining, a black writing desk against the wall and a black cabinet with tea and coffee facilities. It's a good place to unwind and feels far away from the traffic and crowds of Kuala Lumpur, which we can see, but not hear, from the lounge's large window that looks out onto streets, roads and high-rise buildings.
Next to the lounge, a large bedroom is dominated by a wide, easy-to-sink-into bed, with another TV mounted on the wall. There's a separate dressing room for our bags and a bathroom leading off the bedroom, a long space with white and grey marble, sinks, rainshower, a white bathtub and Asprey products from London.
The restaurants are closed at this time of night, so we order room service, which comes promptly, within half an hour, a waiter bringing in trays with a plate of little samosas and a pizza, which we demolish before falling into bed after our long journey.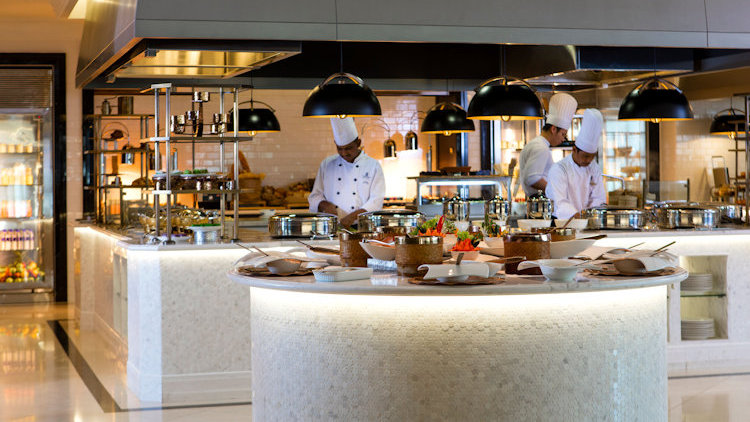 In the morning, we make our way to The Cobalt Room for breakfast, the vast hall busy with guests. The breakfast buffet has an incredible amount of choice, including cheeses and cold cuts, a juice station and a whole wall dedicated to pastries, including chocolate-dipped croissants and muffins. A waiter serves tea, with proper tea leaves and a strainer, as well as coffee. In a large kitchen area, chefs prepare fresh dishes, not only omelettes but various Asian dishes. There's a diverse cultural mix in Malaysia and KL in particular, including Malaysian, Indian and Chinese populations, and that diversity is reflected in the food here, from roti to Mae Goreng and spicy curries, plenty of novel ways to kickstart a morning.
Afterwards, I head past the gym and the hotel's two outdoor swimming pools on Level Four to the spa for an epically relaxing Hang Tuah treatment. A friendly female therapist with expert hands and years of experience leads me through the three-hour treatment in a suite with gentle music playing, showing me an impressive, colorful set of ingredients to be used. The treatment begins with a foot bath and scrub, before a thorough body massage with oils, the therapist working hard to relieve aching shoulders from too much time at a computer. Next, I'm giving a facial and a head massage using an oil that apparently helps keep grey hair away. It's followed by a full body scrub with turmeric and rice. I rinse off afterwards in an outdoor shower in a small outdoor pebble garden, before the therapist arranges me inside an individual steaming unit, like a tiny canvas tent/sauna. My head sticks out of the top, while my body is warmed with relaxing steam. Finally, I'm guided outside again into the pebble garden where a hot white bathtub has been filled with hot water, lime, kaffir leaves and flower petals for a relaxing soak. A cup of ginger tea leaves me relaxed and energized.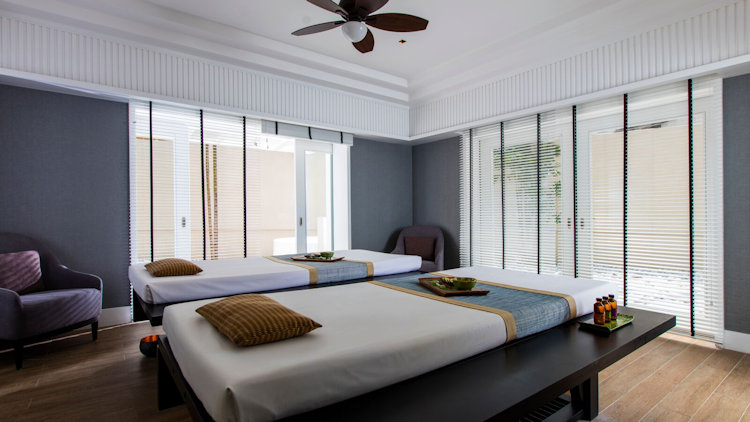 Next, we go for lunch at The Patisserie, a room with a mirrored ceiling and glass cabinets filled with toys and sculptures. I pick the crab cake sliders in little brioche buns, while my girlfriend goes for mushroom soup, the ingredients arranged elegantly in a bowl, a waitress pouring the creamy thick soup at the table.
Later, we indulge ourselves with Afternoon Tea. They do the full works at the Ritz-Carlton, which brings in people celebrating special occasions; in a grand, brightly lit lounge, we see a birthday party on one side, a baby shower on the other, while a trio of musicians in smart white jackets perform popular songs, like The Carpenters, on violin, piano and double bass. We set ourselves up in two oversized, throne-like armchairs and pick from more than 40 types of tea, my girlfriend opting for a strawberry infusion, while I pick a Darjeeling, to accompany a three-tier tray of treats. The selection includes a lower layer of onion quiches and chicken pies, a middle layer of little sandwiches, and a top level of cakes, including a raspberry éclair and a neat rectangle of rich nutty chocolate cake. As we're approaching the end, two scones are delivered to top up the trays, along with strawberry jam and clotted cream.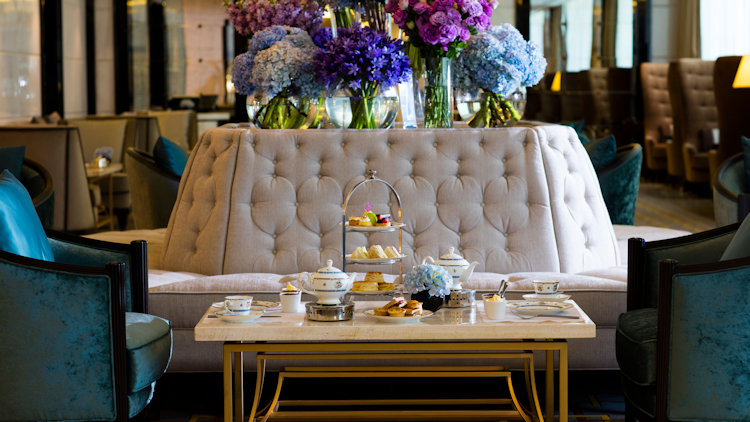 In what's become quite a foodie marathon at the hotel, we make our way late evening to Li Yen. The hotel has four restaurants, with Cantonese restaurant Li Yen popular and busy in this city, which has a large Chinese population and receives many Chinese tourists. The dimly lit room has black screens decorated with pink blossoms to divide sections and deep crimson tablecloths. As we look through the extensive menu, trolleys are rolled out delivering Peking duck and other meat dishes to tables. We select mainly from the seafood section, including stir-fried grouper fillets, a scallop omelette and, the best dish, the signature Li Yen shrimp, plump prawns deep-fried with strands of coconut, as well as Ko Pung chicken for my girlfriend.
At breakfast next morning, before setting out to explore the city, I sample more of the Asian food in The Cobalt Room, especially the Indian dishes - lentil dhal, rich vegetable curry, potato curry… - with paratha, a kind of bread-meets-pancake. There's a selection of colorful chutneys and pickles too. This might be as stressful as life gets at the Ritz-Carlton KL: picking what to put on your plate.
The Ritz-Carlton, Kuala Lumpur, 168, Jalan Imbi, Bukit Bintang, 55100 Kuala Lumpur, Wilayah Persekutuan Kuala Lumpur, Malaysia.
http://www.ritzcarlton.com/en/hotels/malaysia/kuala-lumpur-Booking
800-542-8680
Rooms start from USD $143 per night.
Transfers to and from the airport cost $55.50 for 2 people per way.