Cultural diversity is a great thing. The more people and cultures you have living in a place, the more knowledge, ideas, customs, beliefs and viewpoints you have, all of them bouncing off each other and forming new combinations, whether that's in art, politics, literature, music or food. Across Malaysia, there's a diverse mix of cultures and influences, including the main Malay, Chinese and Indian populations, as well as ex-pats from around the world who come here to work in the oil and finance industries. Throughout history, there have been many other influences, especially colonial forces and traders from Portugal, Britain, Spain and countries from East Africa and the Middle East.
All that's helped make Malaysia a great destination for foodies, whether eating at simple roadside cafes in the capital, Kuala Lumpur, or at restaurants in 5-star hotels. The food at The Ritz-Carlton, Langkawi stands out in memory, though, as one of the best dinners I've had in Malaysia, as well as a hard-to-beat breakfast, the restaurants here showcasing Malaysia's cultural mix.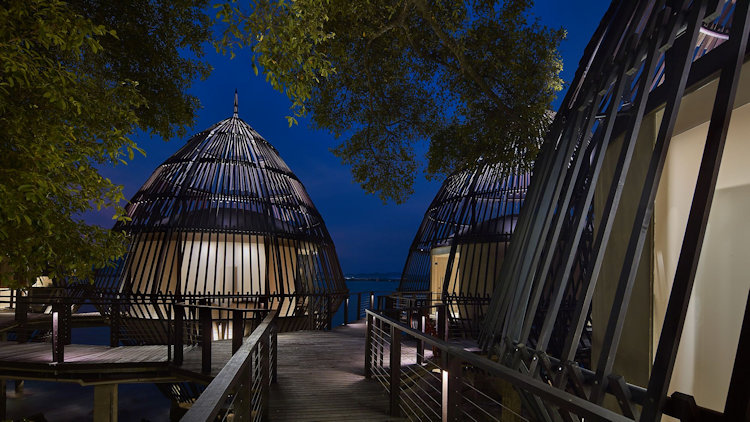 First, we're picked up in a Toyota cruiser, with Chic, Kool & the Gang and Earth Wind & Fire playing on the stereo as we make our way out to the resort on the west coast. Langkawi's an archipelago of 100 islands in the Andaman Sea, off the mainland coast of north-western Malaysia. The islands are part of the state of Kedah, which is next to the Thai border; from the north coast of Langkawi, you can see green islands across the ocean, over the border in Thailand. At nearly 500 square kilometres, Langkawi's the largest of the islands and a popular tourist destination with both Malaysians and foreign travellers, not least for the beaches, though there's also plenty of wildlife to be found in the rainforests, from hornbills and eagles to monkeys.
Arriving at the hotel, a gong is struck to welcome us inside. Check-in takes place in a sleek black pavilion, then we're driven in a buggy down to our Rainforest Villa. There's lots of greenery in the grounds, with thick forests. During our stay, we're told we have the chance of seeing local wildlife, such as monkeys, flying squirrels and hornbills.
Our villa has a modern, stylish feel, the hotel only open since late 2017. Floorboards have been painted white. There's a wooden deck at the front with a table and chairs, and the bedroom has a front wall of glass. From both the deck and the bedroom, you can look out into nature; although the view is part-obscured and sheltered by trees with pink blossom, we can see a little of the ocean through the gaps.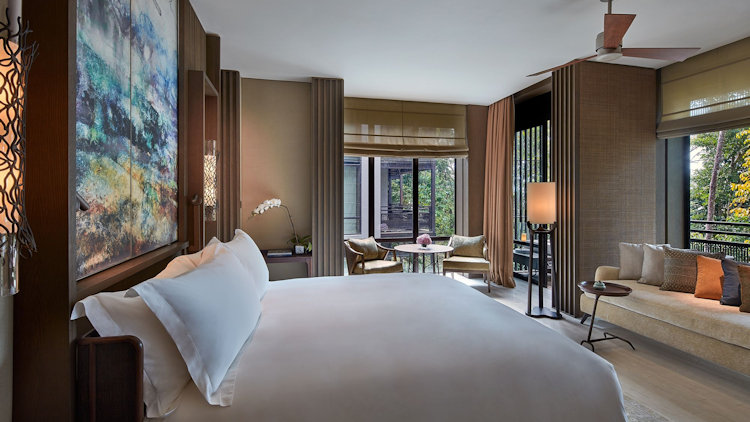 A comfortable bed is at the center of the room. There's a TV mounted onto the wall that swings out on a hinge, so you can watch it either from the lounge's seating area or in bed. There's also a sofa by the window and a writing desk and chair in a corner. The window blinds are electric, scrolling up and down at the flick of a switch. Rooms are predominantly black and white, but there's a large panel over the bed with bold colors, swirling shades of blue and green, like the ocean, a watercolor painting from Malaysian artist Tham Siew Inn, whose large coffee table book is in the room. There's also a ceiling fan and AC, a fridge, tea and coffee facilities, plus vintage radios next to the bed.
Behind a wall, there's a separate little lounge area with a table, a comfy chair and a second TV on a hinge, if a couple wanted to give each other a bit of space. The windows here look out onto forest greenery to one side, the ocean to the other.
Behind the main bedroom, there's a roomy bathroom with a white oval bathtub, giant mirrors, twin white sinks set in marble, and another splash of color from Tham Siew Inn, this time a painting in vivid greens, like the plantlife visible through the windows.
The hotel has a central cluster of buildings, including a library, conference center, shop and Langkawi Kitchen, the main restaurant. Further down the hill, there's a play area and small pool for young children, next to a gym and tennis courts. Continuing on, past a lily pond, we arrive at the first of two swimming pools overlooking the beach, this one next to The Beach Grill restaurant mainly for families. Instead of stopping here, we take a buggy over to the main adults-only pool, a deep, dark, ocean blue infinity pool looking out onto the curving beach and bay and the rocks below. Loungers around the pool are busy with other guests sipping cold drinks. In and out of the water, this is a fine place to take it easy for the afternoon and relax in the hot sun.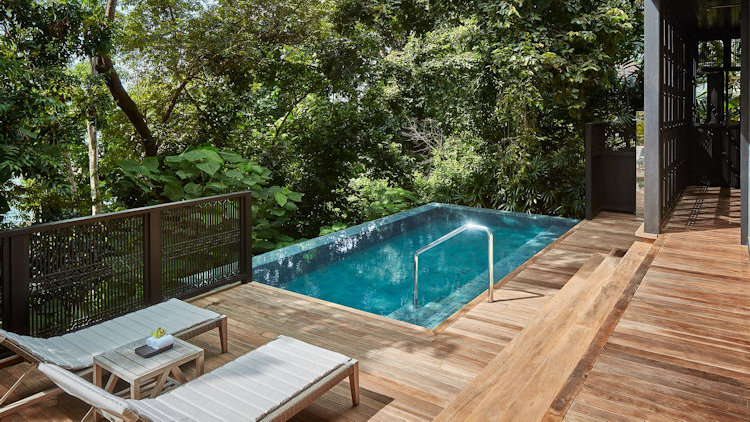 There are four restaurants at the hotel, including Chinese fine dining in Hai Yen. But we opt on our first night for Langkawi Kitchen, tempted in by the range of cuisines on the menu. The long hall is dimly lit, with orange lines of light around the ceiling. Waiters show us to our table and we work through the menu's tempting selection of starters and soups, lobster, steak, and Malay and Indian specialties. My girlfriend orders Gulung Garing, crispy vegetarian rolls stuffed with potato, while I go for Cucuq Udang Mak Tok, fried shrimp on a plate with vegetable fritters, our starters served on long wooden board with sauces, including a Kampung-style sauce. It's hearty, satisfying food.
Then, the banquet arrives. From the Malaysian signature dishes, I select an Asam Pedas, a Malaysian hot and sour red curry with two big pieces of snapper, with torch ginger and tamarind. It's a spicy beast but delicious. I also order a tasty Dhal Makhani from the Indian section of the menu, with braised black lentils, chilli and Garam Masala, and a garlic naan, which is perfectly crunchy and chewy. My girlfriend opts for Rendang Pak Su, braised black beef with chilli paste, both sweet and slightly spicy, alongside a plate of vegetables. It's a memorable feast, covering the table, the selection packed with spice and flavor. Later, the chef walks through the restaurant doing a 'victory lap', chatting to guests and getting nothing positive feedback.
We're back in Langkawi Kitchen for breakfast next morning, where there's an even wider cultural spread, from Western dishes to India, Chinese, Malay and beyond. Counters are filled with pastries, muffins and other treats, as well as breads, cheeses, meats and salmon. There's a menu with specials, including Chef's Eggs Benedict, Langkawi Kitchen Waffles, Sambal scrambled eggs and Gula Melaka porridge. The open kitchen area contains several Chef Stations, one dedicated to eggs and omelettes, another to Chinese food, including noodle soups, congee (rice porridge), dumplings and buns, and another with pots of Indian and Malay food for a spicy start to the day, including red curries with big chunks of fish, thick yellow lentil dhal and roti. As well as tea, coffee and juices, chilled Champagne is on hand.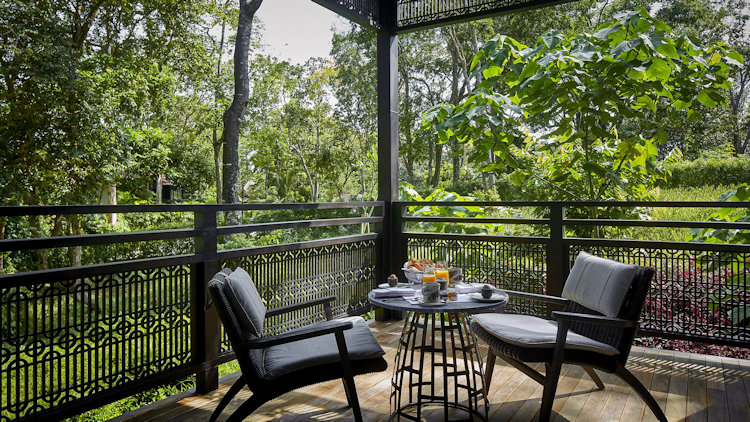 After a relaxing morning, we have lunch at The Beach Grill, our table on the wooden deck overlooking the ocean. I go for a starter of Beach Grill Caesar, romaine lettuce and Gran Padano cheese with a tail of soft lobster down the side and chunks of avocado, while my girlfriend picks the creamy Island Buffalo Burrata, a big dollop of the white cheese with a tomato salad. For mains, I choose the Andaman seafood taglioni, a fishy mix of scallop, shrimp and fresh pasta, while my girlfriend has the popular Malaysian Mie Goreng Mamak, wok-fried noodles with sambal, prawns, eggs and spring onion.
In the afternoon, we spend time with some of the island's wild residents. High up in the trees behind the gym, there's a troop of spectacled langurs, also known as dusky leaf monkeys, black and white monkeys with distinctive 'eye mask' designs on their faces. One's sitting on the corner of the roof, playing with a spotlight. High above, we notice a few mothers carrying infants with bright orange fur, the babies clutching to their mothers' bodies. We spot a squirrel climbing down a tree, while the monkeys chew on leaves and leap from branch to branch. As we watch, we hear the beating of wings as Oriental Hornbills go by overhead. An eagle lands in one of the nearby trees. There's a lot of life in this little area.
After a day watching nature, swimming and reading, we return to Langkawi Kitchen next morning to try more of the intriguing breakfast offerings. There are hot plates with Nasi Goreng Kampung, Singapore Fried rice and Kung Pao Beef, as well as doughnuts, curry puffs and even a bit of hummus and feta. All of the world on a plate, it seems. "There's a lot of choice," a chef nods, as I scan the buffet and try to choose between three types of croissant. That feels like an understatement.
The Ritz-Carlton, Langkawi
Jalan Pantai Kok, Teluk Nibung, 07000 Langkawi, Kedah, Malaysia
www.ritzcarlton.com/langkawi
+60 4 952 4888
Rooms cost from USD $450 per room per night, inclusive of a Champagne breakfast for two.
A return transfer from the airport costs USD$60.
Graeme Green is a photographer and journalist. See http://www.graeme-green.com/ and follow him on Instagram @graeme.green (https://www.instagram.com/graeme.green/).