In this case, Viceroy Riviera Maya brings, along with its 41 villas, two restaurants and spa, the exact amount of nature and luxury needed to help guests see the ocean and the surroundings in the best possible light.
It takes a one-hour drive to reach Viceroy Riviera Maya from busy Cancun airport, but it only takes two minutes, towards the end of the journey, to wonder if we got lost on the way to our hotel at the north end of Playa del Carmen. Driving down hidden backroads where nothing much seems to exist, signs for the Viceroy start to appear. Suddenly, we are in an open lobby with a floor made out of warm local wood and a dry leaf ceiling. All that surrounds us are plants, and there's a smell of a local resin called copal being burned.
"Welcome to the jungle!" says our butler, handing us a tasty coconut and lemongrass tea. The check-in is fast and smooth. We forget about our luggage, as it's quickly taken care of. On our way to our private royal villa, we walk along paths surrounded by thick roots of tropical trees, listening to water gently running through the jungle. Our butler must have noted a look of surprise on my face at all the nature, as 'Playa' (as the locals call it) is currently developing into a 'little Cancun', full of malls, apartments, hotels and resorts. "Yes, other place have a lot of concrete, but we have a lot of trees..." he laughs.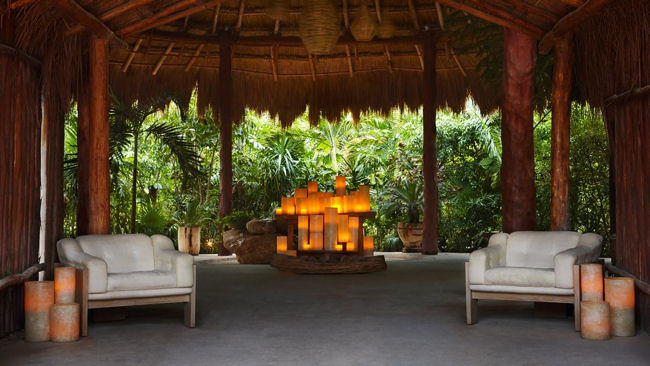 As we pass by the spa, there's a couple participating in a Mayan welcome ceremony, where the scent of copal impregnates the area, creating a mystical atmosphere. We're told that every guest is welcome to use the spa facilities (sauna, jacuzzi…) anytime, without needing to book. There are other facilities for enjoyment and relaxation too, like the Artists' Corner, a quiet spot in the jungle with materials provided for oil painting while surrounded by nature.
Every villa has its own entrance that's separated from the jungle pathways by a thick rope that can be closed at our discretion. Every morning at this point, a printed version of the New York Times is delivered. Our villa consists of a plunge pool in an enclosed garden and a little deck with a sunbed, a yellow hammock and a sitting area. "It feels open, but it's very closed," is how our butler describes it. There are also three big bricks of handmade soap waiting to be cut and presented to us for our bathroom: kiwi and mint, rosemary and peppermint, and (my favourite) oatmeal and honey.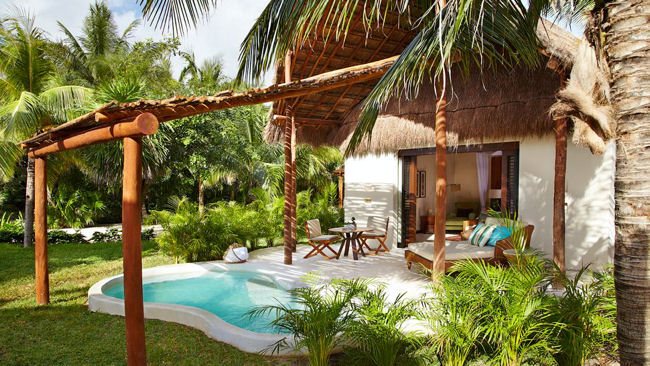 As we enter the village, we find a second 'Welcome' gift: mezcal (an alcoholic spirit similar to tequila) with orange slices and chilli powder, which we sample later on by the pool. The villa's living area is large and feels spacious, with plenty of windows and a dry leaf ceiling. There's a big comfy bed in the center, framed with beams coming out of the wall, with white fabric hanging, white linens with turquoise throw pillows and embroidery with a coral design, a touch that is a constant theme in the decoration of the hotel. There's a sofa at the base of the bed and two beautiful night lamps in bright green, plus a small aromatherapy unit with coconut and copal scents. There's also a little table with plenty of magazines to read, one of them, Conde Nast Traveller, celebrating Viceroy Riviera Maya as one of the best hotels in the Mayan Riviera 2017 in the Reader's Choice Awards.
Inside the villas, there's both comfort and luxury, without any need to battle against the tropical heat outside. We have everything we could want: a Bosé speaker, a big flatscreen TV, a full minibar and both a food menu and a printed list of cocktails that are part of the Mayan Indulgence all-inclusive package.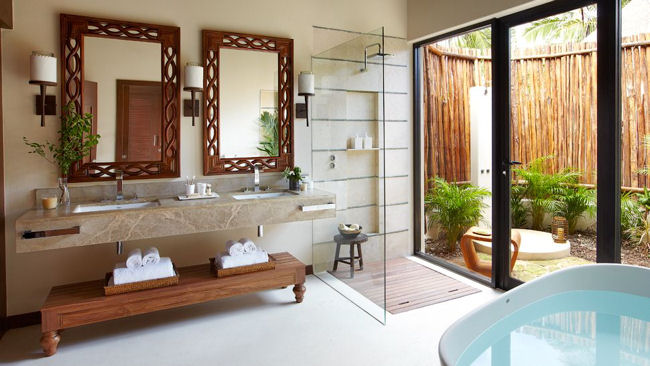 The bathroom is spacious and allows natural light to filter through the windows. There are His & Hers sinks, a modern indoor shower and an outdoor shower that's surrounded with nothing but plants. "Nobody will see you, except for the monkeys. But don´t worry, they don´t talk," our butler joked, while showing us around.
We walk to the main pool and enjoy a few of the refreshing cocktails. There's a wide variety on the menu, but I particularly liked the Pink Viceroy, a fresh mix with cranberry and gin. The view is very relaxing, not just for the turquoise waters of the Caribbean, but the pool itself, which has white sand-like flooring and shallow edges. The water inside takes on an emerald colour, the pool surrounded by palm trees, and there are little stands with towels and sombreros ready to take and use.
A waiter offers us lunch by the pool or in Coral Grill, the casual restaurant with an ocean view. The menu offers both healthy and indulgent options, including salads, guacamole, Baja-style shrimp tacos, large pizzas, traditional ceviche and tasty Teriyaki tuna.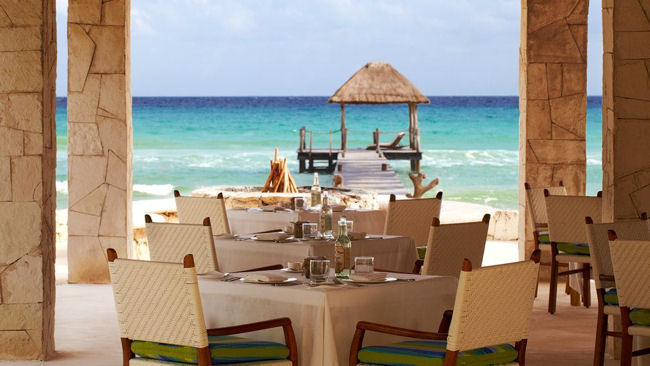 Before sunset, the clouds turn orange and purple, and it's time for a walk on the hotel's private pier. Pelicans pass by. Some guests are still enjoying the beautiful 'floating beds', covered in white linens and curtains. The beach is called Xcalacoco, a place where a few local families come to avoid the crowds of Playa del Carmen. The sand is soft and white, the air is warm, and there is a peaceful ambience.
At night, we visit La Marea, the signature Mexican and Mediterranean restaurant, an elegant upstairs terrace with smiling, welcoming waiters. The menu is eclectic, offering hearty options like Tuna Steak or Prime Rib Eye Steak along with a selection of side orders, like asparagus and baked potatoes. There are a few edgier options for adventurous eaters, too, like 'ant sauce' (chicatana ants in Mexico are considered a delicacy) or a cactus salad cured with salt, goat cheese and tortilla powder. The chefs use seasonal ingredients for their desserts, which change four times a year. I went for a stuffed Mulato chilli with Sweet Mole Mouse, Axiote Gel and Corn Ice Cream, which was delicious. Marea managed a perfect balance of indulgent, satisfying food and creativity, without ever being pretentious.
We spend two pleasantly relaxing days at the hotel. Early one morning, we take a dip in the ocean. Going back to my lounger, I find a fresh towel and a bucket with ice and bottled water, which is a pleasure. Exactly when I think that every single thing has been taken care of, a member of staff offers to clean my wet and sandy sunglasses. That's how things are done at the Viceroy.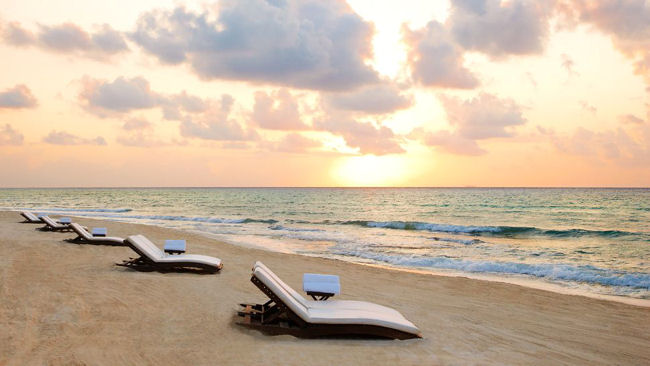 After a refreshing final morning, the spa awaits. It's a round structure with a jacuzzi surrounded by candles as a centerpiece. The sauna has white stones on the ceiling that drip with water. My holistic massage is performed excellently, an invigorating 60 minutes, but what adds a great deal to the experience is the location: an open area, with lanterns and clay vases hanging from the ceiling and a wall made out of plants. The combination of water running and birds chirping is all the soundtrack that's needed in here.
Viceroy Riviera Maya successfully represents what an intimate boutique hotel located in the Caribbean should be, with helpful staff who seem to enjoy working here, a food menu that goes hand-in-hand with local produce and offers good quality, and respect for nature, all without sacrificing luxury and comfort. As I'm driving away, I wish more of the surrounding areas of this paradise destination were also "less concrete and more trees"...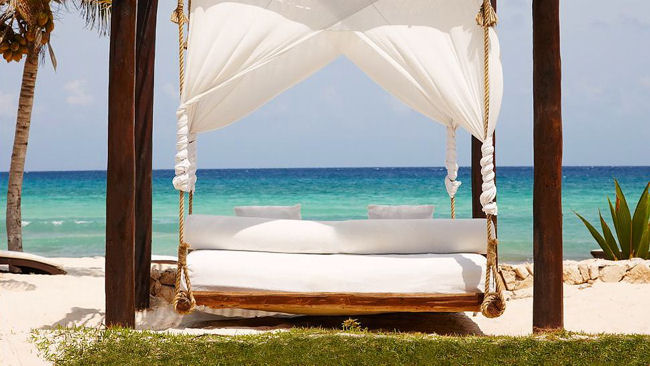 Viceroy Riviera Maya
Playa Xcalacoco Frac 7, Riviera Maya, 77710 Playa del Carmen, Q.R.
Phone: 01 984 877 3000.
Website:
https://www.viceroyhotelsandresorts.com/en/rivieramaya
Rates for the Mayan Indulgence at Viceroy Riviera Maya start from $838 plus 19% + 15%.