The cart was rolled into the living room of our spacious suite, and there in white robes we started our day over poached eggs, fresh fruit, and endless cups of English breakfast tea. This relaxed morning took place right in the heart of Washington DC, only four blocks from the White House, at the historic
Mayflower Hotel
.
The Mayflower is as famous for its Connecticut Avenue address as it is for the number of important political and historic figures who have walked through the front door. When the hotel opened in 1925, it was quickly named 'Washington DC's 2nd best address' by Harry Truman. This member of
Historic Hotels of America
has a total of 583 rooms spread over 10 floors, but despite this large size, I decided to take President Truman's advice and give the hotel a try.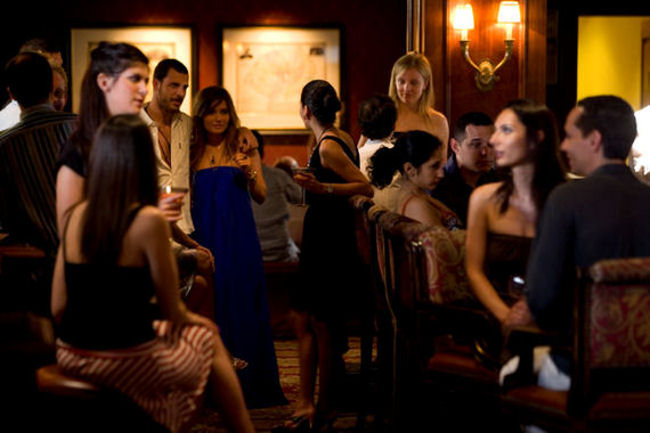 The buzz of The Mayflower perfectly matches the bustle of Washington DC. When the elevator door to the lobby opens, you enter a lively environment where you're just as likely to see women in ball gowns carrying flutes of champagne as a casually dressed couple returning from a day of sightseeing. If you're looking for a hotel that exudes serenity the moment you walk in – the Mayflower isn't it. On the other hand, visitors that want a central location where the pulse of this powerful city will be felt are sure to be satisfied with this historic hotel.
From the front door, Washington DC is truly your oyster. Stroll the four blocks to catch a glimpse of the White House, or hop in a taxi to reach the Capitol Building. Seeing the striking monuments of Washington DC up close and personal is an experience that I seriously underestimated. The Capitol has retained all of its grandeur, and it is almost impossible not to feel a strong sense of patriotism as you stroll along the National Mall, gaze up at the Lincoln Memorial, or watch the flags wave around the Washington Monument.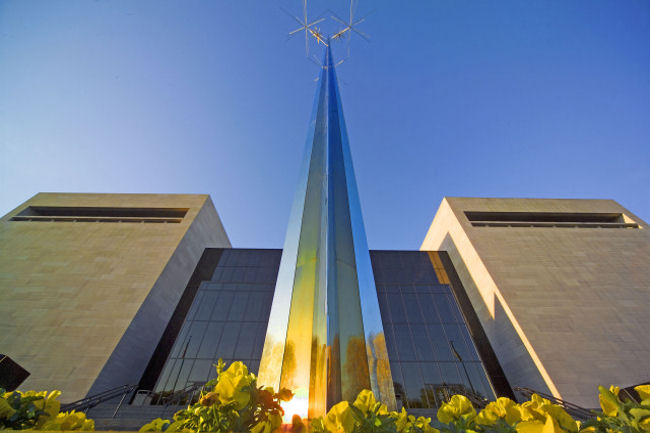 Photo by Eric Long/NASM, National Air and Space Museum, Smithsonian Institution
Beyond these patriotic symbols, incredible museums will easily fill your day. We began at
The Smithsonian National Air and Space Museum
, a fascinating journey through the development of planes, space shuttles, and space exploration. Walk through the Skylab Space Station, investigate the personal belongings of the famous Apollo 13 crew, and take a peek inside the Command Module of Apollo 11 at this inspiring museum. Other popular choices include the International Spy Museum and the Museum of Natural History.
After a day of walking and touring museums, I was tempted to order room service in my cozy suite and stay in for the evening. But recently, I heard reports that Washington DC has experienced significant developments on the food and wine scene. To witness the sophisticated side of the capital, and perhaps disprove the notion that the city is rich in history and lacks culture, I hopped in a taxi for a locally owned restaurant, the
Cork Wine Bar
.
Praised by the New York Times, Food & Wine Magazine, and a slew of other publications, my expectations were high walking through the door of Cork Wine Bar. We chose a few plates to share and our lovely waitress helped us to narrow down the impressive wine list. Pan-roasted quail with pomegranate glaze, served with wild rice, pine nuts, parsley and celery leaf salad was lively and delicious but the winner of the evening was the pan-crisped brioche sandwich with prosciutto, fontina cheese, and sunny-side up egg. With some wine left over after our nibbles, the server recommended a cheese plate that was a perfect finish to a flawless evening.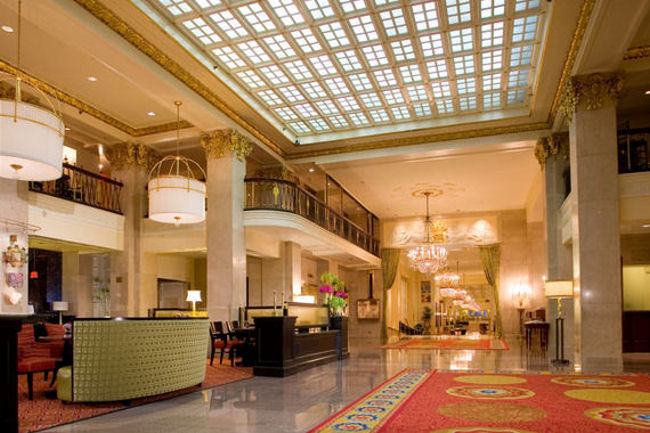 Returning to the Mayflower Hotel, the lobby was peaceful and elegant marble floors sparkled beneath chandeliers. This grand lobby and its historical significance attract many visitors who want to walk the same halls as J. Edgar Hoover and Winston Churchill. Beyond history, one of the benefits of choosing this hotel is the concierge. These staff members have answered every possible question about the attractions of Washington DC many times before. Go ahead and test their knowledge; they were very helpful answering my questions about transportation and museums. Guests will also appreciate a fitness center on site, concierge level with private lounge, and guest rooms that are wired for business travelers.
On my final morning waking at the Mayflower Hotel, I once again ordered breakfast through room service. A knock on the door came before 15 minutes had passed. In a large hotel, this is an impressive level of service. Indulging in a stack of pancakes, I was glad to skip the buzz of the restaurant downstairs in favor of my serene suite. As I took my first bite I wondered what former President, politician, or historical figure also had a relaxing start to their day in this suite. This is a hotel where if the walls could talk, I would want to listen.
Jessica Colley, a published poet and freelance travel writer, is based in New York City. She specializes in the culture, cuisine, and history of Europe. Read more about her travels at
www.thegreatamericantraveldream.com
.
Luxury Travel Magazine Hotel Profile:
The Mayflower Renaissance Washington DC Hotel