Follow in the footsteps of Michelangelo and Galileo Galilei, learn where the Medici family lived, and visit the Uffizi Gallery, home to one of the one of the world's most important collection of Renaissance art. Children will be amazed at the size and scale of the Duomo and they will delight in the charming Antique Carousel in Piazza Repubblica… not to mention the daily dose of ice cream and pizza!
For October half term, live like a local Florentine family and explore the city from one of
A&K Villas' stunning apartments
, all of which are perfect for families while still offering a full concierge service and the luxury of cooks on request. Staying in the likes of the Brunelleschi Suites inside the historical Palazzo Bardi or Firenze Due which is part of a 15th century palace will be sure to set the scene of Renaissance Florence for children's imagination to run wild.
After a few days in Florence, drive down through the Tuscan countryside to one of A&K Villas' country retreats near Siena for some rural peace and quiet. Explore the area visiting olive oil producers or pop into the colourful Radicondoli festa of roasted chestnuts and wine for a glimpse into authentic Tuscan life. And for a fun evening what about getting a local chef in for some messy pizza making…
Then for a final touch of culture visit Siena, the best preserved Gothic medieval city in Italy with its' famous frescoes by Martini and Lorenzetti and its' impressive cathedral, home to masterpieces by Michelangelo, Pinturicchio, Donatello, Bernino and the largest existing medieval painting: the glorious 'Maesta' by Duccio di Boninsegna.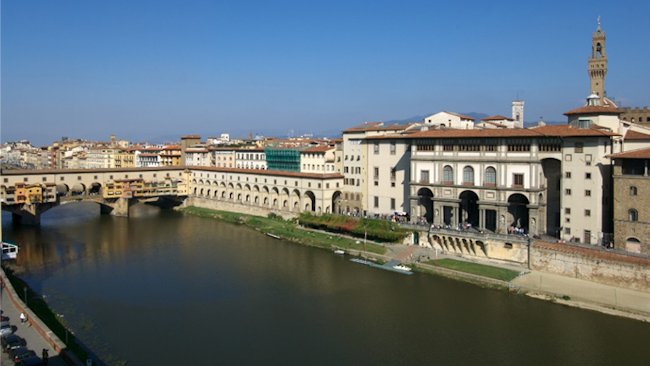 Firenze Due
A&K Villas offer a number of apartments in Florence including:
Brunelleschi Suites
Brunelleschi Suites sleeps up to 6 people and costs from £169 per person per night (based on a family of 6)
Located inside the historical Palazzo Bardi, built in 1420 by the great Brunelleschi. The apartment is just 50 metres from the Arno River and a few city blocks from the Uffizi Galleries and Piazza Santa Croce
Firenze Due
sleeps up to 6 people and costs from £84 per person per night (based on a family of 6)
Located in the historic heart of Florence in a 15th century palace. All the main galleries, museums, restaurants and sights, such as Piazza della Signoria and Ponte Vecchio are just a walk away.
A&K Villas also have a selection of villas near Siena including:
La Fornace
costs from £172 per person per night (based on 6 sharing)
A newly renovated farmhouse, located in the area of Cortona, with great views from the grounds to the Tuscan countryside, La Fornace offers a peaceful retreat away from the crowds but centrally located allowing for daytrips to Florence, Arezzo, Siena or Perugia.
La Pace
costs from £81 per person per night (based on 6 sharing), a recently renovated Tuscan farmhouse, is located within walking distance of the small village of Ponte d'Arbia with superb restaurant and pizzeria and only a few kilometres from the wine area of Montalcino, renowned for its "Rosso di Montalcino". This luxury villa with pool is the perfect Tuscan retreat for families or friends travelling together.
For more information please visit
www.akvillas.com