AKA, the global luxury hospitality brand, is officially debuting its newest and sixth New York City property, AKA Tribeca, located at 85 West Broadway between Warren and Chambers Street (formerly the Smyth Hotel). Famed residential interior designer, Jennifer Post, has completely reimagined the ground level lobby and lounge of the hotel with a sophisticated, modern flare – making it her first hospitality project.
The hotel features 100 well-appointed guestrooms and offers travelers daily stays. AKA is also debuting a new collection of guestrooms, called the Platinum Collection (pictured). This is AKA's first daily-stay hotel in its portfolio -- the rest being hotel residences.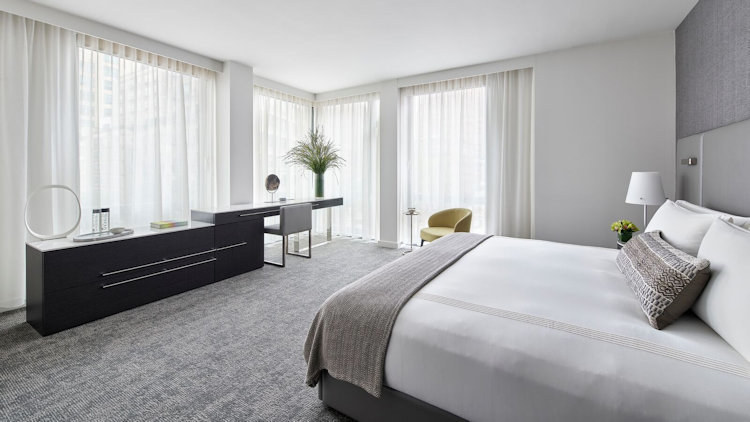 Design highlights:
Post has designed the main lobby area, including its lounge and evening bar spaces to reflect the AKA brand with sophisticated and textural styles, while keeping with the fashionably warm character of the neighborhood.
Black porcelain flooring in the lobby and lounge, with a gold-colored metal accent that runs throughout and entices guests entering the space.
Danish designer Verner Paton's striking, curvaceous cloverleaf sofa from the 1960s and a modern gas fireplace serve as the focal point of the lounge while pivoting bronze and black glass screens provide privacy for intimate seating nooks.
The lounge area is anchored by a grey marble bar that is framed by a back-lit art-panel and accented with burnished bronze inlay, a nod to Tribeca's industrial heritage. Metal-and-glass globe lighting fixtures suspend above, while floating display shelves lend to the stylish space.
Uniting all spaces are black-and-white archival prints and photographs of vintage New York and old Hollywood, the latter being a nod to both the neighborhood's movie roots in the Tribeca Film Festival and Larry Korman's many film interests, including sponsorship of the festival.
Luxury Hotel Room highlights:
Style, comfort and luxury
Made up of guest rooms, luxury suites, Platinum Collection and Specialty Penthouse Suites.
The well-appointed guest rooms at AKA Tribeca, as well as its incomparable specialty and penthouse suites in downtown Manhattan, are furnished with luxurious beds, marble bathrooms with glass-walled, walk in rain showers, and oversized flat-screen TVs with Chromecast on-demand programming.
Sleek, contemporary furnishings and a warm toned color palette make AKA Tribeca a standout in downtown Manhattan hotels; creating a relaxing setting for any business or leisure trip.
Platinum Collection:

AKA Tribeca debuts its newest collection of guestrooms, the 'Platinum Collection.' A selection of stylish and sophisticated rooms that have been thoughtfully reimagined by AKA's masterful interior designer, Nicholas Cardone – featuring custom, contemporary furnishings, and a luxurious Carrara marble bath with a glass enclosed rain shower.