Luxury, similarly to beauty, is 'in the eye of the beholder.' For some, luxury is time; time to relax, to unwind, to disconnect. For others it is a glass (or more) of fine wine, enjoyed with a gourmet meal. There's no doubt that luxury will always be defined by personal service, graciously delivered. And stunning locations that provide surprising and stellar views would certainly find a spot on any luxe list. Aboard Rocky Mountaineer, each of these luxurious attributes combine to create a little bit of travel magic.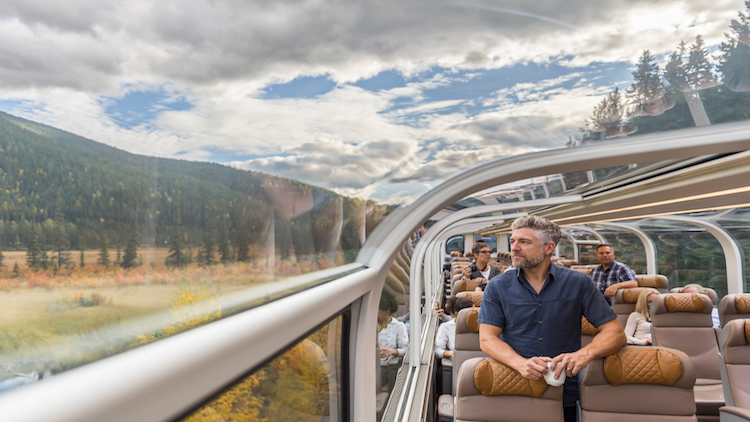 As the elegant rail carrier prepares to celebrate its 30th anniversary this coming year, Rocky Mountaineer is proof that some things definitely get better with age. Since 1990, the world's largest privately owned luxury tourist train has lured more than 2 million explorers seeking an insider's perspective to the majesty of the Canadian Rockies. An unparalleled experience, the train offers stunning vistas at every turn. Three unique rail routes provide unrivaled access to iconic destinations: The Rainforest to Gold Rush route begins in Vancouver and ends in Jasper. The Journey Through the Clouds route covers Vancouver, Kamloops, and Jasper. Perhaps most popular is the route I enjoyed - First Passage to the West, starting in Vancouver and ending in beautiful Banff National Park.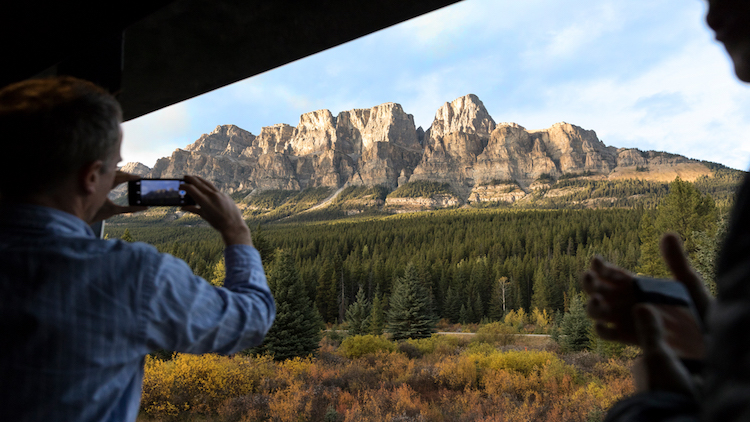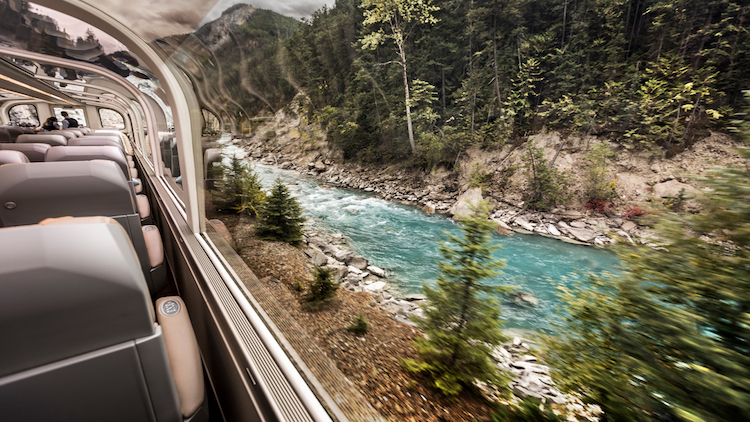 Long considered a 'bucket list' item on many traveler's lists, Rocky Mountaineer is so much more than mere point A to B transportation. The train itself is the experience; two levels of service are offered: SilverLeaf and GoldLeaf, the latter featuring domed, sun-filled, sparkling clean, state-of-the-art, German manufactured rail cars equipped for comfort. Fully adjustable leather seats recline; tray tables uplift, and seats can even be turned so that a group of four can face each other. The literature-filled pocket in front of each seat (the train publishes its own newspaper Mile Post) ensures that information junkies get their fill of fun facts and figures along the route. And the seemingly non-stop food and drink service – overseen by internationally trained executive chefs Jean Pierre Guerin and Frédéric Couton - is a top attraction. The duo takes inspiration from the landscape when designing their menus, highlighting local ingredients such as Pacific salmon and Alberta prime beef.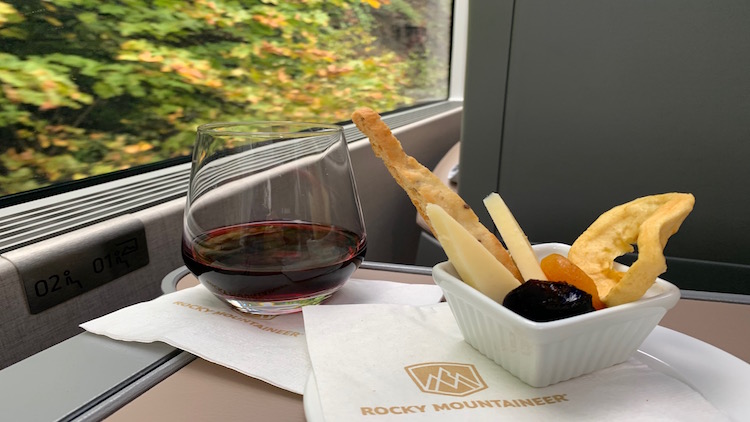 Photo by Dan Miller
Each rail car features its own fully equipped kitchen from which delicious three-course breakfasts and lunches are freshly prepared and served atop white table cloths. At each meal, a variety of choices is offered during the two seatings. Fret not if your group is the second to be summoned, as second seating diners are the lucky recipients of Rocky Mountaineer's legendary cinnamon scone, served fresh from the oven prior to breakfast - the recipe for which can be found in Rocky Mountaineer's popular cookbook Eat Play Love: Regionally Inspired Cuisine by Rocky Mountaineer. And prior to the later lunch service, guests receive a delightful cheese and wine pairing. Throughout the journey, the bar is always open. The Onboard Host walks the aisle taking orders for award-winning BC reds and whites, spirits, coffee, and hot chocolate – as much and as often as one desires. Various nibbles are also at the ready – a chocolate raisin and peanut mix, a trail mix, and a spicy crunch mix. At the end of the journey, freshly baked oatmeal raisin cookies are offered.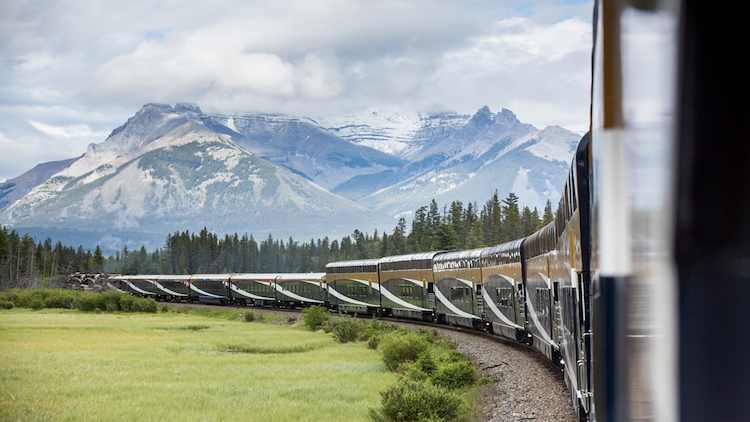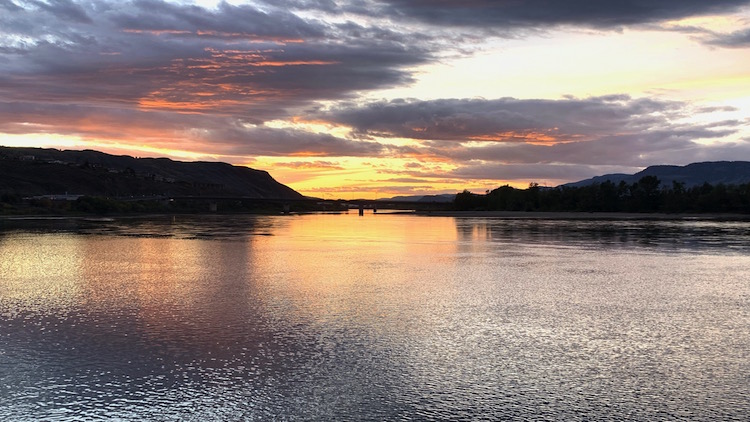 Photo by Dan Miller
Every seat provides unobstructed views of the glorious terrain, passed leisurely at speeds of 45 – 65mph. The train travels during daylight, with overnight stays taking place in anchor towns, such as Kamloops in the heart of British Columbia's interior. The midpoint for this particular First Passage to the West two-day/three-night itinerary is reached after a day of travel through the lush fields of the Fraser Valley, beside winding river canyons, and into the desert-like environment of the BC Interior. Highlights during this day one include the rushing waters of Hell's Gate in the Fraser Canyon, and the steep slopes and rock sheds along the Thompson River. Located at the meeting point of the North and South Thompson rivers, Kamloops is worthy of evening exploration. Take a walk through bucolic Riverside Park and explore the many restaurant options along Victoria Ave. - the upscale casual Mittz Kitchen at 227 Victoria St. being a favorite - before retiring to your hotel where your luggage had been hand delivered.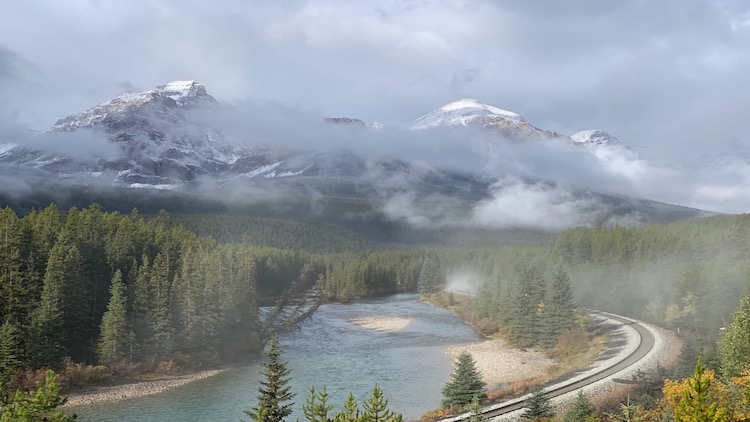 Photo by Dan Miller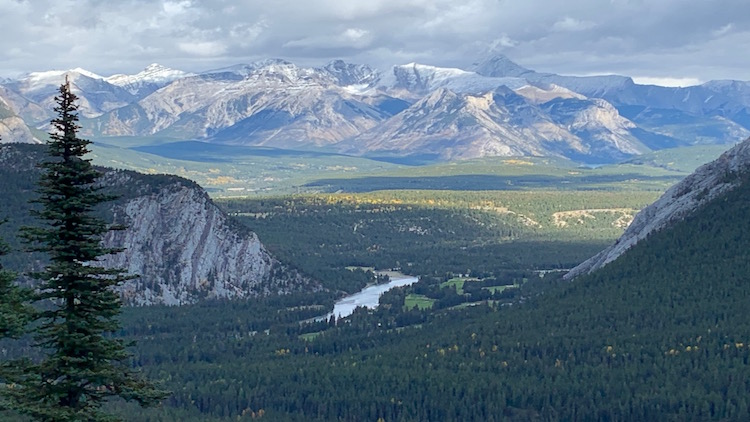 Photo by Dan Miller
Day 2 requires an early start, but sleepy heads don't rue the 6:25am call time when we witness sunrise views as the train continues its journey eastward to the Canadian Rockies and the province of Alberta. Passing ranchlands and rocky lakeshores, and ascending over high mountain passes through remarkable tunnels that form part of the area's rich rail narrative, our Onboard Hosts point out locations of note while combining history with a bit of humor. Highlights include Craigellachie where the last spike of the Canadian Pacific Railway was driven, a steep climb over Rogers Pass, Kicking Horse Canyon, the Spiral Tunnels, the glaciers and snow-capped peaks of the Canadian Rockies, and if lucky, sightings of various wildlife along the way such as elk, grizzly and black bears, Canadian geese, bald eagles, and wolf packs. And at every turn during this autumnal sojourn, fiery fall foliage illuminates the hillsides.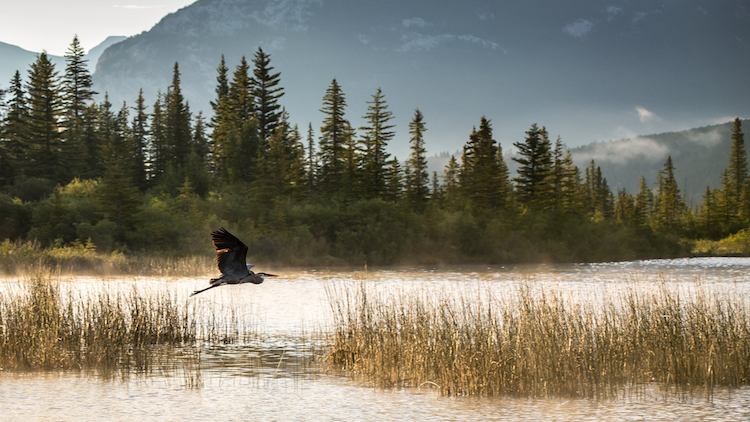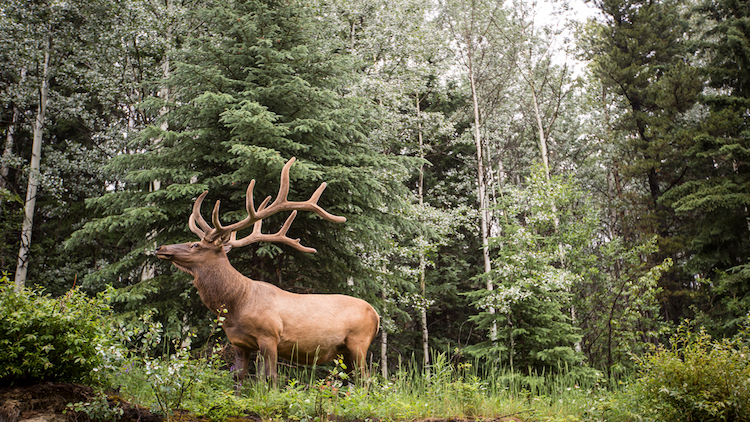 The end-of-the-line destination is reached in the late evening – Banff, where nighttime darkness camouflages the peaks that ring the small town. Guests are guided to their choice of accommodations such as the charming, historic, and freshly remodeled Mount Royal Hotel, centrally located on Banff's main street. Those still hungry after a day of endless gastronomy might consider a visit to SaltLik where a great selection of steaks, crafted cocktails, and Canadian wines await. In the morning, awake to the stunning sight of surrounding snow covered peaks. Those not ready for their Rocky Mountaineer adventure to end might select 'add-ons' such a Discover Banff Tours bus ride through Banff National Park to beautiful Lake Louise, and a ride on the Banff Gondola to the top of Sulphur Mountain where dining at Sky Bistro on regionally sourced cuisine and imbibing Canadian wines affords 360° views of the mountains. It's the perfect way to end this extraordinary adventure.
Pre-route add-ons – just as with post-route - are also available. Working with partner hotels and tours, Rocky Mountaineer helps guests to curate personalized packages, such as pre-train ride exploration of beguiling Vancouver – the starting point for each of Rocky Mountaineer's routes. An extra day in this casual yet cosmopolitan city might include a hosted tour with Landsea Tours & Adventures with a lunch stop at popular Prospect Point and its unrivaled views of the water and Lion's Gate Bridge. Explore the varied neighborhoods of downtown and discover a vibrant restaurant scene, such as that at Yaletown's Brix & Mortar with its twinkle lit, glass covered courtyard. For accommodations consider the JW Marriott Parc Vancouver, a new addition to the city's growing skyline and part of premier entertainment destination Parq Vancouver, where 329 rooms in varied sizes, eight restaurants and lounges, a state-of-the-art fitness studio, glamorous spa, and a glitzy casino inspire even the most jaded world traveler.
Photos courtesy of Rocky Mountaineer, unless otherwise noted