When you picture the perfect vacation in your head, what does it look like? White sand, crystal clear blue water, mai tai in hand lounging on a sun chair? If that's what it looks like, you have been dreaming about a vacation in the beautiful Caribbean. Now is your chance to live your dream by checking into one of these amazing luxury vacation rentals in St. Martin, one of the most beautiful Caribbean islands. These are places with stunning, picturesque views, tropical zen, and fantastic amenities that take your vacation to the next level. You're entitled to some pure luxury occasionally and these villas bring all the perks and benefits of your wildest dreams.
Here are five ultra-luxurious vacation villas in Saint Martin that are guaranteed to stir up some major wanderlust.
Turtle Nest in Terre Basses (pictured above)
The Turtle's Nest villa is one with the beach, it features a beautiful tropical entryway with a gorgeous view of the Caribbean. Located on Baie Lounge Beach, this villa creates a panoramic of beautiful turquoise and sapphire waters from every angle of the house. The Saba Islands are in plain view, and the architectural design exudes tropical beauty.
The designers wisely chose sand-colored tiles to accent the location, and the constant sound of the tide is like a dream. The pool has prime ocean views with daybeds for lounging, plenty of space for outdoor dining and cooking and with enough room for eight guests this is an intimate villa that seamlessly blends with the Caribbean.
Grand Palms in Les Terres-Basses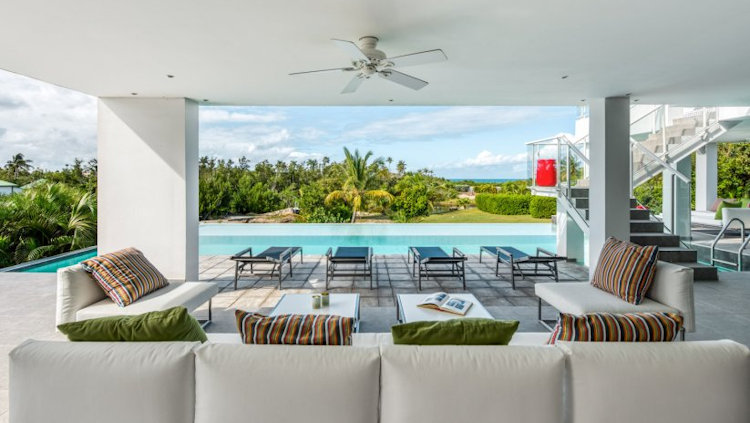 Grand Palms lives up to its name as a sleek modern villa within walking distance to the beach. The property provides a comfortable, relaxing experience. With three beautifully decorated bedrooms, it is great for small families or groups of friends while being cozy and private enough for honeymooners.
This villa has an open floor plan with glass walls that bring the outside in and leaves plenty of for socializing about the house. The design is architecturally beautiful, the interior is curated with luxury in mind, and the multilevel terrace lets you relax and enjoy company hours. Sip coffee on the veranda or take an early morning swim in the sparkling clear blue infinity pool.
There's also a unique "birds eye view" from the top level with impressive views of the tropical jungle and ocean just a short distance away.
This beautiful, roomy, and elaborate villa houses up to 10 guests and is on the edge of ocean and is as close to perfect as you could imagine! Perfect views and amenities complement the many perks that can be found at this location including five bedrooms each with its own pop of color and its own private bathroom.
Additionally, the gentle blue pool highlights the oceanfront experience as you can watch the as boats sail past while basking in the beautiful infinity pool. Like its flower name that it was derived from, this is a beautiful, open, tropical garden-enhanced vacation villa that you'll remember for years to come.
You can also arrange a private chef, boat charter, and local activities to enjoy during your stay. Be sure to bring some friends to enjoy it with you.
Just in Paradise in Terres Basses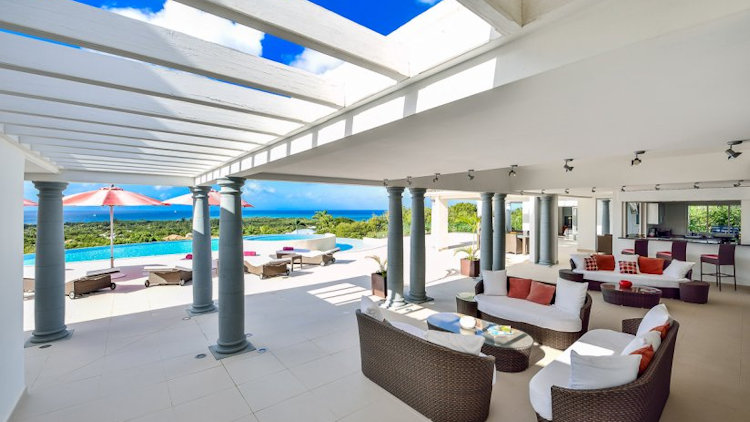 Just in Paradise features a pristine view of the Caribbean with lush gardens all around to complete the scene. One of the most favorite aspects of this location is the beautiful palm trees and courtyard. You'll be surrounded by a huge impressive pool easily accessible from any of the three villas on the property, and the blue water sparkling like jewels in the sun will beckon you to take a dip. As if this isn't enough, you'll love the way the infinity pool coils up like a shell into an infinity jet tub.
You can reserve all three villas on the property and enjoy amenities that include a fully equipped kitchen, WIFI, pool keeper during your stay, AC, and more, plus this is on a gated secure community so safety is covered.
Casa Cervo in Les Terres-Basses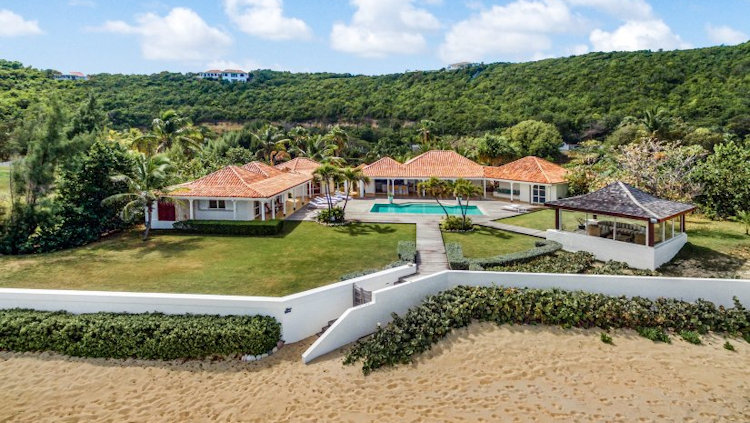 If you're looking for the best luxury retreat that doubles as a getaway spot, check out the amenities and beauty at Casa Cervo.
A beautiful view of the Caribbean awaits will lovely light wood and turquoise accents, the impressive symmetrical pool is surrounded by light wood decks. The ocean lies only a few feet away and the crystal-clear beauty coupled with the swaying palms is hard to beat! It's located close to some of the most famous restaurants in St. Martin so you'll have no trouble finding some great places to dine and enjoy the view – that's if you want to leave the villa!
This would make a great vacation destination for parties and BBQs due to the outdoor BBQ grill area coupled with the roomy Gazebo and outdoor speakers for connecting and entertaining.
Escape to Saint Martin Now
Saint Martin welcomes guests year-round and has so much to offer in the villa and around the island – on land and on the water. If you're looking for the perfect Caribbean vacation paradise, a private villa in Saint Martin is the getaway for you. The most difficult decision you must make now is which one will you choose?