Well-known as a tourist friendly town with quality restaurants, 5-Star hotels and world class museums, in the winter when a chill settles over the canals, Amsterdam offers up imaginative events, cultural installations, the addition of skating rinks and holiday treats served up in bakeries and cafés to celebrate what the Dutch call the festive season.
Amsterdam Light Festival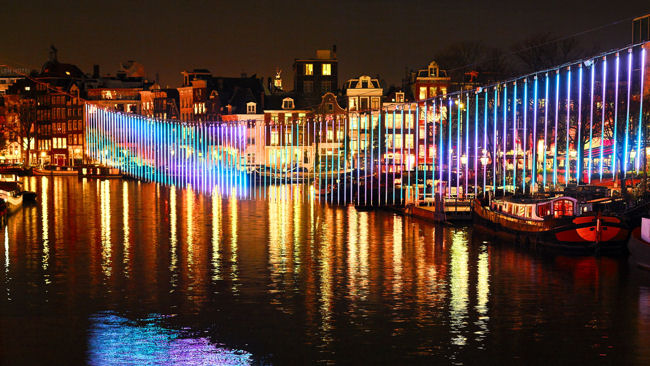 Two city-wide art installations are must-see experiences. Collectively called the Amsterdam Light Festival, Illuminade is designed around walking and bicycling paths throughout the city. Water Colors centers on the canals and the Amstel River.
For almost two months, from November 28, 2015 to January 17, 2016, the festival will brighten the winter nights with colorful sculptures made out of lights.
The art installations make use of light in many shapes and sizes. Some are small and others are large architectural pieces, like the Amsterdam artist Ralf Westerhof's sculpture called "Paths Crossing" I saw being installed over a canal near the Waldorf Astoria Hotel. Workmen thirty feet in the air constructed a block long sculpture over the Herengracht. Strings of differently colored lights hung in the air as if sculpted by Alexander Calder. Or Aleksandra Stratimirovic's "Northern Lights" which stretches above the Amstel River, creating a bright curtain of luminescence.
Forty artists from around the world were commissioned to create illuminated sculptures so that anyone who passes by on a bicycle, walks or (best of all for Water Colors) rides in a canal boat underneath their work will experience vibrant art pieces lighting up the dark winter sky.
Sinterklaas is not Santa Claus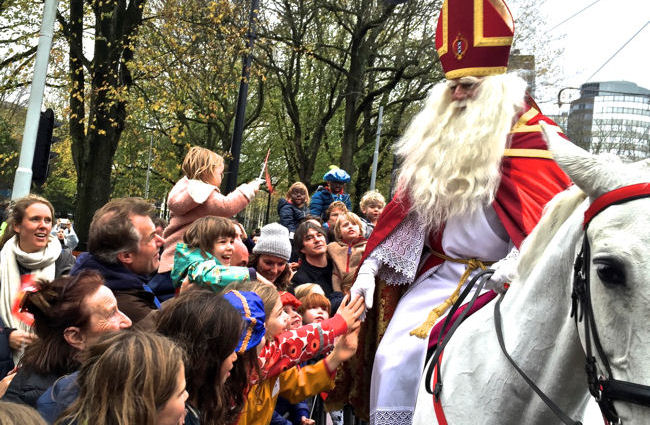 The festive season in Amsterdam begins in mid-November with the noisy arrival of Sinterklaas. Like Santa Claus, he has a big white beard. But the Dutch Sinterklaas does not travel in a sled pulled by reindeer. He does not live at the North Pole where elves build toys for children. As tradition has it, Sinterklaas arrives in Holland on a barge from Spain, riding Amerigo, a white horse, accompanied by his assistant, Zwarte Piet.
When I was in Amsterdam, I waited for Sinterklaas along with thousands of young children and adults at the center of the old city in Dam Square. Even before he arrived, men, women and children dressed as Zwarte Piet entertained the crowds. Some sang pop songs on a stage in front of the Royal Palace. Many others handed out pepernoten, small round, spiced cookies.
When Sinterklaas arrived, he led a parade with colorful marching bands and large tractors pulling handmade floats that would make any small town in America proud.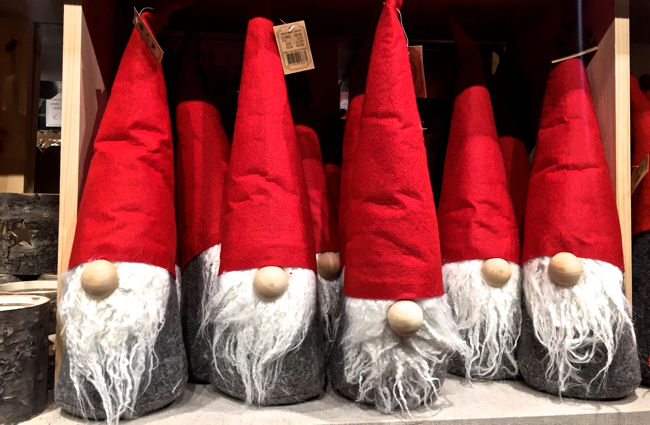 The festive season in Amsterdam is all about family.
Sinterklaas is celebrated until December 5th when families gather in their homes for dinner. Children write poems and make drawings to leave for Sinterklaas next to the fireplace and, for Amerigo, they leave carrots. Tradition says that late at night while Sinterklaas and Amerigo wait on the roof, Zwarte Piet climbs down the chimney–which explains to some why his face and hands are blackened ("Zwarte")-- to leave presents for the children to open in the morning. Typically, these are small gifts, often handmade.
As the Sinterklaas parade was ending, I watched the floats and people dressed as Piet handing out pepernoten disappear around a corner. I was cold and rain clouds were closing in. It was time to find a café and recharge.
Cold Weather Pleasures in Amsterdam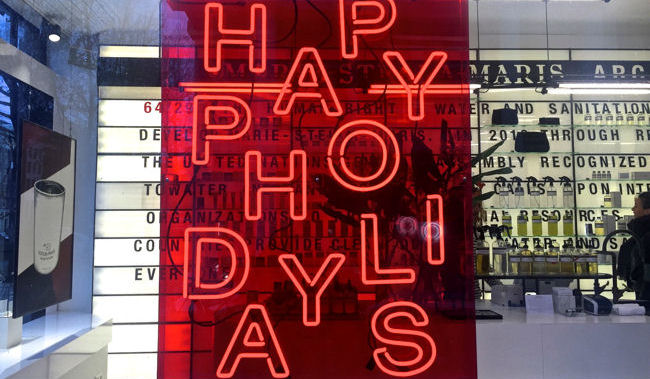 The Dutch know how to enjoy the winter months. Traveling around by tram, on foot or by bicycle, when they get wet or cold, they stop in a warm bar or café for something to drink and a bite to eat. Once fortified, they'll go back out and do it all again.
After I left the parade, I walked on Ultrechtsestraat south of the Princengracht canal where I stumbled on Pata Negra (Ultrechtsestraat 124), a Spanish tapas bar. Mention this dark and cozy spot to Amsterdam locals and their eyes light up because they know it well. Sitting at the wooden bar I had a small tumbler of red wine–no need to know the vintage, grape or winery, just know that it was dry and clean tasting and lovely–a small plate of poached octopus bits in briny olive oil and a basket of freshly baked white bread with creamy garlic butter. For close to an hour, I was content to quietly enjoy my tasty little spread as I dried off and warmed up.
Walking around the city is one of the great pleasures of Amsterdam. During the holiday season, you can have fun discovering small cafes like Sluizer Restaurant, the charming Dutch-French restaurant or the traditional brown bars, neighborhood bakeries, chocolatiers and cheese shops.
Definitely explore the well-traveled areas around Amsterdam Centraal and the shopping in and around Dam Square. But venture more widely and do as the locals do and explore streets like Ultrechtsestraat in the area called the Nine Streets between three canals–Princengracht, Kaizersgracht and Herengracht. The shops range from upscale to off-beat, selling clothing, jewelry, cosmetics and collectables. The many cafés offer local Dutch food as well as cuisine from France, Turkey, Spain and Greece.
Jenever is not gin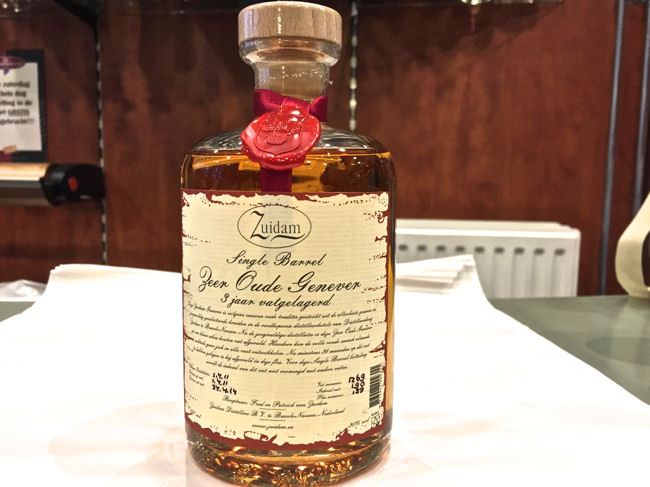 On the other side of town, not far from the tourist-popular area of Dam Square and Haarlemmerstraat, the narrow street called Haarlemmerdijk is a local favorite.
When I was exploring Haarlemmerdijk, a fun shopping destination of small locally owned stores, I discovered a liquor store with a curious name, 2008 Wijn & Dranken (Haarlemmerdijk 59). Run by the friendly Ron Verhoeven, at ten in the morning he gave me a tasting of the uniquely Dutch liquor, jenever or genever.
Often confused with gin, jenever is a bright, clean tasting distillate best enjoyed sipped neat without ice. In the spirit of the season, he offered me a tasting of jenevers manufactured by Zuidam, a well-known Dutch distillery. In small glasses, he poured different vintages. His favorite was the three year old Zuidam aged in oak. Mine was the Jonge Graan Genever. I decided they would make great presents to share with friends at home for New Year's Eve. I bought a bottle of each and staggered out of his shop.
Turn on the Lights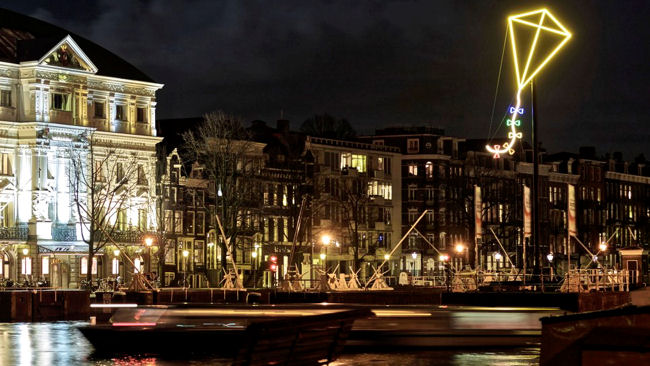 For Amsterdam, after the arrival of Sinterklaas, the next big public event takes place when de Bijenkorf (Dam 1 1012 JS Amsterdam), the upscale department store in Dam Square, stages Turn on the Lights. Bicycling through the square during the day, I saw that lights were being strung on the outside of the building. I assumed Turn on the Lights was similar to a ribbon cutting ceremony.
I was mistaken. What I thought was a simple flip-of-the-switch to illuminate the department store was a spectacular, one-night's performance in the style of Cirque du Soleil.
At night Dam Square was transformed into a magical world with a staccato light show, fully orchestrated sound track, smoke machines, Nutcracker soldiers on five foot tall stilts, a clown who dangled from a crane seventy feet in the air above his crew of fellow clowns and a queen in a giant dress, raised above the crowd on stilts, supported by a dozen unseen men. Close Act, the well-known Dutch theater company, performed a thirty-minute adaptation of their original production "Globe."
As the queen, Linda Jacobsen, looking very much like Angelina Jolie in Maleficent with huge horns and an evil laugh, terrorized the clowns. A war raged until the queen was vanquished. Floating high above the crowded square, the Swedish singer, Loreen, sang a pop song of aspiration, harmony and peace. The finale of the performance was her countdown to "turn on the lights." With fireworks blazing over the building, 300,000 lights turned on, illuminating de Bijenkorf.
5-Star Hotels Add to Winter's Pleasures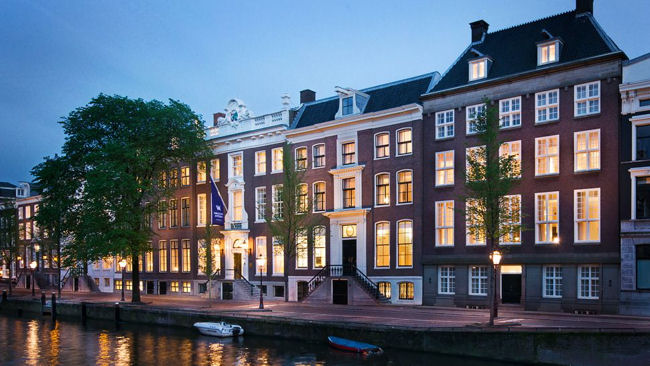 Waldorf Astoria Amsterdam
Besides the city-wide entertainments and winter celebrations, Amsterdam's 5-Star hotels offer holiday programs and transform their properties using lights, decorations and Christmas trees to enhance the experience of their holiday guests.
I stayed at two of those hotels and can speak to their qualities.
Waldorf Astoria Amsterdam
Located on the Herengracht canal in one of Amsterdam's most exclusive neighborhoods, the Waldorf Astoria Amsterdam is within walking distance of Ultrechtestraat and the Nine Streets shopping area. During Holland's Golden Age in the seventeenth century, Herengracht was home to the wealthy merchant class and prominent members of city government.
Opened in 2014 and constructed out of six canal houses, the interior of the Waldorf Astoria has a sleek modern look while outside the canal houses look much as they did when they were built in the late seventeenth century.
In addition to enjoying the lobby, lounge and spa, make certain to visit the garden, accessed downstairs through the brasserie. The wide expanse of lawn is bordered on one side by the hotel and on the other by canal houses. In the warmer months thousands of tulips are planted in the gardens. Now, in winter, the bare trees are decorated with strings of bright bulbs that replace the absent leaves. The spare effect is beautiful.
For the holidays Goldfinch Brasserie and Librije Zusje, the hotel's 2-Michelin starred restaurant will serve special menus for Christmas and New Year's Eve. Expect the best ingredients, prepared with exquisite care.
I had a preview when I visited the brasserie for dinner. The restaurant has the casual feeling of a well-appointed lounge. Tables are well-spaced. The waitstaff is attentive. Cocktails are prepared in the Vault, the intimate bar nearby. The menu strikes a balance between French and Asian cuisines. Dishes like the roasted langoustine had a light touch. Fat, moist langoustine curled together on top of a thick rectangle of avocado. The compact design hid a complex gathering of textures and flavors. Thin disks of green apple, paper thin, added tartness. Toasted bread crumbs brought unexpected crunchiness to the dish which was flavored with a spicy tomato bouillon-curry sauce.
And, after you have wandered the city streets taking in the sights and you have enjoyed a meal or two in the hotel, it is time for a reinvigorating massage in the Guerlain Spa. The massage therapists can personalize the treatment, depending on your needs. Face, arms, hands, neck, shoulders…. Describe where you feel stressed and whether you want a deep muscular massage or something more serene and that is what the massage therapist will do. The Spa is also a full service beauty salon, offering hand and foot therapies, waxing and beauty treatments for men and women.
The Hotel Sofitel Legend the Grand Amsterdam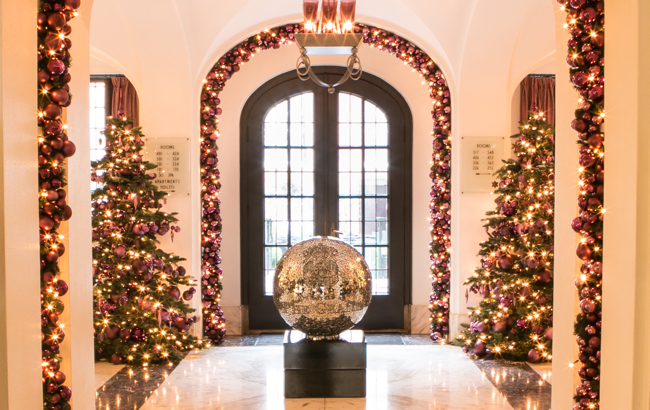 Sofitel the Grand Amsterdam - holiday decorations
Close to Dam Square, the Hotel Sofitel Legend the Grand Amsterdam, known as the Grand, is centrally located, all the better to enjoy the pleasures of the city. The first time I visited the hotel it was by canal boat. Any visitor to Amsterdam, whether a first timer or someone who knows the city well, must spend part of the time on the water.
During the festive season, travel on the canals has added pleasures because of Water Colors. At the Grand the concierge can organize a trip on a canal boat for individuals or groups, with light meals and beverages served on board. How pleasant to float on a canal in the quiet darkness and then encounter a ring of radiant, blue light that surrounds and engulfs like Anita Doornhein's "Light Wave." Or, discover the delicate "Light Kite," made by the Tijdmakers collective, that hangs in the air, the delicate kite, tugged by an unseen breeze.
The Concierge desk can describe the many holiday performances taking place around town. And, there are plenty of opportunities to go shopping. Describe a gift you are looking for and the concierge desk will create a list of Amsterdam's best shops.
At Bridges, the hotel's 1-Michelin stared restaurant, Bobby Rust, chef de cuisine, is one of the city's rising stars. Classically trained, his flavorful dishes are visual delights. When the amuse bouche arrived for my dinner, there was no doubt Rust enjoys working with seafood.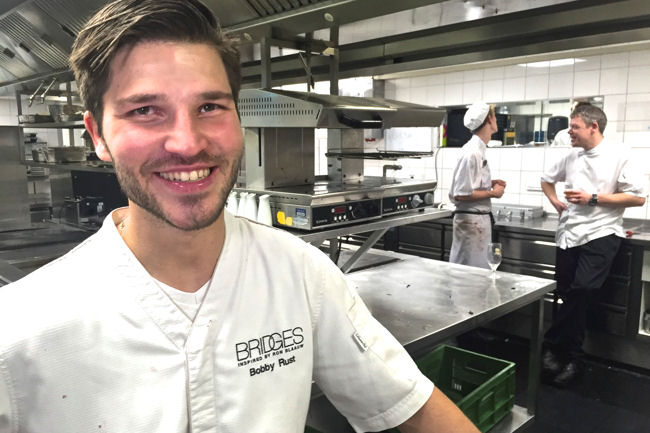 Bobby Rust, chef de cuisine
A foot-tall white coral fabricated on a 3-D printer arrived at the table with the chef's "tastes" nestled in the branches. A poached razor clam was flavored with a cream made with pine nuts and a piece of oyster leaf, an aquatic lettuce. On another branch a French palourde clam was surrounded with cilantro cream, topped with toasted bread crumbs.
Besides freshly caught fish and shellfish like tender langoustine flavored with curry and served on a checkerboard plate of red and green melon, the kitchen offers prime cuts of beef and veal, all paired with interesting wines.
Rust likes to create surprises. Like unwrapping a gift, the first bite of a dish is only the beginning of the experience. In a dish of sole, the moist neutral tasting fish was contrasted by the crisp toasted hazelnuts on top. But like a Russian nesting doll, that first layer led to another. Beneath the sole was slowly cooked North Sea crab, shredded to release its sweetness in a goat milk beurre blanc sauce. Creating a contrast were two more gift-wrapped treats: cauliflower florets sautéed in brown butter and grapefruit bits, their acidity exploding against the fatty softness of the sole and crab.
With desserts, Rust enjoys playing with familiar flavors and bringing something new to the experience. For my dinner, I ordered the chocolate Madeleine because I love chocolate and I love Madeleines. What arrived at the table certainly had both, but borrowing from the all-too-familiar molten chocolate cake, Rust had secreted hot chocolate inside. One press of the fork and that heated sweet flowed onto the plate. And yet, Rust was not content to finish the meal with a simple dessert. Scattered on top were a dozen thin white truffle slices. But there was more. Hidden underneath the warm chocolate were sautéed onions and chanterelles. Never in my experience were savory earthiness and ethereal sweetness so perfectly intertwined.
For the holidays, Bridges will serve its customary menus but Rust has also created special menus planned around Christmas and New Year's. On December 25th, a Christmas brunch will be served in the Council Chamber. The main building of the Grand has hosted many masters, not the least of which was the city council. The brunch will be accompanied by a live jazz band. For New Year's Eve dinner, a six course meal with champagne will be a good way to celebrate the end of 2015 and to look forward to 2016.
All around Amsterdam, chefs and sommeliers are readying themselves to entertain their guests during the festive season.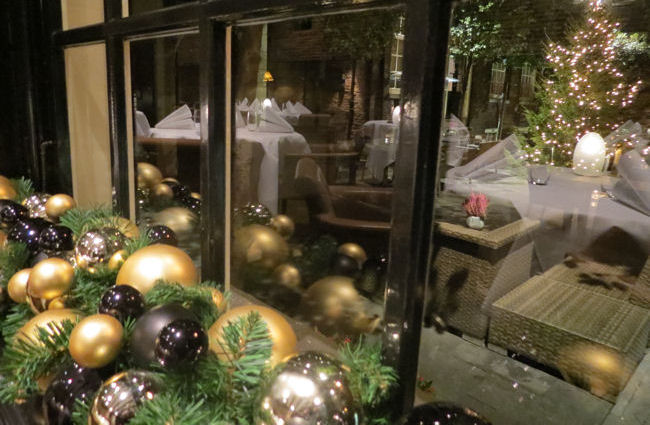 The Dylan, Brasserie OCCO with holiday decorations
At the Dylan (Keizersgracht 384, 1016 GB Amsterdam), an upscale boutique hotel built inside connected canal houses, there will be holiday programs to celebrate the season. Chef Dennis Kuipers in his Michelin-stared restaurant Vinkeles will have special offerings on Christmas Eve, Christmas Day and New Year's Eve when he will serve a seven course menu.
In the lounge at the Dylan, the afternoon High Wine will expand from the traditional four wines paired with small plates to six. I had a preview when I visited and the choices of wines and dishes were lovely.
Sitting comfortably in the wood paneled lounge, close by the gas fireplace, I enjoyed the Viognier 2014 Domaine Massiac (Minervois, France) with its floral minerality served with a fish soup that was a riff on a bouillabaisse. Flavored with tomato, a mix of mussels, squid and a crispy skin filet of mullet, the stew included local Texel Alderliefste potatoes and a cheese crostini with house made aioli. In addition to the seafood, there were small plates of goose liver, roasted pheasant breast and smoked albacore tuna and a dense, creamy dark chocolate gateau opera with coffee mousse and mascarpone sorbet. One of my favorite pairings was the simplest. A small plate of room temperature Mont d'Or cheese with fat dark raisins and a thin water biscuit was paired with Jacquére 'Chignin' 2014, Charles Gonnet, Savoie, France.
Sommelier Marco Ijpma explained that he chose wines that were interesting, not ones found on most restaurants' menus nor ones that most people would have in their home wine cabinets. The 'Chignin' for instance had a good acidity to compliment the richly creamy Mont d'Or. And, as a contrast to the cheese, the chef added raisins, which were sweet and, because they still had their seeds, provided a pleasant crunch and crackle.
Sitting next to the fireplace with a steady drizzle outside, I spent several hours at the tasting, enjoying the room and watching the other guests who stopped to talk, have a glass of beer or a bottle of wine.
Ice Skating and Visiting the Museums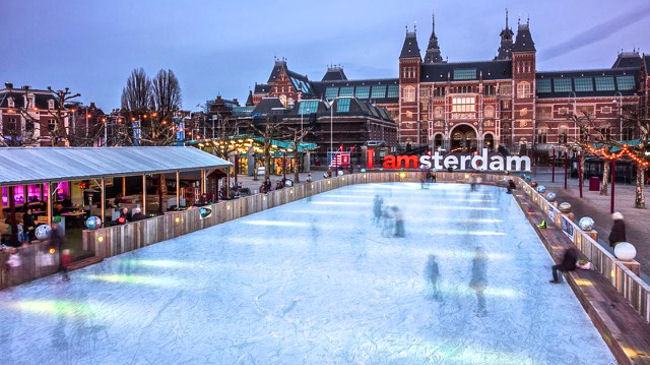 There have been years when the weather in Amsterdam has been considerably colder. Cold enough that the canals froze and it was easy to ice skate through town. This winter is predicted to be mild, so there will be ice skating at the Jaap Eden skating rink and in Leidseplein. One of the best is organized by Ice Amsterdam at the Museumplein in an area behind the Rijksmuseum, the Van Gogh Museum and the Stedelijk Museum. A chalet next to the rink will serve snacks and beverages.
While you are in town, make certain to stop at the Museumplein to visit Amsterdam's well-known museums: The Rijksmuseum, Stedelijk Museum Amsterdam and the Van Gogh. In addition to the permanent collections, each museum has special exhibits worth investigating. On my recent trip, at the Van Gogh Museum I saw the Vincent Van Gogh (1853-1890) and Edvard Munch (1863-1944) exhibit. The exhibit is open through the holiday season until January 17, 2016.
Paintings by both artists are hung side by side along with works by their contemporaries. An informative short film introduces the two painters who never met but lived in Paris at the same time. Van Gogh knew of Munch's work and liked it. Ten years younger, Munch admired Van Gogh to such an extent that through out his career he copied many of Van Gogh's works, transforming them. Placed side by side, the effect is moving and a bit eerie. As the documentary makes clear, both wanted to create, in Van Gogh's words, "heartfelt art." The parallels between them were not just in their work. They were similar in that both were outsiders and both suffered from mental disturbances so acute they were institutionalized.
Even though their personal stories are not happy, their work can be enjoyed in the context of the season. Their paintings vibrate with color and vitality and chronicle the great symphony of life–love, pain, spirituality, death and anxiety–reaffirming the glory of the human experience.
Besides the world famous museums at the Museumplein, there are many smaller museums in Amsterdam well worth exploring. Some use the season to offer intimate portraits of how the holidays were celebrated in another time.
The Willet-Holthuysen Museum preserves the home of Louisa Holthuysen (1824-1895) and Abraham Willet (1825-1888). The couple was devoted to one another and to the pursuit of art. They transformed a seventeenth century canal house into a nineteenth century salon for artists, society gentlemen and ladies. From December 9, 2015 to January 6, 2016, the house will be decorated as it would have been in their time with four Christmas trees–in the ballroom, the tea room, at the end of the hallway and the dining room. In Louisa's salon where she entertained her women friends, there will be presents for staff and her immediate family along with a collection of Christmas notes she wrote to her friends.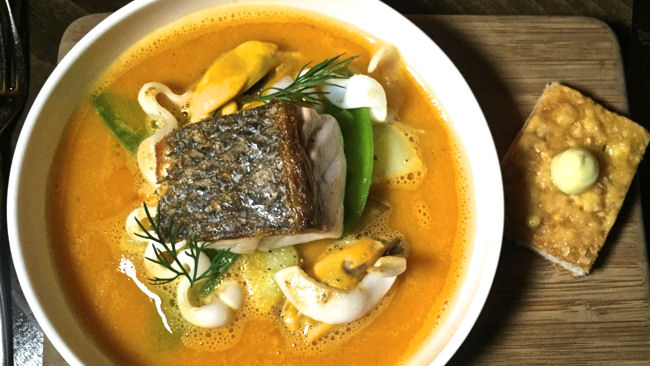 Food was very important at this time of year. In the kitchen and dining room of the Willet-Holthuysen Museum, Holtkamp Bakery will create dishes that would have been served at Christmas. Those treats are not available to sample, but the Holtkamp Bakery is only a ten minute walk from the museum. The cozy shop is filled with pastries, baked goods, chocolates and marzipan. For Christmas, they will make specialty desserts like kerstkrans (sweet dough puff pastry filled with almond paste and prune cream), moskovische tulband (a light yeast cake with raisins, vanilla and citron bits), sneeuwballen (fried dough with flavored fillings), foot tall Christmas trees built out of chocolates and almonds, Christmas breads filled with raisins and candied dried citron and French-style croque-en-bouche.
On my final night in Amsterdam I walked through Rembrandtplein with its large outdoor cafés, the square now lined with pop-up holiday stalls selling food, beverages and small gifts. Then I headed across town through small streets decorated with holiday ornaments and on to Dam Square where de Bijenkorf was brightly illuminated and sparkling in the dark night air.
I very much enjoy Amsterdam in summer when the days are long and the weather is sunny and bright. But there is something magical about Amsterdam in the winter. The festive season in Amsterdam is a warm and bright experience, a good place to enjoy the holidays.
IF YOU GO:Hotel Sofitel Legend the Grand Amsterdam
, Oudezijds Voorburgwal 197, 1012 EX Amsterdam, The Netherlands, +31 20 555 3111.
Waldorf Astoria Amsterdam
, Herengracht 542-556, Amsterdam, 1017 CG, The Netherlands, +31-20-718 4600.
The Dylan
, Keizersgracht 384, 1016 GB Amsterdam, +31(0)20 530 2010.
Willet-Holthuysen Museum
Herengracht 605,1017 CE AMSTERDAM
Holtkamp Bakery
Vijzelgracht 15, 1017 HM Amsterdam, +31 (0)20-6248757.
Sluizer Restaurant
Utrechtsestraat 41- 45, 1017VH Amsterdam, +31 (0) 20-622 6376.