As I arrive at Sanctuary Chobe Chilwero Lodge - after a ten minute journey from Kasane Airport in Northern Botswana - I am met by khaki-clad staff members with an enthusiastic welcome song. I can't help but smile as they offer me a cool scented cloth to refresh my hands and face, followed by an iced lemon, ginger and honey drink. Guided through carved wooden doors, I am greeted by an expansive view over the verandah, across a garden, down to the islands and flood plains of Chobe River, as far as Namibia.
The communal area of the lodge comprises a lounge decorated with authentic African artefacts, comfortable couches and tables laden with inviting coffee table books, a dining room with inside and al fresco seating, plus an open air bar.
Though tempting to linger in this space, I am keen to see my room - one of 15 air-conditioned thatched suites which has recently been remodelled and refurbished - before beginning my first boat safari. Strolling down cement paths lined with indigenous trees, I am distracted by an Orange-breasted bush-shrike, a lizard or two, plus warthogs on their knees, feeding on the grass. A shy Bushbuck family watch me as I watch them.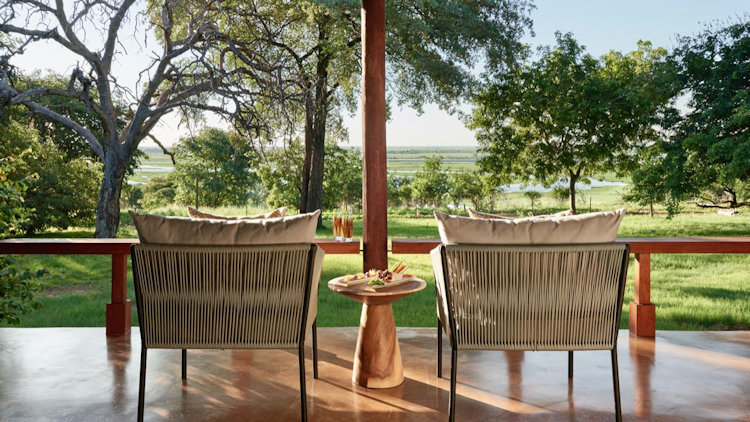 My spacious suite has an extra length king-sized bed with white linen, canopied by a mosquito net. Freshly painted, the walls are stone coloured and decor is in soft hues of beige and grey, with a splash of colour on the throw across the base of the bed. A highlight for me is the sizeable bathroom with a freestanding stone bath on a screed floor, twin basins and a shower with steel designer taps and mixers. Thick white towels, a range of white pillar candles, lavish bath salts and Africology products add to my anticipation of luxuriating after my river cruise.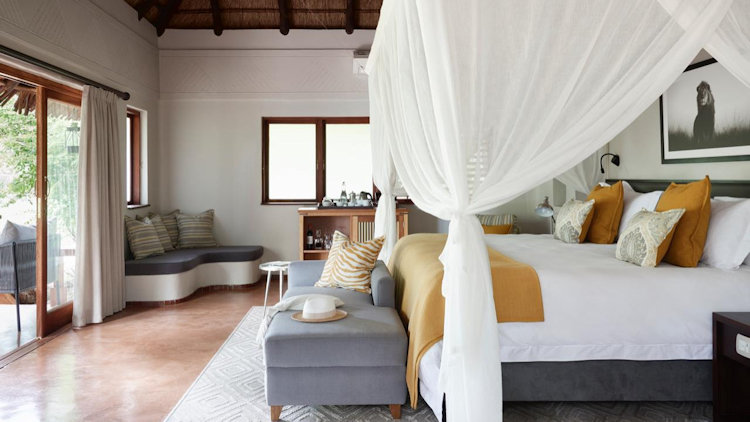 A pleasant drive through the Kasane Forest Reserve, in a game vehicle having only three pairs of seats, with a console between each pair, takes me to a landing stage on the river, under a canopy of mature trees. Boarding a small motorboat, with a canvas roof, I sit right in front, with an unimpeded view of Chobe River and the cloudscape above. A crocodile, partly submerged, is so close to the boat that I can observe his his yellow eyes and the ridges on his skin. After a few minutes on the water, we find a water monitor basking on the trunk of a fallen tree. When I stand up to photograph the reptile, it feels strange to be eye to eye with it, rather than looking down on it from a game vehicle.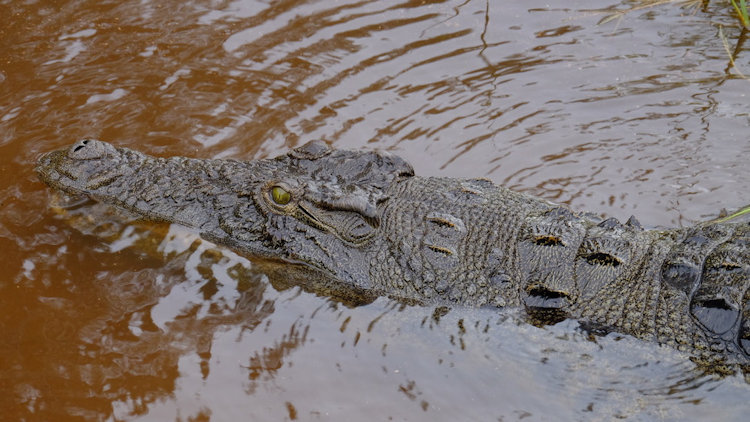 My guide, with his sharp eyes and wealth of experience, points out and names birds as we proceed. It is an up close and personal time as we watch Pied kingfisher hovering above the river, then plunging vertically to catch a fish. Pairs of Fish eagle, their iconic call reverberating across the water, perch high up in the trees lining the river bank. An iridescent kingfisher waits patiently on some reeds, scanning for small fishes. Abundant bird life, a guarantee of rich photography, includes darters, cormorants, several species of herons and ducks, as well as egrets. Near the top of a tree, we see an impressive wild beehive - of the Apis mellifera species - that is about a metre long, . Too high for honey badgers and with thousands of bees defending the nest against wasps, or any kind of honey robber, it has been able to reach this unusually large size.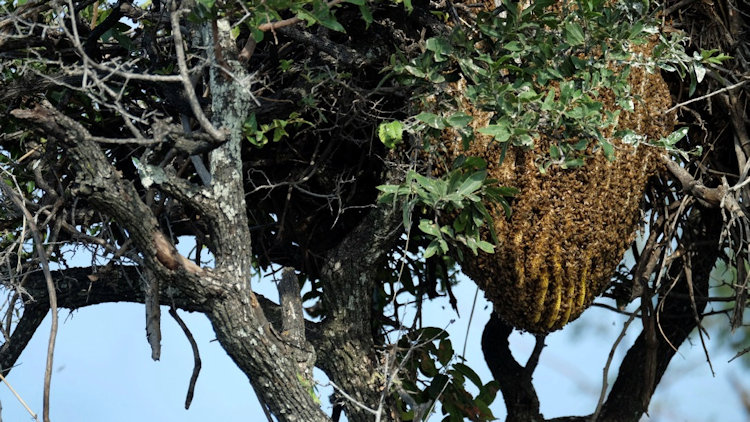 A solitary African buffalo, with thick black clay coating his skin, has been forced out of the herd by the virile bulls. He stands motionless in the river immersed up to his flanks, living out his life close to the softer grass. One of the 'Big Five', these old bulls known as 'dagga boys' are notoriously aggressive and cantankerous, provoking many a thrilling tale for hunters and game rangers. This one looks innocuous as he begins to ruminate and tolerates a Red-billed oxpecker foraging for parasites in his ear.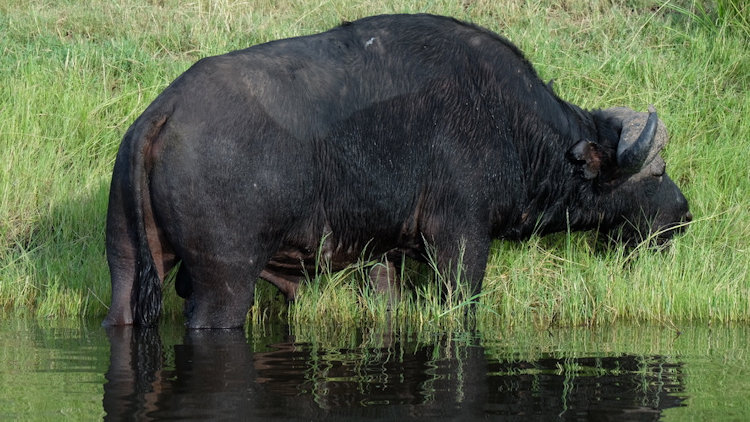 We motor over to the other side of the Chobe River, where elephants are cavorting in the water, next to an island. Their trunks like giant snorkels, they throw themselves under the water, playing exuberantly with one another. As the sun begins to sink, the clouds become a crimson blaze, reflected in the surface of the water. With our motorboat berthed in a strategically chosen spot, I sip gin and tonic, the quintessential safari sunset drink, nibbling on canapés and gazing at the splendour of the scene. Heading to their roosts, birds fly in skeins across the sky.
Back at Sanctuary Chobe Chilwero, I find that my bath has been run for me and has been decorated around the edges with flowers, plus petals strewn onto the water. After languishing in the quiet of my suite, I call the guard to escort me to dinner. Though the lodge is fenced, on rare occasions a leopard has been seen in the grounds, so guests are advised not to walk alone at night. The atmosphere around the al fresco bar is relaxed, as guests chat about their sightings of the day, savoring cocktails, or one of the fine whiskeys that line the well stocked shelves.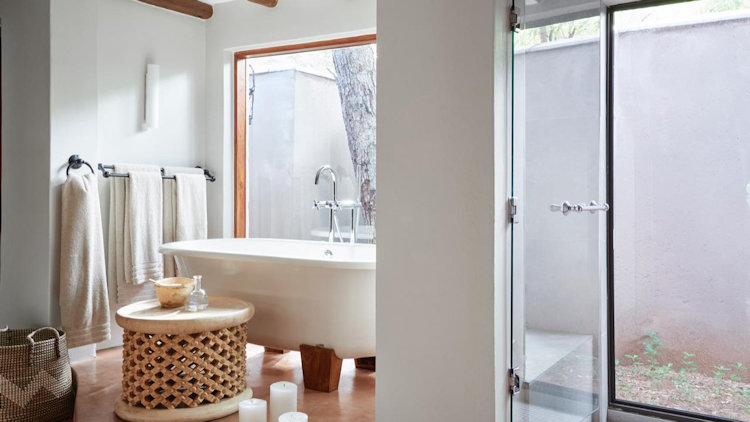 Meal times are flexible, so though it is early evening, I tuck into the gourmet fare served during the three course evening meal, each paired with South African wine chosen by the sommelier. The cauliflower and broccoli soup, Botswana beef fillet with seasonable vegetables, followed by Portuguese lemon tart, are all delectable. My waiter is discreet and professional. Executive Chef Shillah Legakabe visits my table to check that I am satisfied with his creations. Lingering on the verandah, I hear a jackal calling in the distance, as well as the repeated call of a Pearl spotted owlet. I am deeply peaceful in this moment, but also looking forward to the activities of the next day which include a land safari, for me to search for the rare Sable and Roan antelopes and learn more about the impressive elephant population. As the Spa is renowned for its treatments, I have booked for a Soul of Africa conditioning massage.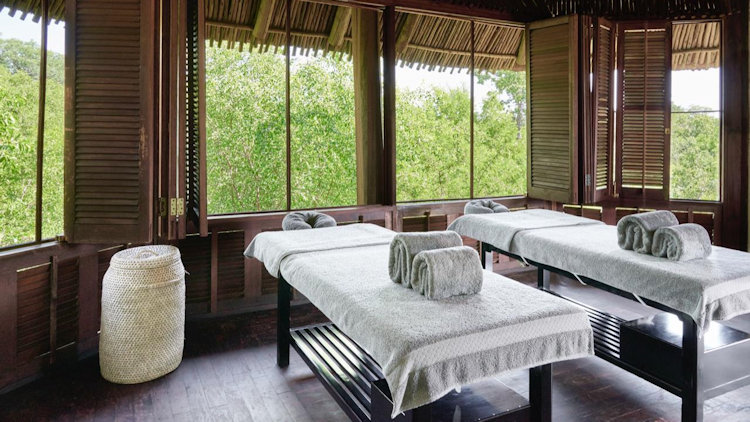 With all the amenities of a resort, this intimate lodge deep in the Botswana bush, provides a boutique experience. I can't fault the personalised service, the quality of staff - especially the knowledgeable guides - or the comfort of my suite. The river cruises are especially enjoyable and a unique safari experience. As I leave Sanctuary Chobe Chilwero, staff members that now feel like friends, give me a handshake or a hug, then stand in a line to wave goodbye and call out blessings.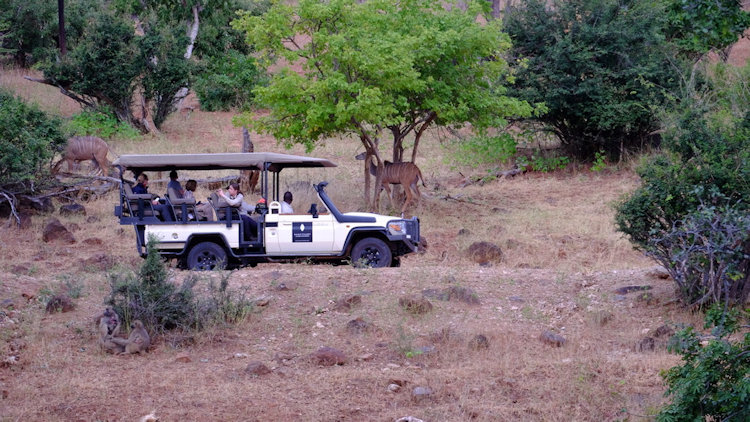 For more features written by Gillian Mclaren, or to receive an email when she posts a new story, please visit www.gillianmclaren.blogspot.com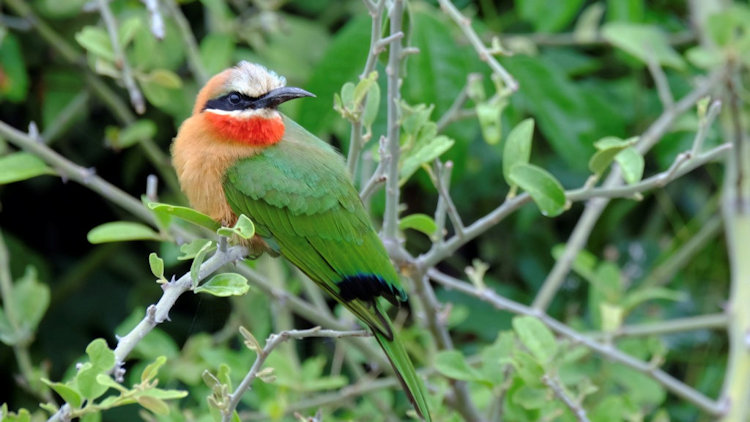 White-fronted bee-eater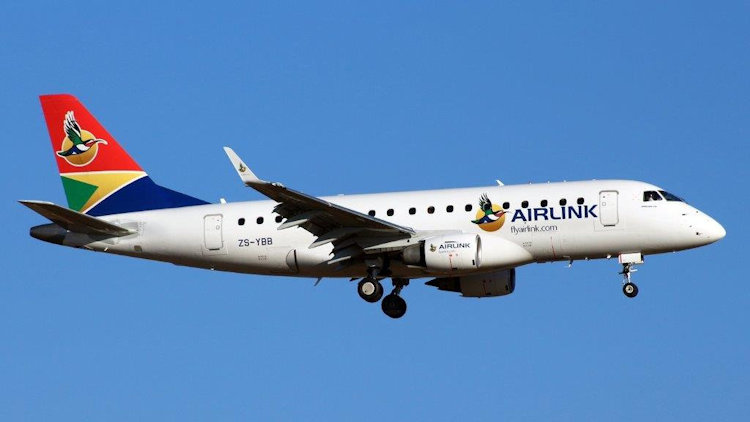 How to Get There
Airlink is a privately owned and funded entity. It operates as a Regional Feeder Airline and franchisee of South African Airways using its own visible brand intellectual property. Airlink connects travellers to more than 55 routes within southern Africa and St Helena Island.
Route Specific Information: Direct scheduled flights from Johannesburg to Kasane (Chobe) - Botswana. With an all Jet service, Airlink provides a Business Class service, styled in the manner of a European intra-continental service. Priority boarding, ample leg room, personal service with tasty meals served on porcelain crockery, as well as a choice of South African wines, make Business Class sheer pleasure.
Connectivity: Through our alliance with SAA, travellers can connect conveniently, effortlessly and seamlessly, with SAA, their Partner airlines and other carriers throughout Southern Africa and the world.
Frequent Flyer Programme: Airlink is a member of South African Airways Loyalty programme -Voyager.
Discover more: www.flyairlink.com
Book Direct: https://www.flyairlink.com/destinations/flights-to-kasane
Text by Gillian Mclaren (@Jetset_Gillian)
Images by Gillian Mclaren and supplied