The lagoons, canals, mangroves and jungle of Mayakoba, a luxury resort area on Mexico's Riviera Maya, are home to around 250 bird species, from herons to eagles, and around 100 other creatures, including turtles, iguanas and small crocodiles. In comparison, there are just four species of Mayakoba hotels, but what they lack in quantity, they more than make up for in quality. This 600-acrea area is home to a Rosewood, a Banyan Tree, an Andaz and a Fairmont, four hotels that rate among the best in southern Mexico's hotel-populated Caribbean coast.
Built in 2006, Fairmont Mayakoba is the oldest of the four hotels and still the largest, with 401 rooms. It makes a grand impression, as you drive up to the main building. After a fast check-in, we meet Gerardo, our butler during our stay, who shows us to the elegant Lobby Lounge, with large black jaguar sculptures and a gleaming bottle-filled bar, and suggests a cocktail. The terrace looks out across jungle and mangroves all the way down to the beach and ocean. "That's about one mile", Gerardo say, pointing to a roof in the distance close to where our beachfront villa is located.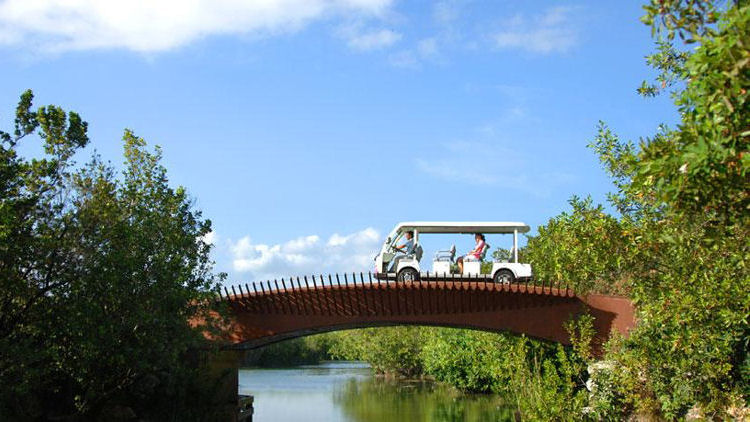 A few minutes of golf cart journey later and we're at the villas, which are lined up along quiet pathways, surrounded by greenery. Inside, the style is modern luxury, with a classy Mexican feel. There's creamy marble flooring, from the lounge and bedroom through to two separate bathrooms. In each room, there's plenty of space to stretch out and relax. The lounge has Mexican colors, with orange walls on two sides and a little more orange in the comfy armchairs, a plush chocolate-brown rug and a comfy blue sofa, as well as a coffee table and a writing desk. On one side of the room, there's a dark wooden cabinet with a large TV placed on it, while there's a fridge tucked away in the corner, by the door.
The first bathroom leads off from the lounge, with plenty of wardrobe space, a sink area and a rainshower that looks out onto the open outdoors, though it's fenced off for privacy. The second bathroom, connected to the bedroom, is even larger, with a twin sink area, another rainshower and a bathtub (we come back one evening to find the bath prepared, covered in rose petals, along with the bed, a thoughtful romantic touch for couples.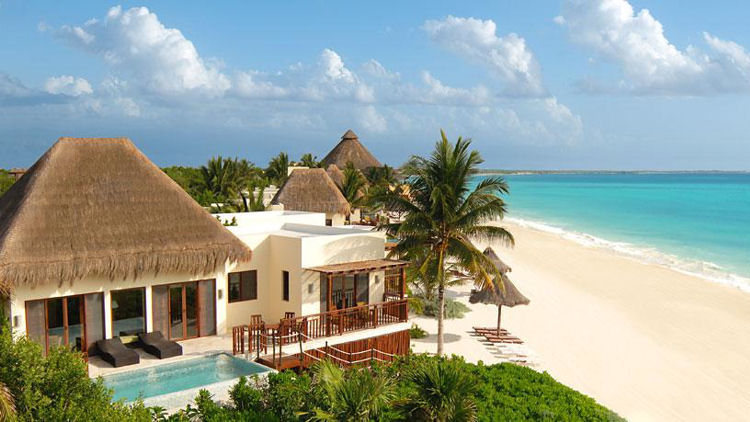 The bedroom itself is large, with a comfy white bed and another TV on the wall. There's a green wall and a comfy orange reclining chair, the colors vibrant but tastefully done. Several times per day, while we're out, staff come in to tidy up, replace any used items, and put the room in immaculate order.
The bedroom and lounge both have glass doors leading out onto a wooden deck with chairs and tables positioned to look out over the lagoon, as well as a lounger with a funky sun design. The water is often glassy and still, especially in the mornings.
That's not all. Head along the balcony area to the edge of the house and a set of steps leads up to a rooftop, where there's more space to relax in, a few chairs positioned on the roof and a warmed hot tub, from which you can look back across the thick jungle and lagoon or forward to the beach and ocean. This is a great place to unwind at the end of the day and watch the sunset over the lagoon.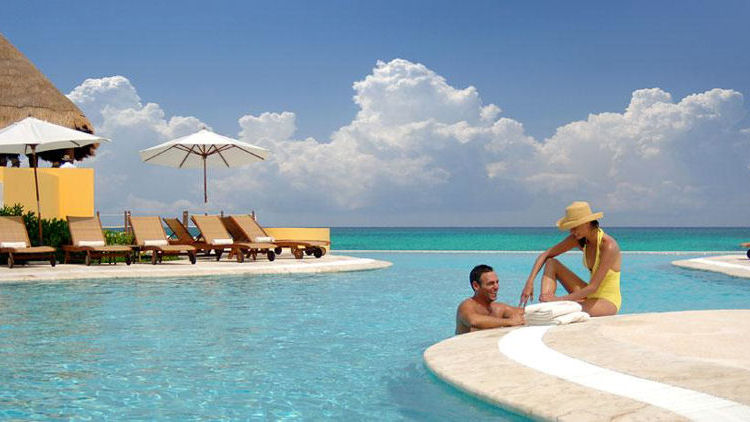 Fairmont Mayakoba is an easy place to relax. If you wanted, you could spend days happily eating and drinking, swimming and lazing on the beach. But there's also plenty to do. We spend our first morning on a small catamaran, captained by one of the team of instructors on the beach, gliding along the shoreline and the other Mayakoba hotels. Afterwards, we take out a pair of paddleboards and work our way in the other direction, hugging the coast, enjoying a morning workout. There's also a more sedate eco-boat tour that travels through the lagoons and canals, the driver and knowledgeable guide pointing out birds and beast along the way, from white and blue herons, eagles, orioles, Yucatan Jays and woodpeckers through to sunbathing iguanas, turtles and small crocodiles (larger ones are relocated, for safety).
There's plenty to do in the Mayakoba area, too, beyond the hotel, including a golf course, more restaurants and boutique shops, many of them set around a mock-up of a Mexican village, complete with a chapel and colorful flags. Here on the plaza, there's a cooking school, El Pueblito Cooking School that we attend one morning for a short Mexican cooking class with chef Karla Enciso. The equipment is top quality, shining and looking largely new, with plenty of space for a class of seven people to move around, chop veggies and cook on hobs simultaneously. It's fun, social and hands-on, helped along with assistants who pour strong margaritas with passion fruit, tamarind and chili. We prepare a good guacamole, and cook a cactus salad, tacos el pastor (marinated pork), chili peppers stuffed with cheese, beans, chaya and veggies, before sitting down to enjoy what we, with expert guidance, have created.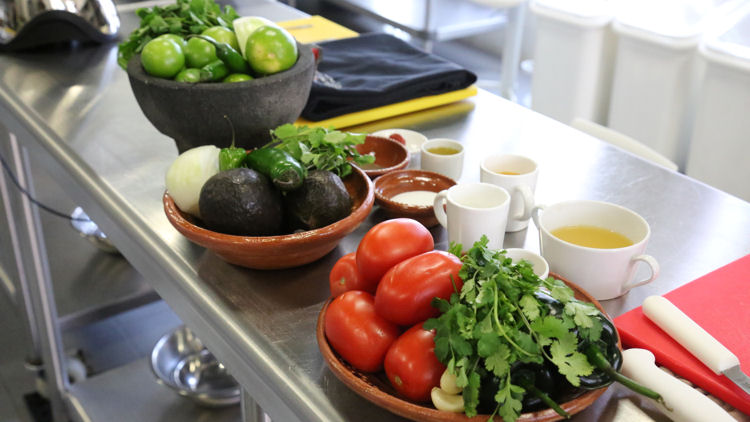 Our best efforts are trumped by the food on offer back at the Fairmont, though. For breakfast each morning, guests can choose between the large, lagoon-side La Laguna or beachfront Brisas, the latter less busy and more relaxed, with an oceanview. The buffets at both restaurants are extensive enough to be able to choose something different each day, from selections of fruit and meats and cheeses to freshly prepared omelettes and Mexican dishes, such as chilaquiles. Brisas is also great for an easy-going lunch of satisfying seafood, including ceviche, calamari and Chicharron de Pescado (battered fish fillet with cauliflower puree).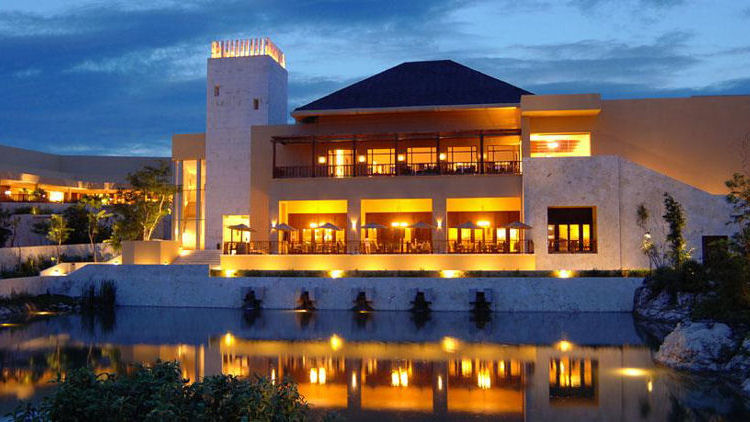 The hotel's signature restaurant is El Puerto, popular and busy enough that you need to make a reservation to eat here. The food's an intriguing combination of Asian cuisine, with Latin touches and ingredients. Sushi and sashimi are both tasty. There are also dishes like chipotle miso black cod, Peruvian-style tuna tiradito (raw tuna with avocado, radish and Serrano chilli), and arepas with Oaxaca cheese. The restaurant is up in the main building, on a high terrace with views out over Mayakoba.
My favorite of the restaurants though is La Laguna for their Mexican dinner menu. We eat there on our final night at the hotel, the quiet lagoon-side setting romantically lit, and work our way through top quality guacamole and ceviche. For mains, I go for crab and shrimp enchiladas, while my girlfriend enjoys a sizzling plate of rib eye fajitas. A white owl glides across the still water of the lagoon as we end a memorable evening.
It's hard not to relax here at the Fairmont. Although this is a very family friendly resort, there are plenty of romantic ways for couples to enjoy a bit of romance and relax together. The grounds contain several swimming pools, with places for families with children to hang out, including pools with slides, as well as more peaceful, adult-only pools.
After a lazy last morning, we catch a golf cart up to Willow Stream, the hotel's spa. The men's changing rooms have a lounge area, with chess sets, magazines, muffins, tea and plenty of comfy chairs. At one end, there's a sauna and steam room, with a hot tub large enough to swim in. As well as separate male and female areas, there's also a mixed upstairs area with a mineral pool and outdoor swimming pool with shower jets. A child-free area, it's very relaxing.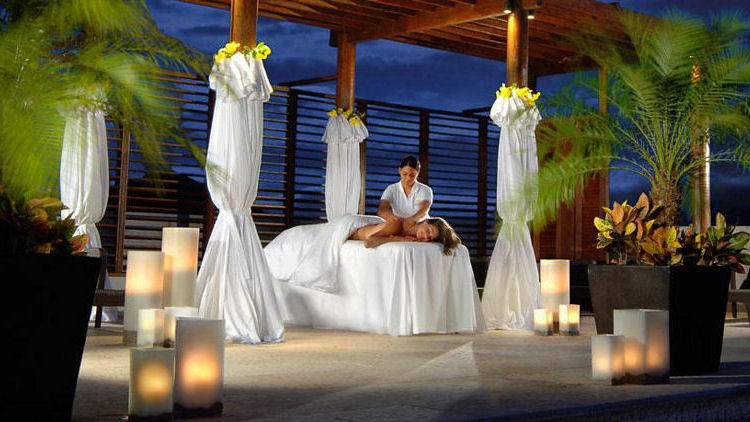 The treatment my girlfriend and I go for is a Tropical Euphoria massage in a couples' treatment room, which has gentle pressure, using a relaxing oil containing lavender and almond. The massage is thorough and relaxing enough that I nearly drift off once or twice, while a steady jam of acoustic guitar and flutes plays in the background. There's one more species commonly found in Mayakoba: the relaxed, well-rested traveler.
Standard double rooms, the Fairmont Room Double Queen, cost from 355.81 USD to $605.71, depending on low or high season. Beachfront Casitas cost from $1,783.81 USD low season and from $1,974.21 USD in high season. The Appetite For Luxury all-inclusive package costs 175 USD, covering all meals and drinks, with some Premium exemptions on items. Fairmont Mayakoba, Carretera Federal Cancún-Playa del Carmen Km. 298, 77710 Playa del Carmen, Quintana Roo (01 984 206 3000, http://www.fairmont.com/mayakoba-riviera-maya/).