Wizened old men in straw hats wend their way down the ochre-red hillsides, balanced on the backs of their frail-looking donkeys. Children play hide-and-go-seek in the groves of walnut trees at the river's edge, their feet chasing through lush beds of wild garlic and mint. And raven-black goats nimbly scale the boughs of the argan trees in search of their precious nuts. Above it all, like a great Hollywood backdrop, is the unending African sky, pierced by the late September sun.
Morocco is a kingdom abounding in enchanted corners, a realm laid out over a canvas of deserts and ancient cities, mountains and hills, oceans and seas. Spend time there, and you begin to think there can't be anything new to surprise. But that's the real magic of Morocco – the fact that there's always another jaw-dropping secret awaiting you just around the next bend.
Over the last seven years I have explored Morocco by twists and turns, and have found myself welcomed into a world straight out of A Thousand and One Nights. I am a frequent visitor to Marrakech, the red desert city famed for its snake charmers, its labyrinthine old city, and its vibrant blend of cultural color. Over the years it's attracted me time and again, bewitching me by its magnetic spell. Yet, so enchanted have I been by Marrakech that I'd forgotten what marvels there were left undiscovered close by.
Last week, I found myself sharing a pot of sweet mint tea with an old American friend in Jma al Fna, the magical square poised at the heart of medieval Marrakech. Spread out before us, in a great and ancient panoply of life, there was the usual lineup of fortune-tellers, soothsayers, and healers in blue Saharan robes. There was a huddle of snake-charmers, too, lost in the shadeless expanse of the square, their spitting cobras licking the baked fall air listlessly. And, near them, were a row of blind musicians, the ear-splitting strains of their reed flutes tempered by the dull methodic thumping of their drums.
My friend pointed a finger to the southern corner of the square.
'To appreciate this, you have to go over there,' he said.
'Where?'
'To the Ourika Valley.'
A great believer in making the most of tip-offs, I left the next day, heading south from Marrakech. Soon I swerved to the right off the paved road, and found myself bumping along down rutted dirt tracks. After little more than an hour, with scant dry fields on either side of my Jeep, I came to the glorious valley of Ourika.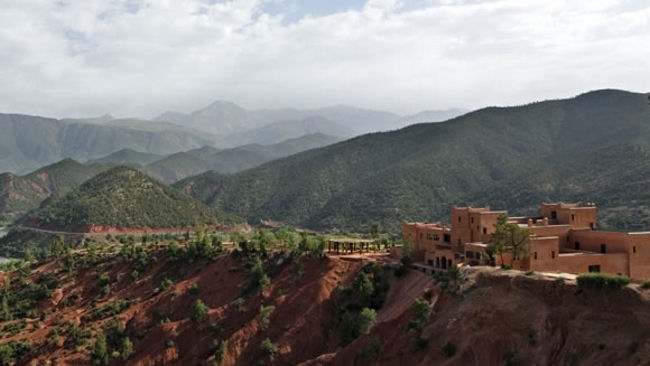 As if by magic the parched fields were gone, replaced by lush emerald green, the scent of wild lavender, and the gentle sound waterfalls tumbling over rocks. It was as if I had slipped through a keyhole into a forbidden kingdom, a land that's off all the maps.
A fragment of the ancient Berber heartland, the Ourika Valley has been farmed and fought over for over centuries, since the time of the Romans and before. Ringed by the towering ridges of the Atlas Mountains, it's a sacred bastion of serenity, a complete contrast to the searing hubbub of Marrakech – yet one that's surprisingly easy to reach.
I'd heard of
Kasbah Bab Ourika
, a small exclusive fortress hideaway, nestled above the valley, with sweeping 360 degree views. After stopping to ask directions from a slew of shepherd boys, I was directed on and on again, through wonderful mud villages unchanged in centuries. At last, I reached a perilously steep track. Standing at the bottom, an old man was whittling a whistle from a sliver of ebony. When I asked him the way, he cocked his head to the top of the hill.
Ten minutes later, I was sipping a glass of iced lemonade in Paradise.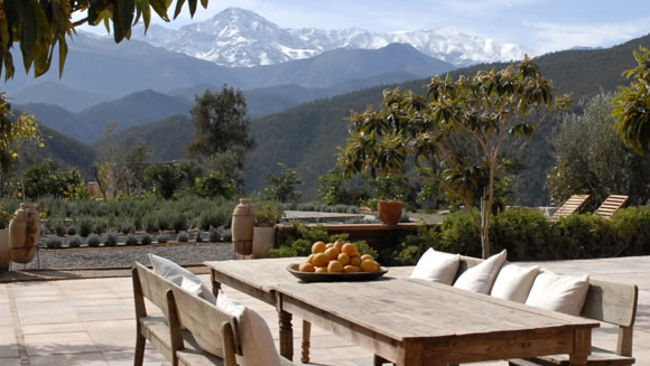 Kasbah Bab Ourika is a new kind of luxury Moroccan retreat. Most visitors to the kingdom find themselves lured to the small palatial 'riad' hotels in the medinas of Marrakech and Fez. Sumptuously decorated in traditional textiles and mosaics, they are quite magical in their own way. Yet, whereas Moroccan's old cities are introverted, the homes tucked away behind high walls, the life of a kasbah is quite the opposite. It's all about breathing in the grandeur of the surrounding mountains.
The perfect complement to a few days of being lost in the Marrakech medina, Kasbah Bab Ourika woos the visitor with a different kind of opulence. The courtyards are filled with orange trees and blinding pink bougainvillea, the terracotta floors overlaid in thick wool rugs. There are ancient Berber chests, great brass candelabras, open fireplaces for long winter evenings, and a resounding sense that you have been welcomed into a tribal chieftain's home.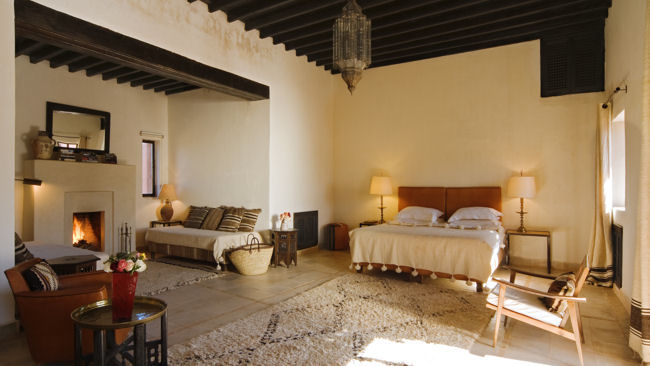 The creation of Stephen Skinner, an Englishman who fell in love with Morocco years ago, the kasbah is one of the most eco-friendly buildings in the country. Constructed from 'pise', traditional rammed earth, used for centuries in Berber villages, it blends effortlessly into the mountainside. The thick adobe walls ensure the temperature inside is cool during the summer months, yet snug and warm in winter. The electricity comes from solar panels and from an ingenious bio-digester that turns compost into power. As for the water, it comes from the local wells and, best of all, it's recycled, used to irrigate the gardens.
The kasbah has just fifteen rooms and suites, each one completely individual, with views all around over the surrounding valley. What's so wonderful about the place is that you don't get the feeling someone's trying to impress you. Rather, the sheer decadence is achieved from the inside out. The effect is one of gentle and meticulous perfection. Rose petals are sprinkled over your bed at dusk, beeswax candles are lit beside your bath, and orange blossom water laid out on the basin. If you were a Berber chieftain it's how you'd want to live.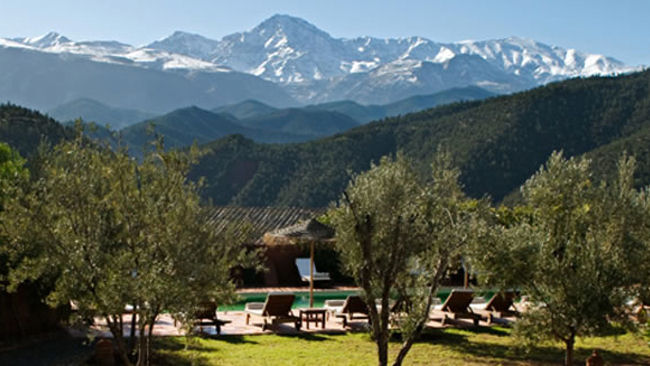 After sleeping more soundly than on any other night I can remember, I woke find myself in a crucible of nature. A breakfast fit for a tribal chieftain had been laid out on a terrace, the crisp morning light shaded by vines. In the distance I spied snow-covered peaks and, nearer by, the glinting waters of the Ourika River meandering a zigzag path through the valley. The morning air was warm on my cheeks, hinting at a day abounding in possibility.
Kasbah Bab Ourika is a hymn to the natural surroundings in which it's nestled. And, as such, every detail is directly linked to the scenery and the environment. All the fruit and vegetables are grown in the gardens, free from pesticides, and tended over by a flock of loving gardeners. The dark ochre soil is naturally salty, so much so that the chefs don't need to season their creations.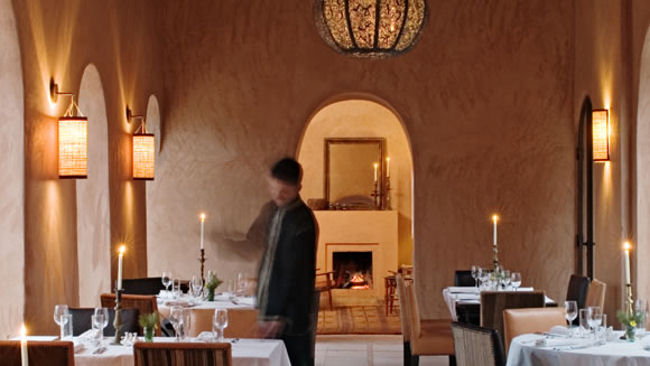 A blend of Moroccan and international, the cuisine is perhaps the most memorable thing of all. As with the décor, the culinary preparations are crafted without the bling-bling that tends to mask less than perfect dishes elsewhere. During my stay, I tasted a mouth-watering array of cuisine, including wild herb couscous and olive tajine, Mediterranean fish soup served with stone-ground Berber bread, quince tart, homemade peach sorbet, all of it washed down by delicious Moroccan wines.
With such an awe-inspiring backdrop, and such indulgent gastronomy, the only danger was slothfulness. So, with my expanding waistline in mind, I put on my hiking boots and was soon racing down the hillside. Irrigated by a network of intertwining streams, the ground was hidden in a tapestry of marigolds and daisies, in wild mint, lavender, and hibiscus.
At one village of rambling adobe homes, I came upon three boys. They asked if I knew President Obama. When I replied that I didn't, they seemed a little sad.
'We have a message for him,' said one, the eldest.
'What is it?' I asked.
'That he should come here to our valley. We'll take him fishing.'
All afternoon I walked through meadows, following the riverbank, breathing in the scent of wild garlic. There was clover and lush grass, cows chewing their cud, and women staggering home with bundles of firewood on their backs. As the hours slipped by, the shadows lengthening, I found myself overcome with the harmony of it all – wondering whether I'd ever be able to return to real world again.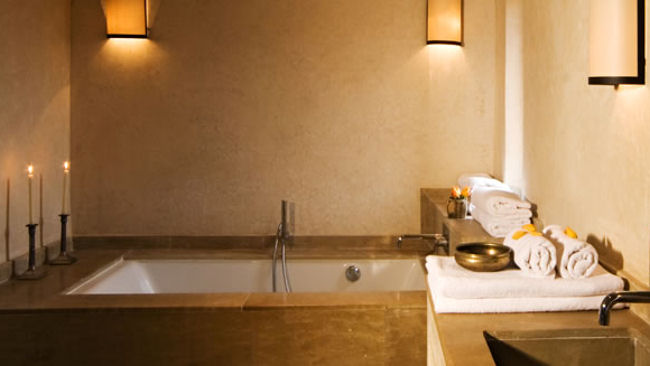 That evening, as I soaked in a bath perfumed with eucalyptus oil, I thanked providence for bringing me to the Ourika Valley. Part of me wanted to keep such a treasure secret. But then, as I pondered it, real treasure belongs to no one man alone – it belongs to us all.