The pleasure of a stay at Summer Lodge Country House Hotel starts several hours before you arrive. The drive from London to the south-west England coutry of Dorset goes past Stonehenge and, in early summer, takes in rolling hills and colorful countryside, with thick forests and fields of bright yellow oil seed rape. It's a very English drive with a very English destination at the end. Evershot, where the Summer Lodge is located, is a small village with pretty houses and not much more than a pub, a church, a bakery and a village shop. It feels like England of days gone by.
Summer Lodge Country House Hotel itself is a Georgian Grade II-listed property, built in 1798 by the Earl of Ilchester. Dorset author Thomas Hardy, who trained originally as an architect, had a hand in later designing extensions and additions for the house in the 1800s. Now, it's a Relais & Châteaux property, which has had some famous previous guests. The cast of Sense & Sensibility, including Hugh Laurie, Emma Thompson and Alan Rickman, stayed here while filming at nearby Montacute House, while Gwyneth Paltrow and Toni Collette also visited while shooting scenes for Emma in the village of Evershot (a photo of them both, in costume, sitting in the drawing room, is now hung on the wall inside the main house).
The hotel is about as English as it gets. You turn from the road through a brick archway, down a driveway, the large white country house appearing in front, with vines growing up the outer walls. The surrounding gardens have neatly mowed lawns and trimmed shrubs, trees with white blossom, rows of bright flowers, a fish pond and a fountain. Inside, after a fast check-in, we walk down corridors filled with paintings of classic English subjects, from games of cricket to red jacket-wearing fox-hunters on horseback (one of the more shameful parts of England's countryside history).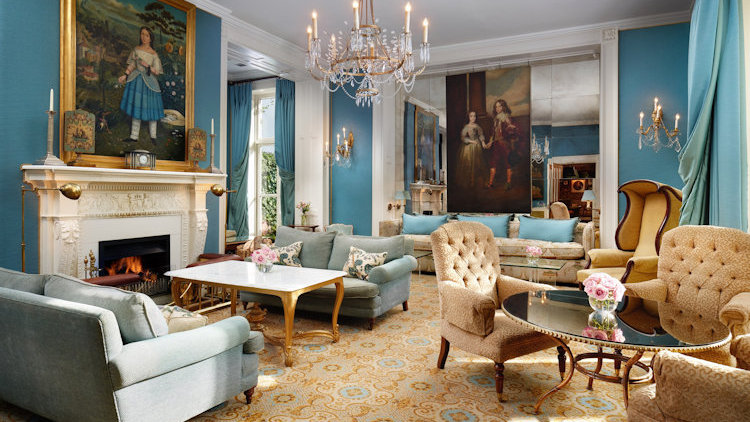 There's a drawing room/lounge area, with paintings of wealthy aristocrats on the walls, the windows looking out onto the gardens. In the other direction, there's a small whisky room, surrounded by bottles not just from Scotland, but also the Czech Republic, Japan and elsewhere.
We're shown upstairs to our room, to the sizeable No 2 room. The walls are decorated with a striped white and brown soft material, which gives the cozy feeling of being surrounded by a giant mattress or duvet. On the walls, there are sketched drawings. The bed itself is huge, a Super King Size, with plenty of space for two people to really stretch out. There are comfy chairs and a chaise longue next to a glass coffee table, two spacious wardrobes with mirrors on the front, and muted colors across the room, including a plush carpet with an autumnal leaves design. A TV screen is hung above a traditional, large fireplace, and there are tea and coffee facilities in the corner. Out of the windows, you can look out onto the neat gardens and hear nothing more than soft gentle birdsong. The bathroom is cream-colored, with a sink set in marble and a big white bathtub. Ren products are used throughout.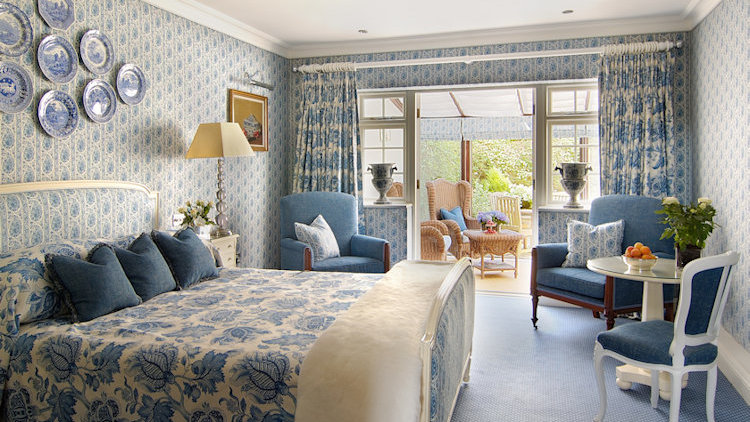 In the evening, we have Gin and Tonics in the drawing room, before going into the restaurant, which has botanical illustrations on the walls, horse sculptures and a bird theme going on, with a heavy metal bird on the table, more on surrounding shelves, and birds painted on the plates. A special occasions kind of place, the service is friendly, yet quite formal, the waiter happy to talk through dishes and ingredients, the sommelier happy to recommend wines. The south-west of England being famously foodie, the menu has meat, fish and veg all sourced locally, including seafood from Lyme Bay. I go for cured and torched Lyme Bay mackerel, with heritage beetroot textures and horseradish, while my girlfriend goes for a Summer Lodge Greek Salad, with feta, tomatoes and olives. Despite the presence of an intriguing 'ogle shield' (a type of cheese) as a main, I go for sautéed fillets of gurnard, with a King Prawn and Jersey Royal potatoes in a lobster and saffron broth, while my girlfriend picks a loin of pork, with black pudding croutons and pear and brown butter puree. It's all very tasty, but the highlight is the cheese board at the end, when a trolley of 27 artisanal cheeses are wheeled over to our table, all of them, except one, from Dorset. Here, there are runny creamy Bries, pungent Camemberts, hard, strong English cheddars, as well as grapes, nuts, chutneys and biscuits.
Next morning, we're back in the now sunlit restaurant for breakfast, with honey served in little pots, like mini beehives, and silverware, including teapots with traditional tea, made with tea leaves. It's all served on a table with a criss-cross of red ribbons, forming the George Cross, the English flag. I go for kippers with poached eggs, a warming start to the day, while my girlfriend goes for Eggs Benedict.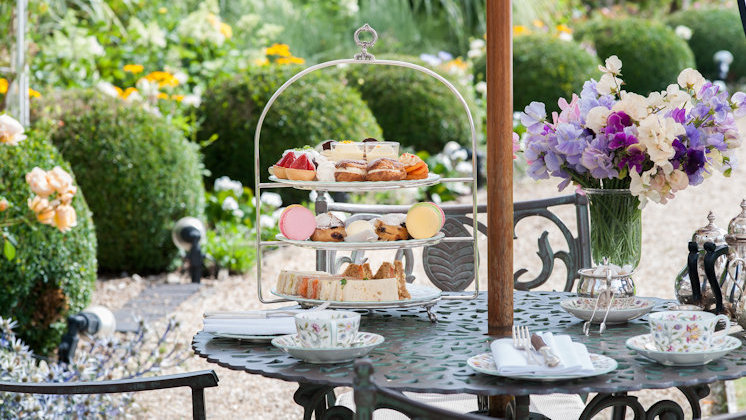 In the morning, we walk out of the village and into the local 9000-acre deer park, walking through the forest to see red deer. They're a little nervous, watching us cautiously from a distance. Later, we make our way to the village pub, The Acorn, which was, under a different name, the pub that Thomas Hardy described in his classic Tess Of The d'Urbervilles, now a sister property of the Summer Lodge. One part bright dining area, one part cozy pub with old-style English illustrations on the wall, the food is also very English and very good. I have a fresh light salad of thinly cut trout cured with a local conker gin, with slices of cucumber and little cubes of 'tonic' jelly. For mains, my girlfriend chooses chicken with honey and ginger on a wild mushroom risotto, while I have delicious fillets of bream served with potatoes, mini carrots and mushrooms in a red wine jus, both of us enjoying a few pints of local ale Dorset Knob. For pudding, there's cheesecake with apricots, a dome of chocolate mousse and more. It's easy to see why this village is a haven for foodies.
The Summer House, The Acorn, the village and the surrounding Dorset countryside make for a relaxing, please stay. In fact, the only unpleasant part is leaving.
Summer Lodge Country House Hotel & Spa
Telephone: +44 (0) 1935 48 2000
Email: summer@relais.com
Address: 9 Fore Street, Evershot, Dorset, DT2 0JR
Website: www.summerlodgehotel.co.uk
Prices start from £215 per night for a double occupancy in a Classic Room, including VAT, breakfast and use of the spa facilities.