The island is casual and easy, a blend of high style, low-key elegance - and perhaps one of its very best features - the people themselves. Anguillans are genial and friendly; they take pride in their rich culture, their home and the pleasure of sharing it with visitors from around the world.
Aunt Bea, Uncle Ernie..Just One Big Happy Family Here
Throughout my visit, it was not unusual to hear Anguillans greet me with a friendly "hello" and not long after that, we often got to know each other by name. Aunt Bea is a name I won't soon forget - a well-known presence on Shoal Bay, this adorable lady is often found under the shade of the sea grapes across from Uncle Ernie's where she sits and sews the colorful handmade dolls that she sells on the beach. I bought a pretty doll attired in yellow, green and pink, my favorite memento of both the place and the lady. And where and what is Uncle Ernie's? It's a well-known Shoal Bay beach bar, one of the most famous eateries in Anguilla. The bar dates back to 1984, opened by the late Ernest Benjamin (Uncle Ernie) and today it remains a family affair now operated by his daughters and a nephew. I had the BBQ Chicken and their world-famous Rum Punch. Yes!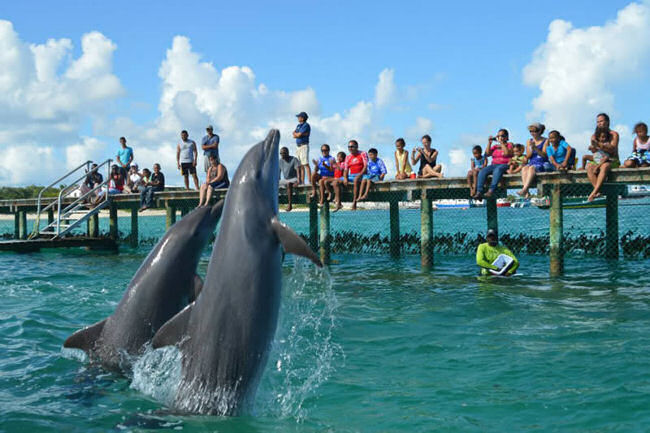 Anguilla is a mere 30 minutes away by ferry from bustling St. Maarten and a few minutes by plane from high and mighty St. Barths. Comparisons are futile because Anguilla is, well,
different –
in a good way. Just three miles wide and 27 miles long, the country is flat and dotted with scrub and small salt ponds; wild donkeys and goats wander freely, adding their particular earthy charm. The island traces its ancestry back to the time of the Arawak Indians and their spirit continues to offer a haven of laid-backness that is hard to come by on most other Caribbean islands. It still enjoys the reputation of being somewhat under the radar, serene among its touristy, trinket-hawking neighbors - and this despite the fact that there have been some changes made – actually plenty of them within the last decade.
A Gentle Island
This serenity has not come about haphazardly, thanks to a forward-planning government intent upon protecting its culture and beaches. Anguilla banned large cruise ships and towering hotels and, although it's a haunt for bold-faced names like DeNiro, Gere, Malkovich and Sarandon, you wouldn't know it. Locals are remarkably unfazed and treat glitterati like everyone else. The original, small airport's runway has been lengthened to handle private jets and a large port has been built to accommodate yachts like the SeaDream and Seabourn.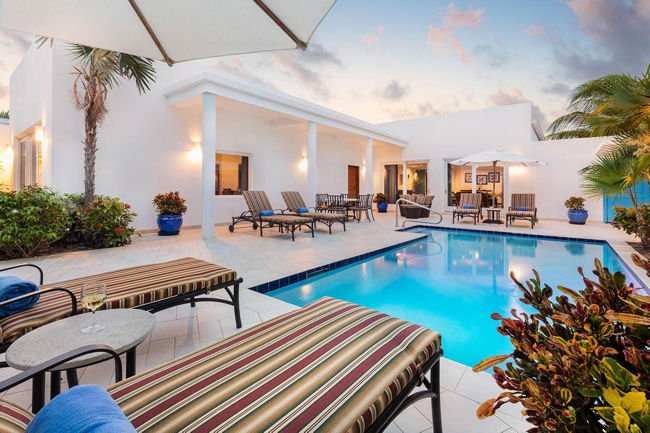 Your Invitation to Exhale
I stayed for a few days on Rendezvous Beach at the spectacular CuisinArt Golf Resort & Spa. On first hearing the name CuisinArt
,
I was a bit confused.
Cuisinart
? Like the food processor? Turns out the resort was founded by the inventor of ...you guessed it…the very same. It makes sense as this name is synonymous with a gourmet lifestyle. Quality, style…it's all here in abundance.
As I approached the property, I thought for a moment I was in Mykonos. There before me, a white-sugar beach surrounded by cubic-shaped, Mediterranean style villas blazing brilliant white in the sun. My room was done in gay Caribbean colors and a spectacular view from my windows gave onto pristine grounds and the bright blue sea beyond. My balcony was the ideal place for morning coffee or a pre-dinner cocktail; I put it to good use. I dined at Santorini, the crown jewel of CuisinArt's culinary offerings, both Mediterranean and Caribbean. And, although there were many activities to check out, I was most content lazing pool-side. Whenever I thought I should rouse myself for a little tennis or snorkeling, I quickly thought better of it. I was perfect just where I was, thank you. After this CuisinArt experience, my mood was such that I was thankful for just about everything!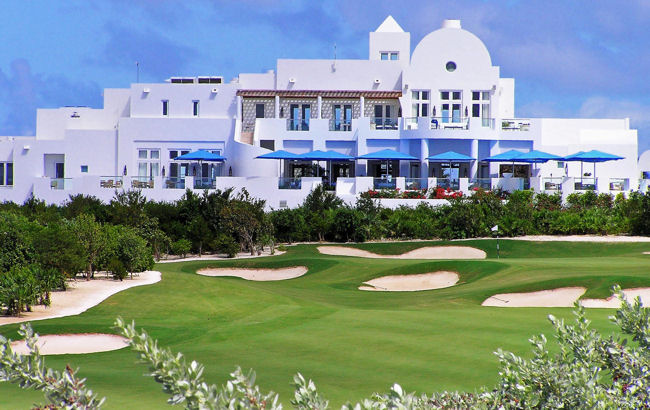 Feeling is Believing
As the island continues to develop, it is not on its way to becoming the Caribbean Southampton anytime soon. We can take comfort in the fact that
some things never change
! Its water is still azure and crystal-clear, its sands white and powder-soft, the sky remains an impossible, robin's-egg blue, and the Anguillan people - still kind, gracious and eager to welcome you to their special island paradise. In fact, they have a saying here:
Feeling is Believing.
I've felt Anguilla's soothing sun as I lazed in a hammock, I've felt its sparkling ocean breeze as I walked the beach, and I've definitely felt the good vibes of its people. I'm a
believer.
WHEN YOU GO:
Anguilla Tourist Board
www.ivisitanguilla.com
CuisinArt Resort
www.cuisinartresort.com
Calypso Charters (ferry from St. Maarten to Anguilla)
www.calypsochartersanguilla.com