And there is the decidedly more pleasurable road that mixes wellness pursuits (spa treatments, exercise classes, healthy cuisine) with all the attractions of a luxury Caribbean vacation. To make the choice even easier, Curtain Bluff in Antigua has just introduced a "Wellness Concierge Team" and a range of wellness retreats.
"At Curtain Bluff, getting fit and restoring healthy habits isn't something you have to endure," says Rob Sherman, Managing Director of this luxury, fully-inclusive resort. "Wellness is a personal standard we believe everyone should pursue in their own way. We provide the setting and the opportunities, and our new Wellness Team is standing by ready to customize your program and make it happen."
WELLNESS TEAM
Prior to arrival, guests submit a form outlining their wellness objectives and preferences. After breakfast on his/her first day at the resort, the guest meets with the concierge to map out a customized wellness program based around Curtain Bluff's excellent spa and considerable activity options. The program is distributed to the team members including the Watersport guides, Spa Coordinator, Tennis Instructors and Strength Training Specialists. Guests pursue the program at their own pace – and there is no extra charge for working with the wellness team.
Activity options* include power walks, tennis games and/or instruction, personal training, Pilates, yoga, aqua aerobics, lap swimming/snorkeling, kayaking, basketball, squash, SUP, Zumba / dance classes and a full range of spa treatments. (*all included in the price except personal training and spa treatments) Healthy menus are available at all meals.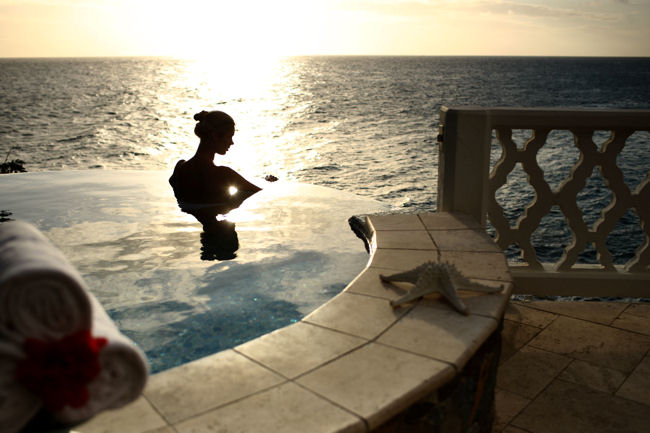 WELLNESS RETREAT – Girls Just Wanna Have Spa
What better way is there for girlfriends to get fit and have fun than with Curtain Bluff's "Girls Just Wanna Have Spa." This 4-day getaway is filled with the essentials: spa treatments to relieve stress, fitness classes to work off the rum punch, hammocks to cozy up in with a book, and an enormous selection of fresh and local produce served at every meal.
• Round-trip town-car airport transfers in Antigua
• Ocean view accommodations
• All meals (and bar drinks) including healthy menu options
• A "De-stressor" massage in the oceanfront spa
• A group yoga or Zumba session on the beachfront yoga deck
• Group fitness training session with Curtain Bluff fitness instructor
• Evening beach cocktails under the stars
Rates for the four-day package start at $1,650 per person, including all meals, drinks and most activities. Valid through August 16, 2016.
Curtain Bluff is located on 20 lushly landscaped acres on the south coast of Antigua and is surrounded by two beautiful sandy beaches. Notorious for value, the resort boasts a 65% repeat guest ratio and impresses visitors with its fully-inclusive rates that encompass gourmet meals, top-shelf bar drinks and activities in water sports, such as Scuba diving, water skiing and more. Under the same ownership and management since it opened its doors in 1962, Curtain Bluff offers a total of 72 beachfront accommodations, all with ocean views. For Curtain Bluff reservations and information call 1-888-289-9898 or visit Curtain Bluff online at
www.curtainbluff.com
.