Who is Archer? Though his identity remains a mystery, clues abound at his six luxury boutique hotel properties. As the elusive host at each, the notes and gifts he leaves for his guests reveal a generous and playful nature representative of the brand's trademark hospitality. An Archer stay is always filled with small surprises. Whether it's Napa, CA, Austin, TX, Florham Park, NJ, Burlington, MA, Redmond, WA, or the flagship New York location, Archer ensures that each stay is unique yet wholly exemplary of the collection's spirited graciousness.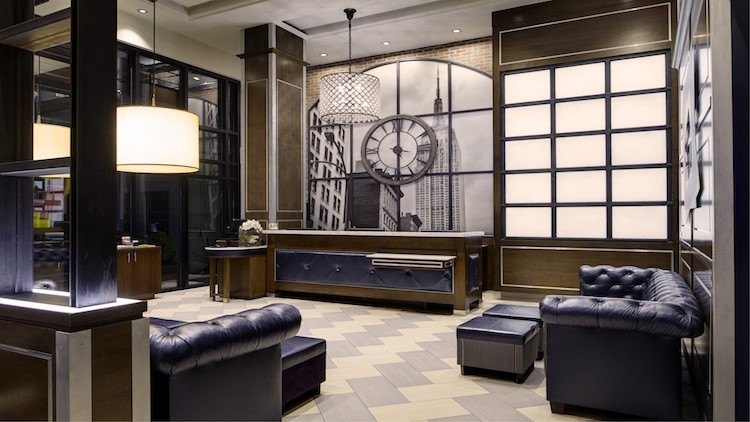 Archer embarked on his hospitality venture with the opening of his New York property in May 2014, providing Manhattan's midtown neighborhood with a swank new lodging choice. As with any real estate endeavor, it's all about location, and Archer's W. 38th St. address claims the heart of Manhattan. Steps from Bryant Park and 5th Avenue, and just a few blocks from Times Square, Archer Hotel New York is well-positioned for any NYC venture. But hospitality partner Charlie Palmer's on-site offerings may well encourage guests to stay-put. Archer and Palmer take full advantage of the hotel's Empire State Building proximity with Spyglass Rooftop Bar, a stunning 22nd floor aerie serving crafted cocktails with New York skyline views. From Spyglass' edge-of-your-seat bar, a west facing panorama unfurls, revealing the energy and verve in this city that never sleeps. Per its name, Spyglass provides looky loos with 'binocular tower viewers,' allowing for 'Rear Window-esque' peeks at the goings-on within one of the city's most iconic buildings.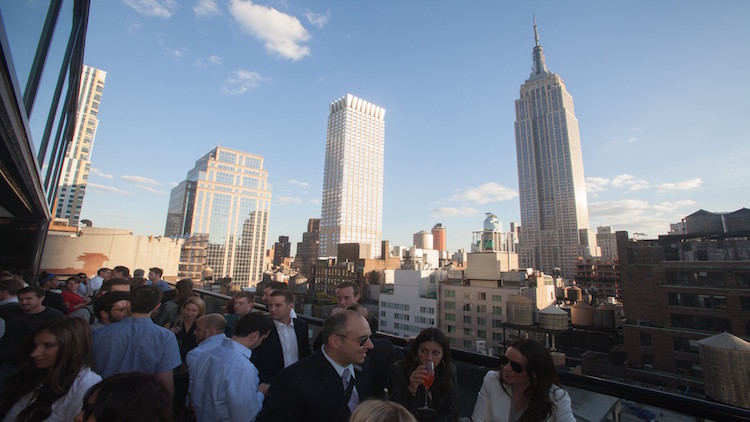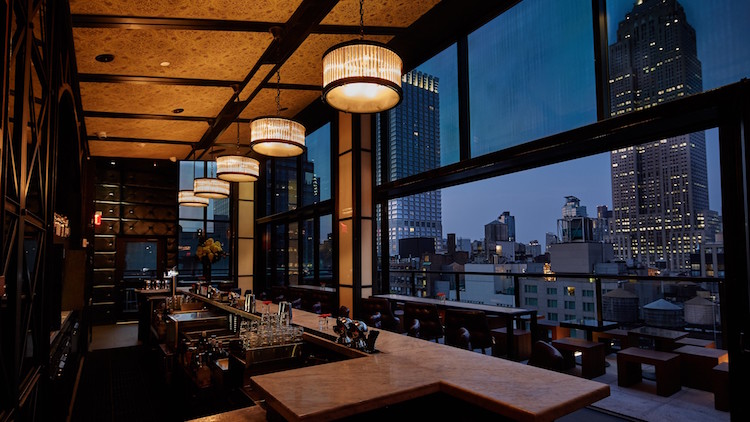 For those fearing heights, Archer provides options with ground floor Charlie Palmer Steak and the Foyer Bar - posh gathering spots just off of the hotel's main lobby that are favored by both locals and visitors. Luxuriant shades of low-lit royal blue, tan, and cream contrast with industrial-chic finishes; the atmosphere is urbane and sultry. Enjoy a martini on the al-fresco patio and witness the city's palpable energy, or retreat to an interior table to claim a romantic corner. This outpost of Charlie Palmer Steak (one of five nationwide: Washington DC, Las Vegas, Reno and Napa) taps into Midtown's vibrancy and features bold, big city flavors. Reflecting Chef Palmer's progressive American cooking style, the seasonal menus showcase the region's resources, primarily those from the surrounding Northeast and Mid-Atlantic waterways and farmlands. Splurge for the Archer Seafood Platter with chilled Maine lobster, oysters, snow crab claws, jumbo shrimp, and razor clams, cocktail sauce, and champagne mignonette. And try the Seared Octopus with hazelnut romesco, baby potatoes and sugar snap peas before deciding on wagyu or kobe. Allow the seasoned sommelier to suggest the perfect wine from his list of crowd favorites: California Cabernets, 1er Cru Burgundies, and Bordeaux, as well as Italian selections from Barbarescos to Montepulcianos. Top your meal with a mint ice cream and brownie sundae, or a delicate panna cotta over which 25-year old balsamic is artfully drizzled.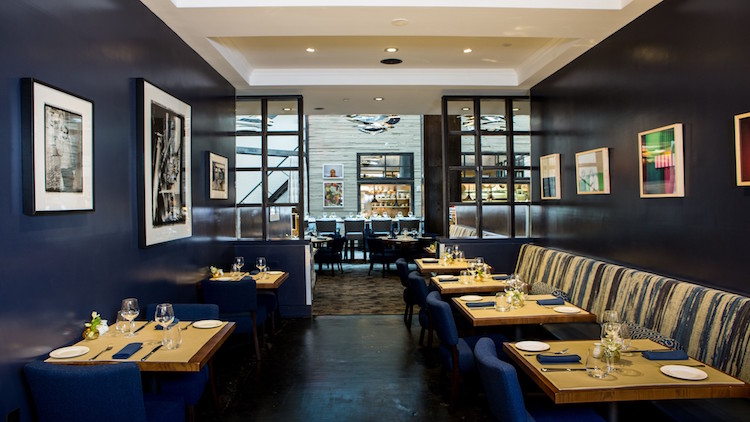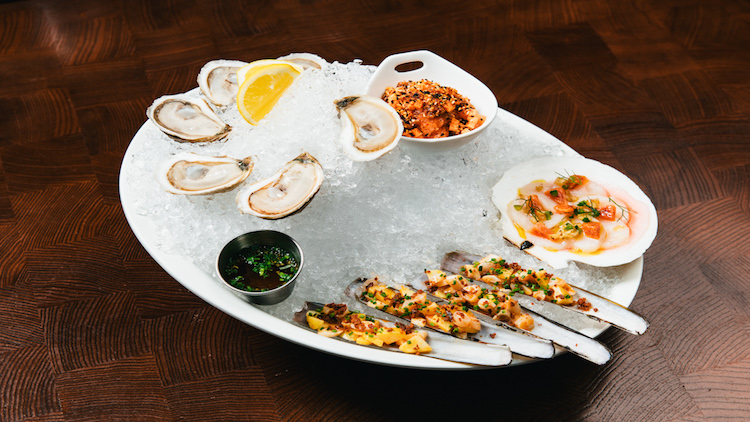 The restaurant is also the source for all in-room food orders, and with Empire State Building views in some rooms, guests might well be tempted to dine-in. The hotel features 180 guestrooms in total - in a quartet of design palettes; the headboard, ottoman, throw pillow, and blanket vary within the four designs. 'Archer' rooms, 22 in total, feature additional distinctions of wood floors exposed brick walls. The signature 'Archer's Den' features additional unique touches such as a tufted sectional sofa, a large walk-in shower and a collection of Archer's favorite books and quirky finds. All rooms include thoughtful, custom-designed furniture with dual-functionality: the platform beds offer underneath storage drawers. The wall sconces double as reading lights, and the tufted-leather ottoman serves as a table. Marble bathrooms feature Malin + Goetz bath amenities and Frette towels and robes. In-room honor bars feature a variety of beverages and yummy treats, and Nespresso machines keep the caffeine at-the-ready.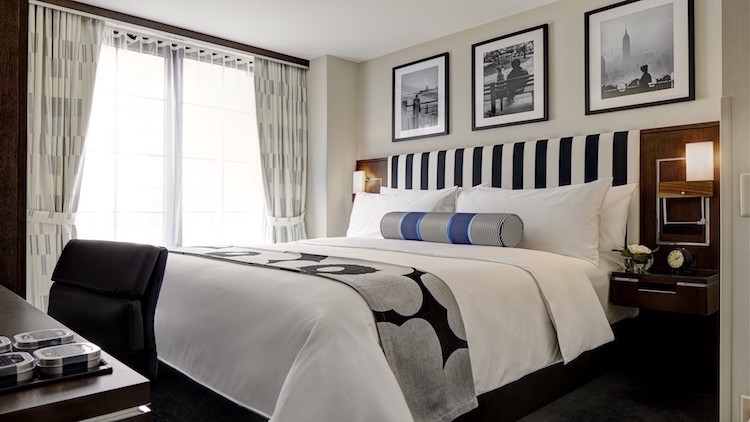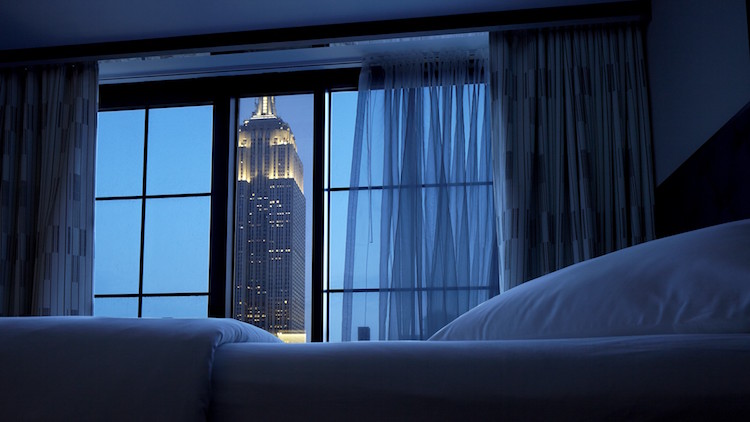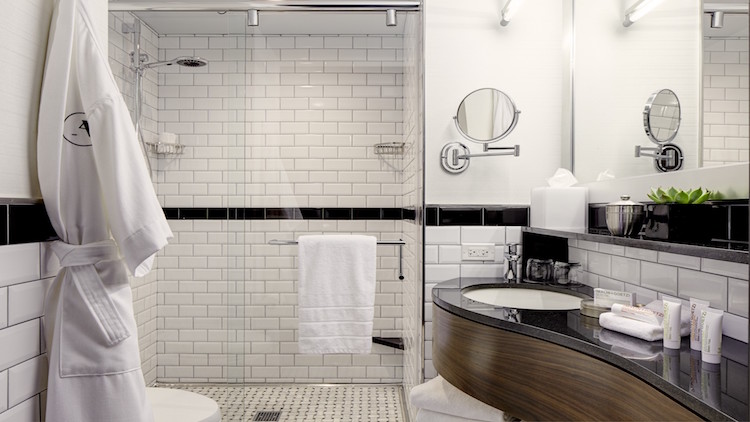 But what makes an Archer hotel stay most memorable are the whimsical only-at-Archer touches, such as 'Archer's Playing Cards,' a house deck featuring timeless courtesy tips from which hotel staff take their cues, and from which staff might also bestow recognition to guests displaying acts of courtesy and kindness. Receive a 'Class Act' card and redeem it for $10 throughout the hotel, restaurants, and bars. Book your room directly with the hotel and receive a 'Destination Joker' upon arrival, also worth $20 throughout the hotel. Collect three of these cards to make an 'Archer Flush,' good for a free night at any Archer property.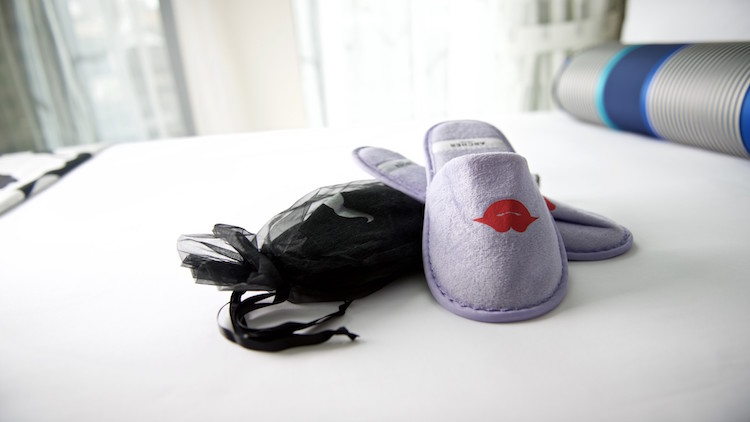 Every room in every Archer hotel nationwide features bedside reading: The Little Prince by Antoine de Saint-Exupery (Archer's favorite book) and a tome representative of the hotel's location. In New York, it's E.B. White's Here is New York. At Archer Napa, for instance, it's 24-Hour Wine Expert by Jancis Robinson. And finally, a signature element of the Archer brand is the nightly turndown ritual (complimentary of course) spanning an eight-item rotation of locally curated treats. In New York, you'll find items such as Dylan's 100 Calorie Bars, Kanpekies Shortbread Cookies, Zaro's Black and White Cookies, Chocolate Dipped Fancy Fortune Cookies with Archer messages, and a selection of Charlie Palmer goodies (Manjari cranberry chocolate bark, ginger chews, and canele). This amenity is fun, it's yummy, and it's the perfect Archer-style way to end a day of New York adventures.
Photos: Archer Hotel New York