A rave-worthy rooftop bar in the shadow of one of the city's most iconic landmarks beckons day or night. Imaginative room décor where funky touches in pink, purple or lime green never veer from luxury continues the playful tap into the musical connection. A cool-vibe indoor pool is lit by blue light and overseen by a mosaic wall of musicians in silhouette. And it's all delivered in a 49-room boutique property with marvelous attention to detail in a repurposed, historic, 19th-century building.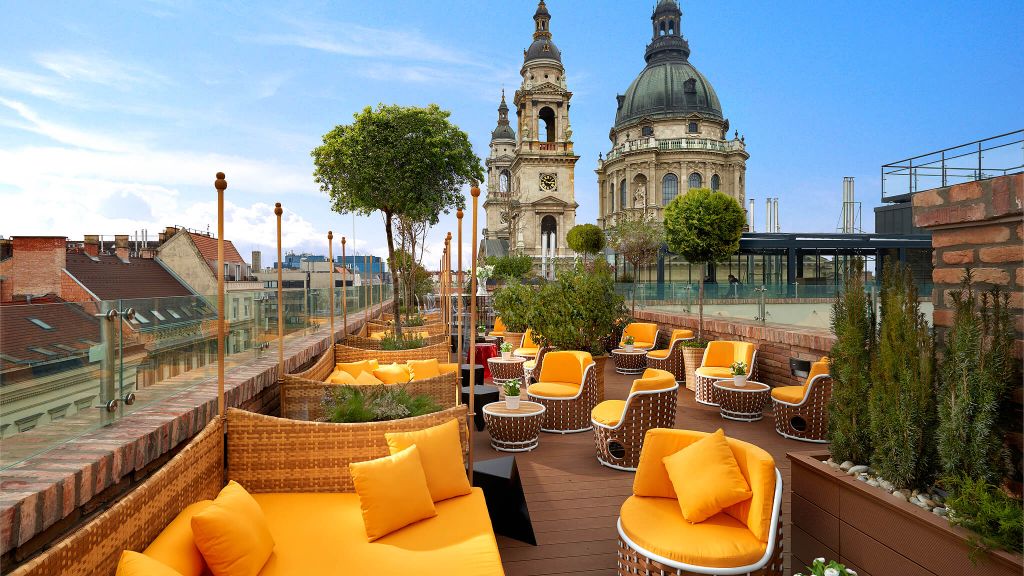 Our overnight stay is a delightful exclamation-point ending to an unforgettable, seven-night Danube River cruise aboard AmaWaterways' AmaViola, which launched in 2016 and has dedicated itself to this region. The company offers pre- and post-cruise add-ons in both Prague and Budapest (though we opt for Aria Budapest on our own). Sister property Aria Prague is on the list for next time.
This Aria's location in Budapest's city center is super convenient. Our taxi enters a charming, gated side street that elicits a sense of security and privacy. Mere steps away is that iconic landmark, St. Stephen's Basilica, the largest church in the city and overlooking a square that's a popular gathering spot.
The doorman's wide smile and friendly greeting sets the perfect tone. No stuffy uniforms here; staff attire is more casual but professional befitting the property's hip ambiance. Inside, we instantly connect the melodic name "Aria" to its décor "in the heart of a region where some of the world's most beloved classical music compositions were born," notes the property fact sheet.
Tributes to music and instruments are everywhere. Underfoot in the lobby – dubbed the Music Garden courtyard – is that eye-popping, wavy piano keyboard just beneath an actual, shiny, black piano that is both modern and high-tech, as the pianist explains to us. An artistic, stand-alone digital projection partition seems to rise from the floor. The changing LED display moves from soothing ocean waves to pink peonies. Our eyes are instantly drawn upward to the sweeping, open-air atrium rising six floors to a rooftop bar a friend has told us will impress.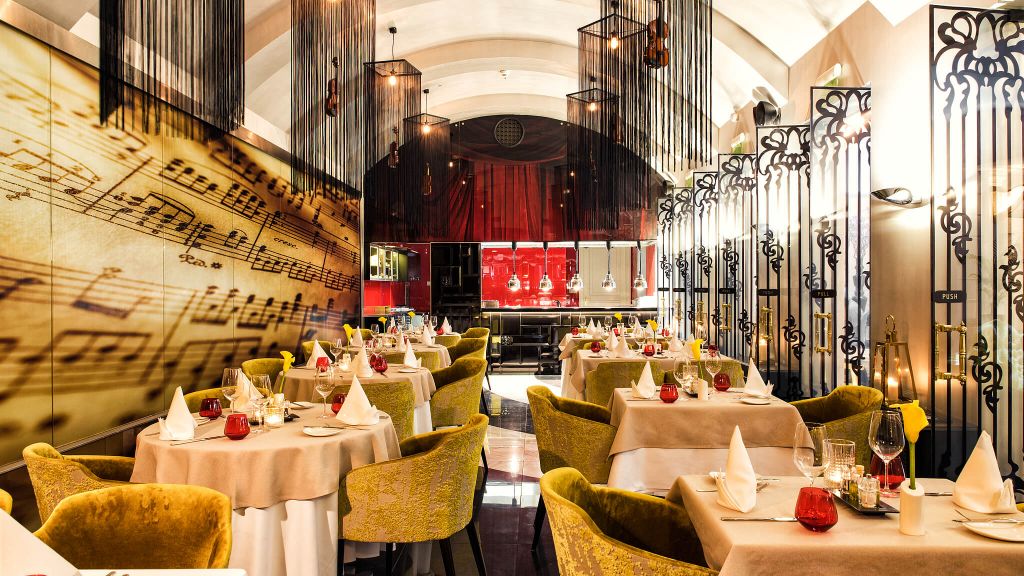 As our escort shows us to our room, he notes the hotel's four wings are dedicated to classical, operatic, contemporary and jazz music. Each room and each of the four suites is designed and decorated to commemorate a specific composer or famous artist — Irving Berlin, Count Basie, Bob Dylan and James Brown for example from the current era as well as classical composers like Igor Stravinsky and Franz Liszt from long ago and more. We're staying in the opera wing, and when the door opens to Room 601 lusciously large suite, a witty caricature of Mozart greets us.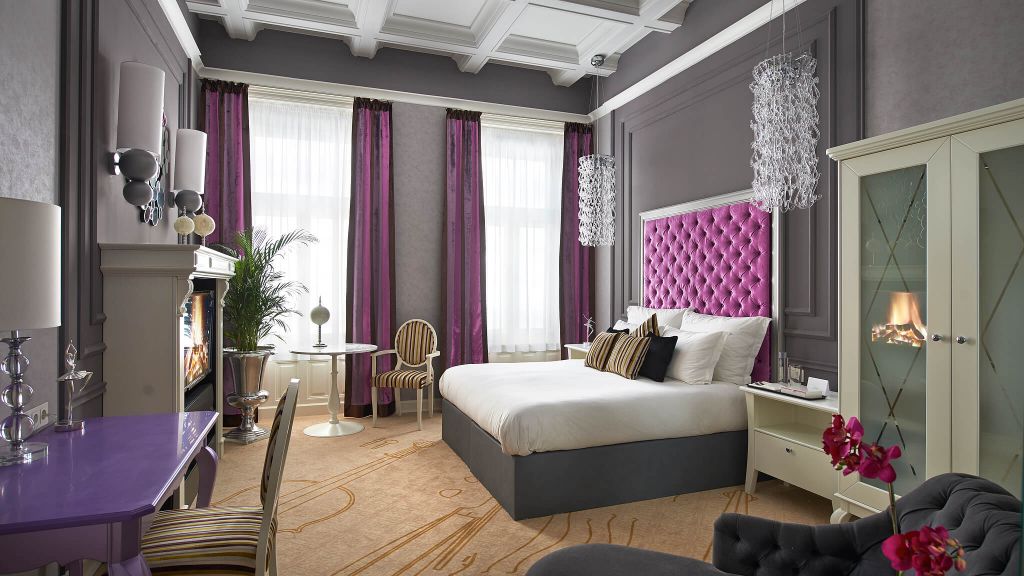 Terrace Suite
Our spacious one-bedroom terrace suite in hues of gray, orchid and lilac, features Murano glass chandeliers, a sitting parlor with small, round, marble table perfect for dinner takeout from Buso Bistro on the street below, which specializes in traditional Hungarian cuisine.
The sitting parlor or king bed with high-quality linens offers a perfect viewpoint for the 55-inch TV with options to choose music by genres, watch regular television programming or peruse city and hotel highlights. The massive bathroom has an all-glass shower, the back wall of which is the same marble as the floors. There's a separate tub, bidet toilet and heated towel rack.
The outdoor terrace includes a pair of wooden barrel chairs with bright yellow cushions that look down into the Music Garden courtyard with that piano floor below. The terrace's wrought iron railing seems to sprout from luscious ivy. We take in the afternoon sun and look over the complimentary newspaper enjoying a selection from the well-equipped, in-room coffee service.
Afterward, we employ the automatic, ceiling-to-floor shades, which, at the push of a button, deliver privacy and a darkened room conducive to sleep. But first, we head up.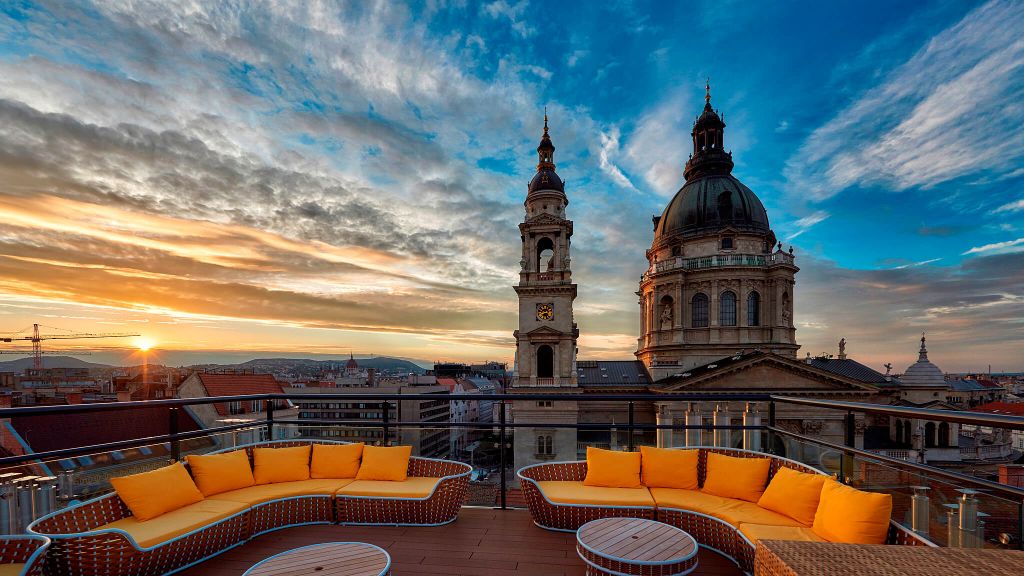 Unforgettable Rooftop
We discover the two-level, High Note SkyBar is even more impressive than seeing it from our terrace or from the courtyard far below. We take the elevator then enter through the enclosed bar area, immediately struck by the bar front's green-and-gray checkerboard motif and seating just beyond in one of two glass-enclosed pavilions. The other, exactly opposite the atrium opening, is being set up for a private function.
Outside the bar area is a much-coveted, open-air garden terrace with a mix of acrylic and casual seating. At one table, we stop to watch the next day's specialty cocktail, featuring gin, being photographed for social media. It's called "Before My Body's Dry."
This is the only bar of its kind in the city, and in all our world travels one of the most distinctive. The spaces have been carefully configured for sun or rain. Guest can take in the view over a light lunch or late-day cocktail or even, as we saw on our return after dinner, over a bottle of champagne high above the city lights. At the far end, metal stairs lead to bright yellow couches on matching upper upper-level seating platforms — one of either side, officially Panorama Terrace North and South. Most memorable is how the spire and dome of St. Stephens are so close you feel you could almost touch the basilica. Makes for amazing photos for friends back home, and it's romantically lit at night. We toast the night and the setting with a kiss.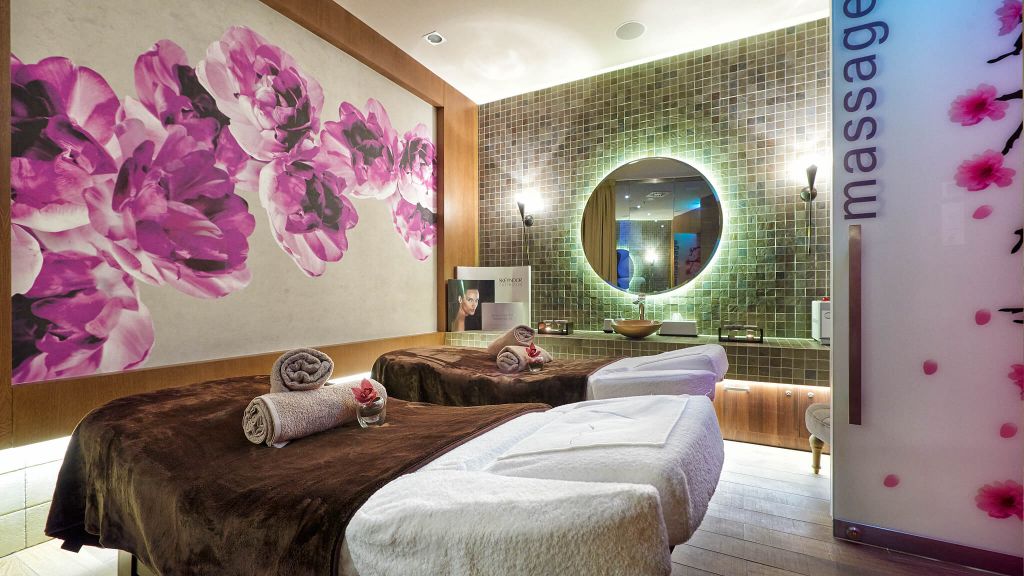 Harmony Spa
The very popular spa stays busy from opening to closing daily. While our one-night stay and touring schedule didn't allow for a spa treatment, we did make time for a swim just before the pool closed for the evening, so we had it all to ourselves.
The alluring pool is beautifully lit, blue of course in the water but surrounded at ceiling level with a neon pink light. Below on one wall is a mural featuring a quartet of musicians in silhouette, the black tiles creating the picture. To the right stands a bronze statue of a female singer adding an unexpected surprise. Alongside the pool are big encompassing chairs at floor level and canopied day beds to one side, all softly lit.
Some spa treatments incorporate Hungarian Széchenyi thermal mineral water (known for its healing anti-inflammatory properties) as well as Hungarian natural herbs, vitamin and grape seed extracts (known for their anti-aging, antioxidant properties). Signature treatments are set to music playlists customized to each guest's preferences.
There's also a Swedish sauna, steam bath, Jacuzzi, three private cabanas, a fitness center and three private treatment rooms including one treatment room for couples. The indoor pool offers Hydro Rider aquatic exercise bikes.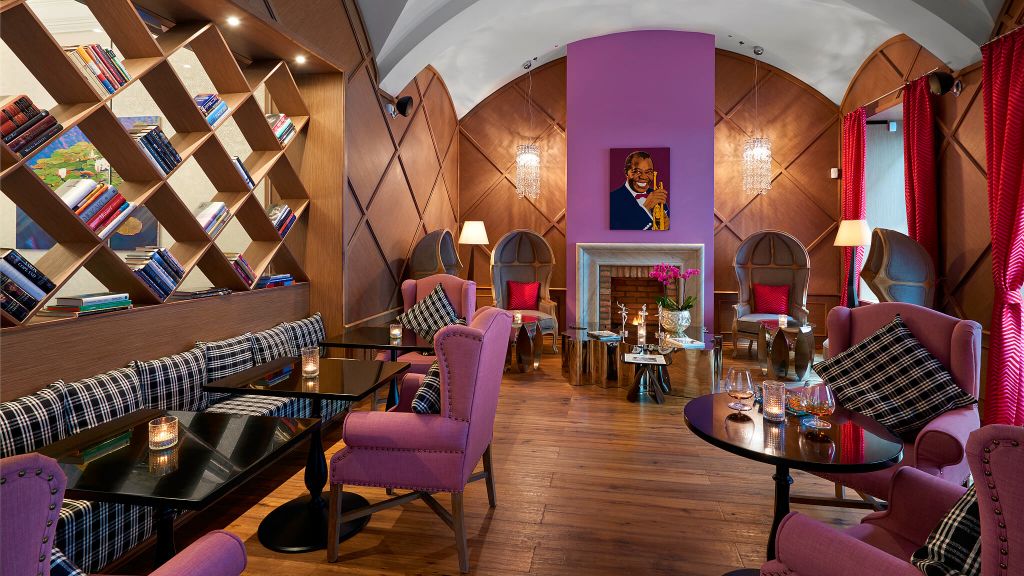 Listen to Your Favorite Opera
Just off the glass enclosed Music Garden courtyard is the impressive music library where guests can check out books, CDs or DVDs for in-room viewing via iPad or TV (the latter elegantly presented within a marble fireplace-style mantelpiece), or for viewing in the Teatro Aria.
That space, adjacent to the Music Garden courtyard, features daily evening and nighttime entertainment curated by Aria Hotel's music director. He's also available to direct guests to live performances around the city. The Teatro, seating up to 40, can be used for private functions, too, including fashion shows and recitals. All rooms are surrounded by double noise protection. In the nearby Symphony Salon, you can call up your favorite opera (or other performance) and watch on a huge screen.
Other spots not to miss at Aria – besides complimentary wine and cheese reception in the Music Garden courtyard – are intimate, fuchsia-hued Satchmo's Lounge with a large painting of Mr. Louis Armstrong front and center (a good secluded spot to enjoy your buffet breakfast) plus Satchmo's Bar where a mod Marilyn Monroe portrait holds court and lovely pastel macaroons tempt.
Aria has partnered with the culinary team at Gerbeaud for all of its food and beverage programs. The Stradivari Restaurant is great for fresh, bistro dining in a farm-to-table concept featuring honey from a protected forest region and goat cheese from a shepherd who plays jazz to his animals — talk about continuing the music theme. We love the restaurants décor of stringed instruments hanging from the ceiling and enlarged sheet music as wall renderings. It's open daily for breakfast, lunch, wine and cheese, and dinner.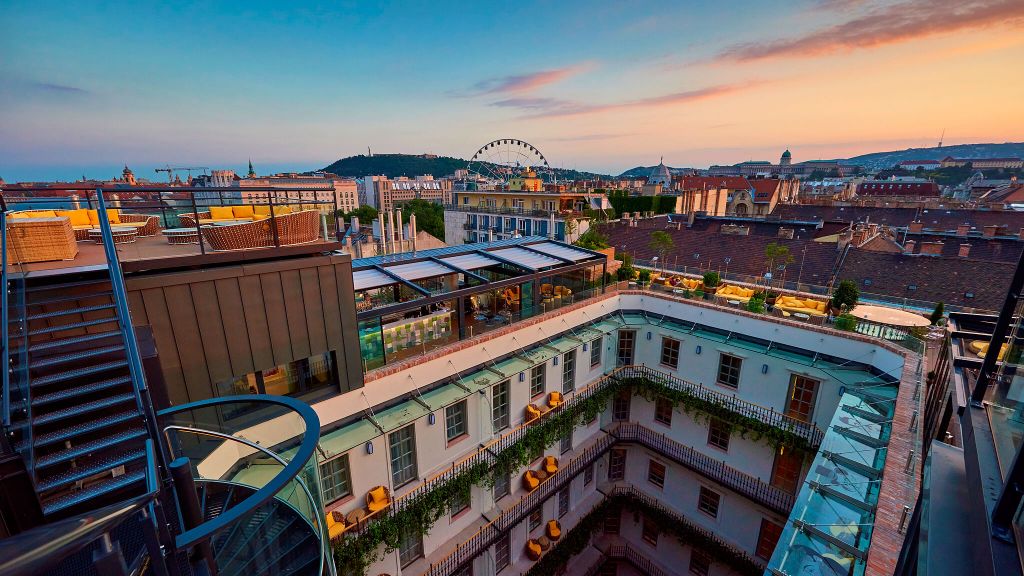 Too soon, it's time to depart but with a renewed appreciation for a theme beautifully carried out in a most interesting location at a truly unique property.
Husband-wife team J.S. Fletcher and Kathy M. Newbern are award-winning freelance travel journalists based in Raleigh, NC, and as a result of this trip added four more countries to their total of 74. They often incorporate their travels into their other business, www.YourNovel.com, where they put you and your sweetie in your own personalized romance novel "wild" or "mild."
(Photos courtesy of Aria Budapest)