On the flip side -- a downward spiral can be a more demanding one to brake. The old adage is a simple one -- define who you are and what you offer -- or you will be defined by others -- often in less than glowing terms.
Today's media world often follows the path of "piling on" -- simply repeating the same items over and over. It applies to all elements in life. It seems as if one article simply continues the run even when a change of direction has taken hold. Unfortunately, the spin can result in lazy reporting tendencies that run counter to news that indicate a different picture taking hold.
Atlantic City was at the forefront of despondent articles in 2014 reinforcing a dire situation of a tired location, predictable, and moving towards irrelevance. No question facts buttressed the accounts. A 47% drop in casino revenues since '06 with the total number of casinos dropping from 12 to 8. Unlike 1978 when Atlantic City was the only other legalized gaming operation in America outside of Las Vegas -- other nearby locations have since opened their own gaming establishments and it seemed the long time Jersey resort was once again headed more towards relic than renaissance.
Not so fast.
Casino revenues were up significantly in January '15 -- 19% higher when held against January of 2014.
One month revenue statistics doesn't mean break out the confetti but it does demonstrate casino consolidations helped reposition the critical balancing act between supply and demand.
Atlantic City will never be confused with Las Vegas or Macau but if the January financials hold near to their gains in the months to come it shows the Jersey resort still has cards to play in its deck. Gaming's proliferation in the USA is akin to fast food options. No question -- the ease in going to various non-descript lowbrow but functional outlets has garnered plenty of footprints. However, the marketplace still craves an appealing menu of choices for the more discerning consumer. Customized service, in concert with a range of appealing options such as food, spa, golf and shopping choices are part of the mixture and it's in those areas Atlantic City will determine its standing in the destination marketplace.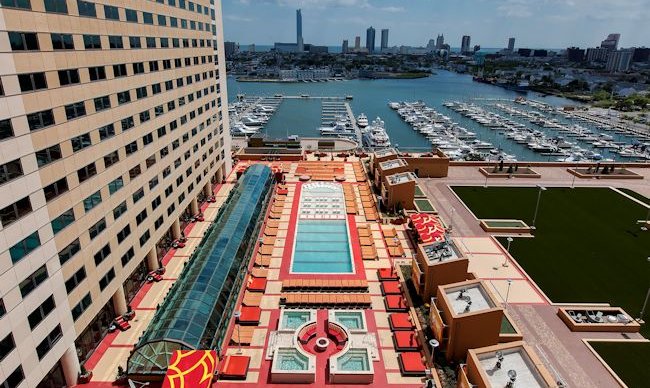 GoldenNugget H2O Pool
Clearly, when Atlantic City first embraced legalized gambling there was a total reliance in sequestering customers in a casino for numerous hours. Old habits die hard and the consequences of such a narrow approach suddenly resonated. New age customers -- epitomized by the millennial generation - born between 1980 and 2000 -- have demanded a much wider array of amenities that compliment casino time. Casino operators were slow to see the need but have responded in recent times -- bringing with them multi-faceted amenities.
The Atlantic City Alliance was created in 2011 and charged with expanding the profile of the destination as a year round location. A related "Do AC" advertising campaign was put into motion sparking a reawakening of the ocean front resort.
Gaming is still the headliner but other dimensions in the outreach campaign are prominently highlighted. The effort is an ongoing one and will need to be. Atlantic City is now in a more competitive world for disposable dollars and the fickle nature of consumers across all income levels is well documented. For too long Atlantic City lived in a bubble world -- erroneously believing all one had to do was open the doors and people would just keep on coming. High end travelers are not interested in the $9.99 buffet table. Those in the luxury market want to be respected, treated with state-of-the-art customer service and come away knowing what they experienced truly went beyond the norm.
On the amenity side -- golf is still a major contributor and the overall product is clearly a plus -- not world class level mind you, but very few areas can truly use that tagline and carry it off with credibility. Golf predates the casino connection in Atlantic City by many years and the offerings are a quality brew -- old time layouts sprinkled in with a few modern layouts of distinction. Quality architects -- both from golf's past and present, have ably shaped the golf scene and ownership has come to realize that in today's golf world -- each and every customer is a critical link -- never presuming the gravy train simply keeps on coming one's way. It is that fundamental awareness level that will be the cornerstone by which Atlantic City plans its reemergence for 21st century relevance.
New deck – new cards -- new game.
Yesterday is in the rear view mirror -- tomorrow is what Atlantic City is betting on in a big time way.
GREATER ATLANTIC CITY GOLF OPTIONS
Twisted Dune
7,384 Yards / Par-72
74.8 CR / 132 SL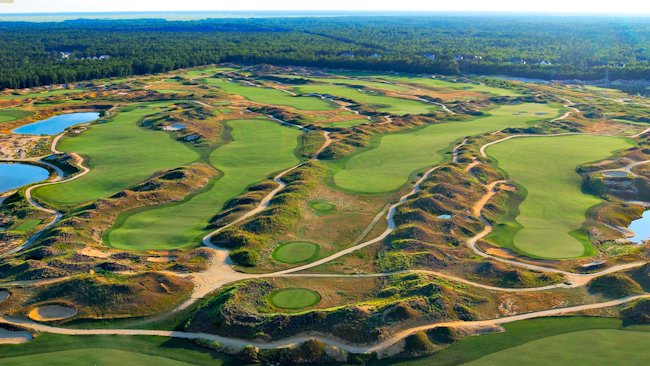 Twisted Dune provides a compelling visual presence and a golf challenge that is among NJ's top three public courses.
Opened in 2001 and designed by Archie Struthers -- Twisted Dune is a compelling visual and playing counterpoint to most other courses in the immediate area. You'll encounter a moonscape look -- replete with numerous man-created mounding that shields holes from one another and from any off property intrusions that might take the golfer's attention from the task at-hand.
Twisted Dunes is created to be reminiscent of a links layout -- although turf conditions which are quite good -- are not as firm and fast as authentic links found in Ireland and Scotland and the bunkering is more cosmetic than penal. There's sufficient fairway width on most holes but proper positioning off the tee can ensure a likely lower score. The only minus area deals with the details in and around a number of the putting surfaces -- they are fairly pedestrian neither complex nor rigorous. All in all, Twisted Dune is a visual treat complimented by quality shot-making challenges that are testing and eminently fair.
Atlantic City Country Club
6,557 Yards / Par-70
72.3 CR / 133 SL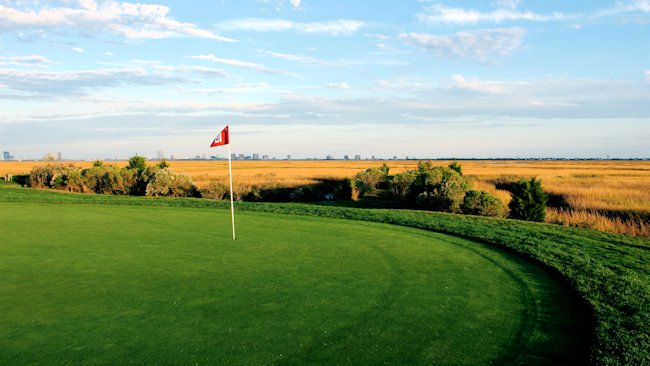 Atlantic City Country Club has played host to six USGA national championships and provides glimpses of the downtown Atlantic City area.
Long before legalized gambling came on the scene -- golf started in 1897 at the Atlantic City Country Club. Located in Northville -- just 15 minutes from the Boardwalk -- ACCC is where the term birdie was created in 1903 and where the word "eagle" was also coined. Six USGA National Championships have been played there and the course was the venue of the '75 Women's Open which introduced a young amateur named Nancy Lopez came onto the golf scene in a flourish. In 1980 the club was the birthplace for what would become the PGA Senior Tour. The property contains 170-acres of land hugging tight to Barnegat Bay with winds freshening up from the nearby Atlantic Ocean.
Long associated with former PGA President Leo Fraser who owned the course for more than 50 years and sold to the Hilton Hotels Corporation in 1997. Various course architects have played a role with the course from the likes of John Reid in 1897 when the club opened -- through the likes of such legendary designers as Willie Park, Jr., William Flynn and in 1999 the course smartly hired one of the game's foremost architects Tom Doak who made several key adjustments to the course. In November 1998 the course shut down and $6 million in renovations was carried forward by Doak. Since '06 ACCC has been open to outside play. Generally in first rate conditioning the diversity of holes makes for a solid layout. Be ready to play when you step on the 1st tee - a very long and demanding par-4 awaits.
The Vineyard at Renault
7,213 Yards / Par-72
75.3 CR 132 SL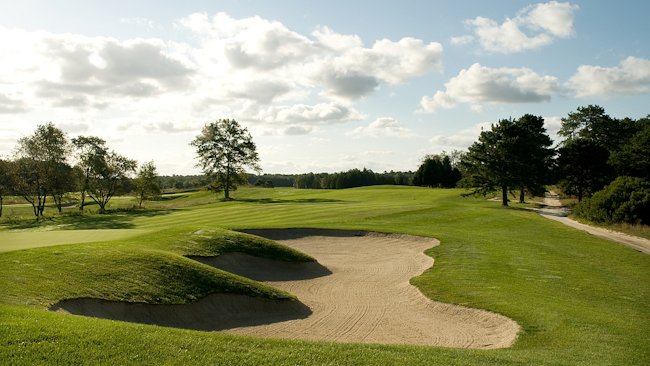 The Vineyard at Renault may be the most challenging of courses in the immediate Atlantic City area.
Opened in 2004 -- and roughly 30 minutes from the core Atlantic City area - The Vineyard at Renault provides a full-service operation with lodging on-site including an active vineyard -- hence the name of the course. The design from Ed Shearon is quite testing and requires a steady dosage of well-thought-out shots. The routing is also well-crafted -- taking you to all corners of the property. A demanding course that will not suffer foolish plays gladly. Golf is ably complimented by quality customer service in all aspects.
McCullough's Emerald Links
6,535 Yards / Par-71
71.7 CR / 130 SL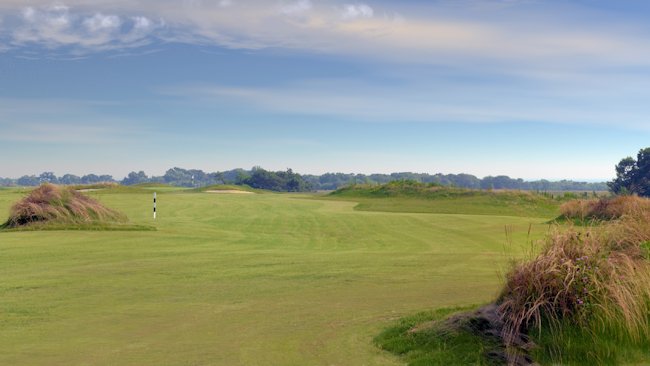 The 7th hole at McCullough's Emerald Links is a tribute to the famed "Lido Hole" created by famed architect Alister MacKenzie.
Opened in 2002 -- the former landfill is named for the locality's former Mayor -- James "Sonny" McCullough. The course takes hole concepts from layouts in the United Kingdom and Ireland and includes the famed "Lido hole" -- with its expansive split fairway. Architect Stephen Kay smartly added sufficient definition and the player will likely encounter steady breezes by virtue of the exposure and elevated nature of the property in certain spots. The only weakness of the course deals with a lack luster finishing stretch -- the 15th and 16th lack the same type of design heft and the concluding hole is truly anticlimactic. Nonetheless, the course has enough moments to bring one back and the fees are quite reasonable.
Blue Heron Pines
6,810 Yards / Par-71
72.8 CR / 135 SL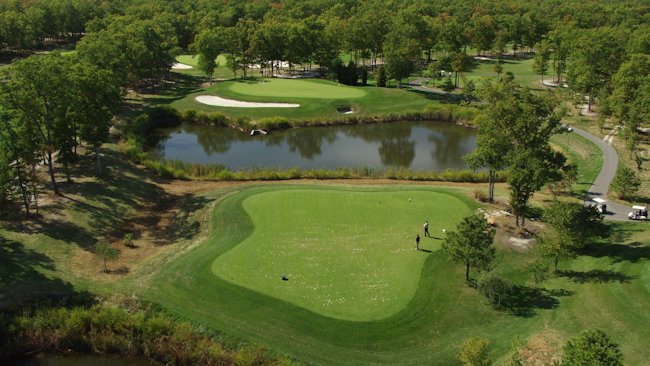 Blue Heron Pines set the stage for other courses to follow with its emphasis on "country club for a day" for the general golfing public.
In May 1993 -- Blue Heron Pines (BHP) changed the conversation concerning golf for the broader Atlantic City region. BHP provided a "country club for the day" golf option -- combining a fun layout, quality turf preparation and superior customer service. The Stephen Kay design opened the door for others to follow. Not long after the original 18 opened -- a second 18 was added -- called the East Course by Steve Smyers. Unfortunately that course was later eliminated for an upscale housing development. BHP was originally owned by Roger Hansen - the man behind the creation of the nearby private Hidden Creek Golf Club and was eventually sold to former Philadelphia Eagle quarterback Ron Jaworski in June 2012.
Stockton Seaview Hotel and Golf Club
Bay 18 - 6,247 Yards - 69.5 CR / 120 SL
Pines 18 - 6,731 Yards - 72.1 CR / 126 SL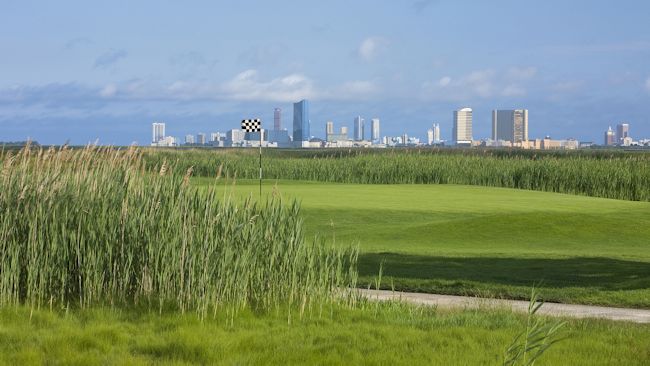 Each year the Bay Course serves as the host venue for the Shop-Rite LPGA Classic presented by Acer May 29-31
The regal nature of Seaview is something one must behold when coming to the Atlantic City area. The clubhouse speaks of golf's grandeur and style and it has been updated tactfully in serving the needs of 21st century guests. Nestled on 670-acres of land the more exposed Bay Course opened in 1915 -- created partially from the handiwork of Hugh Wilson -- the man responsible for the famed Merion GC just outside of Philadelphia and then just a few years later refined even further through the skills of the legendary architect Donald Ross. The Bay hosts an annual LPGA event each June and although short in overall length -- the greens are small, vexing and wind velocities can prove utterly unpredictable. Be sure to avoid days when the insects are biting because when that happens a round on the Bay can be most annoying.
The companion Pines Course opened as a 9-hole layout in 1929 by the acclaimed firm of William Flynn & Howard Toomey for 9-holes - and expanded to 18 by a Flynn protégé William Gordon. The Pines is encased in tree-lined fairways and places a premium on an accurate tee game. Hard to envision two courses so completely different from one another although the tree enclosure can get a bit redundant in terms of hole differentiation.
LODGING OPTIONS OF NOTE ...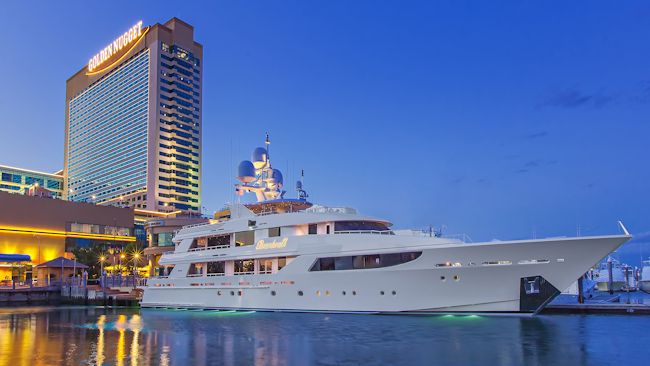 Atlantic City's Golden Nugget shines brightly with recent upgrades in all areas.
Borgata Hotel Casino & Spa
– Opened in July, 2003 with 2,000 rooms and suites. $50 million in renovations were just completed on hotel rooms, with $13 million in current renovations to buffet area, suites and spa. Borgata opened their signature (non-casino) hotel -- Water Club by Borgata -- with 800 guest rooms and suites, a 2-story spa (Immersion), 5 pools and 18,000 square feet of meeting and event space, in June, 2008.
Golden Nugget Atlantic City
– bought the existing Trump Marina casino hotel in May, 2011. Golden Nugget invested $150 million in renovations to the 727 guest rooms and suites, casino, and opened the Landry's signature world-class restaurants -- Chart House and Vic & Anthony's Steakhouse.
THINGS TO DO ...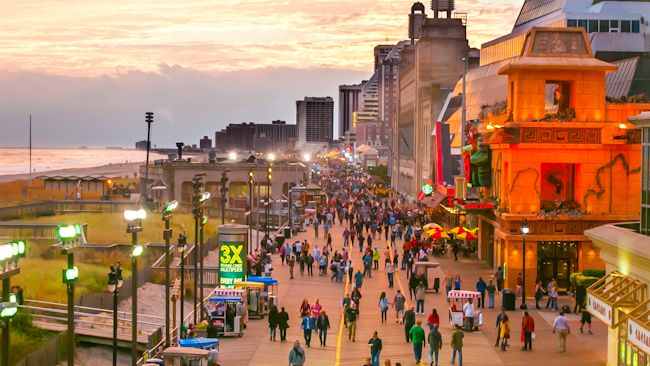 Atlantic City Boardwalk
Noyes Arts Garage
– located on the ground floor of the Casino Reinvestment Development Authority (CRDA) Wave Garage, in the emerging Arts District along Mississippi Avenue, the Arts Garage opened in November, 2013 and features 14 vendors and artist workshops and a café, and is located adjacent to Atlantic City's Tanger Outlets – The Walk shopping district.
Historic Gardner's Basin
- Nestled along the working fishing boat docks in Atlantic City's Inlet section, Historic Gardner's Basin hosts several special events each year, and is home to the Atlantic City Aquarium, a restaurant featuring fresh seafood, an ale house and a variety of boat cruises and fishing boat charters.
The Atlantic City Aquarium
in Historic Gardner's Basin features touch tanks, sea life exhibits and educational seminars about the marine life of the Atlantic Coastal area.
Atlantic City Boardwalk
– No visit to Atlantic City is complete without a walk on the world-famous Atlantic City Boardwalk. The world's most famous Boardwalk was built in 1870, and there is still nothing like it in the world. Lined with shops, restaurants and food stands, casinos and more, it's a people-watcher's delight. Treat yourself to a ride in the original "rolling chairs," first introduced on the Boardwalk in the 1880's.
Photos Courtesy of CRDA
Cover photo at top: Clubhouse for Stockton Seaview Hotel and Golf Club