Daytona Beach is the ideal family vacation spot in Volusia County, Florida. With 23 miles of sand, no wonder it's referred to as "The World's Most Famous Beach."
Daytona Beach, located on a barrier island, has the Atlantic Ocean to the east and Volusia and Flagler Counties to the west. The beach area in Daytona Beach is home to several species of sea life, including sea turtles, pelicans, dolphins, and stingrays. It's also the home of Daytona International Speedway and its annual NASCAR race.
Curious about what there is to do in Daytona Beach and surrounding areas? The simple answer is plenty with beach and non-beach attractions. A more detailed one includes water sports such as jet-skiing, parasailing, and even surfing to sightseeing and everything in between, like strolling along the boardwalk or visiting one of the many museums.
Let's take a closer look at some of these attractions for your next family vacation in Daytona Beach:
Daytona International Speedway
It is one of the most expensive tracks to attend and race on. There are different types of racing events apart from the Daytona 500. The Daytona 500 is the most famous event held at the racetrack, and that competition happens every year.
The Daytona International Speedway also offers behind-the-scenes tours on non-race days. The Speedway Tour includes admission to The Motorsports Hall of Fame of America that displays all forms of motorsport. Older kids can ride with a pro driver around laps that go more than 160 miles per hour. Younger kids, upwards of six to thirteen, can try ride-along experiences.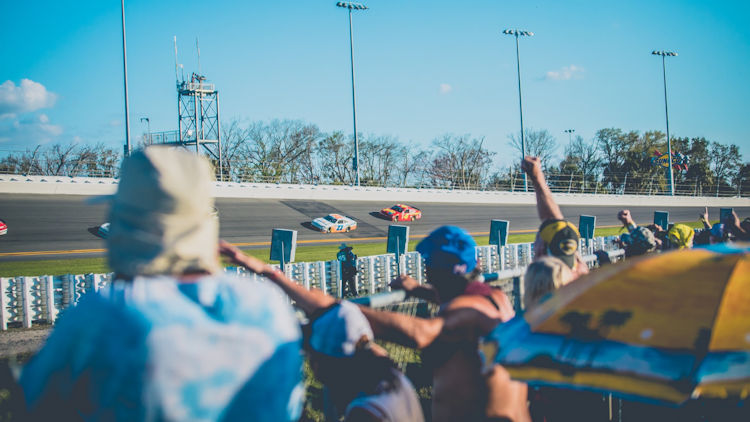 Daytona Beach Fishing Pier
Catch the fish of a lifetime at the Daytona Beach pier, one of the most popular fishing landmarks. It's open from sunrise to sunset every day of the week, allowing novices and experienced fishing enthusiasts to enjoy fishing on the east end with no license. A day of fishing is the perfect family bonding activity. After a day of fishing, enjoy some seafood at Joe's Crab Shack.
Daytona Beach Boardwalk
The boardwalk includes a bunch of activities catering to everyone in the family. It has amusement park rides, a Ferris wheel, and an arcade. While beautiful sites and sounds fill the days, the nights are packed with performances and fireworks every Saturday night during the summer months.
Daytona Beach Zipline Adventures in Tuscawilla Park
Thrilling and adrenaline pumping for the whole family. This aerial park comes with many obstacles and opportunities to climb, swing, and zipline through the trees of Tuscawilla Park. It gives you a different perspective and view of the natural environment from high above the ground.
Sun Splash Park in Daytona Beach
A great place to bring the family to relax and enjoy the day. It is a 4-acre park on the north side of Atlantic Avenue. This park has water slides, swimming pools, and diving boards. There are also plenty of places to enjoy a picnic with a playground for kids.
Daytona Lagoon Water Park
The Daytona Lagoon Water Park is a theme park that opened in 2005. It's packed with activities and, till today, still a huge success. The water park features water slides, a wave pool, and a lazy river to relax. Other attractions include an entertainment center with laser tag, a go-kart track, an arcade, a Sky Maze rope course, rock climbing, and an 18-hole mini-golf course.
Daytona Beach Oceanfront Bandshell
The Daytona Beach Oceanfront Bandshell is located on the beach, is open to the public, and is a great place to listen to and watch live music. It was built in 1937, can cater to 5000 people, and still brings the community together with musical performances, concerts, and other events throughout the year.
Angell & Phelps Chocolate Factory
You can't vacation in Daytona Beach and not visit Angell & Phelps Chocolate Factory. Tantalize your taste buds with delicious and gourmet chocolate that comes in various shapes and sizes. Angell & Phelps Chocolate Factory offers free tours showing you the process of some of the chocolate they make on-site. That's one store you won't walk out empty-handed.
Museum of Arts and Science
A museum is a must-see on any vacation. The Museum of Arts and Science, also known as MOAS, houses an impressive collection of 30,000 items. It includes artwork, decorative arts, textiles, and permanent and temporary exhibitions.
It's educational for all ages. For younger children, the Charles and Linda Williams Children's Museum - a separate wing in the Museum of Arts and Science, more prominently, includes a hands-on science center.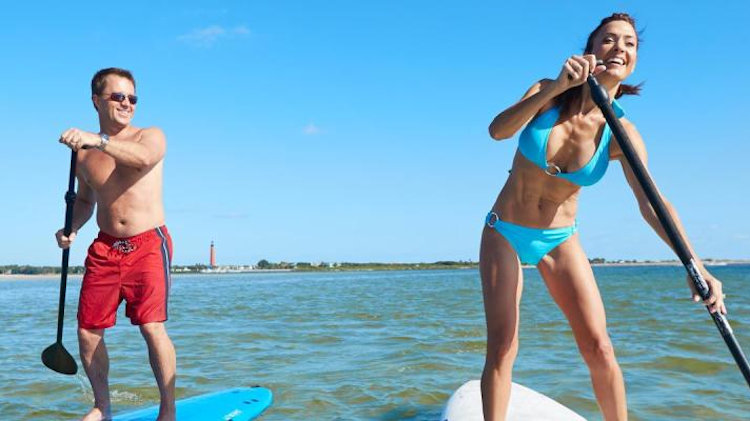 Image credit: daytonabeach.com
Paddleboarding
Paddleboarding affords a different way to explore the water. Fast becoming a popular water activity, paddle boarding in Daytona Beach means seeing the Halifax River and the Daytona Beach coast with new eyes. This water sport requires no experience and is loads of fun for the entire family. Tours are available with Three Brothers Boards. You paddleboard under bridges and through canals with the hopes of seeing some sea life, including dolphins, manatees, bald eagles, stingrays, and turtles.
Jackie Robinson Ballpark
Kids and adults alike will find the Jackie Robinson Ballpark an experience to remember. This baseball stadium is home to the Daytona Tortugas. Why not take a break from the beach and catch a home game by the Daytona Tortugas. The stadium has an on-site museum and takes bookings for family tours.
Venturing a short distance from Daytona Beach opens up more opportunities to explore. Attractions beyond Daytona Beach include:
Climbing Ponce Inlet Lighthouse - Florida's tallest lighthouse.
Visiting the Marine Science Center.
Take a dolphin or manatee boat tour.
Equestrian Adventure - horseback riding on the beach.
Take up surfing lessons at Daytona or Ormond Beach.
New Smyrna Beach.
Daytona Beach is the most visited beach on all of the Atlantic Coast. It's no surprise why the appeal is there. Whether families are looking for some downtime or a busy holiday schedule, Daytona Beach caters to everyone. It's a one-stop vacation destination. There's so much to do with beautiful beaches, fishing piers, great parks for kids, museums, adventures, and relaxation for adults.