Sail Luna is like no other charter company in the Caribbean. Visitors enjoy traversing the cobalt blue waters of the US and British Virgin Islands, while Captain and award- mixologist, Nim, together with First Mate and award -wining chef, Fabiola, guide their guests on an intimate journey of gastronomy and island exploration. Prepare to be taken on a fantastical gourmet adventure as they sail in and out of harbors, fishing villages, cays, hamlets, and lobster filled bays, while treating their guests to culturally inspired food infused with a calypso twist.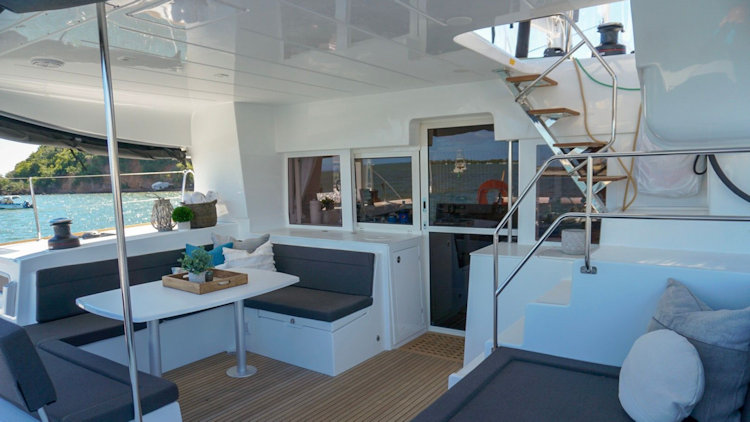 LUNA, a 2019 Lagoon 450S, is a spacious 45-foot catamaran which forms a magnificent floating hotel that silently drifts around the Virgin Islands and beyond. The yacht has four beautifully appointed staterooms, three of which cater for up to six guests. Each cabin has an en-suite bathroom, ample storage space and high-quality fixtures and fittings. Outside, there are large spaces at the bow and stern along with a spacious cockpit, in which to relax in ultimate privacy.
Nim and Fabiola shape the itinerary to envelop their guests every whim. The yachting holiday embraces many of the awe-inspiring aspects that only the locals know. It's a food lover's heaven, and the hosts don't allow guests to worry about a thing. The only decision guest have to make is whether to snorkel, paddle board, sunbathe, swim, relax, or eat incredible food, all while exploring new lands and idyllic waterside Caribbean villages.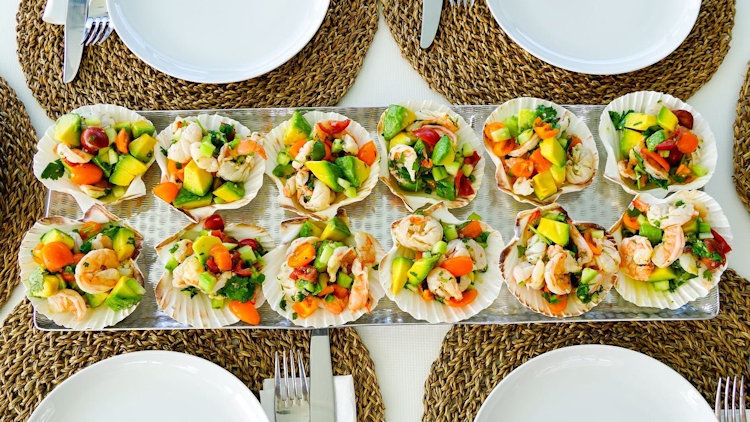 Luna's menu
Fabiola has created a menu that reflects her heritage and family roots. The dishes, which are heavily influenced by her Mediterranean, Caribbean, and Spanish culture, are created with fresh, local ingredients and prepared and presented with the care of someone who loves what they do. Fabi is a keen traveler and has enjoyed learning techniques from other chefs around the world. She carefully blends guest preferences into her deliciously fresh dishes and playfully intertwines experiences with food. The ocean provides Luna's guests with much recreation, from lobster and conch hunting to deep-sea fishing. Of course, guests get to keep their catch, which is prepared and cooked by Fabi, whilst they enjoy artisanal cocktails as the sun sets over yet another perfect day in paradise.
​Luna Gardens
Luxury dining is at the heart of the Luna experience. Fabiola not only works her magic in the galley, but she has a green thumb and nurtures her own herbs which are used in her cooking and mixology. She also grows microgreens, so all food served is not only incredibly fresh but also healthy.
The crew love nothing more than to take their guests on shoreside excursions to local markets and farm-to-table establishments. Over the years, they have found their favorite smallholder farmers, fishermen and delicatessen owners. Nim and Fabi regularly visit a wonderful farmer in St Thomas who picks the freshest herbs, greens, vegetables, and microgreens straight from his garden and Fabi knows all the local fishermen who provide delicious freshly caught fish and live lobster.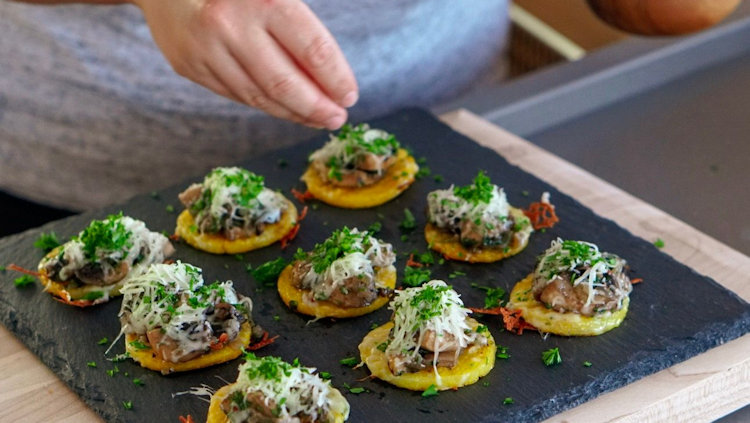 One such fisherman will take Luna's guests conch hunting. He doubles up as a snorkelling guide and takes people to Horseshoe Reef, where he gathers Anegada lobster and conch, which guests can bring back to the boat for Fabiola to cook in the evening.
When sailing offshore, captain Nim sets up guests with fishing lines to catch fish for supper and when the reel spins to life, there is often a tuna, mahi mahi or Wahoo on the other end, ready for Fabi to turn into ceviche, sushi, tartare or fish tacos.
Here are just some of the destinations that guests can visit aboard LUNA and some of the local fare on which they can indulge.
Grenada
The artisan fruit and vegetable market in St Georges, Grenada has all sorts of locally produced ingredients. Plentiful fruit grows in the lush and verdant hills and spices such as nutmeg and cinnamon can be smelt floating on the breeze. Fabiola enjoys nothing more than exploring the heavily scented markets of the 'Spice Island,' while dreaming of her next edible creation. Apart from the freshest seafood of yellowfin tuna, mahi-mahi, swordfish, and conch, Fabi enjoys sharing a locally produced liqure called 'Amazin,' a delicious rich chocolatey rum produced in the islands distillery, with all of Luna's guests.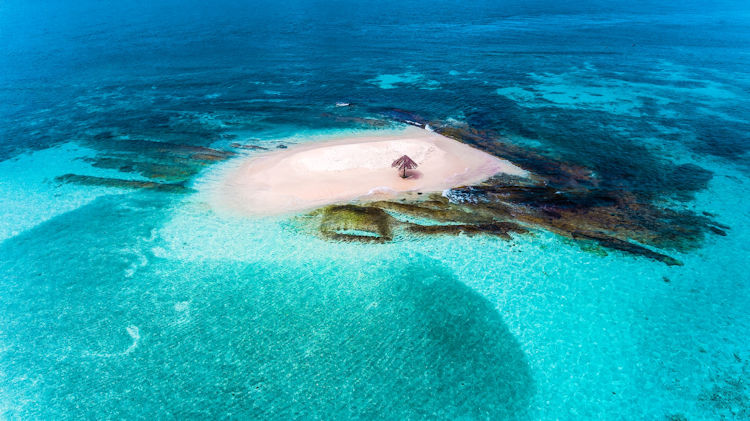 Saint Vincent and The Grenadines
Snorkeling, diving, chilled out cocktails and millionaire lifestyles are synonymous with Grenadines-living. Mangoes, bananas, coconut, guava, and breadfruit thrive in the fertile soil and grow wild throughout the islands. Relax to calypso tunes while drinking rum punch or eat locally made chocolate straight from the factory. Local fishermen deliver freshly caught fish and live lobster to the side of the boat and little markets appear in the shoreside villages selling veggies, organic eggs and freshly baked pastries and bread.
St Lucia
The well-loved colorful Mr Gregory is quite an attraction in St Lucia. He brings his floating market packed with freshly harvested produce from various farms and smallholdings across the island. The island is a geological wonder. Brightly painted villages jostle for position among ancient plantations, extinct volcanoes, and waterfalls, making a home in the jungle-clad mountains. Fabi takes guests on an extraordinary culinary journey as they taste vibrant Creole cuisine.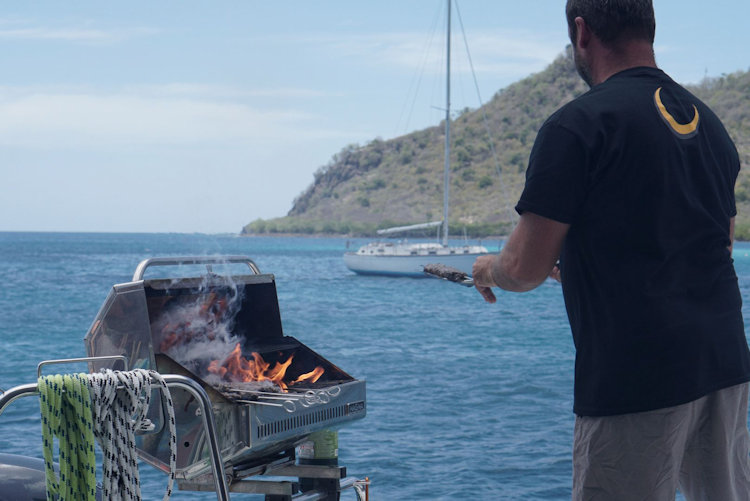 Dining in or out?
Nim and Fabiola love to share their local knowledge and recommend some of their favourite family-run restaurants. One of their favourite beach haunts in the Grenadines lies in the Tobago Cays nature reserve. Friendly local fishermen cook up their daily catch on a fiery coal grill, while patrons eat right on the beach, listening to the sounds of Caribbean soca tunes and watching the sunset over the unbelievably vibrant turquoise water.
Nim's cocktails
Nim won the 2019 BVI Broker Show Cocktail Competition with his cleverly crafted cocktail that nods to their heritage. Fabi was born and raised in the Caribbean, so she has an innate love of the local rum, whilst Nim's roots are from Israel where it is common to drink iced lemon and mint. The blend of the two cultures led to the award-winning 'Lunana.'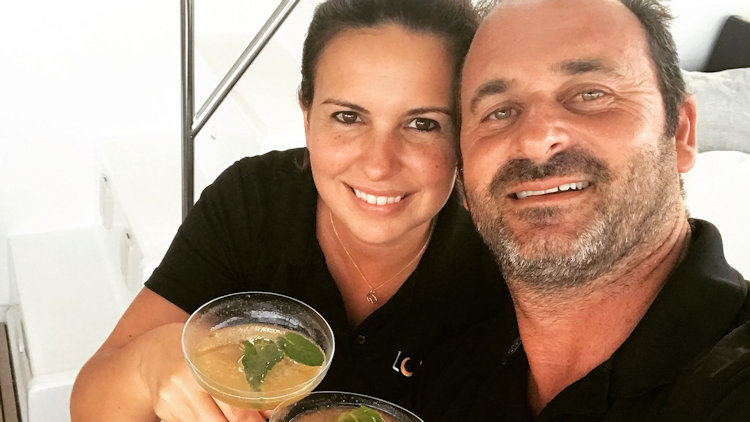 Rest assured
Captain Nim and First Mate and chef Fabiola are the best crew to guide guests through the Virgin Islands' barefoot luxury while exploring the magical waters, powdery beaches, quaint villages and, of course, delicious food, all of which will combine to make memories that will last a lifetime.

Visit website: www.sailluna.com