The rise of five-star resorts, beach clubs, boutique shopping and supreme spas are adding a new dimension to this Indonesian jewel. We've rounded up our top recommendations on where to wine, dine, stay and play – each of which are sure to revive and inspire even the most tired traveler.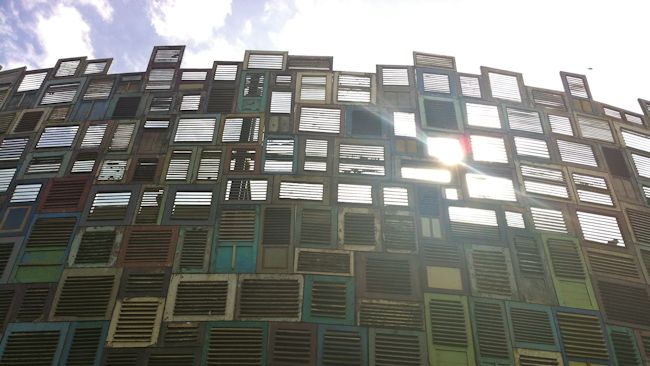 Potato Head Beach Club, Seminyak
Seminyak is renowned for its stylish beach clubs and Potato Head is arguably the coolest new kid on the block. Home to three different restaurants each serving up delicious cuisine and mixology, this lively haunt is the perfect place to enjoy Bali's famed raspberry-tinged sunsets - mojito in-hand. The state-of the-art amphitheater, international DJ sets and excellent people watching are reason enough to think its Saturday everyday here.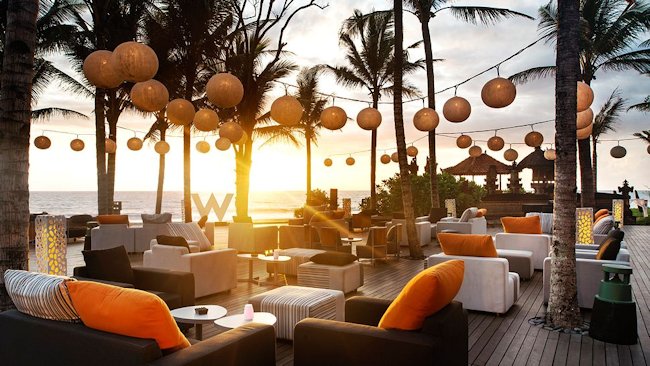 The W Retreat and Spa, Seminyak
Located on Jalan Petitenget – the main street in the chic enclave that is Seminyak - the entrance to the W Bali is a discreet bamboo-encased tunnel leading to the central lobby area. Here the sophistication of a five-star hotel is manifested amongst an uber-hip atmosphere and a rainbow of neon lights. There are traditional Balinese aesthetics fused with ultramodern design elements, an LED lit pagoda and a bespoke mural by New York graffiti artist, Alec Monopoly.
The lively ambiance at the W Bali doesn't stop with the décor; the luxe chain ensures that the new and the next in fashion, music and design is always on show. Offering both villas, ocean-facing rooms and some rather spectacular suites, staying here is an experience in itself. Furthermore, the hotel's signature 'whatever, whenever' VIP service, 24/7 fitness centre complete with an on-site personal trainer and a state-of-the-art library adds to the style and soul of this fabulous retreat.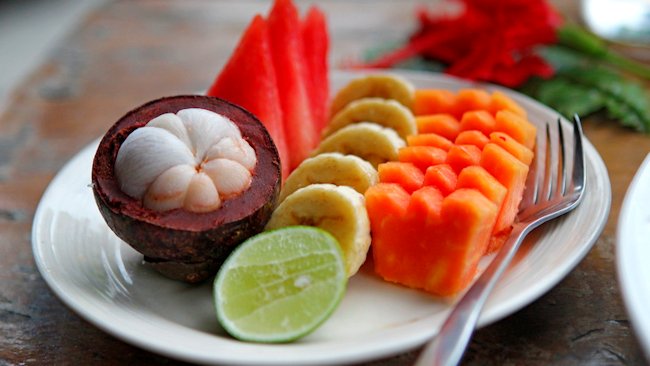 Anika Balinese Cooking Class, Kuta
Taking home a newfound skill from a foreign country is always better than lugging back a souvenir that will get no use. And what better takeaway than a new cooking ability? Balinese cuisine is absolutely incredible and a trip to Anika Cooking Class in Kuta is the perfect way to master the art in a matter of hours. Here we learned how to make a number of traditional recipes including Pepes Ikan, Gulai and Rendang with almost all natural ingredients. It's a completely different approach to Western cuisine, but one that we've since integrated into our home-cooking-regulars list.
Balinese food is big on flavor, sharing dishes and health benefits, using turmeric, garlic and ginger in most recipes. This is a great rainy day activity or simply a good afternoon cultural pursuit. Note: have a very light lunch beforehand – you will be eating a lot.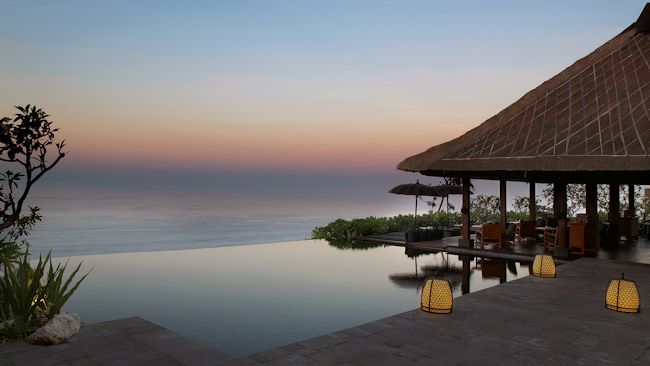 Bulgari Resort, Uluwatu
At the top of our Uluwatu hit list was the Bulgari Resort - a world-class retreat where Florence meets Indonesia. Uniquely positioned on a clifftop at the island's southwestern tip, the resort offers panoramic views of the Indian Ocean amidst beautiful gardens and exotic artworks. Elegant black and white cabanas overlook the infinity pool framed by hydrangeas and what appears to be an endless ocean. It is truly one of the most picturesque scenes imaginable and an essential for any Bali itinerary.
Bulgari anything obviously comes with a price tag, but fear not, you don't need to be a hotel guest in order to be welcome here – the restaurant and lounge bar is open to all and is only a 40-minute drive from the popular tourist hub of Kuta. Plan a day trip and enjoy the luxurious atmosphere, delicious tapas and tropical martinis.
Neka Art Gallery and Puri Lukisan, Ubud
The cultural hub of Ubud boasts a variety of markets, furniture stores and art galleries – fantastic if you're looking to redecorate or if you're simply interested in exploring. One of my favourite art institutions is Neka Gallery, which features an assortment of contemporary Indonesian, Asian and European art.
Puri Lukisan is also in the region and is Ubud's first museum showcasing beautiful Balinese paintings and wood carvings.
Jalan Oberoi, Seminyak
Close to the centrally located Seminyak Square, Jalan Oberoi is Bali's version of Ponsonby Road. Lined with boutique shopping, café gems, chic bars and day spas that don't cost the earth, it's a great place to set out for the day and enjoy some leisurely browsing. High-end brands such as Shakuhachi and Magali Pascal are situated here alongside local designers and tailors – it's undoubtedly the best area for retail therapy.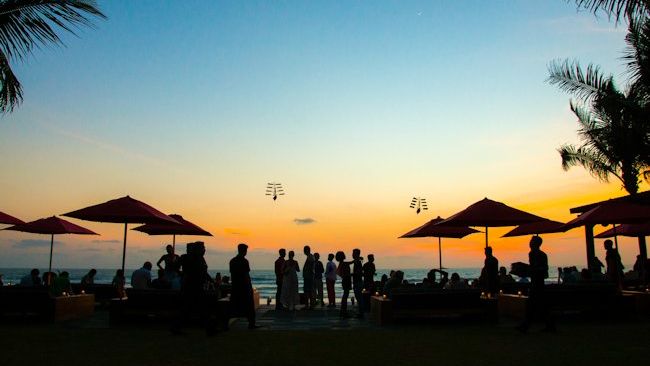 Ku De Ta, Seminyak
Having opened at the turn of the millennium, Ku De Ta has earned a reputation as one of Bali's most iconic lifestyle establishments. And rightly so. The beachfront day club is a hit with expats, tourists and anyone with an appreciation for good food, service, and a vibrant, social atmosphere. Park up on a lounger for the day, bask in the sun and enjoy everything from breakfast to dinner without having to move an inch.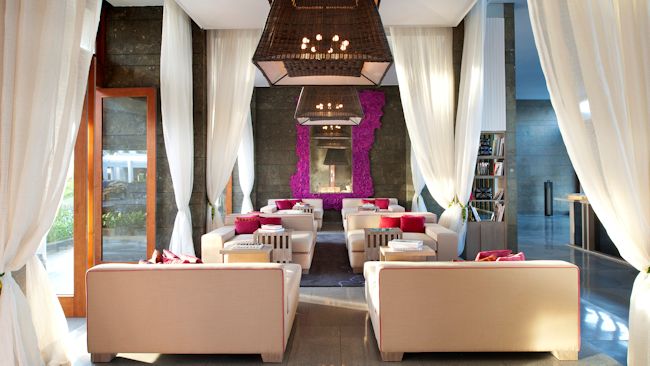 AWAY spa
AWAY spa at the W Bali is so advanced it seems like an avant-garde spacecraft. Waiting for our treatments with clinical-style oxygen masks strapped on was next level extravagance and it felt like we had arrived in the future.
The combination of pre-treatment yoga stretches, ayurvedic therapy and detoxifying potions left us feeling carefree and revived. AWAY spa offers everything from Balinese massages and red carpet mani-pedis to 'Zen-balancing treatments and Tantric meditation.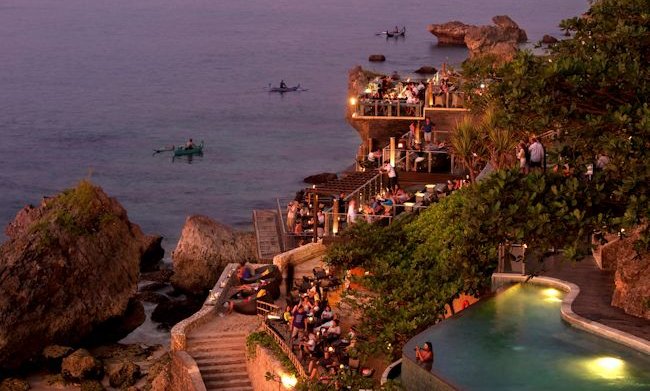 Rock Bar, Jimbaran
Rock Bar is truly unlike anything else in the world. The 360-degree rock top vantage point provides the most spectacular cinematic view of the shimmering sea and rugged coastline. Watching the sun set here is absolutely magical, although due to the sheer popularity of the place you will need to arrive before 4:00pm which is when the cliffside carts start taking people down. We got there just in time and were lucky enough to miss what can be an hour-long queue.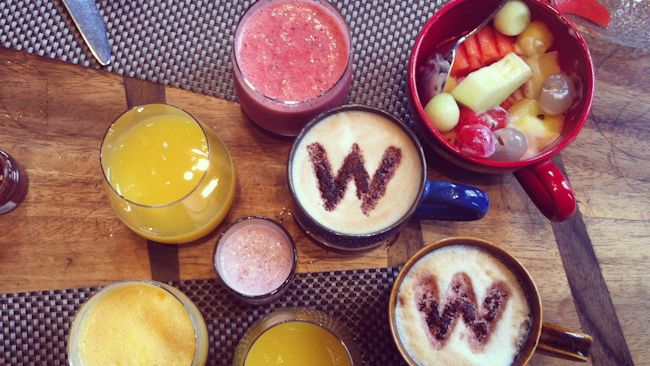 Fire, Seminyak
The W boasts some of the best restaurants on the island, one of which is Fire – quite possibly the best breakfast we've ever had. Offering both a la carte and buffet (which is always the holiday go-to), Fire is a dining experience that can't be missed. Wheatgrass shots, smooth coffee and a cocktail of fresh juices and smoothies are on tap – it's a food enthusiast's heaven.
If you're feeling super indulgent, or simply can't choose, it's perfectly acceptable to order from the menu as part of the buffet package. This is exactly what we did – strawberry caramel pancakes and salmon eggs benedict to top it all off. Like most things at the W Bali, the décor and presentation is a visual feast.
La Lucciola, Seminyak
Italian lovers rejoice – La Lucciola is the ticket to some the best Mediterranean cuisine in Bali. Enjoy a classic caprese salad or the coral trout with pancetta, artichokes, rocket and preserved lemon. The dessert menu and extensive wine list is equally excellent. Housed in a breezy hut-style setting on Seminyak beach, La Lucciola is the ideal spot for lunch on a sunny day.