Perched on a precipice overlooking the city 810 feet in the air, the critically acclaimed rooftop restaurant takes guests on a fresh new culinary journey deep into the roots of authentic Mediterranean fare with continuously evolving seasonal menus crafted of ingredients sourced from around the world and served against the background of The Dome's celebrated aerial views.
It is here that Chef Gonzalo Ruiz unveiled one of Sirocco's most ambitious presentations – the Heritage Collection, which is now in its second season and represents an exploration into both the restaurant's and the chef's Mediterranean roots. During this extraordinary culinary experience, guests are treated to both a special à la carte menu and in-depth glimpse into the rare ingredients, wines and spirits hand-picked for the collection, many of which have never before been seen in Thailand. Highlights of the menu include starters like Brittany diver scallops with Iberian chorizo, Greek fava bean purée and pumpkin seed oil; and mains like Catalan monk fish with a saffron-scented Spanish Bomba rice risotto, crisp cuttlefish and ink sauce.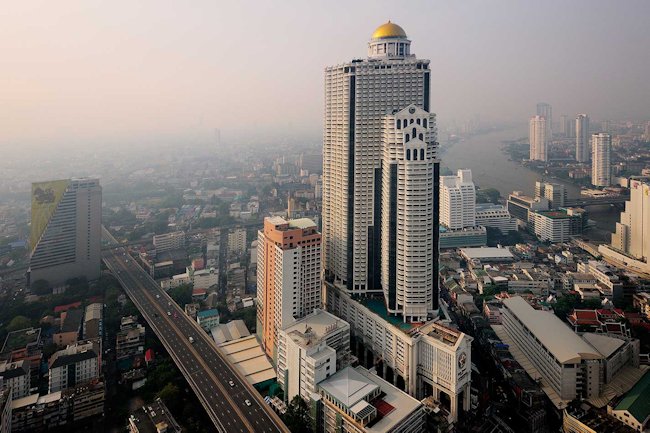 Adjacent to Sirocco, the celebrated Sky Bar provides a novel pre- and post-dinner cocktail stop as the highest open-air bar in the world. The bar is continuously strives to elevate the stature of Bangkok's cocktail culture through innovative mixology. Proclaimed by The New York Times "the most stunning rooftop bar you'll ever see," the glittering multi-hued island bar is home to some of the city's most inspired cocktails, including the Hangovertini created for the cast of The Hangover Part II while they were filming at the hotel that has gone on to become one of Thailand's signature drinks.
This New Year's Eve, the 7-foot Bangkok Ball will again drop 49 feet from above Sirocco, making it the most visible icon in Bangkok and securing the city's place on the world map of iconic New Year's events.
Reservations required in advance. For reservations or more information, please contact reservations@lebua.com, visit
www.lebua.com/sirocco
, or call +66 2 624 9555.