Now dog owners who want to spend quality time with their best friends can treat them to doggone good fare – any day from 6:30 a.m. to close at Coastline or at The Patio at Night Pop-up every Wednesday through Saturday from 5:30 to 9:30 p.m.. Now doggies can enjoy a pooch-perfect meal or treat for breakfast, lunch, dinner or any time in-between.
While enjoying Coastline's ocean view or gathering on the patio, well-mannered dogs who like to hang with their human pals at a very cool place can lap up wonderful woof-worthy grub that suits their dining preferences. Coastal Bowl with seared salmon, brown rice and peas and carrots and Turkey Bowl with turkey patty, green beans, biscuit and turkey jus are yummy choices.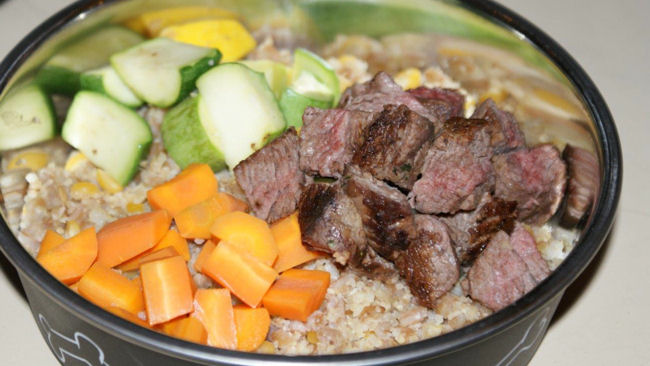 Or, perhaps House Kibble with oatmeal kibble, dried peas and carrots and gravy will appeal. Then for special occasions, there's the Royal Treat of beef tenderloin, three grain salad and farmers market vegetables. For pups who crave sweet temptations: ice cream on the menu is yogurt, peanut butter and banana, and there are house made dog treats – three flavors – peanut butter, oatmeal and peppermint.
Oh, and for hungry dog owners and their other friends, there's Coastline's all-day menu, especially known for its fresh local seafood, including selections such as Day Boat Catch "of the minute" – grilled and served with arugula, citrus and almonds; Baja Bass Tostada with pineapple, guajillo salsa and crema; and Local Albacore Niçoise. Other coastal guest favs are Pozole Blanco with pork belly and a choice of tacos, as well as other Bites, Bubbles and Beers. The Patio at Night Pop-up menu features, depending on the day, small plates and shareables such as Burrata Cheese with grilled peaches, smoked almonds and arugula salad and Speckled Romaine with strawberries, smoked blue cheese and malt vinaigrette. The entrance to The Patio at Night Pop-up is from L'Auberge's front drive or the resort's amphitheater (no need to come into the hotel itself).
Visit website:
www.laubergedelmar.com