Conceptualized by Eric Harari, a Miami-based entrepreneur, Bel Air Resort & Residences was birthed to create a contemporary community of small, environmentally friendly, freestanding units uniquely named Minilofts. The Miniloft architecture is sleek and modern boasting high ceilings and oversized windows from locally sourced materials whenever possible. Harari set out to effectively bridge vacation rentals with the hotel experience.
The entire project sits on a 500 acre hidden sanctuary lot while the hotel portion occupies 115 acres. The full amenity resort will feature a village of 90 (1,2,3 and 4 bedroom) Minilofts. Eight different models will be offered; four are in construction and will be completed in April 2017.
Bel Air Resort is a desirable year round destination that offers onsite attractions including a lake, miles of abundant trails, a state of the art 7,000 square foot club house and a Zen inspired spa to unwind (in construction to be completed June 2017) as well as a business center, business pods and more.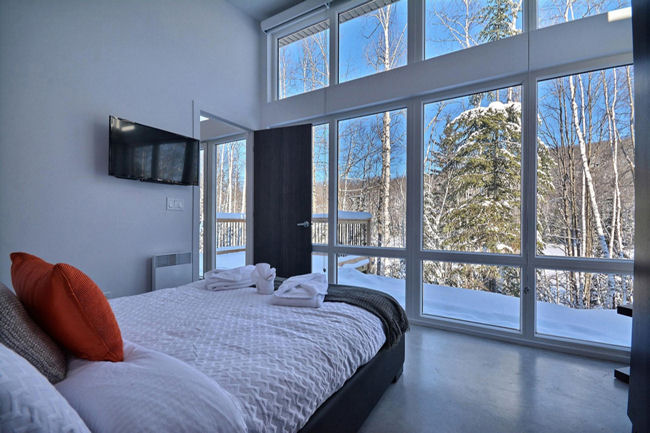 The first phase of Bel Air was built in early 2015 with 4 Minilofts. 2016 financials show a 59% occupancy rate (vs 52% for Tremblant hotels) and an Average Daily Rate (ADR) of $235 a night. Originating in Jan 2015, the Miniloft launch proved a resounding success as evidenced by 330 reviews with an average of 4.8 stars and has been voted by
Trip Advisor
as one of the Top 10 Prettiest Alpine Chalets in the World.
Technology coupled with the following key strategies is the critical factor in the success of Bel Air Resort:
• Marketing - Bel Air developed a unique marketing strategy that maximized direct reservations with minimum use of Online Travel Agencies (OTA's) effectively maximizing revenues and minimizing external commission paid.
• Room Rates are managed with proprietary yield management software that results in price optimization and boosted occupancy rates.
• Enhancing Customer Service - By implementing a combination of proprietary software that monitors the maintenance and housekeeping at Bel Air coupled with strict quality standards and attention to the modern traveler's needs (including virtual concierge, virtual check in) the property excels in customer satisfaction.
Visit website:
http://belairtremblant.com/