Berlin has had a more wrenching history than most cities on earth. No European city in recent times has changed as much, in the process transforming itself from a divided geopolitical anomaly into a modern mainstream capital and undergoing a major overhaul at every level. Old landmarks have been renovated, new ones acquired and others wiped out altogether, including what was once the most famous Berlin landmark of them all, the Wall. It was a divided city during the Cold War when Soviet and American tanks faced off at Checkpoint Charlie and, finally, the biggest historical moment of all – in 1989 the Berlin Wall fell. Out of such chaos has grown a city that's adaptable in the extreme. Its waves of immigrants, expats and creatives ensure that tolerance is its greatest value.
"Is there anything left of the Wall?" the first question many visitors ask. The answer is not much. A short section has been preserved and is in pristine condition. However, there is a stretch of the Wall called the East Side Gallery, the longest surviving section and the world's largest open-air gallery, showing the work of 118 artists from 21 countries. I stood gazing up at the artwork, some touching and evocative, some irreverent and some very much of the moment. No trip to Berlin would be complete without coming and paying homage to this most iconic site.
I checked into the luxurious Hotel Adlon Kempinski, located in the very heart of this vibrant city and one of the most famous hotels in Europe. Opening in 1907, the property was largely destroyed in 1945, and this new structure opened in 1997, a building with a design wholly inspired by the original. My lavish breakfast the next morning was a cornucopia of everything delicious, including, of course, Berliners! (That's the German word for Danish pastry). Shall we now, finally, put to rest memories of the gaffe President Kennedy made when he visited this city and proclaimed "Ich Bin Ein Berliner?" Oh well, the crowd loved him anyway - loved him so much, in fact, that they've built, in his honor, the fascinating Kennedy Museum, a collection containing an impressive mix of personal items, historical documents and private and political photos which provide an insight into the continuing fascination of this family.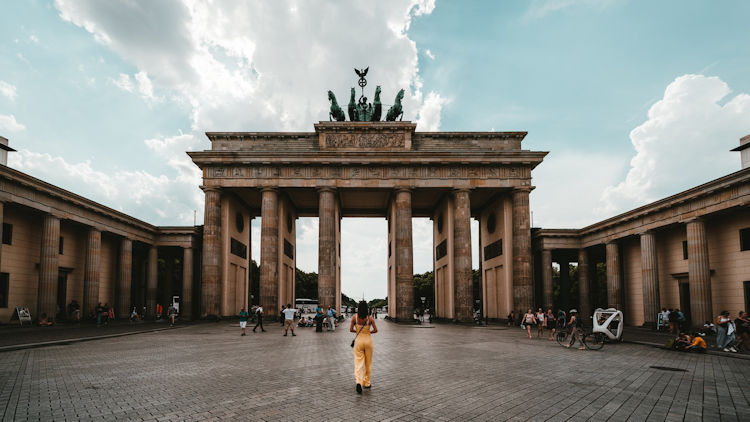 Landmarks, Museums & Gardens
I only had three days in Berlin but I tried to see as many of the not-to-be-missed sights as possible. The Brandenburg Gate is Berlin's signature icon and once marked the turbulent division of East and West Berlin. It now stands at the head of a pedestrian plaza just blocks from the German Parliament. This Neo-Classical structure, located in former East Berlin, stood watch over a divided city until the Wall came down. The Gate is reached by walking down one of Berlin's most famous streets, Unter den Linden, a grand boulevard lined with 18th century buildings restored after WWII.
From here various new landmarks catch the eye: the postmodern towers of Potsdamer Platz, the Memorial to the Murdered Jews of Europe, and Norman Foster's revamped Reichstag complete with a visitable glass cupola. A walk to the top is a must. What makes a visit to these landmarks vastly important is that they all lie along the line of the former Wall and, in one way or another, are intended to heal that wound of history and stitch the city back together. Other post-Wall additions to the landscape include the Judisches Museum in the hip Kreuzberg neighborhood – housed in a remarkable building by Daniel Libeskind, a whole slew of new embassies, and a huge new Berlin Haupbahnhof, Europe's largest railway station.
Berlin has more art galleries than any other city in Europe and is a hot spot for rising artists. Museum Island is a UNESCO World Heritage site, Europe's largest connected museum area. There are five museums in this complex: The Old National Gallery with ancient Greek and Roman artifacts, The Bode Museum containing a vast collection of sculptures, The Neues Museum with Egyptian works of art including the renowned sculpture of one of the most famous women in the world: Nefertiti, The Altes Museum, built by this city's greatest architect, Karl Friedrich Schinkel and The Pergamon Museum replete with Babylonian antiquities. Add to all of this culture the fact that Berlin has a vast number of pristine parks and gorgeous green gardens!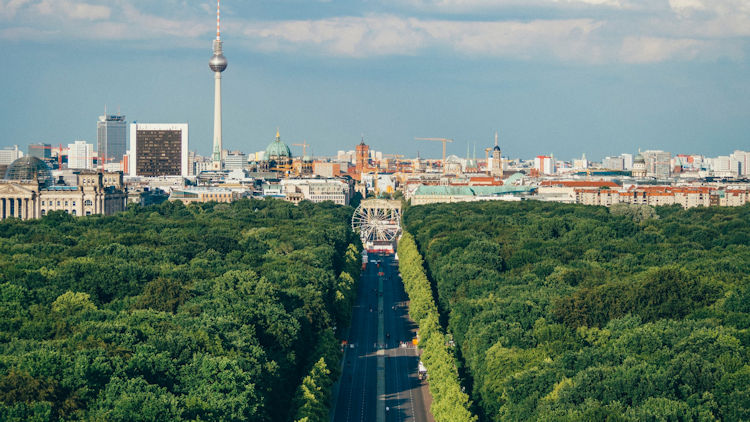 Ranking among the three most important such gardens in the world, there's Botanischer Garden (the Botanical Garden) where I spent an idyllic afternoon. In that brief time, I experienced exotica from the Far East, strange and scintillating blooms from a Tropical Rainforest, and pretty wildflowers from the Alps. An awesome attraction and a lovely touch: an almost two-mile garden created to promote smelling and touching of various types of plants for the visually impaired and guests in wheelchairs.
If one has an entire day to devote (sadly I did not) a visit to the Britzer Garten is in order. This garden is huge, covering countless acres and lucky me! I caught an early flowering of some of the tulips; I wandered a spring trail lined with freesia, daffodils and crocuses; June and September highlight the Rose Garden and in late summer, I've been advised that a visit to the Dahlia exhibit is mind-blowing with over 10,000 plants in 200 varieties - surely a bloomin' incentive for me to return!
Berlin: a symbol of freedom, an historical capital and a start-up leader. The time to visit is now as the city's gates are wide- open and they exuberantly beckon Willkommen!
If you go:
www.visitberlin.de/en