Ibiza's popularity remains undiminished. The Spanish island is slowly shaking off its new wave party image and showing itself more and more as a quality destination, where luxury, good food and drink, sustainability and partying go hand in hand. In these great hotels you will experience Ibiza to the fullest!

Nobu Hotel Ibiza Bay (pictured)
Located in idyllic Talamanca Bay, Nobu Hotel Ibiza Bay is one of the best and most luxurious resorts in the Mediterranean. Rooms are spacious and bright, and you can shop at quaint boutiques, sip a drink at a variety of bars, laze away a day at the spa or dine at one of three restaurants: Nobu, Chambao and pop-up restaurant BiBo, where Spanish three-star chef Dani Garcia will be preparing a delicious menu using local ingredients this year. The five-star hotel is happy to welcome families with children, big or small. The location is ideal: close to Ibiza town, but in the shelter and peace of the bay. More information or booking? Then go to www.nobuhotelibizabay.com.

Six Senses Ibiza
Are you interested in spirituality? Then Six Senses Ibiza is a good place for you. This resort is located just 35 minutes away from the airport in the quiet north of Ibiza and radiates nothing but serenity. On about 8 hectares of land there are 116 accommodations, including several suites (even in a cave!) and three-, four- and five-person buildings. Besides swimming in the infinity pool, you can also stroll around in the organic vegetable garden, read a good book in the library or take part in various retreats. The resort has a great festival atmosphere, with various musical performances and cooking workshops. Do you prefer it quiet? Have the food brought to your accommodation or light up a BBQ on your patio. You can book via www.sixsenses.com/en/resorts/ibiza.
OKU Ibiza
At OKU Ibiza, you are surrounded by natural materials such as wood and stone. The luxury hotel is within walking distance of the beaches of Cala Gracio but you can also spend a week at the resort and have a nice meal every day with the Dutch chef Mark Vaessen, who specialises in fusion and Japanese cuisine. Or enjoy the free yoga lessons, the spa and the wonderful sultry nights where a house DJ spins into the night. You can sleep in rooftop rooms, rooms by the pool or the private villa with four bedrooms. You can find more information and book at www.okuhotels.com/oku-ibiza.
Grand Paradiso
The American way, on Ibiza! Grand Paradiso is a project that centralises audiovisual art in all its forms: from film and short film to video clips. In the interior, pastel colours alternate with art deco and hedonism. Especially the swimming pool is a real eye-catcher: bring your sixties swimsuit and headscarf, because here you can live the American life, just for a little while! The DJ-booth completes the experience. It looks like a Miami beach club and can accommodate a DJ and an artists. Are you a VIP? Or do you want to feel like one? Then book a spot backstage on the huge round bench that wraps around the booth. This is a once in a lifetime destination! Check more pictures or book your room here: grandparadisoibiza.com.
Petunia Ibiza
Petunia Ibiza has stunning views of Es Vedrà, the famous rocky little island off the south-west coast of Ibiza. The boutique hotel has 41 rooms, all with a different look and feel. This hotel breathes Ibiza; by the interior and the beautiful gardens, by the use of natural materials, by the tranquillity, by the pop-up shops... The kitchen of restaurant La Mesa offers Mediterranean dishes, made with local ingredients, coming from their own vegetable garden. The luxury hotel is also a ten-minute drive from the village of Sant Josep and a five-minute drive from the picturesque bay of Cala D'Hort. Book here: www.petuniaibiza.com.
La Torre del Canónigo
La Torre del Canónigo is a luxury hotel in Dalt Vila, the historic centre of Ibiza Town and a UNESCO World Heritage Site. The property is surrounded by medieval walls that are part of a Roman acropolis, the place to be for history buffs. The 25 rooms all have a contemporary and Mediterranean décor: from standard rooms to suites with private pools and luxury family accommodations. Because the hotel is surrounded by the best restaurants and bars, it is not possible to have lunch or dinner at La Torre del Canónigo, but the concierge will be happy to reserve a table at the best restaurants. More information and booking www.latorredelcanonigo.com.
Ibiza Gran Hotel | Ibiza, Spain
Ibiza Gran Hotel has been a prominent retreat on the island for more than a decade and is renowned for its exceptional service, outstanding culinary venues, celebration of contemporary art and relaxed atmosphere. The seductively peaceful spot is committed to providing something different on the island, and the hotel offers true five-star service that caters to guests' every whim. When travelers are ready for the vibrant action that the island is known for, it's just a short walk away. Ibiza Gran Hotel is situated in the heart of Ibiza's "golden mile," across from the island's most glamourous marinas and nearby Talamanca beach, high-end designer shops and famed nightlife. Open April through October, the all-suite hotel offers four restaurants, the only casino on the island, two pools and an award-winning spa. Ibiza Gran Hotel features 185 contemporary, loft-style suites boasting exceptional views of the Bay of Ibiza, Dalt Vila (Ibiza's old town and a UNESCO World Heritage Site) and Formentera. Ibiza Gran Hotel's flagship restaurant, La Gaia by Óscar Molina, was awarded its first Michelin star in December 2021. The property is the first and only hotel on the island to be awarded this prestigious accolade. Chef Molina combines Ibizan flavors with sophisticated Japanese methods and focuses on local and sustainable ingredients. In celebration, the hotel will unveil NEW culinary programming for guests to enjoy, including private gourmet cooking classes at La Gaia, an over-the-top sunrise to sunset culinary journey with Chef Molina, as well as delectable new dishes.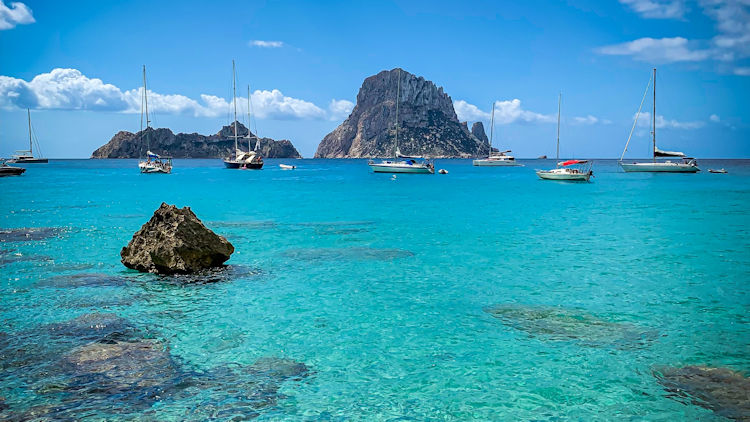 Es Vedra - a magical rock off the southwestern coast of Ibiza, known for its magnetic spiritual power.